Travel back to the time of the royals at this dreamy venue in Jaipur, Rajasthan. Dubbed the Royal Heritage Haveli, it was built in the 18th century by his highness Madho Singh Ji as a hunting lodge, now refurbished after 150 years as a stunning boutique hotel in India.
Today, the splendid lodging is acclaimed for its amiable hospitality and heartiness, trickling to the very elements of luxury and leisure, providing personalised experiences of the bygone era for every guest. 
You may also like: Gudliya Suite, Jaipur City Palace on Airbnb — Come for the art and architecture but stay for the stories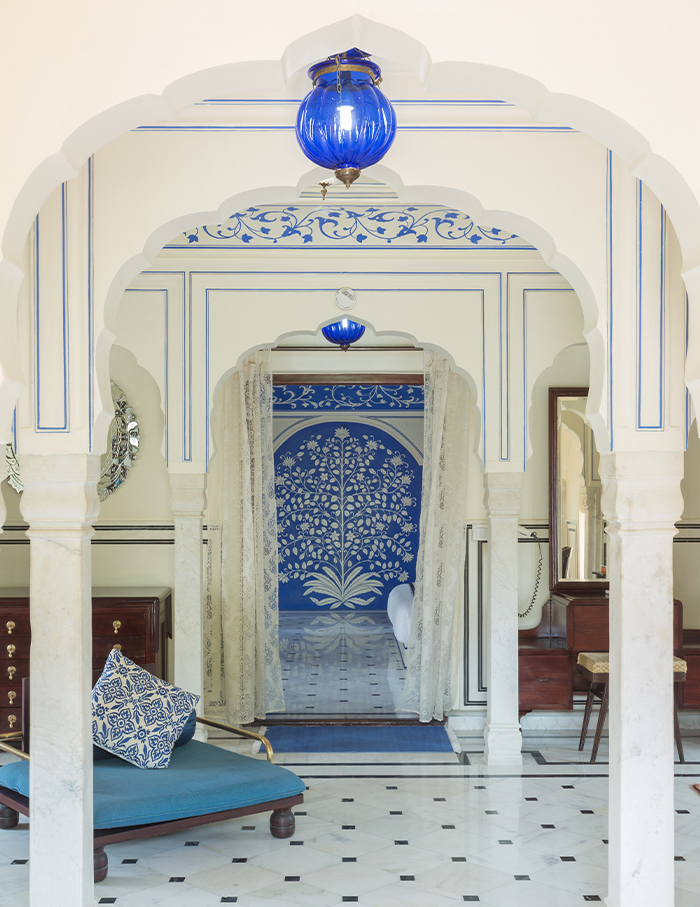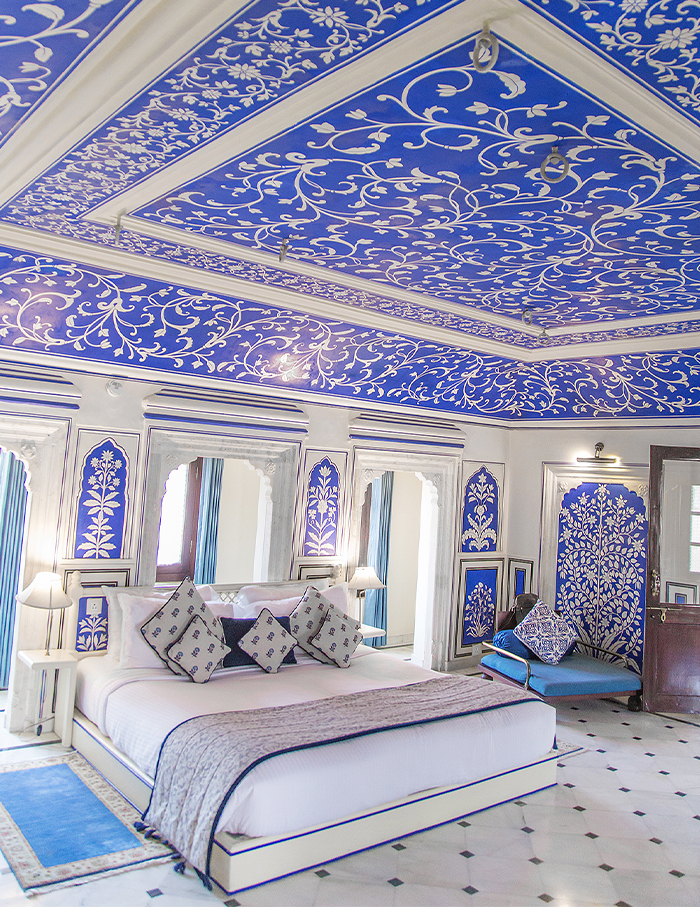 Enveloped by emerald green gardens flushed with flora, stretched over 100,000 sq ft the estate is blanketed with lush lawns, comfortable courtyards, opulent ornamentation and luxurious living areas.
Including a total of 14 suites and one apartment, featuring exclusive themes and decor washed in individual colour schemes each, the Royal Heritage Haveli is devoted to delivering private and pacific sanctorium to their visitors. 
Reflecting rooted Rajasthani craftsmanship inherited round generations, the resort illustrates an image of traditional time-honoured architecture mingled with modernist minimal details. The property grants its guests a glimpse of the area's abundance of history and hospitable visit apt for the 21st century. 
Adorned in an Indo-Mughal approach to its aesthetics, with bright and beautiful hand-painted frescoes dressing the walls, all-embracing arches allowing in an abundance of natural light and baroque block and tile, each room exudes an old world charm and opulence of its own.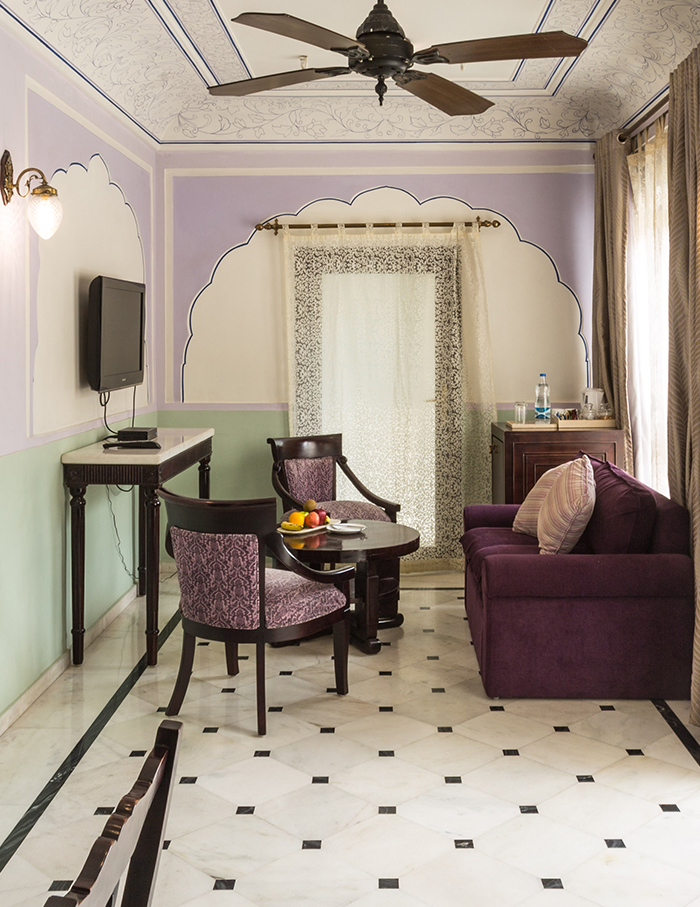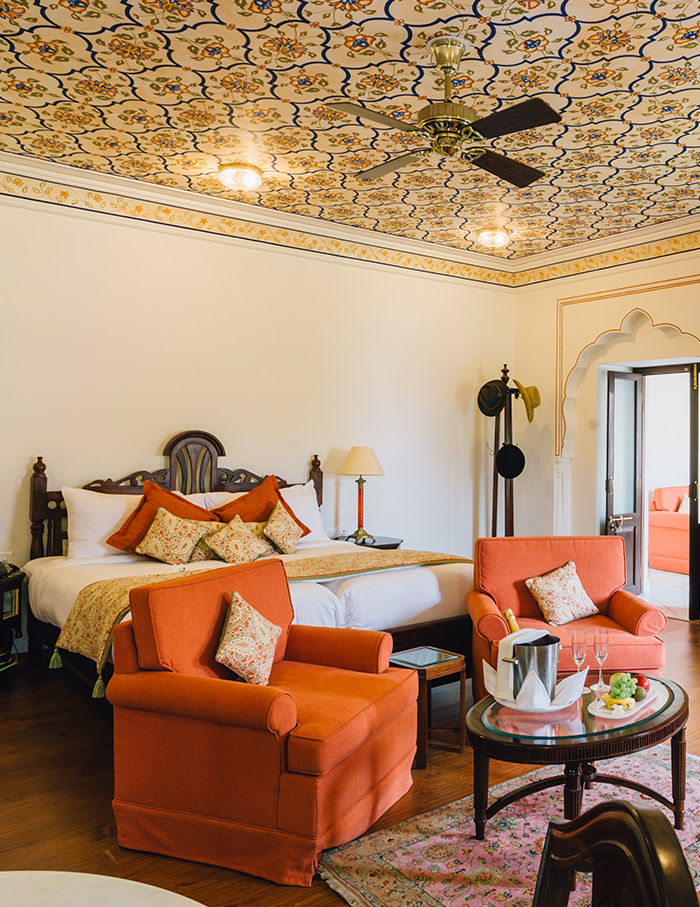 Repurposing a number of the authentic antique furnishings festooned with rich fabrics, the suites are an impeccable example of courtly conduct perfecting the melange of a charming, conscious and cultural way of living.  
Suite 104, informally known as the blue room is surpassingly sought after. Luxury fit for a maharaja, the royal repose opens with an imposing door and an attached heirloom brass knocker, into a striking indigo-couloured marvel.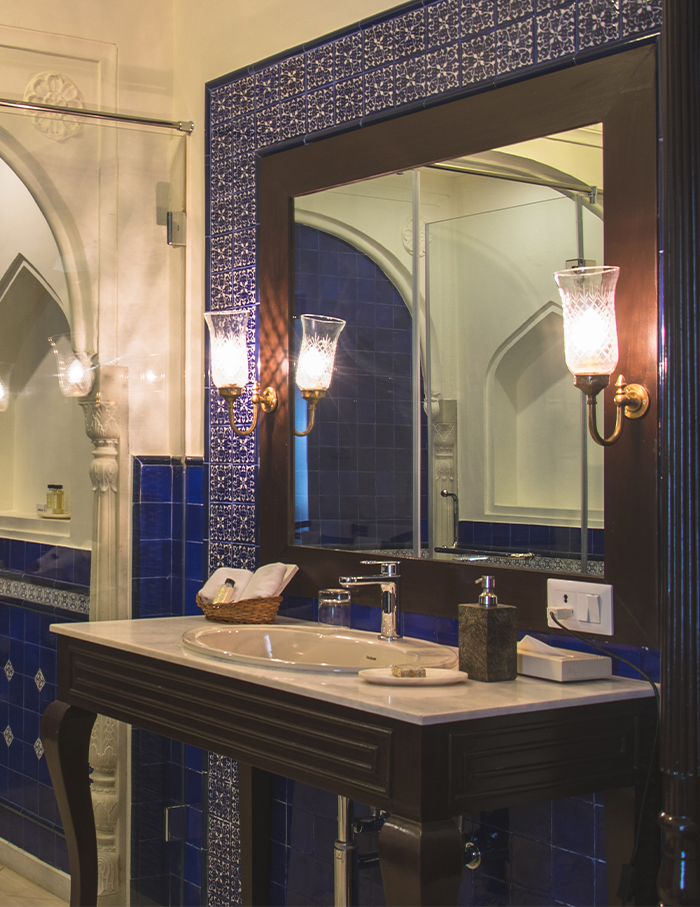 Also reputed to be one of the regal rooms in the hotel, the blue room owes to its history as a private zenana, where bachelorette women would lodge in yesteryear. 
Set in the exteriors of the dwelling, a lap pool fenced by sand-coloured Jaisalmer stone and marble sunbathing sections boasts views of umbrella palms and frangipani trees. Also relished in the warmth of the sun is the long veranda, serving as the optimal breakfast post.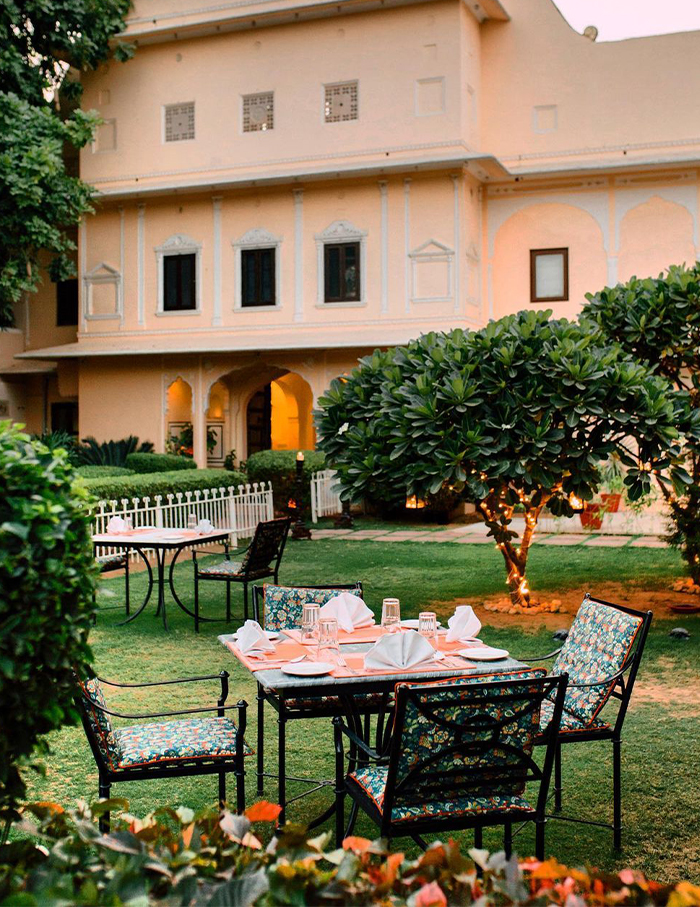 The Baradari, a stunning stone and marble veranda is available for reservations for more intimate, exclusive dinner settings. Custom bevelled glass trophy shields at the art-deco inspired Mehrab bar curate a milieu of an old-world hunting lodge set in a contemporary backdrop.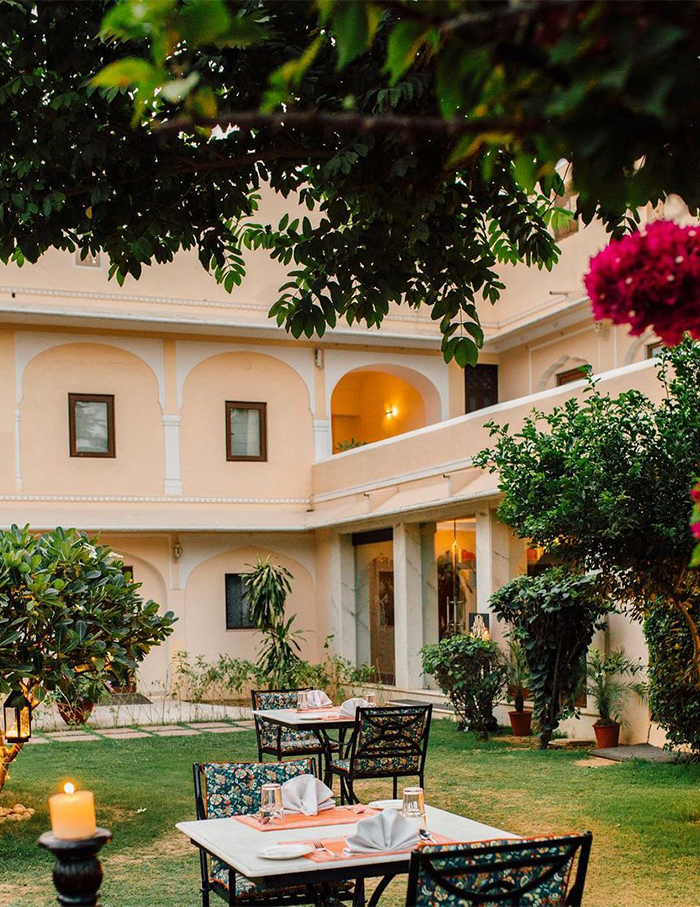 All lodging at the hideaway warrant paramount privacy and comfort, equipped with blackout curtains, linen service air conditioning and some even include additional leisure expanse such as balconies or terraces. Operated on solar power, the hotel is as ethical as it is exquisite. Walk into a world of archaic and whimsical enamour and visit the Royal Heritage Haveli Jaipur for a royal repose at the hidden gem. 
You may also like: Jaipur home by Shantanu Garg interweaves glories of the past while redefining contemporary Indian design