Homes
Jaipur home by Shantanu Garg interweaves glories of the past while redefining contemporary Indian design
MAR 1, 2022
| By Shriti Das
In a truly bespoke Jaipur-based home by Shantanu Garg lies a multitude of ideas and learnings that offer many readings of modern Indian design by challenging the notion of Indianness beyond ornamentation and ethnicity. Embodying the idea of India Modern for the palatial abode spanning 25,000 sq ft and 10 bedrooms, the designer explains, "I've tried to create a modern interpretation of Indian architecture by presenting the country in a contemporary avatar. This home is not ethnic, in fact, I want to project our culture beyond ethnicity by redefining and raising the bar of all things Indian."
Given the country's diversity, it is no surprise that he sought inspiration from Lord Krishna as well as Mughal concepts of Diwan-e-Khaas alongside myriad folklores, celebrations and ideas that are quintessentially Indian.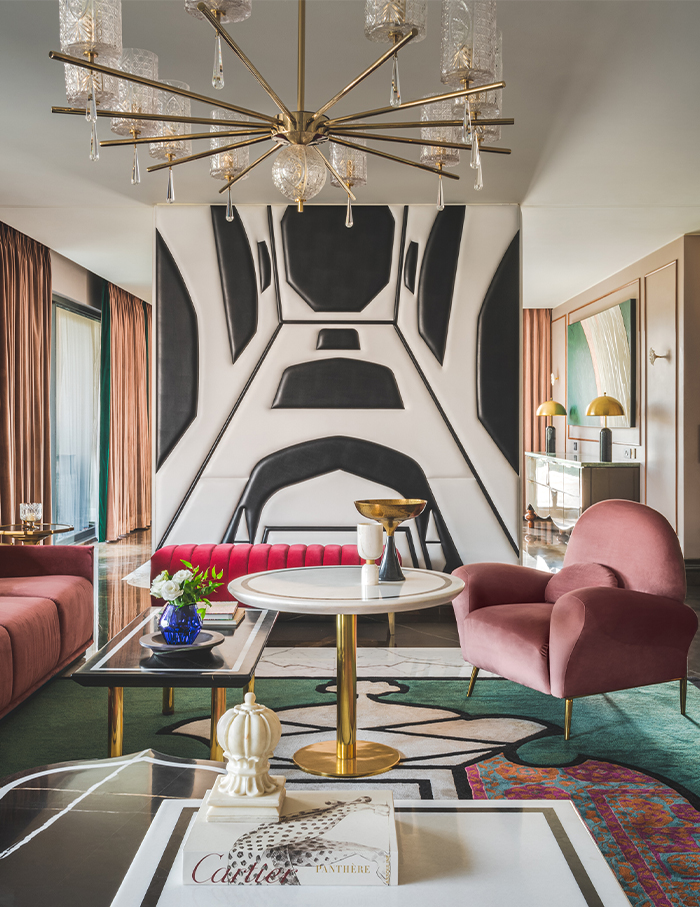 Designed for the Mangals, two brothers and their families, it accommodates the young couples with children who are on the cusp of adulthood. The home strikes a perfect balance between modernity and tradition, spaces that are extroverted yet encompass cosy cocoons for solitude and oneness. The abode spans across four levels and a basement. The ground and first floors are occupied by couples Rahul and Meenakshi while the second and third floors are occupied by Ashish and Shalu with separate kitchens and dining areas. The basement accommodates a party lounge called the Diwan-e-Khaas, a home theatre system, a squash court and a spa.
Know more about this Jaipur home in the February – March 2022 issue of ELLE DECOR India…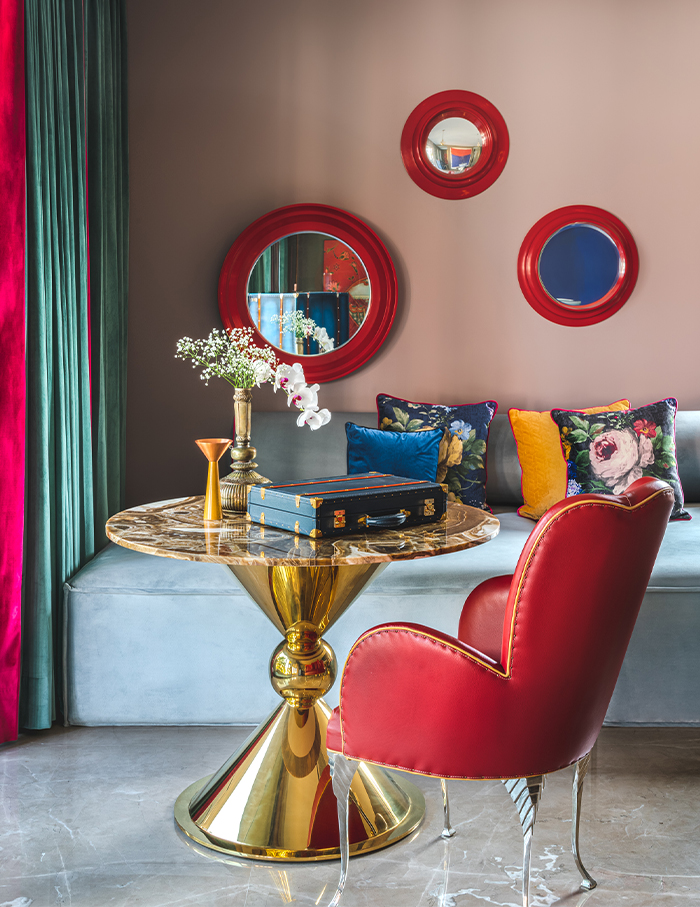 The colour and India-inspired translations are not merely a manifestation of an artist's imagination and prerogative to his project. They find way into everyday utility and functions that were outlined as a part of the homeowner's brief. "Their requirements were fundamental — ample storage, organised spaces and a functional home. But they were keen on colours and traditional details too. I borrowed their affinities and interweaved it into their lifestyle," he explains.
Discover more about this Jaipur home by Shantanu Garg in the February – March 2022 issue of ELLE DECOR India…