Homes
These 7 Indian homes make us want to "swing" with joy!
FEB 20, 2021
| By Sanjukta Ghosh
There's nothing that says traditional yet informal than having a swing inside a home! And while every person undoubtedly has an element in their home they adore, this one always leads to interesting results. 
Reminiscent of our childhood days, times spent with our loved ones and rooted in tradition, swings have always been a staple in Indian homes. However, with the rise of modern aesthetics, they've lost relevance.
We're here to tell you that swings are back and are now more stylish than ever! Explore these homes that use swings to create the perfect balance between tradition and modernity…
NR Apartment by Studio Saransh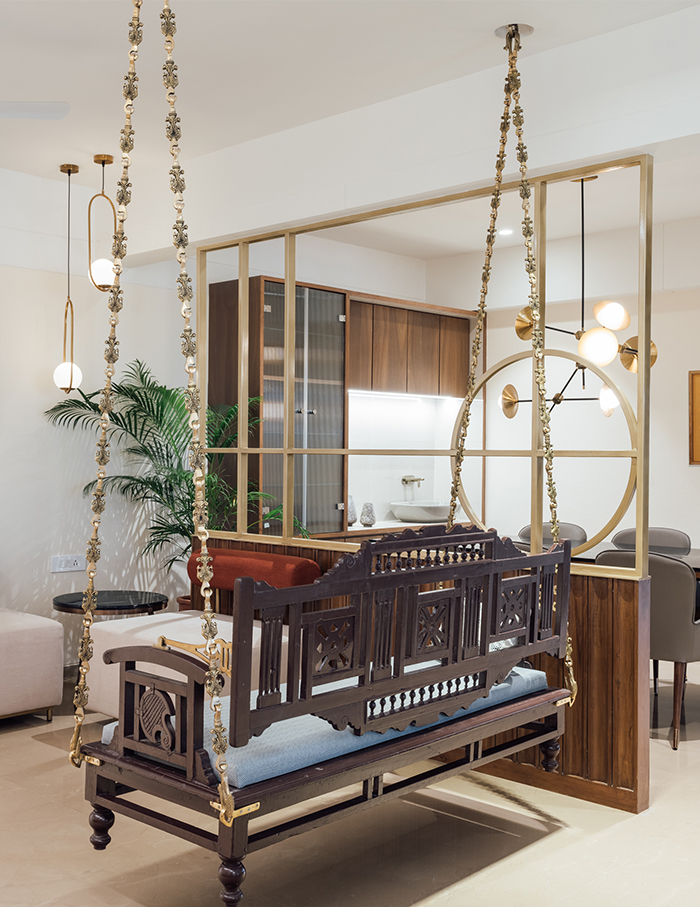 Most homes in Gujarat feature swings and this spacious four-bedroom apartment fashioned by Studio Saransh in Ahmedabad is no different. Helmed by lead architect Kaveesha Shah and designer Aashna Khetan, the 1,900 sq ft living room features an arresting, highly carved wooden swing with metal chains! Nearby is a brass and wood partition between the living and dining spaces, which balances the traditional design with its modern materiality.
An elegant home by SAGA Design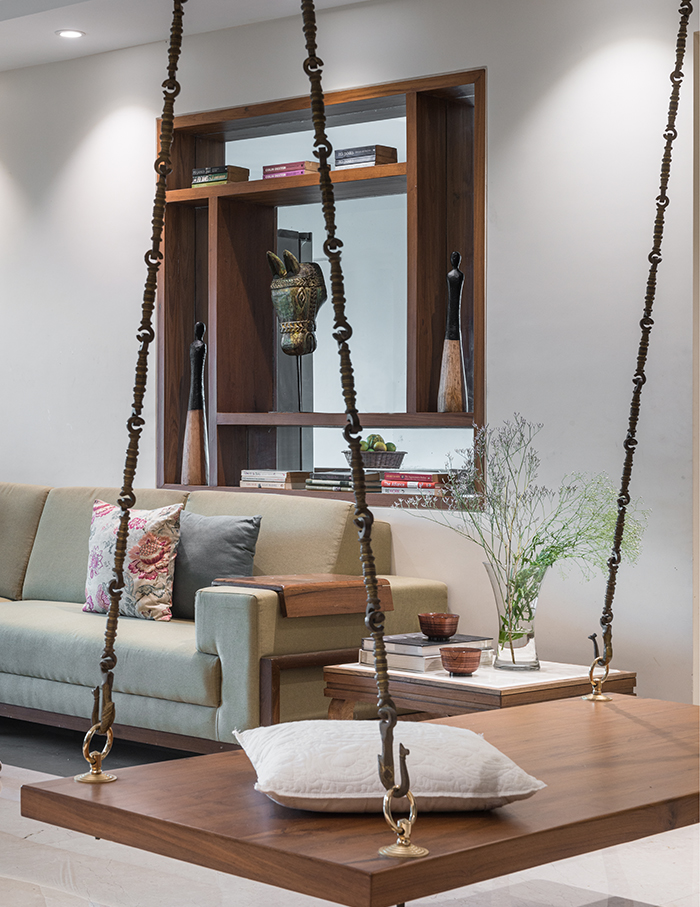 Partners Deval Shah and Mayur Gujare of SAGA Design have complemented the vintage Indian vernacular style of the living room of this residence with the help of a mostly minimalist swing. "The length of the living room needed a break from a regular seating arrangement," avers the duo, further adding, "The swing was planned to break the formality of the space and accentuate the character of a free spirit in the confined language." The simplicity of the swing, the baithak-styled sofa, the cabriole-legged, marble-top tables tautly balance a minimal narrative and sensitive composition.
Wabi Sabi home by Sathvikala Design Studio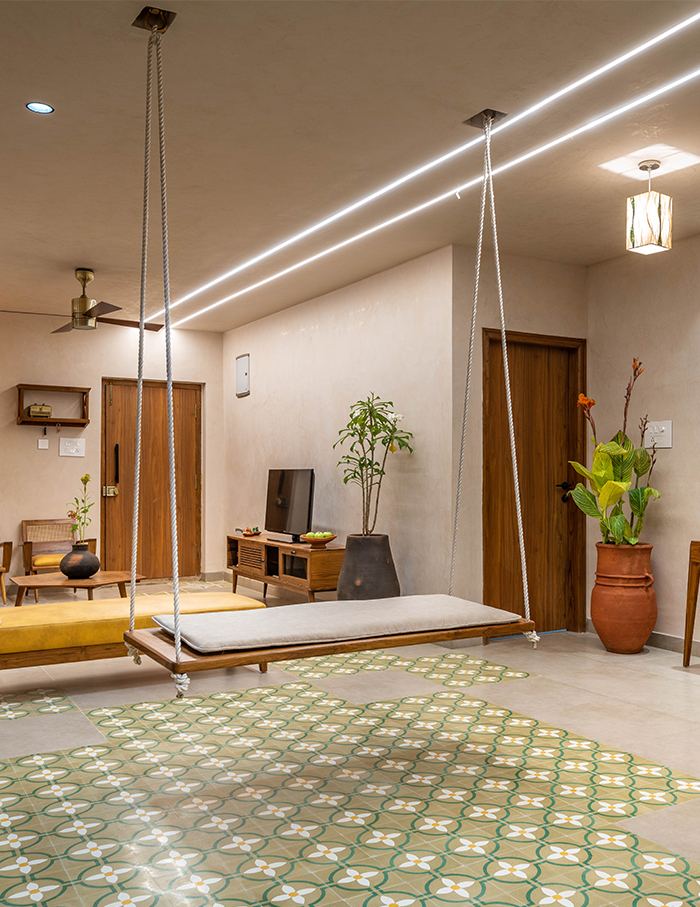 Sathvika Ketha, founder and architectural designer of her namesake design studio, incorporated wabi sabi in this 2,500 sq ft apartment in Hyderabad. Her design for the living room includes age-old teak accents, modern rustic pots, wall textures, indoor plants, patterned flooring and earthy hues. To break the seriousness of the organically designed space, the designer has added a sleek and simplistic swing for a touch of fun! 
Prive by Pinakin Patel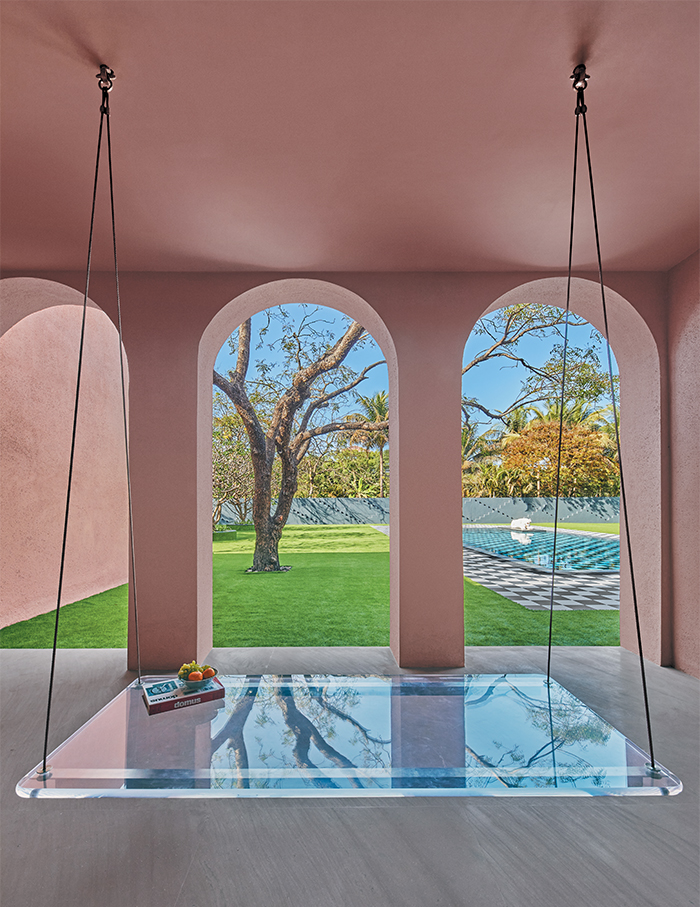 When it comes to this villa in Alibaug, Pinakin Patel has brought everything down, not to the bare minimum, but to the absolutely essential. The property is also one of few that makes optimum use of its natural surroundings. Large pivot doors and windows open towards the northeast, offering a cool, sunlit view outside. This glass swing offers a spot for quiet contemplation, overlooking the lawn and is a perfect addition to this expansive home.
A tranquil duplex by Architecture Brio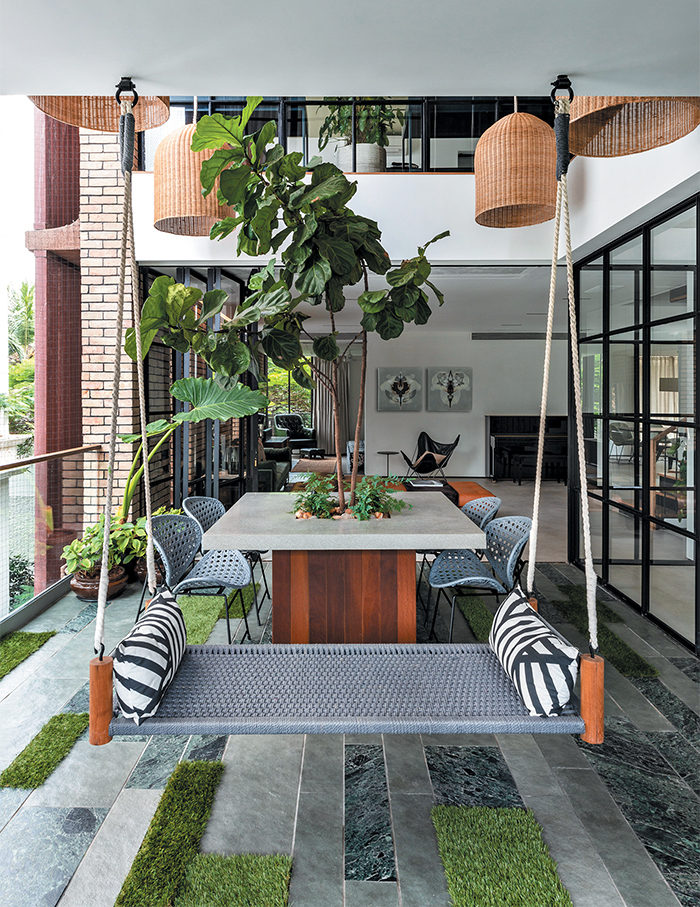 This 3,000 sq ft, serene duplex for a couple and their son designed by Shefali Balwani and Robert Verrijt of Architecture Brio to be conspicuous for its nature-swamped, urban-styled interiors and construction. A breezy corner in the home is flanked with exposed brick pillars and textured green stone strip flooring. It is spruced with four symmetrically positioned, natural cane and cotton rope hanging lamps and outdoor furniture, including a swing from The Retyrement Plan.
A mansion in Dubai by SAK Designs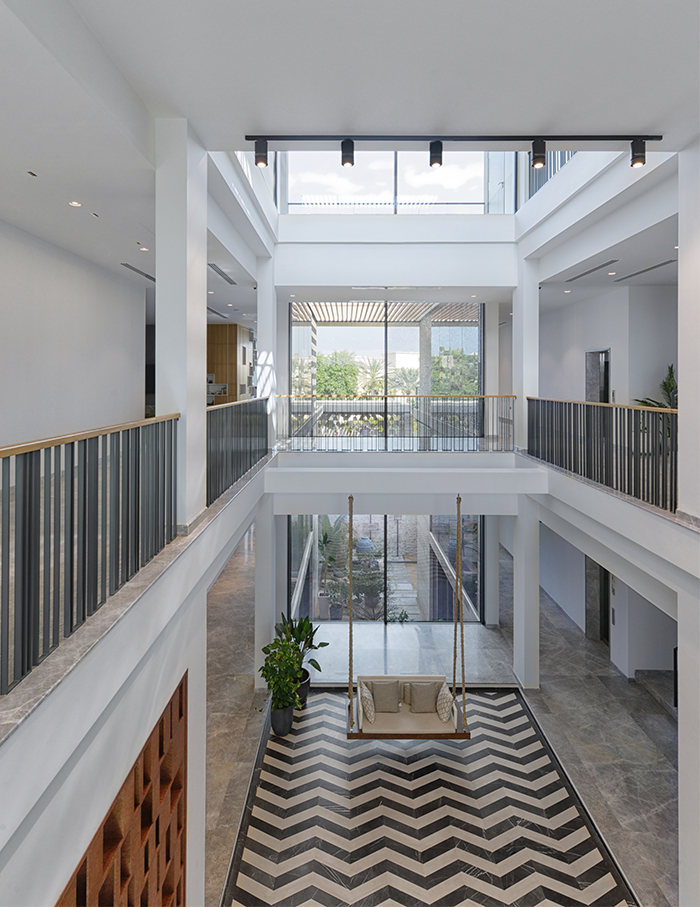 Uninterrupted views of the golf greens in Dubai's Emirates Hills makes this home one of the most exclusive and coveted of its kind in Dubai. The staggering 29,000 sq ft residence is designed by Ashish Kesurvala and his team at SAK designs as a three-storeyed structure with a basement. The central courtyard features a swing set that's suspended over chevron-patterned flooring tiles, making this corner perfect to relax in while offering stunning views!
Stripped Mobius by Matharoo Associates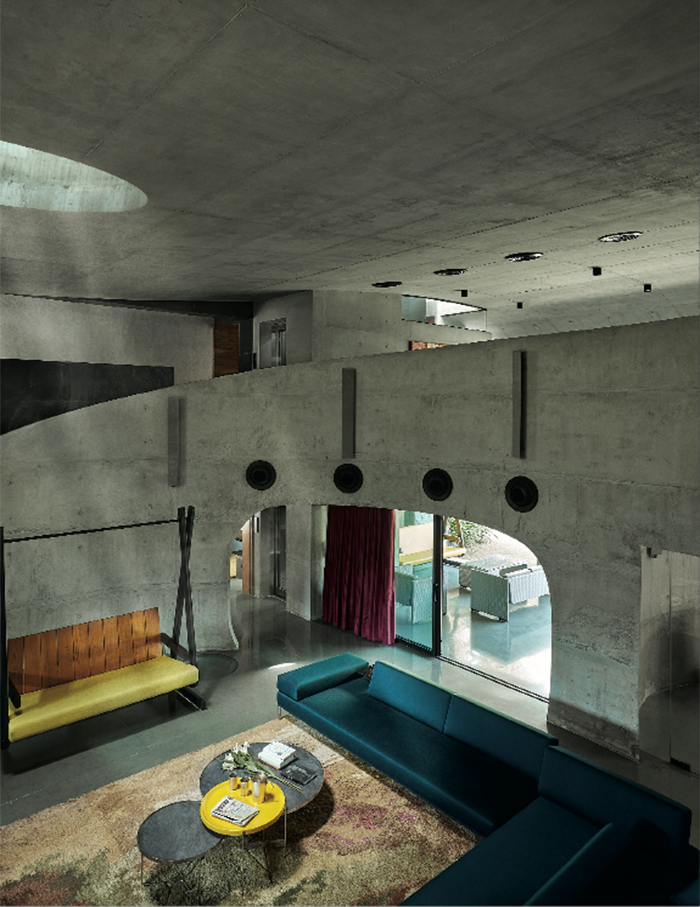 "The house is named "Stripped Mobius", a pun on the minimalistic approach to the design. We adhered to strict Vaastu guidelines to fulfil the client's wishes and the resultant box-like structure was broken by juxtaposing large sweeping curves onto the composition," says Gurjit Matharoo. An ode to the Brutalist movement, this Ahmedabad home features rectangular blocks that are parallel to each other and oriented along the north-south axis, where a temple and large shaded verandahs open to gardens. A yellow-tinted swing is seen here, adding a touch of tradition amid the bold interiors.