Homes
Shefali Balwani and Robert Verrijt of Architecture Brio craft a tranquil duplex residence that lures with its earthy ambience
NOV 10, 2020
| By Sakshi Rai
A former bungalow in an incongruous part of Juhu that's densely packed with high rises has been redeveloped to include several residences. Among these is a 3,000 sq ft, serene duplex for a couple and their son designed by Shefali Balwani and Robert Verrijt of Architecture Brio to be conspicuous for its nature swamped urban styled interiors and construction.
The most intrinsic identity of this capacious apartment lies in its fluid connection to the outdoors. "The clients wanted to bring in a setting similar to a typical suburban villa bound by ample greenery into their home," says Balwani, adding, "So, we built a semi indoor, double-heighted courtyard, a rare and refreshing sight in modern apartment buildings as most of them lack outdoor spaces."
Centrally located and already at an altitude, this green loft opens out to verdant canopies. Replete with abundant light and ventilation, it also makes for an interactive social space with transparent, custom made, thin-framed sliding metal doors that provide visual connectivity across the abode. A fiddle leaf fig tree in the middle stretches across almost the entire height of the courtyard and is surrounded by a terrazzo island counter with seating on all sides.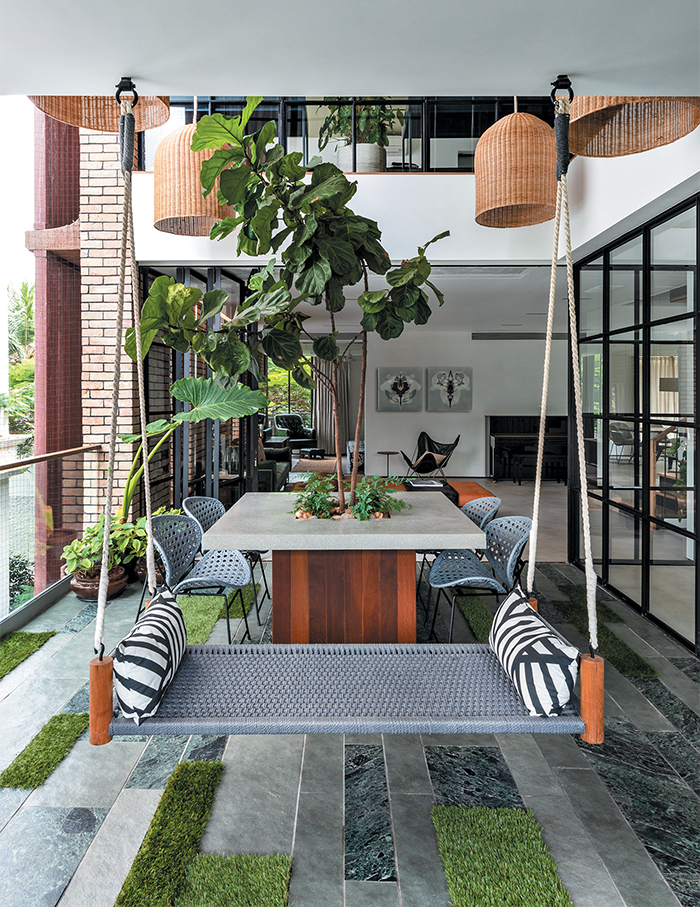 "This breezy corner is flanked with exposed brick pillars and textured green stone strip flooring. It is spruced with four symmetrically positioned, natural cane and cotton rope hanging lamps and outdoor furniture, including a swing from The Retyrement Plan," shares Balwani.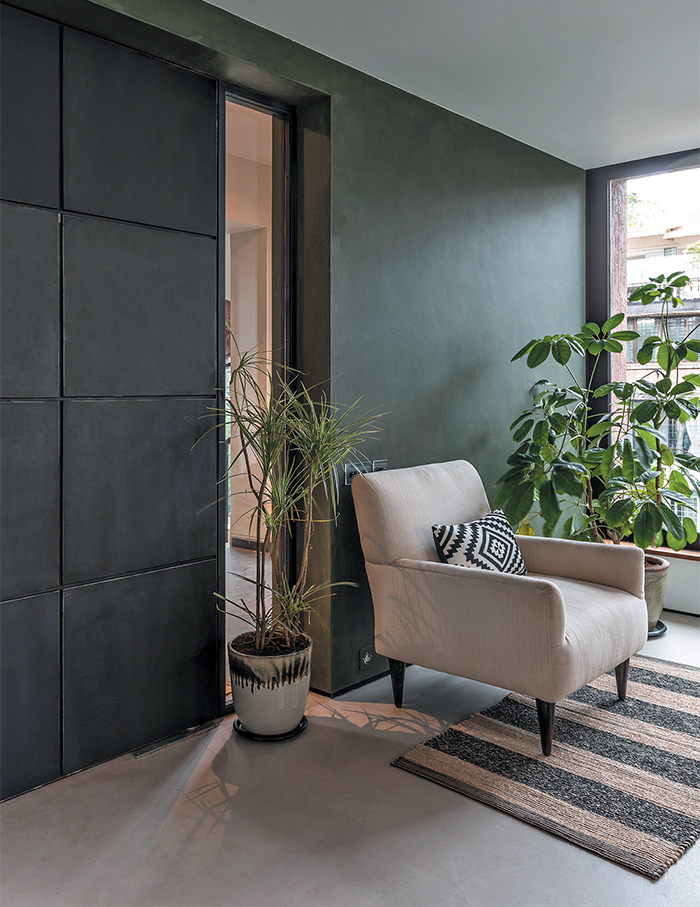 Beyond the spectacular courtyard on the concrete finished lower level is the living and dining areas with an open kitchen island. Adjacent is a cosy lounge for the children with a window looking out to a Gulmohar tree. Inside, a large daybed fans out, making for a comfortable spot to relax. The sleek and minimal furniture borrows from the organic vibe of the home.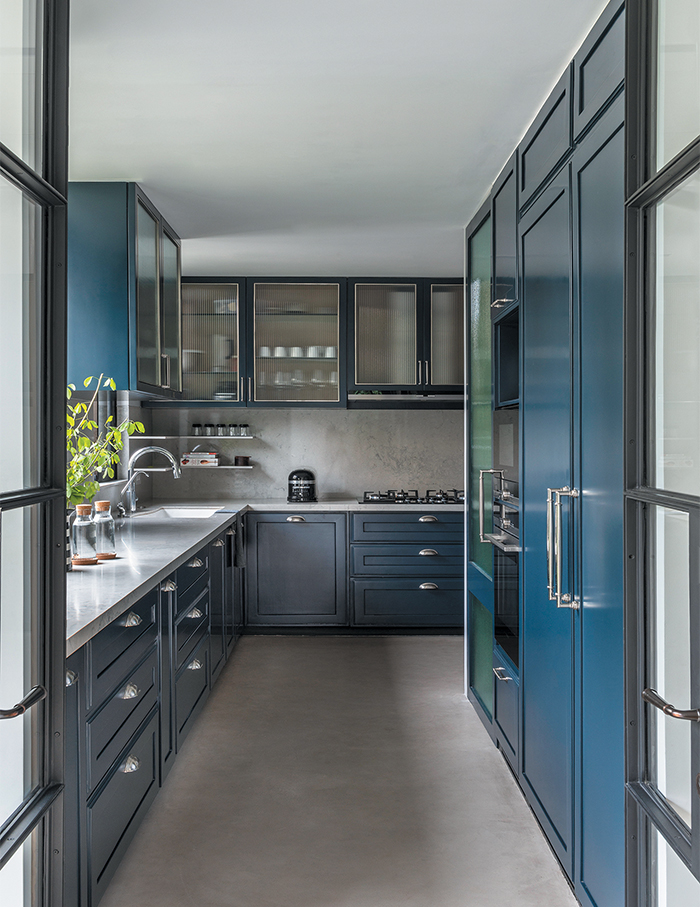 A simplistic, winding staircase made using folded MS plate and finished with solid oak leads to the family area upstairs. Here, a corridor fitted with storage units and framed with family photographs leads on one end to the guest room, and the master and son's bedrooms on the other. The guest room is bathed in olive green, which continues onto the ceilings of the courtyard and the family room.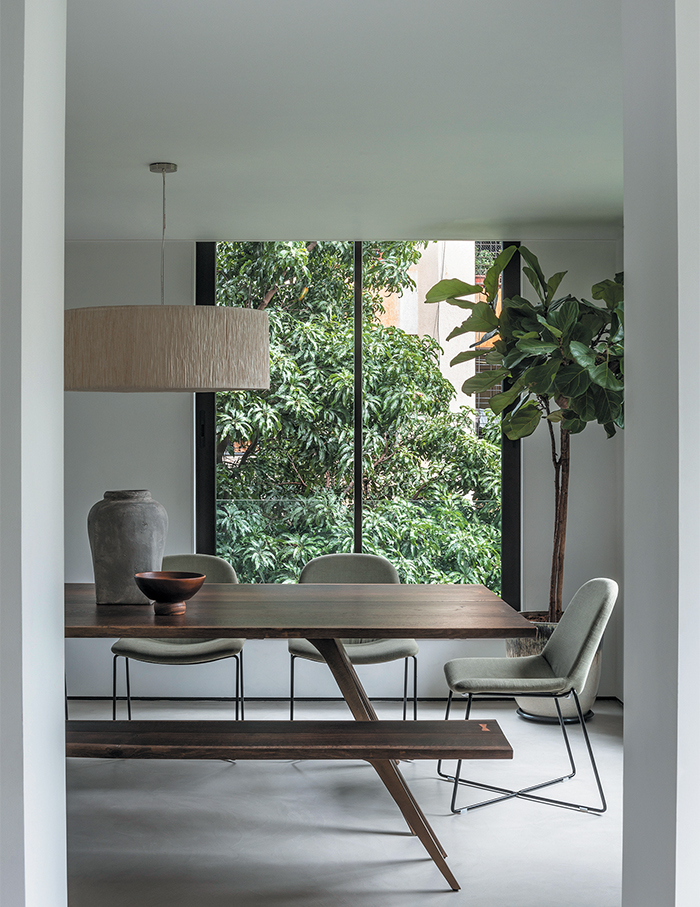 On the other hand, the master bedroom features colour blocking in white and plum, separated by a wainscotting detail. Its ensuite includes a white, marbled bathroom with matte brass fixtures as well as a dark oak veneered walk-in wardrobe. Just next door is the son's room where a single unit—featuring a bunk bed and playhouse with a climbing wall, monkey bars and swing on opposite ends—facilitates both rest and play.
Despite the play of various materials, colours and textures, the home exudes a warm, lived-in appeal, which makes it a truly happy and peaceful place to be in the city. Balwani adds that it served one other critical purpose: "We explored a variety of colours and inspirations for the interiors rather than sticking to a particular style or palette to better reflect the contemporary lifestyles of our clients."