Homes
Ashish Kesurvala of SAK Designs fashions one of the most exclusive homes in Dubai's Emirates Hills
JUL 17, 2020
| By Paahini Agarwal
Uninterrupted views of the golf greens in Dubai's Emirates Hills makes this home one of the most exclusive and coveted of its kind in Dubai. The staggering 29,000 sq ft residence is designed by Ashish Kesurvala and his team at SAK designs as a three storyed structure with a basement. 
The firm worked on both the interiors and architecture, based on its approach to always create seamless spaces that merge the indoors and outdoors. And this results in homes that are bathed in natural light and abundant greenery to enliven and energise interior spaces. 
A 10 ft-wide passageway connects the main door to a formal living space that's done up with minimalist furniture pieces from Italian brands Bonaldo and EmmeBi. Accessed from here is a bar made completely out of grey marble and a spacious dining zone furnished with products from Giorgetti. Aside from the living and dining zones, the ground floor also houses a library, prayer room, two bedrooms, a kitchen with a family dining area, and a large indoor courtyard.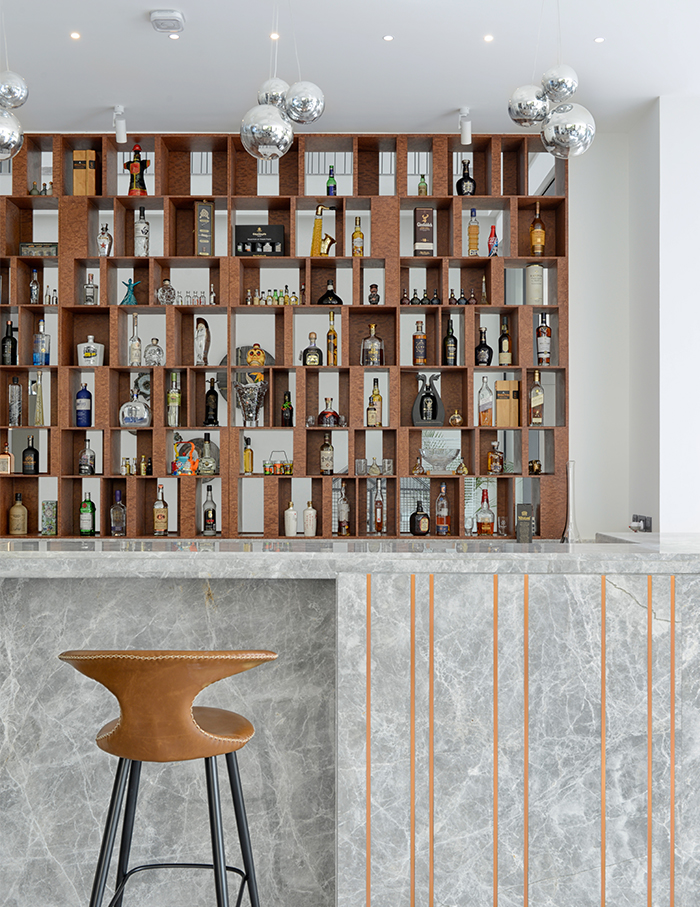 Outdoor views continue on each level but it is the basement that overlooks a landscaped lawn. It is an activity area for the family to workout, relax, watch movies or sports, or even host informal social gatherings. So, Kesurvala created a lounge, bar a private gym, powder room, spa and steam rooms, and a pantry on this floor.
One of the most fun, engaging and eye-catching features here is a unique train model. It has been installed by a film set designer from Mumbai to deliver drinks from the bar across the space.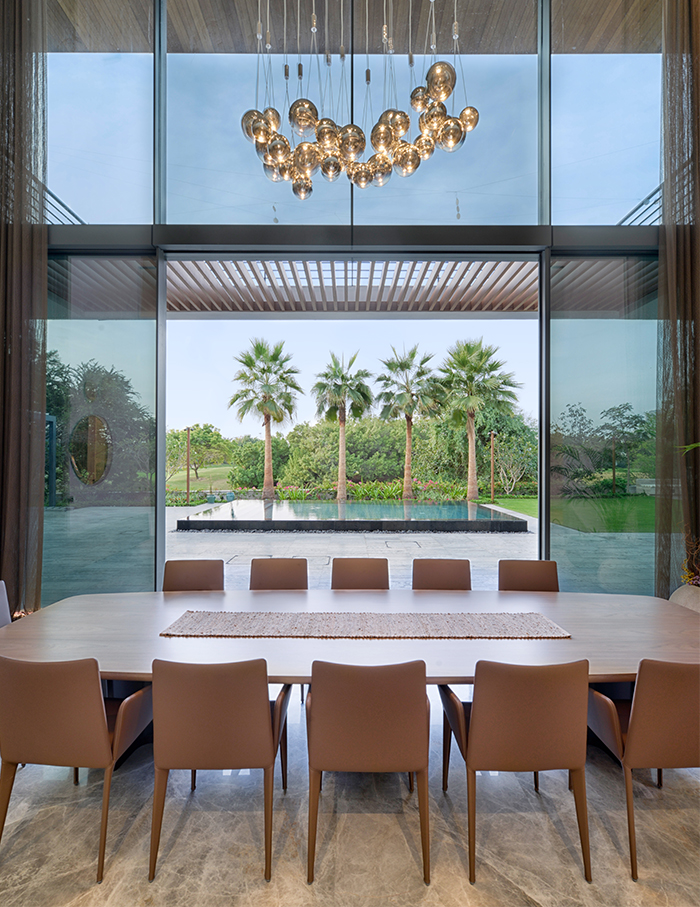 The more private zones of the home are housed on the first and second storeys. The former accommodates the children's bedrooms, a guest room and a small lounge, while the latter exclusively houses the master suite and a large terrace with enviable views of Dubai's skyline.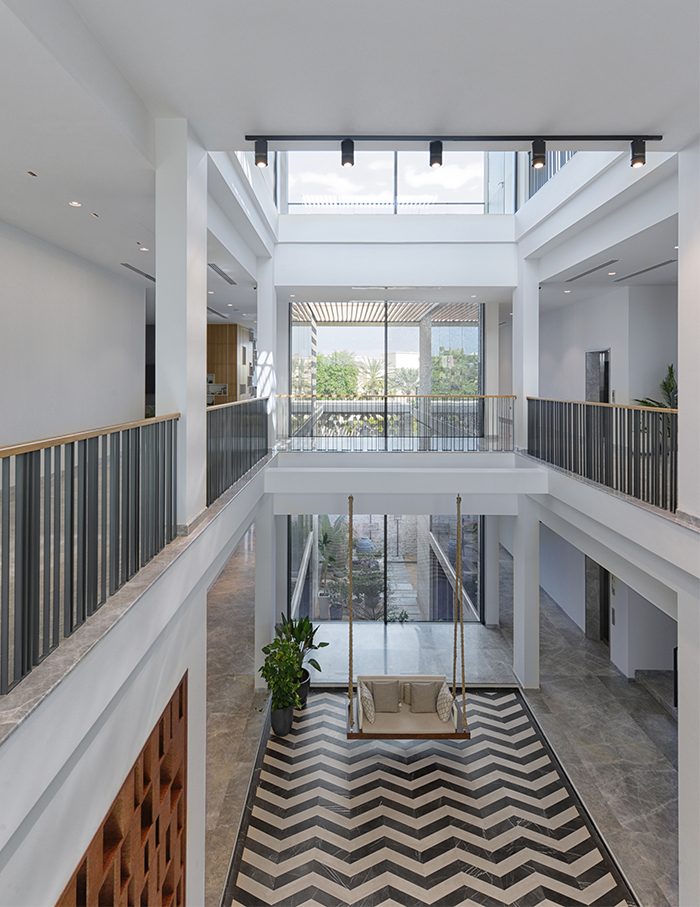 About the abode's energy efficiency, Kesurvala says, "Tinted glass windows and doors are placed such that the interiors don't need to be artificially illuminated during the day. Plus, they reduce heat gain during the summers and serve as a sound barrier. Some spaces are encased using double glass units to reduce the dependency on air conditioning. We have cleverly clad the house in an effort to reduce indoor temperatures by approximately 7-10 degrees Celsius on Dubai's hottest days."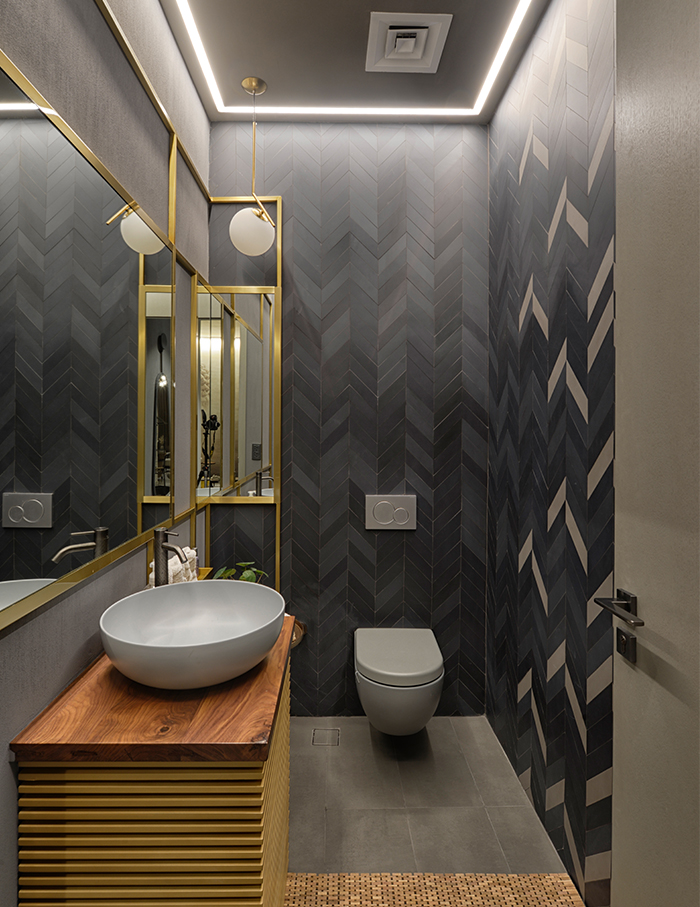 To keep the focus on the surrounding greens, Kesurvala has ensured that most of the materials, finishes, walls and floors used are in neutral colours and furnishing in light shades or pastels. This subtle play of colours keeps the indoor ambience calm. The reason for this, Kesurvala says, is because he believes that "a home is made luxurious by the atmosphere it creates; and not just by filling it with luxurious items."