Homes
Pinakin Patel waxes eloquent on the importance of Essentialism as he references this holiday villa in Alibaug
NOV 9, 2020
| By Pinakin Patel
Essentialism starts with identifying your own self with other lives on this planet and learning the interdependence. It moves on to relearning whether your education and career empowered you as a strong individual or diminished you in favour of the collective.
The next reexamination is to see if the strong collectives of science, economics, politics and religion live up to the faith invested in them. And then realign with a simple reverence for life, here and now. It is theosophy, a new way of life that's applicable in our present, based on the freedom of interpretation granted by Indian philosophy.
Design in India has long since formulated a sacred geometry created by the interplay of the five elements of nature—earth, water, fire, space and wind. The physical proportions came from a human scale, the ornamentation from botanicals, the drama from animals and the serenity from spirituality. Its purpose was to awaken a wondrous sense that would make you lose yourself for a moment. Several such experiences would eventually help you evolve towards the very core of design, which is life itself.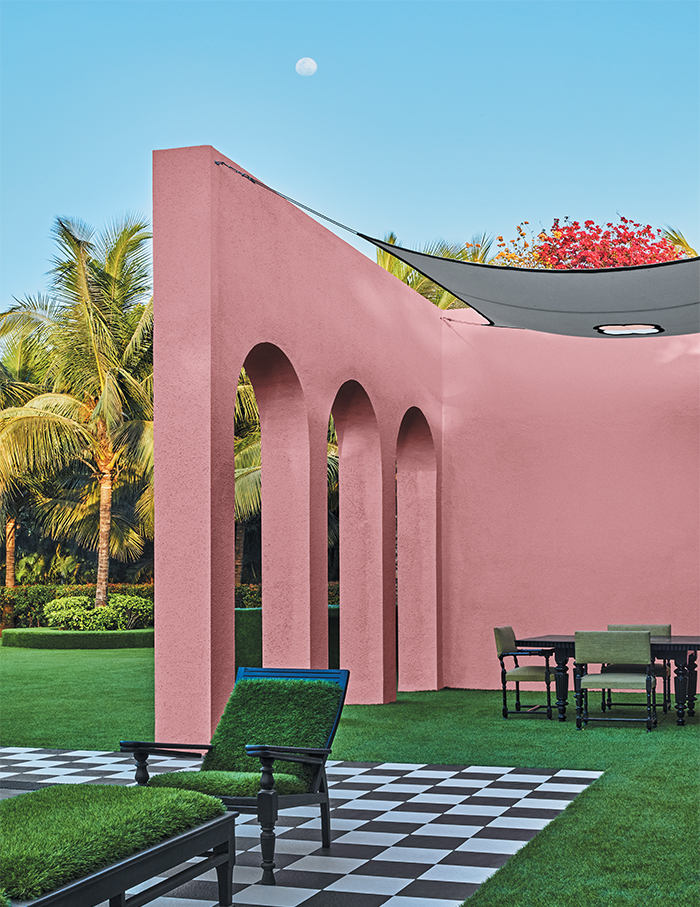 One should however not confuse minimalism with essentialism. The former is a visual fantasy, a formulated look; the latter is an existential reality to be developed by each person for themselves by consciously choosing what is essential to them. What may be essential to you may be a luxury to another or what you may consider excessive may be necessary to the other. So, in its truest sense, there is no right or wrong way.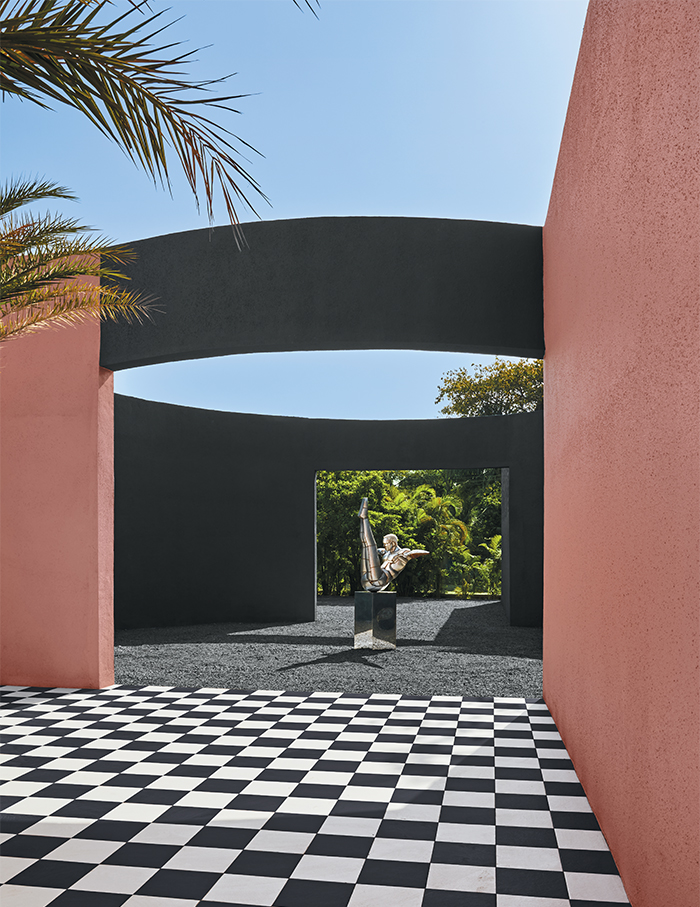 In the creative ecosystem, it is also about understanding the ecological, economic and social implications of the design. It requires implementing plans with the philosophical aesthetic of beauty and fairness and channelling creativity towards a holistic evolution. There needs to be a shift in the perspective of broader players and participants—primarily the client, designer, and vendor or supplier. They say that if you throw peanuts, all you'll get is monkeys. So if clients continue to behave like consumers, all they'll get is service. Instead, if they learn a bit of patronage, they will get an evolutionary home that is much more than a roof over their heads.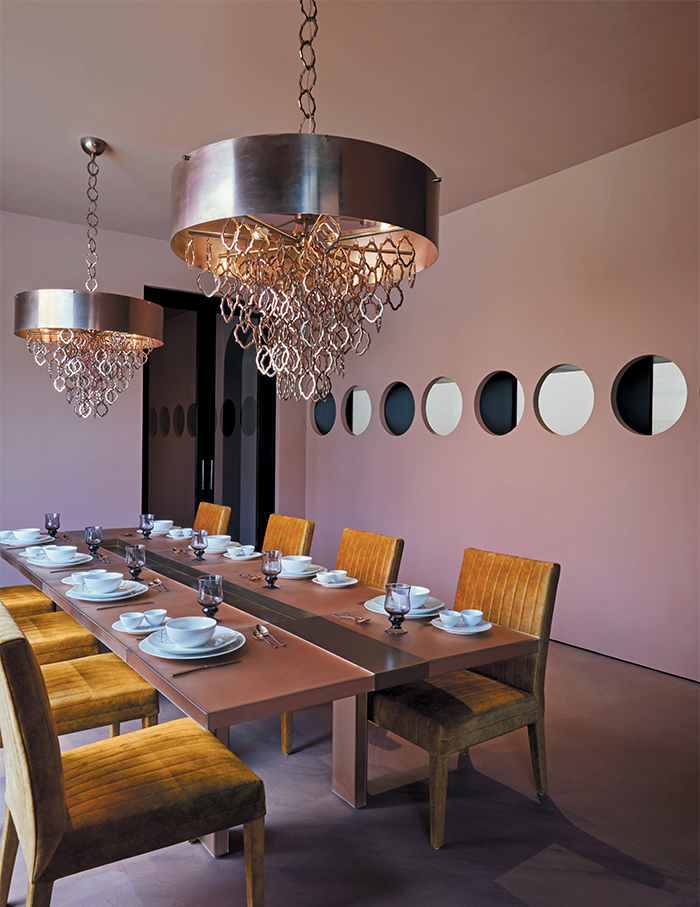 Designers, on the other hand, will have to realise that they are not artists who risk starvation by painting exactly what they like. They are accepting a commissioned job to fulfil preexisting needs. They will have to reduce actual site work and outsource more fit-outs. They must specify easy materials to install onsite to reduce workers' exposure to unhealthy accommodations.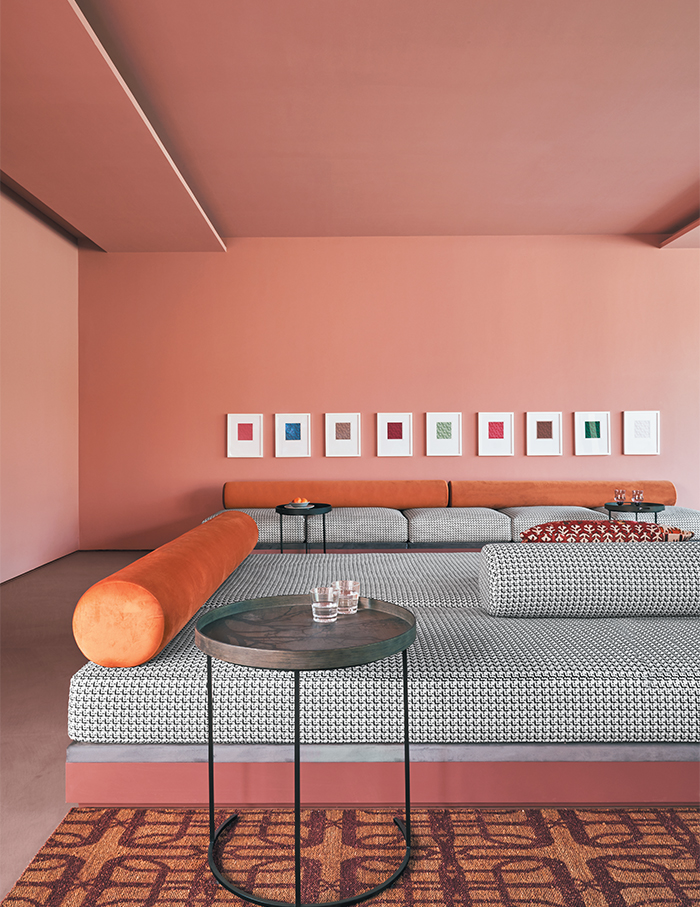 And vendors must endeavour to innovate freely and with an attitude of serving the evolving, more relevant needs of the community. They must keep in mind that this is different from the global, consumption-driven economic model that has put surplus products in the market. These have outlived their utility and become objects of titillation commanding ridiculous prices, unfair production and mindless marketing. Even frozen old brands that have more or less stuck to a consistent look for decades will slowly perish. The responsibility is serious and any attempt to avoid this may be unwise. Essentialism reminds us to start from scratch and rethink our basic, primary needs including our habitat. The moment we start valuing life and all that nature has to offer, our consumption becomes watchful.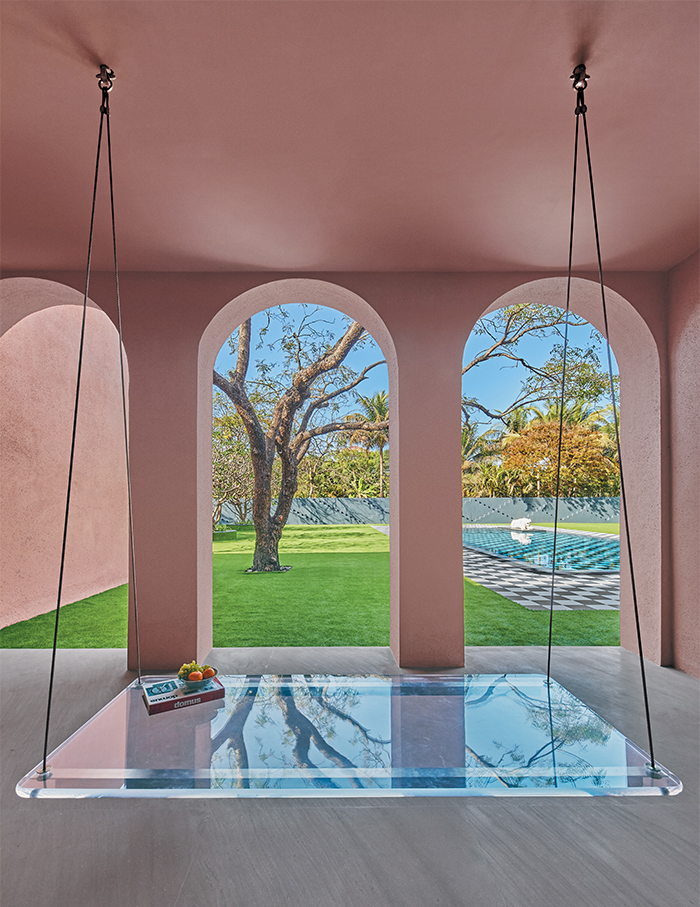 When it comes to this villa in Alibaug, everything has been brought down, not to the bare minimum, but to the absolute essential. The property is also one of few that makes optimum use of its natural surroundings. It is built in accordance with the basic principles of Vaastu, the southwest heat and rain enter the home through the back with a few, small and controlled openings. Large pivot doors and windows open towards the northeast, offering a cool, sunlit view outside.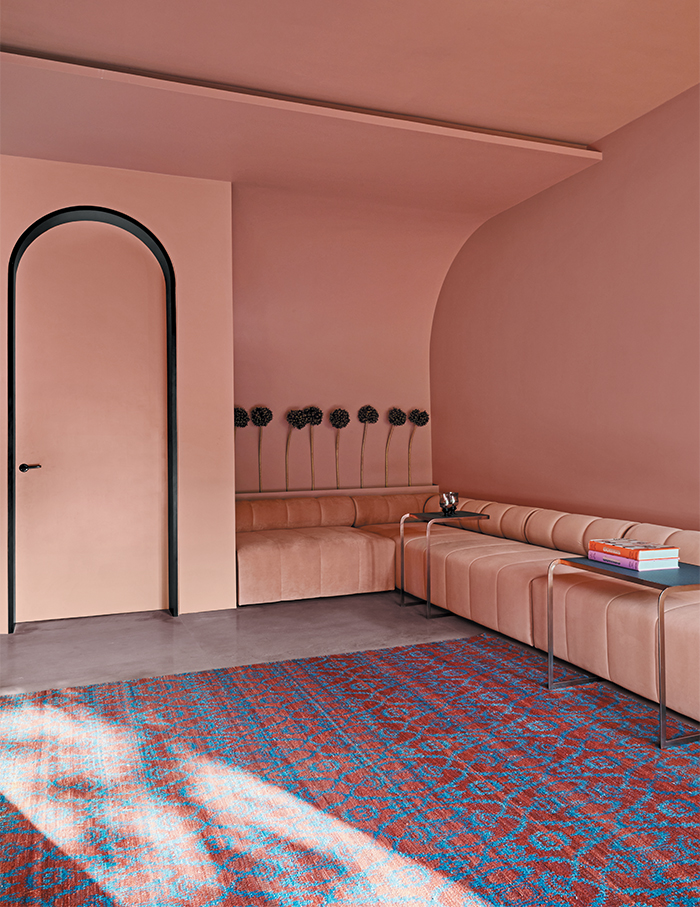 Essentially speaking, our heritage only needs a decluttering so that its real advantages shine through the cobwebs of superstitions. Straight lines and smooth curves are the fundamental drawing tools. We use them to create uncomplicated fluidity.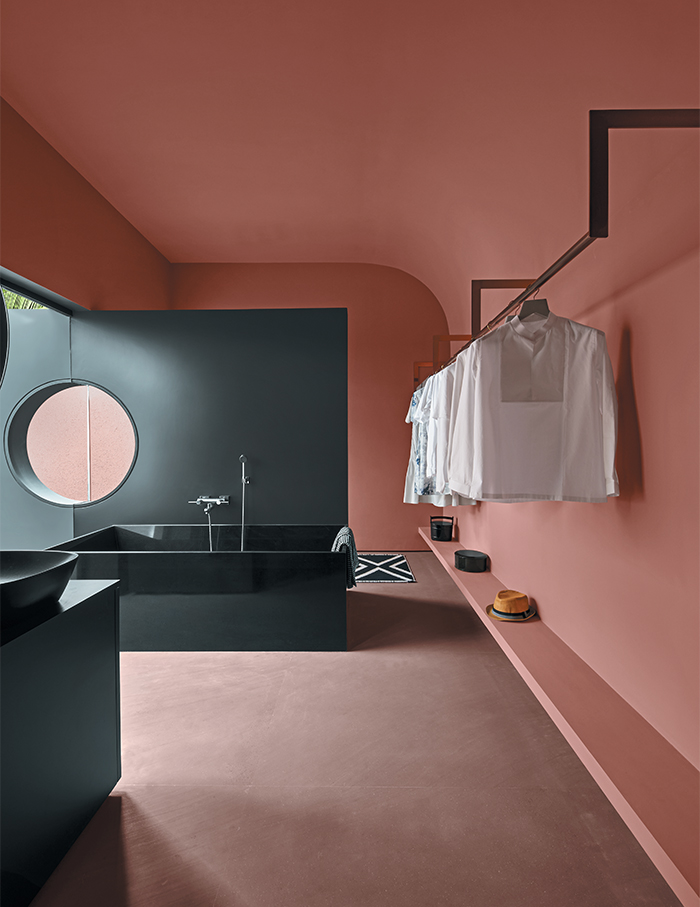 Lending a heritage yet the extremely chic ambience is the predominantly used Agra red stone. We chose a seamless flooring material to save cost and reduce the overall carbon footprint that would have resulted from importing marble (including the hazard to marine life).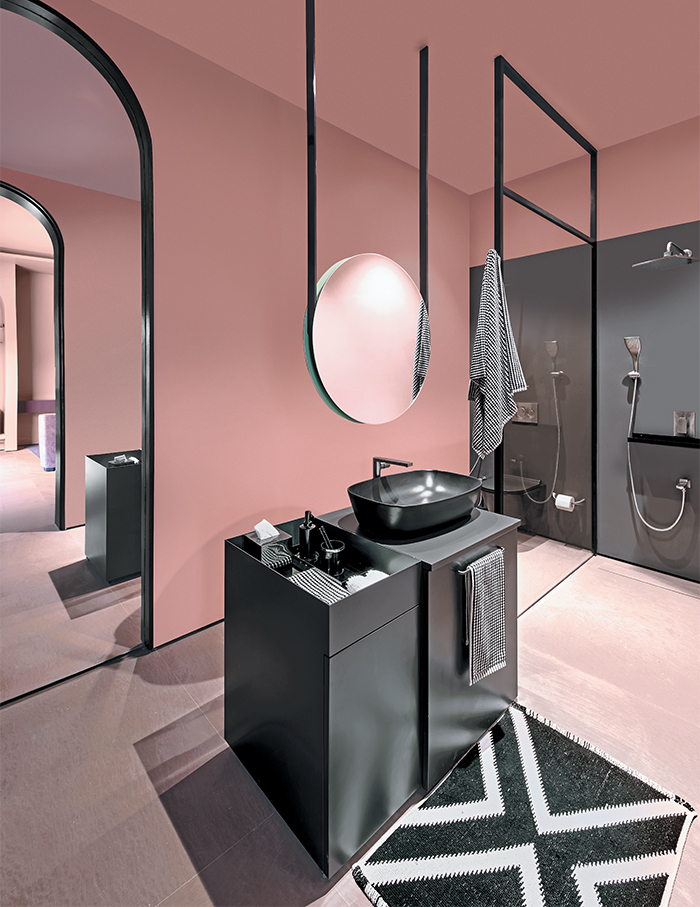 The solitary shade enwraps the home as a single block, in harmony with the greenery and blue skies. To complement the monochromatic facade, I used black and white, ceramic pool tiles in a chequerboard pattern for a young and energetic vibe. The bathrooms are spacious and airy so they do not retain humidity.
Simple water resistant, outdoor paint is enough for the walls instead of opting for marble or tiled dados. The windows are wooden and offer easy customisation. Again, these were unplanned and decided on after thinking about the industrial pollution of aluminium mining and fabrication. Open closets and minimum furniture serve the basic need, so anything more is unnecessary.
For the lawns, we chose Astroturf instead of the natural option, which most believe is not the right ecological choice. But the turf works as a permeable, protective cover and ensures that ground moisture is not lost on hot days. Otherwise, a significant amount of water would have to be brought to the site, which would defeat the purpose of building in a way that's environmentally friendly. Leftover turf was used as upholstery for the outdoor furniture. In this way, essentialism became about choosing the right direction architecturally to avoid heat gain, choosing the right landscaping material for the site and also monitoring how much material we consumed.
Over time, I believe that essentialism will become an India centric design movement because ours is the only culture where art, design, farming, agriculture, economics, etc, are controlled by an aesthetic that's efficient and useful. And learnings from here can be exported worldwide.
All the higher education and global exposure invested during the last century at a staggering cost was in the name of progress. What kind? Fly now, pay later? The current paralysing chaos needs an antidote. The creative community must move in and offer a solution. A century ago, modernism rebuilt a war-torn world and made the home an efficient machine for families, which then had women go out and work.
I wonder, can't India offer a new design movement today?