Homes
Omkar1973 apartment by CTDC is a breath of fresh air amidst the concrete jungle of Mumbai
MAY 29, 2021
| By Kashish Kaushal
Spread across 2,400 sq ft and located on the 33rd floor of Mumbai's Omkar 1973 highrise, this vacation home comes forth as a comfortable and practical living experience. Designed by Prashant Halankar and Anand Mehta of Contours the Design Company (CTDC), the apartment utilises every space available.
Living in an urban environment, adding a splash of natural greens is an integral part of this abode. The theme of the space revolves around openness, neutral shades with a heightened sense of luxury. Henri Matisse prints adorn the walls to add vibrancy and character to the house. 
The double-leaf door entrance leads you through a passage into the living room, overlooking a semi-circular balcony. To highlight the balcony area, large reflective surfaces like marbles and mirrors have been extensively used. An important highlight of this space is its floor to ceiling height of 11 ft, a rarity in Mumbai homes.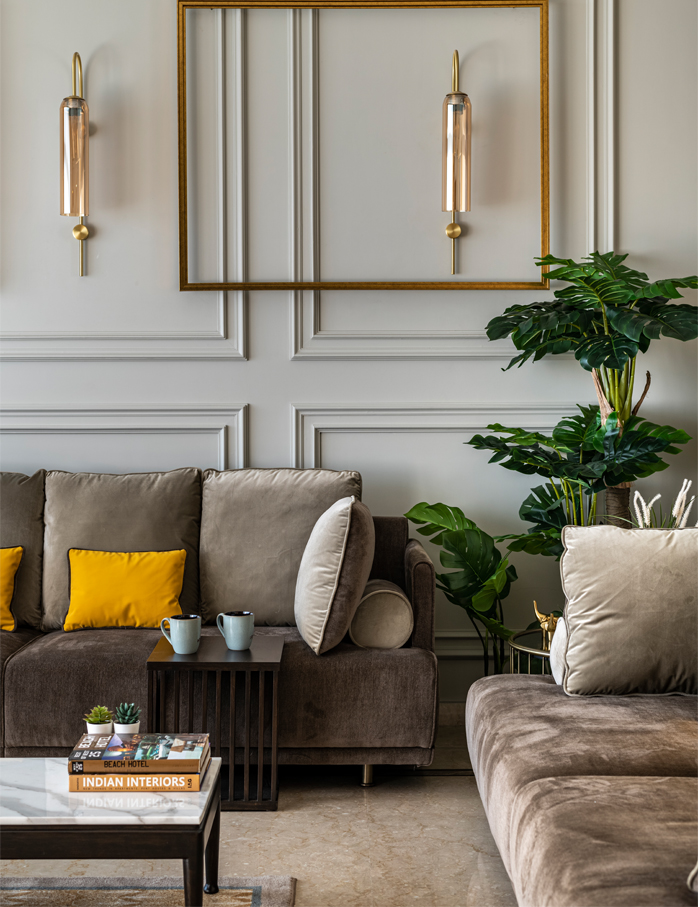 On the right of the passageway is a fluted glass door that opens into a modular kitchen made of German hardware, composite stones and state of the art inbuilt appliances. To negate the concrete jungle effect, vertical gardens are splendidly executed.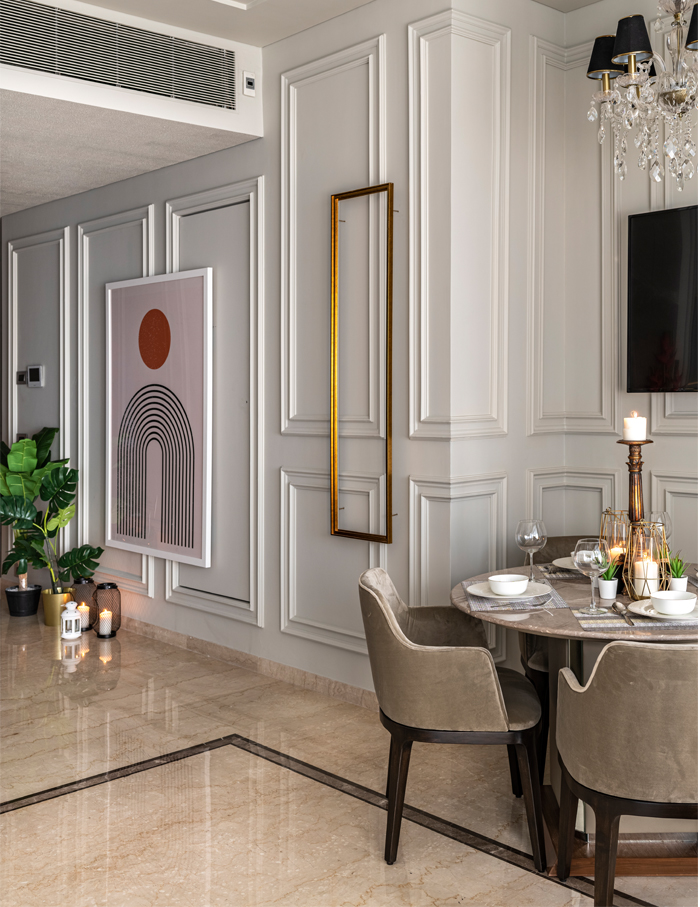 Towards the left of the entrance is a large corridor that connects you to the powder toilet followed by the three ensuite bedrooms overlooking their wrapped around balconies.
Obsessed with the Boiserie trend, team CTDC has incorporated it throughout the house along with plush Italian marble and mirror panelling interlaced with brass inlays. The aim was to amalgamate the old with the new for a luxurious ambience. Technical and chic lights are designed to add eclectic characteristics to the interiors.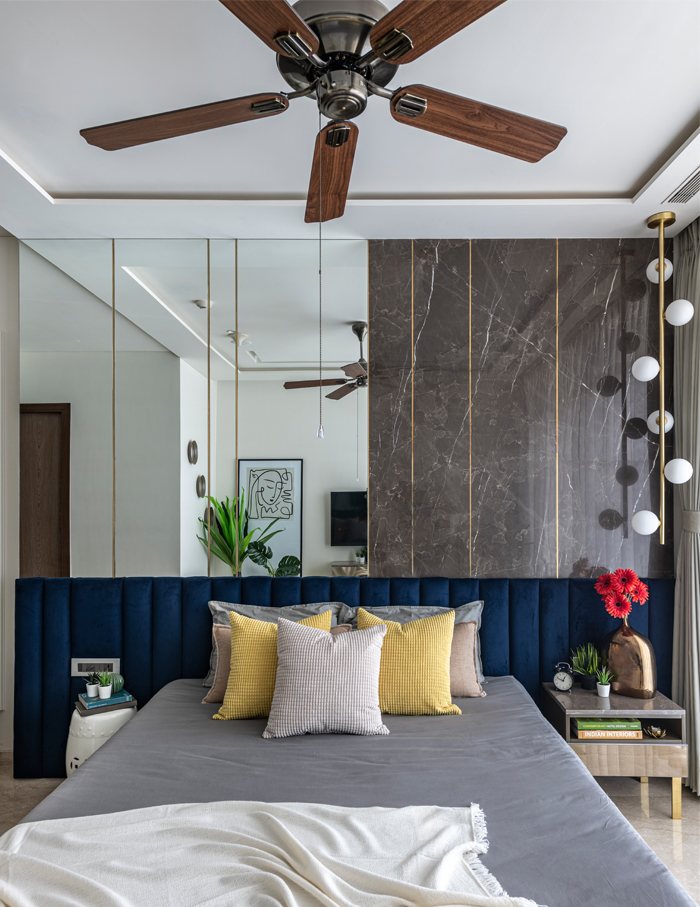 Throwing light on the colour and material palette of the apartment, Design Head and Partner Anand Mehta reveals, "We love the shade, Creamy Crust from Asian paints, which is predominantly used across the house. Botticino Italian marble, Armani Gris marble and Grey Sonata Italian marble are used for wall panelling and flooring. Linen and silk are used for the curtains whereas suedes and velvet are reigns the upholstery. All our furniture is bespoke and handmade keeping in mind intricate detailing of inlays, piping, and finishing. Hues of tan, blue and yellow are punctuated in the otherwise sublime neutral theme".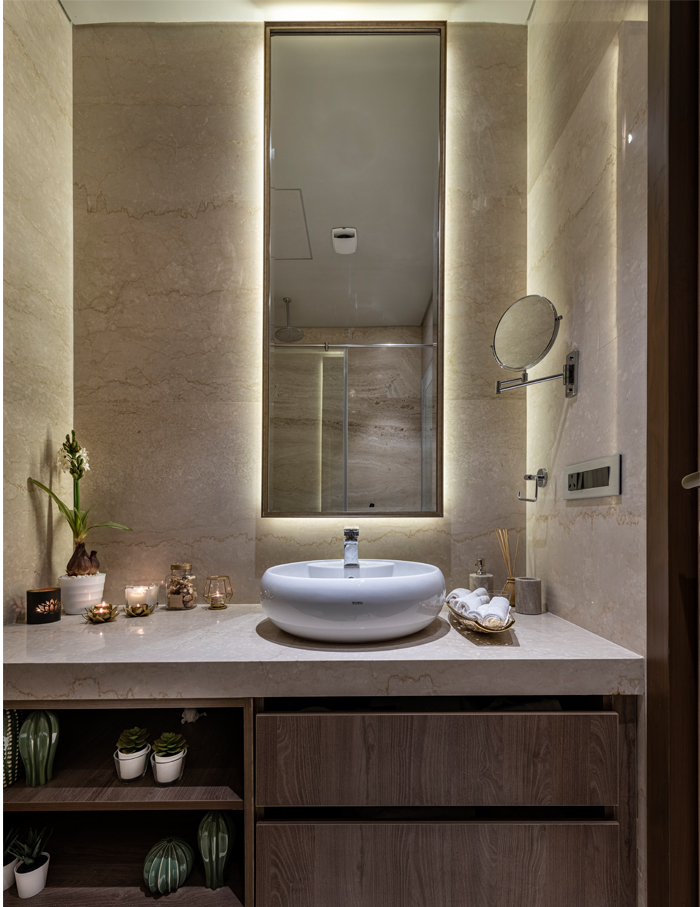 The design trilogy of form, function and aesthetics takes centre stage in this lavish retreat. Each space in this house radiates a unique and discreet statement as no two rooms have the same purpose. At the same time, a confluence of synergy is maintained with the help of neutral shades, planters and artwork.