Homes
Mother-daughter duo Nina and Ayesha Puri craft this enormous Mumbai apartment with eclectic dynamism
APR 28, 2021
| By Saloni Rege
Layered with seamless spaces, eclectic elements and artistic charm is this 5,000 sq ft Mumbai apartment. It is designed by mother-daughter duo Nina Puri and Ayesha Puri of the renowned Sanjay Puri Architects for a joint family, wherein every member requested a unique preference of style.
"Each space has been distinctively curated to meet each one's individual choice and yet there are common features of flooring and woodwork that tie the apartment together in a cohesive unit," says Ayesha, junior associate at Sanjay Puri Architects.
Principal architect Nina Puri adds, "The residence was challenging to work with due to its short-spanned column grid, which kept interfering with usable spaces. Also, the low-height ceilings made it look smaller and restricted the view. So, we opened up the space to make it appear larger, integrated and welcoming."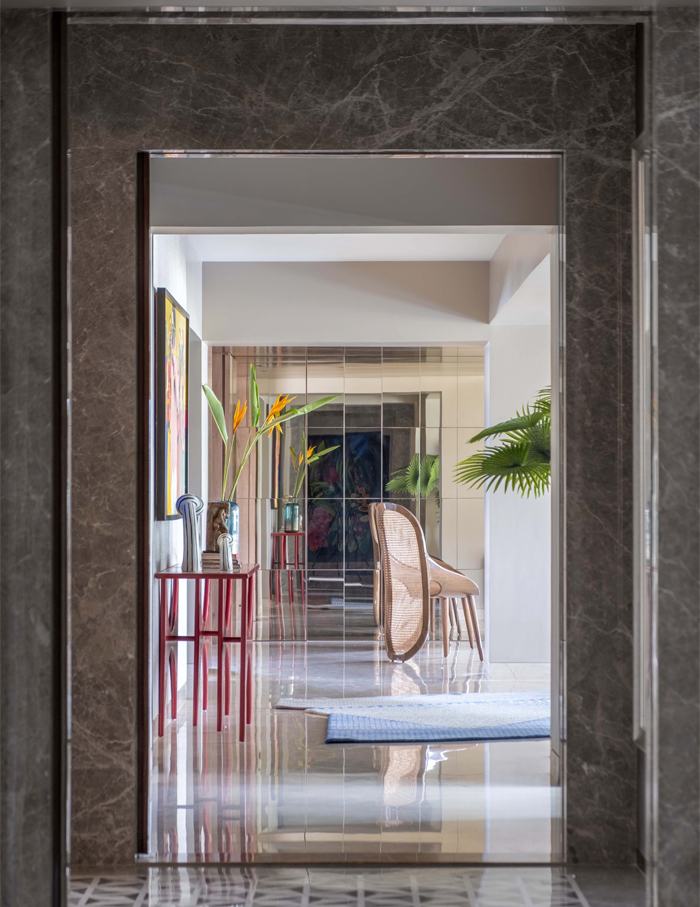 The apartment offers a central entrance with access to interactive spaces—living, dining, kitchen, den, temple and guest room—on the left. Meanwhile, all four boudoirs (including the primary room, one each for the homeowners' sons and one for guests) are placed on the right of these communal zones. A segregated yet connective approach of spatial hierarchy is reflected here.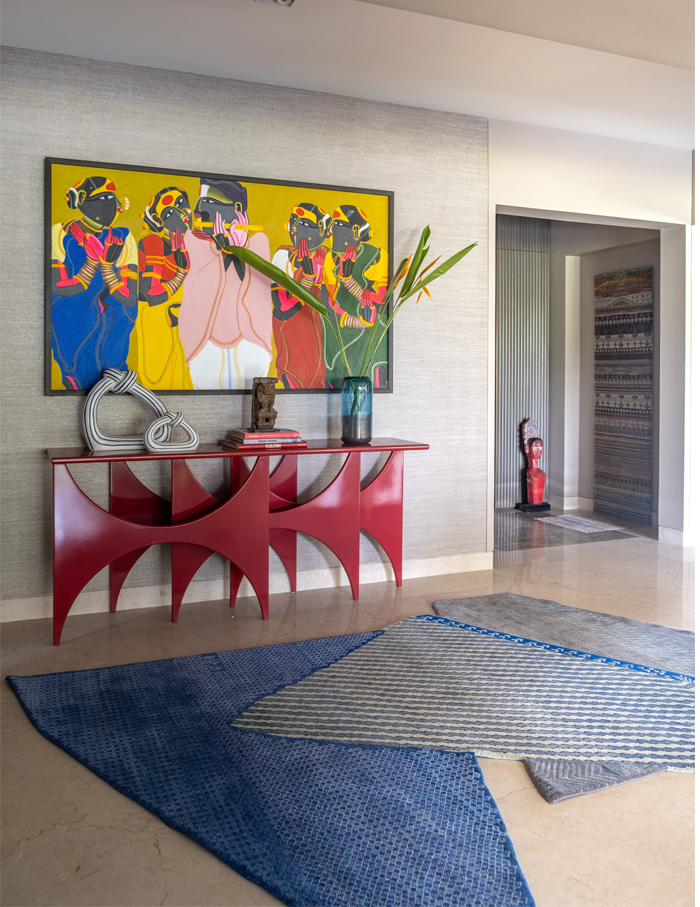 Artworks, cosy furniture, plush floor coverings, wallpapers from Maimoon Decor and Shreeji Innova, and an array of decor pieces render a vibrant and playful mood against the apartment's muted surfaces. Both, Ayesha and Nina have avoided fast furniture. They have chosen to work with durable materials such as stone, metal and timber.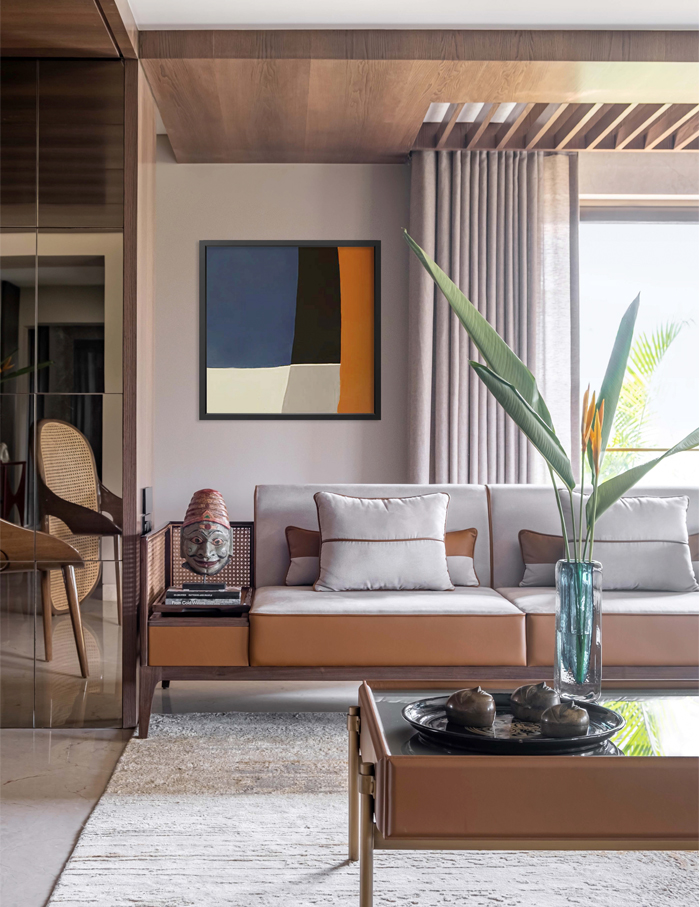 We absolutely love how the living room acts like a large singular entity! It houses a combination of formal, informal and extended sit-outs, making it perfect for gatherings as well as quality family conversations. Mirror accents are used here to enhance the space and a wooden false-ceiling turns into a pergola-like feature.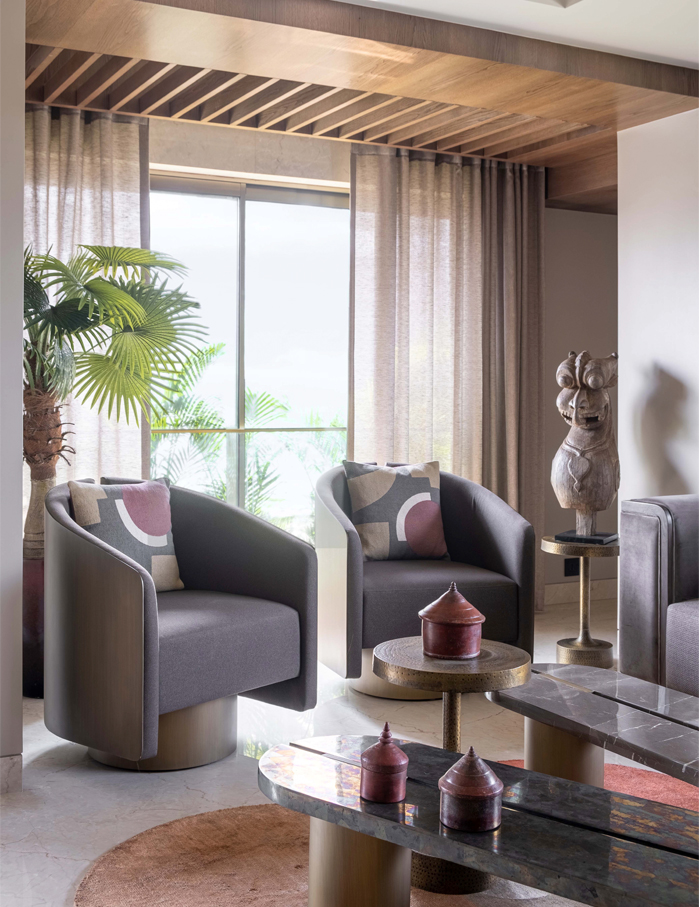 A sprinkle of greens and quirky decor accents complement the stone centre tables (which boasts a digitally printed, shaded glass), antique brass chairs, chic furniture and soothing fabrics. A light grained marble floor uniformly covers the entire house.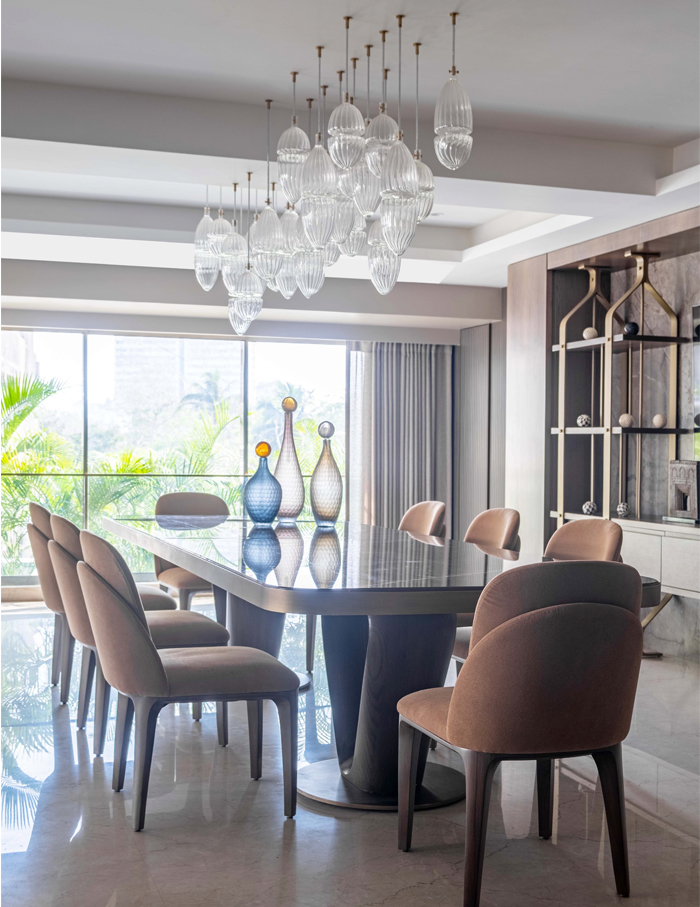 The living room opens out to a plush dining area, which draws light from the wide windows and looks out to the greens. The marble topped dining table, like the fabric upholstered chairs, stands on timber legs, radiating a modern vibe. This setting is ideal for its proximity to the Poggenpohl kitchen.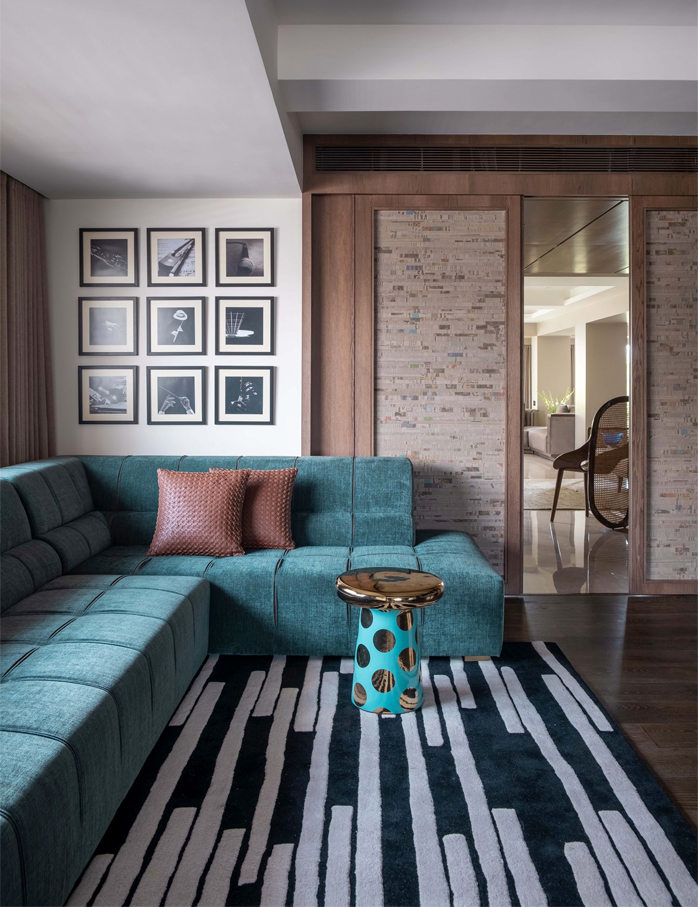 The den is accessed through a wooden framed sliding door. It digresses from the overall theme of the apartment with its use of timber flooring and turquoise-hued furnishings. Plus, it accommodates a magnificent pool table against wall art and quirky decor objects.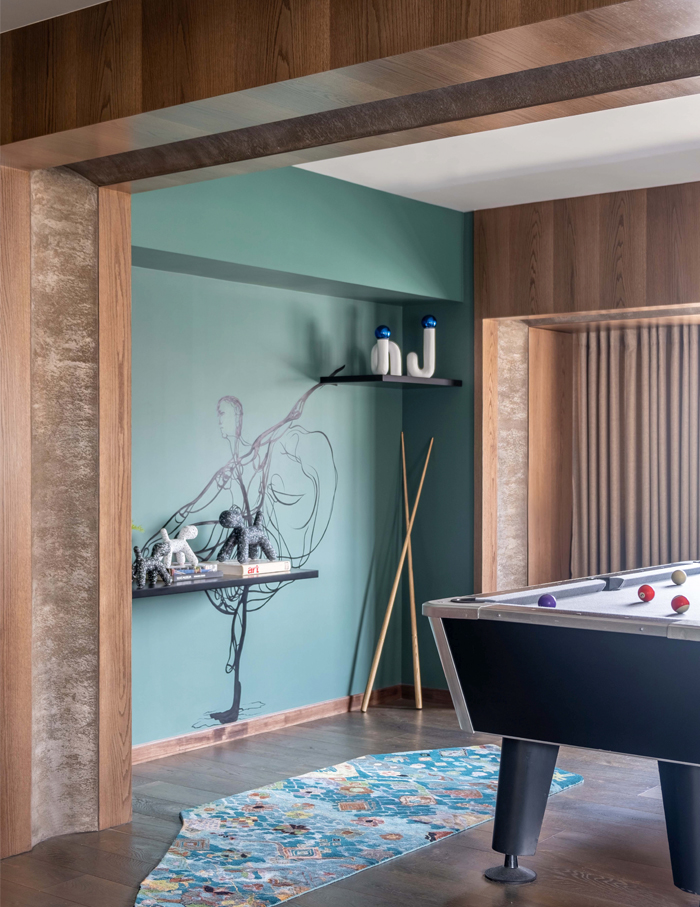 "For the den, we had local artists paint a dancer onto the wall and then placed shelves on each hand of the dancer to create an interesting backdrop for the pool table. Similarly, we've tried to create such fun features throughout the house, so as to distinguish this project from the rest of our work," reveals Ayesha.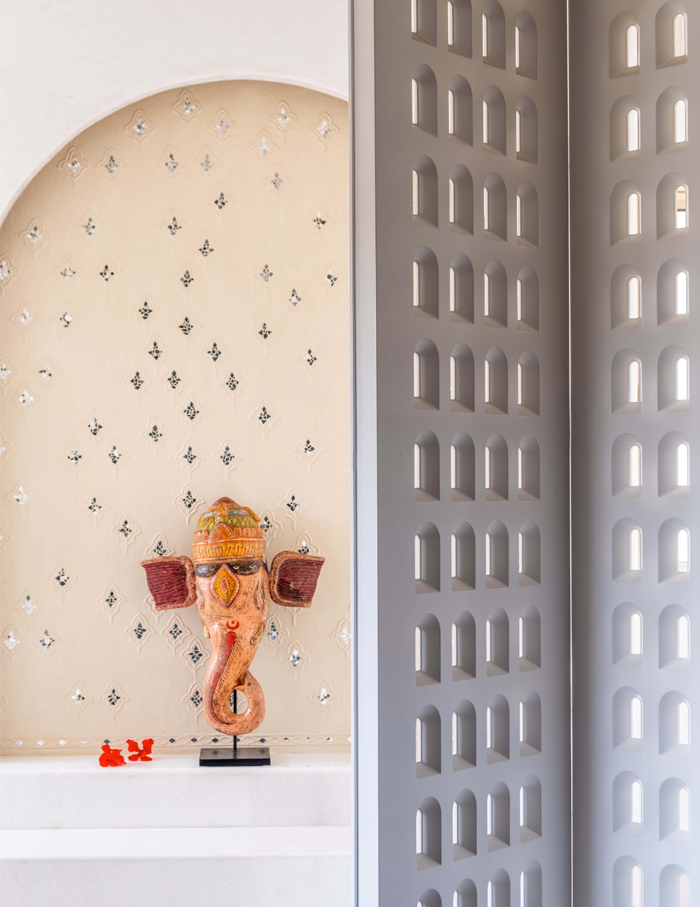 For the prayer room, the Puris avoided a traditional approach and yet fashioned it with a subtle Indianness. The duo teamed up with Rajasthani artisans from Baaya Design Studio to incorporate the thikri mirror work in clay and encased it in a white marble arch. The doors were modelled in high density boards to create 3D arches that filter light.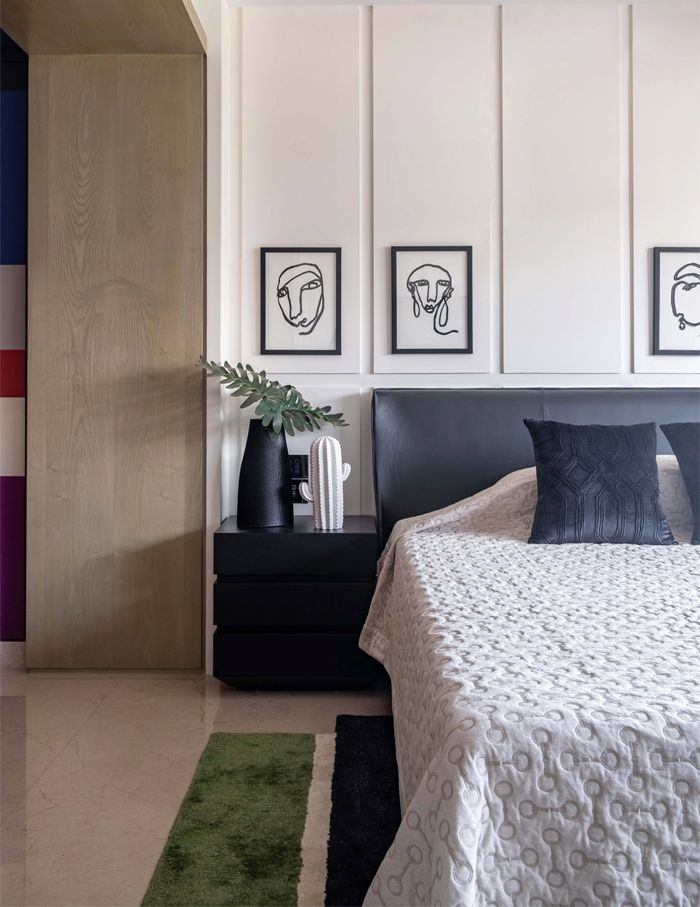 On our approach to the more private spaces of the apartment, the first stop is the younger son's bedroom. A mix of monochromatic tones and colourful corners, wall mouldings with figurine doodles and a wood-panelled cosy corner are some of the key highlights of this boudoir.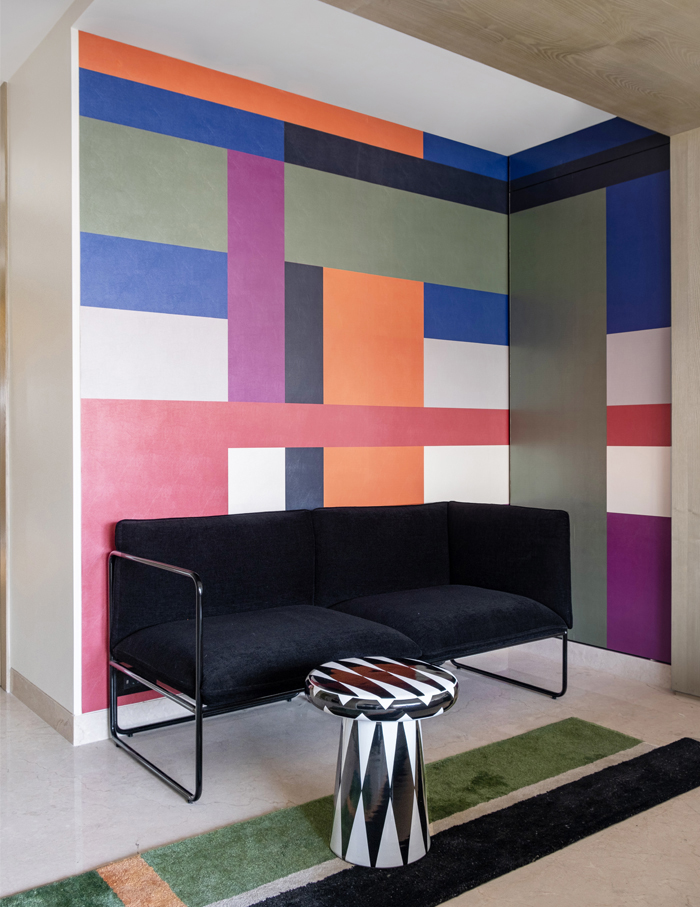 "I love playing with colours and developing bespoke furniture pieces as well as wall surfaces out of it. In this room, we created a custom graphic and after testing it on different surfaces, printed it as a wall covering behind the sofa. The carpet is also designed by us along the lines of the geometric wall covering," shares Ayesha.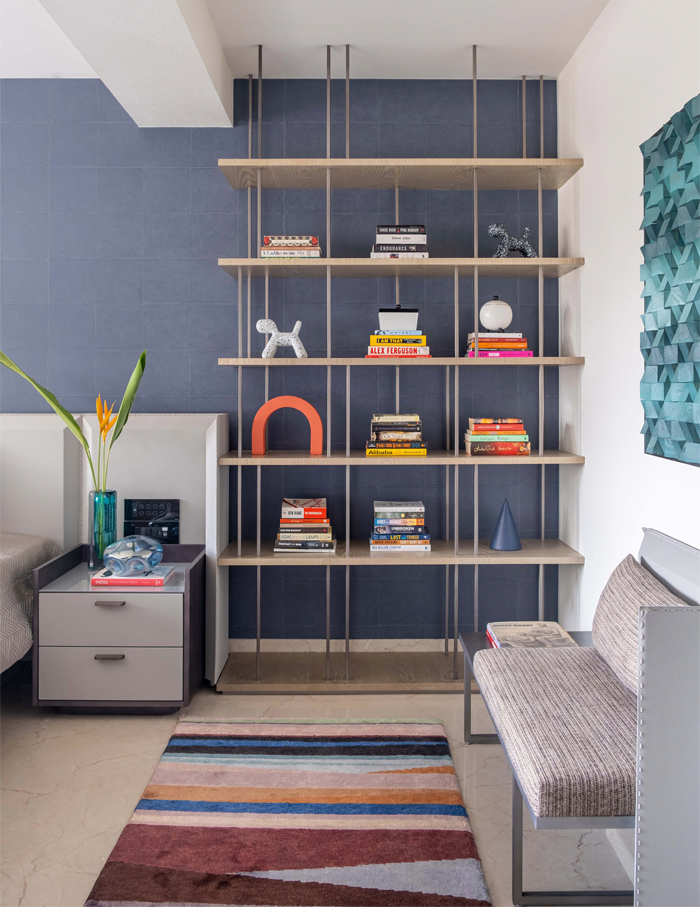 Another space that is realised as a chirpy and comfortable setting is the older son's room. The encasing headboard and soft white furnishings offset the subtle navy blue wall covering. We're in awe of this smartly crafted, suspended bookshelf that highlights the reading area, naturally offered by the division of the structural grid.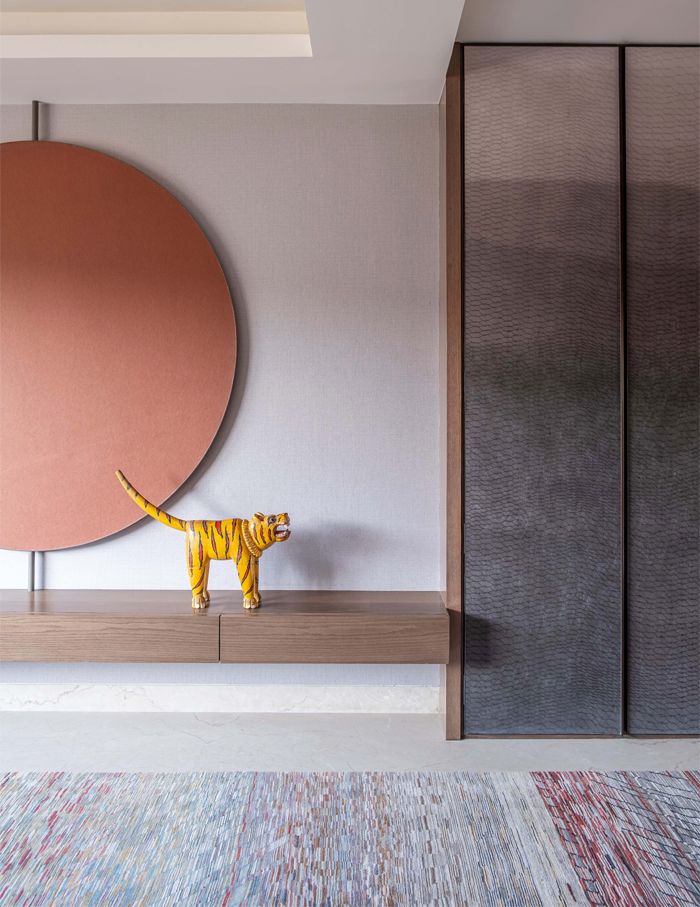 "I believe in juxtaposing two things that I may have never thought would work together and allowing them to complement each other in a refreshing way. Additionally, we've designed every element and ingeniously manufactured it," expresses Nina.
The creatives have also experimented with new ideas in every space to make each wall exciting. In fact, in one of the corners, they've wall-mounted a Manchaha rug from Jaipur Rugs in a niche!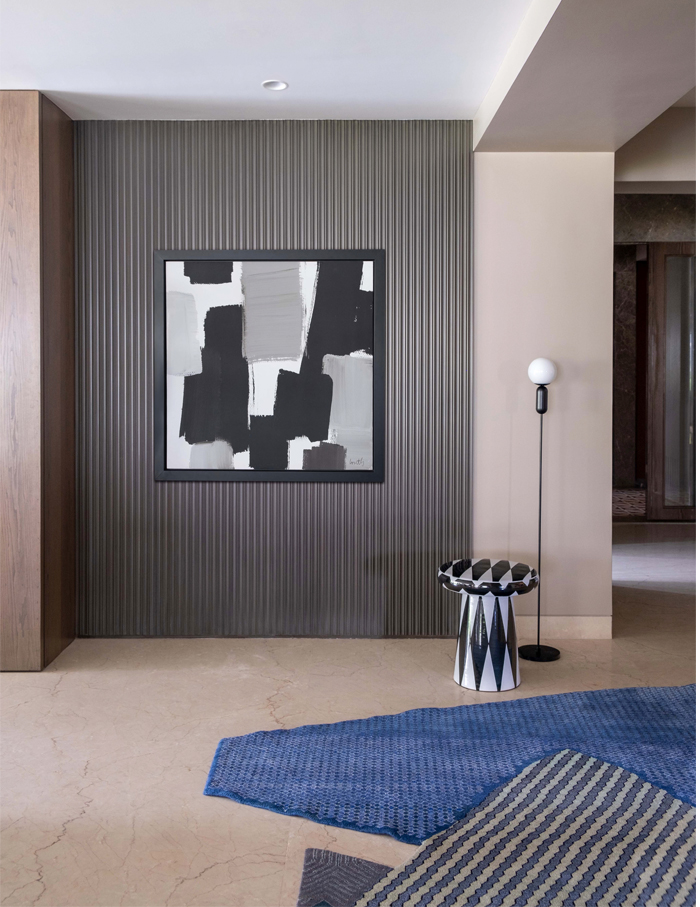 "Our main aim was to layer the space in a way that it feels large and fluid, while ensuring it resonates with the homeowners' personalities," the designers say. Needless to say, this apartment is proof of their creative need to constantly reinvent new facets of creativity with each project.
Scroll below to see more images of this artistic home by Ayesha and Nina Puri of Sanjay Puri Architects…