Homes
This Brazilian holiday home by Leandro Garcia is a 'marbleous' marvel
OCT 6, 2020
| By Vedika Nair
Robert Orben once said, "A vacation is having nothing to do and all day to do it in." And while we're all dreaming of doing absolutely nothing in these extraordinary times, why not do it in a space that looks marvelous? Leandro Garcia's design for this vacation home in Praia Mansa de Caiobá, Brazil, is a space that allows moments of celebration, leisure and downtime in the best possible setting.
With a plan where marble reigns supreme, Garcia fashions this abode by valorising local materials and design. The 1,700 sq ft apartment is flushed with touches of gold that dawn from the marble veins, soft hues, wooden elements and a noble Fendi which creates lightness.
"The studio follows a personal language but the solutions are always inspired by the client, who lends an identity to the project," shares Garcia.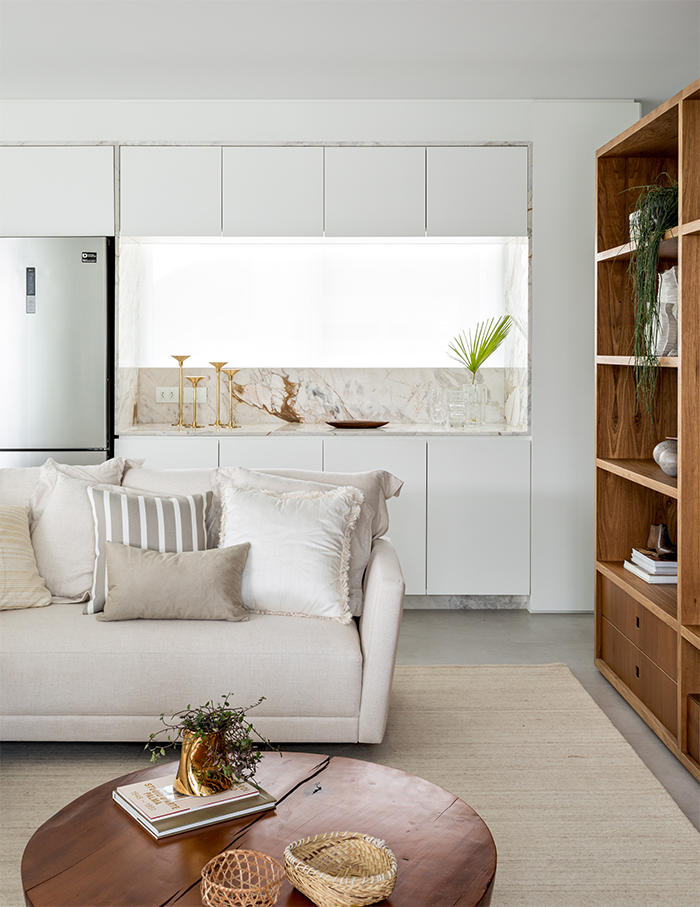 We're greeted by a bookcase made of freijó wood at the entrance. It breaks the floor plan of the apartment ideally—by adding privacy to the bedrooms. On one of its side is a lounge and on its other side is the open-plan living and dining section. This combined space, complete with a Michelangelo Nuvolato marble-topped kitchen, offers a captivating view of the Atlantic Ocean.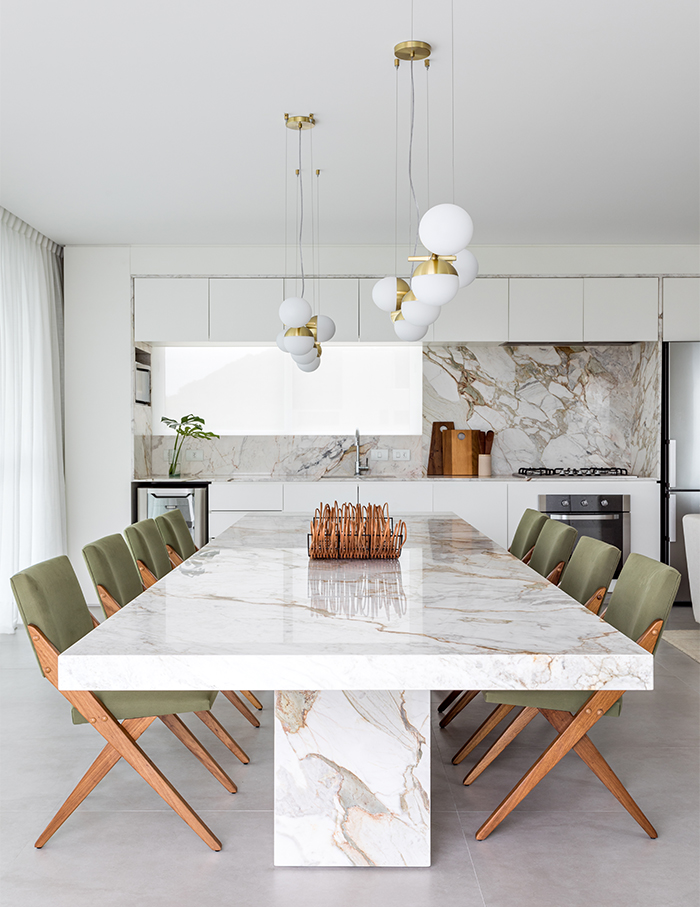 The dining space is furnished with a bespoke marble table designed by Garcia, olive green chairs to go with it and stunning luminaires. Nearby, the powder room also uses the Michelangelo Nuvolato marble for the countertop basin.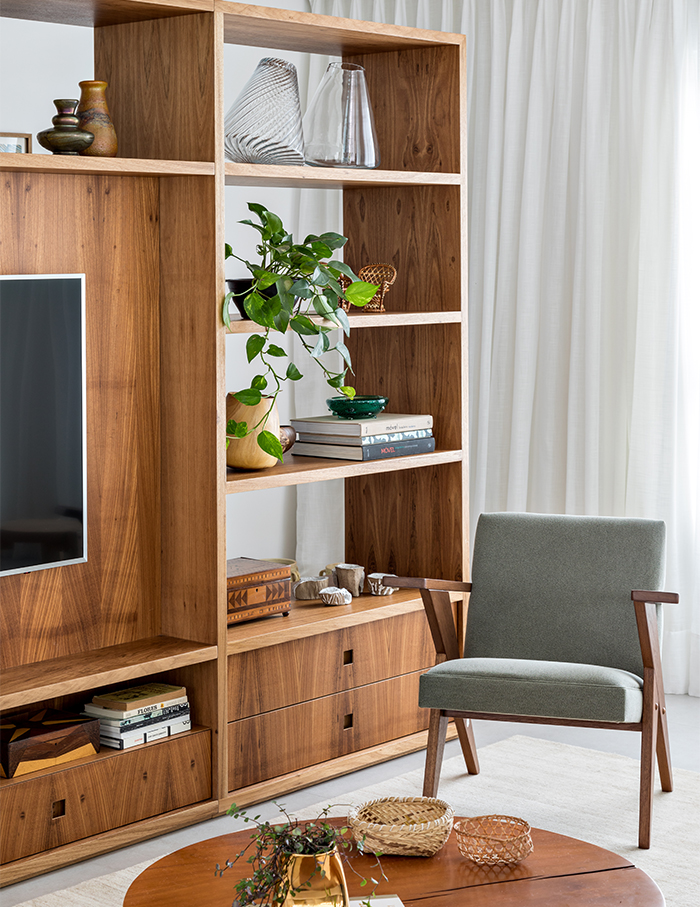 The pristine palette continues to the master bedroom as well. Here, a white headboard is placed to highlight a pair of vintage nightstands. Meanwhile, the other bedrooms host a Girafa stool that's paired with a lamp by Lumini.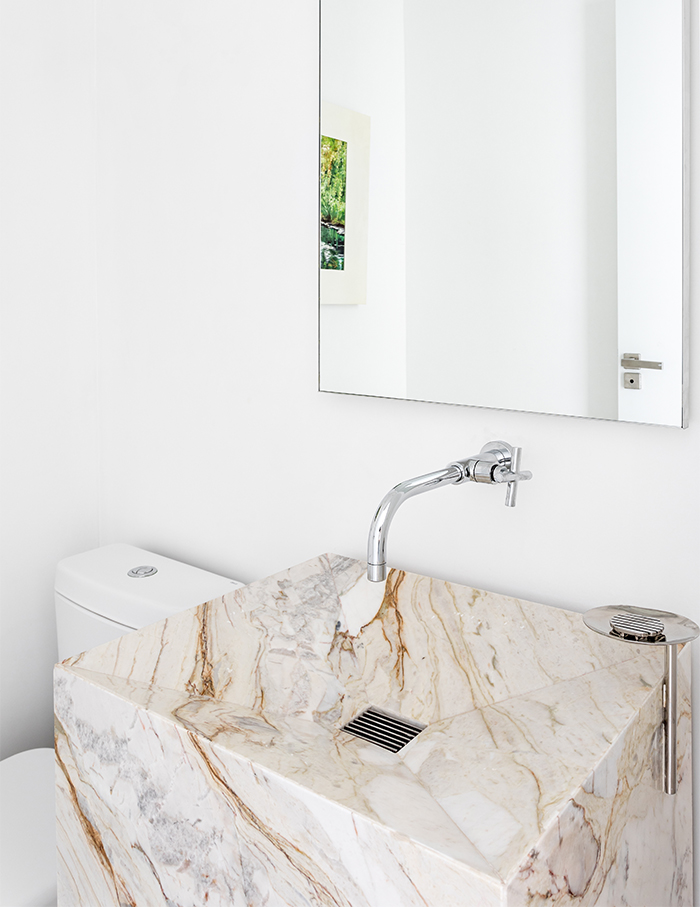 "Our creative process relies on rational and functional solutions that explore the essence of shapes in the conception of the object and/or space. We seek to develop a timeless aesthetic, which translates into the disposal of excess as well as the exploration of primordial spatial matters such as proportion, light and shadow, materials and textures. For all these spheres, it's the details that are essential to the project design," concludes Garcia.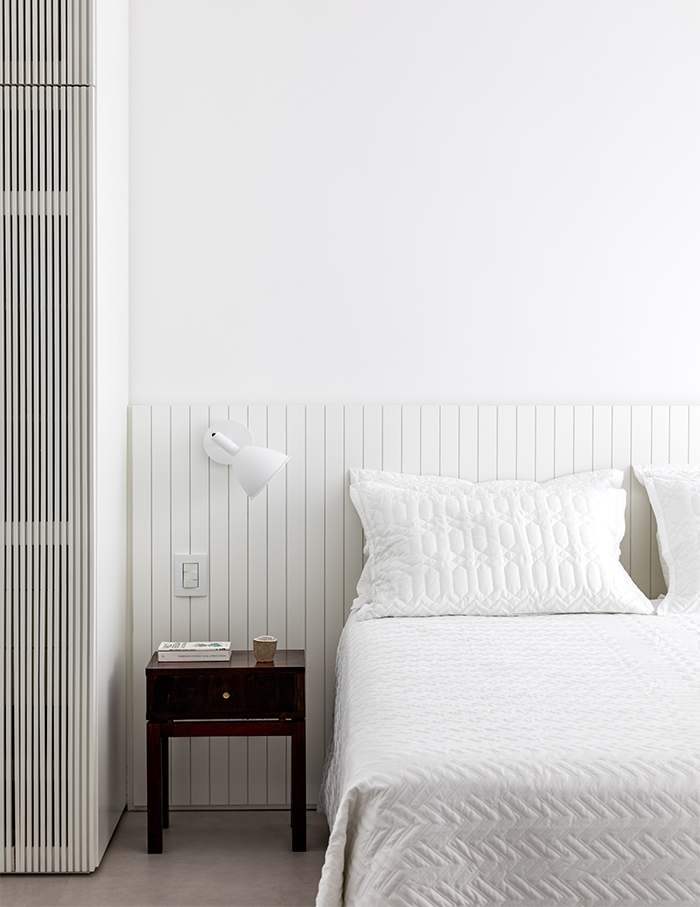 Our Aug-Sept issue is out now! Click here to read and download for free