Homes
Infused with floral motifs and captivating prints, lawyer Ankita Singhania's Mumbai home is fresh, vibrant and summery
APR 20, 2021
| By Vedika Nair
Summer is upon us and we're dreaming of cruising away for a fun getaway… We can only dream in this scenario, of course, but lawyer Ankita Singhania has us feeling inspired! She's turned her dreams into reality by transforming her two-storeyed home in Mumbai with a theme inspired by verdure. 
"I am a gardening enthusiast and love pottering about in my free time. I saw this space and fell in love!" exclaims Singhania, adding, "The house was bought for the garden and the rest fell into place. The design theme ensures that our views remain unobstructed."
The 1,800 sq ft home went through a few structural changes—break down of the staircase and creation of the den—that were made by architect Rubel Dhuna. Outside is a small garden area spanning 500 sq ft, which is Singhania's favourite space.
We're greeted by a green wall at the entrance and just inside, we find that the lower level is dressed in two colour schemes. Nearby, a curving wooden staircase features a seating niche under it, giving us a view of the expansive living room.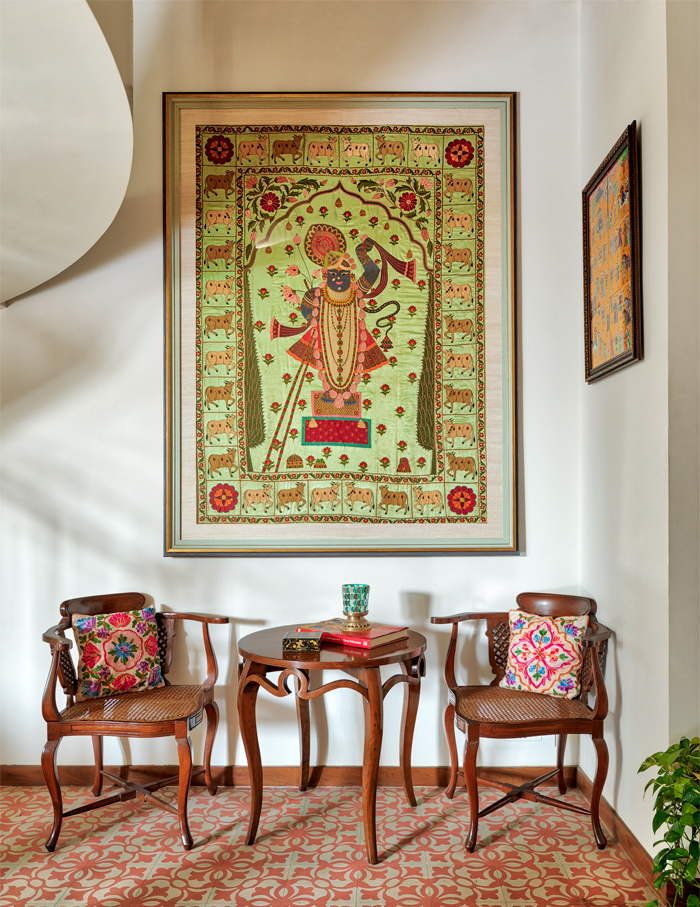 Meandering through the passage that's laid with a dual-tone tile from Bharat Floorings, we find the den on the left. It is furnished with a comfortable sofa-cum-bed, and closed off with sliding panels, so that it can serve as an office or a bedroom.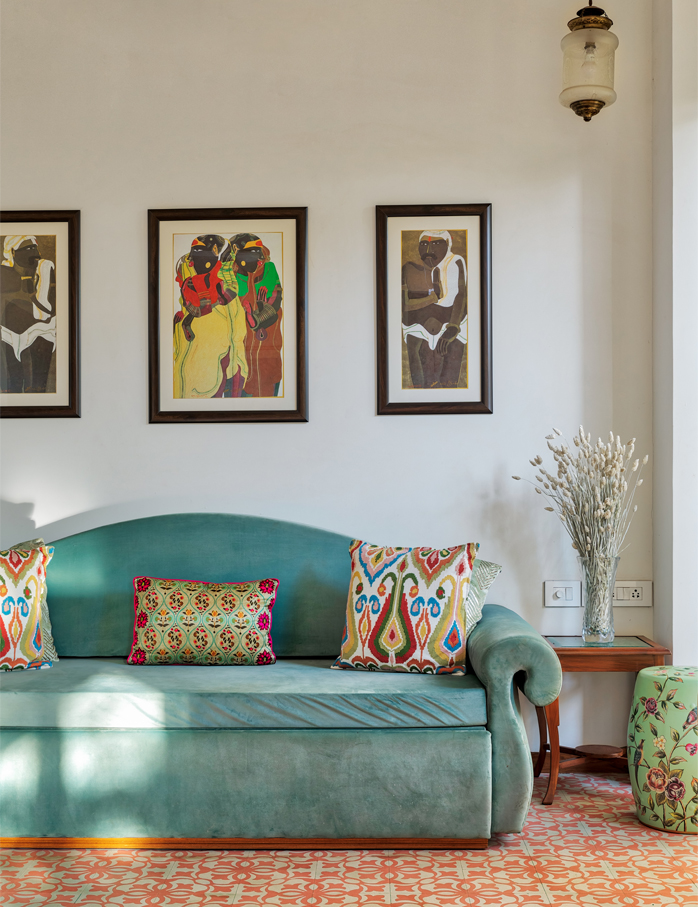 The most captivating features in the living room are the stunning swing, Chesterfield sofa and the large French windows that lead to the garden. This space also accommodates a cosy dining niche to suit the needs of the homeowners.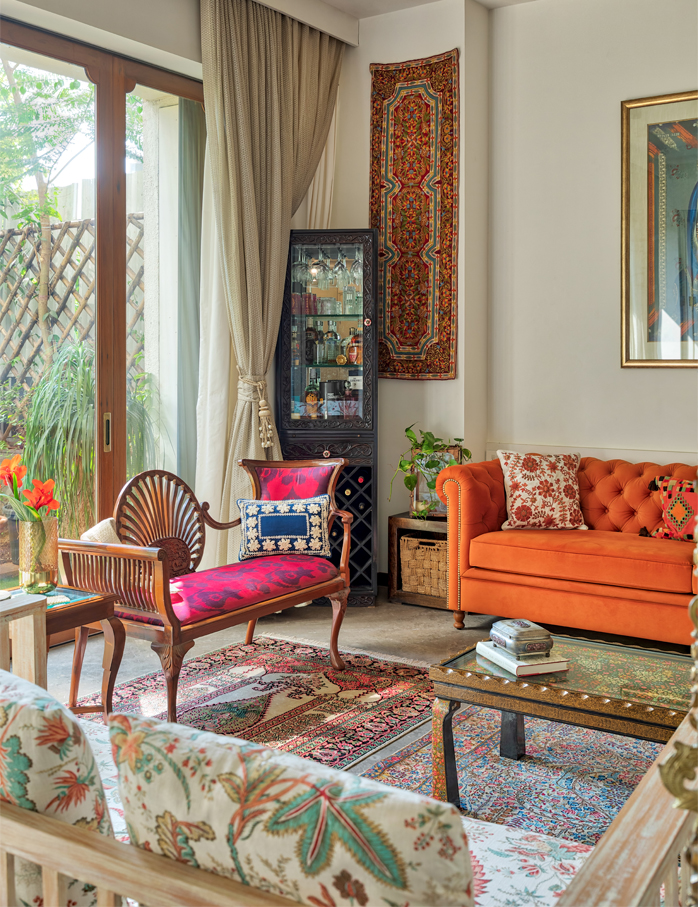 "While the colour palette is more pastel, it is definitely not muted. I love colours. So, we have a rust-orange couch at one end and a green couch on the other. We also have pink and grey flooring. I think this best explains what a riot of colours our home is!" adds Singhania.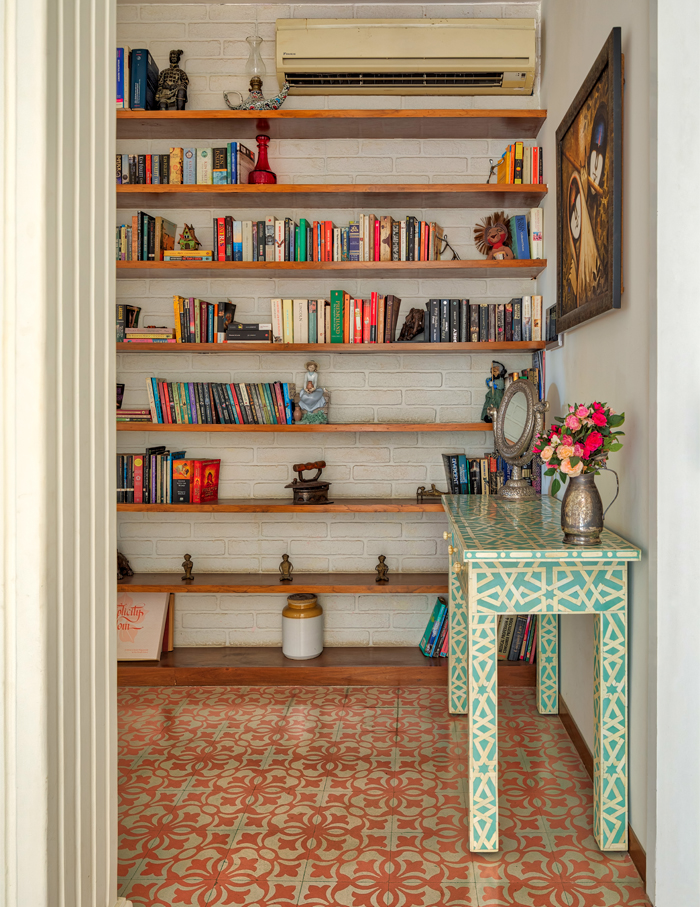 Having always believed in buying pieces that stay with them through their various homes, the Singhanias have decorated this cove by reupholstering their existing collection of chairs, along with a love seat and an old green malachite side table. A papier mache centre table from Kashmir represents the Tree of Life. It is complemented by intricately detailed carpet, while the walls are decked with art collected by the homeowners over the years.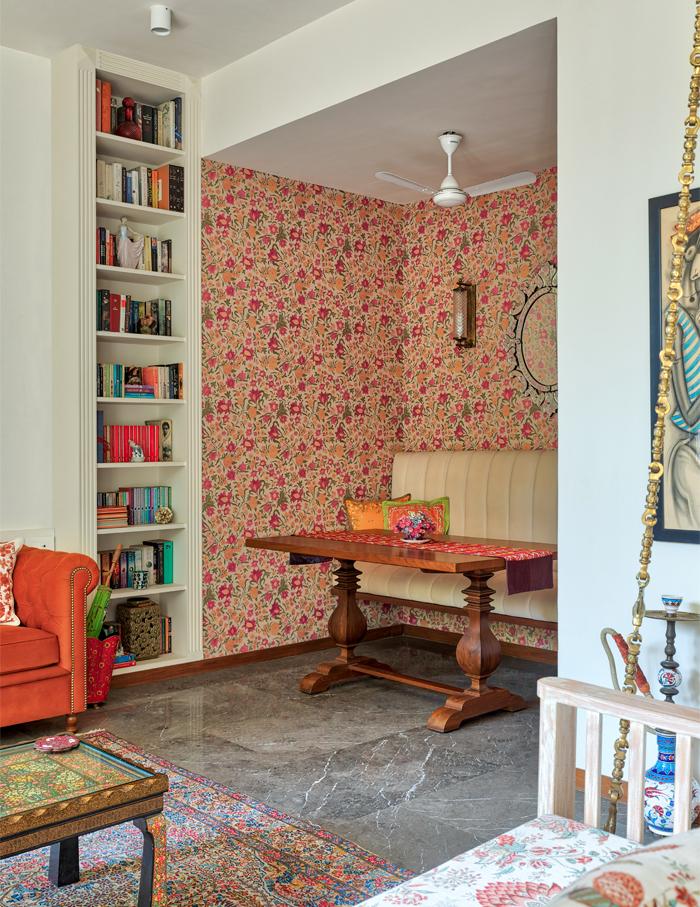 From the living room, we approach the spiral staircase that takes us to the bedrooms above. Along these walls, several works of art representing the inhabitant's homes and travels reveal themselves.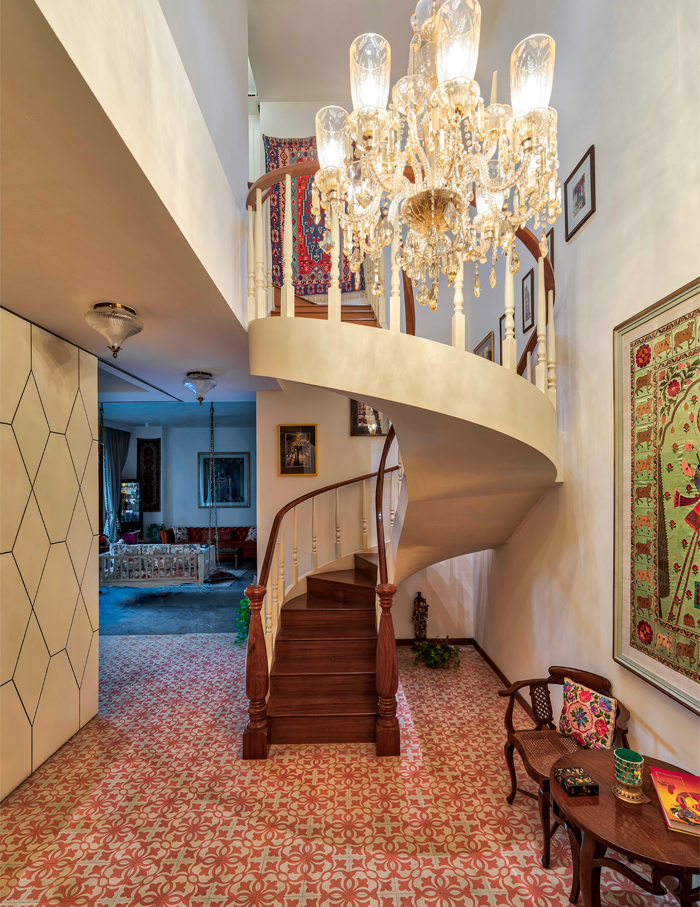 First up is the son's room, where a white bed in sunburst cane offsets cane cupboards in natural wood tones. "The challenge was to accommodate a private prayer space without closing off any part of the room," divulges Singhania, adding, "I worked with Baaya Design on this folding, wood carved and brass screen. It serves its purpose perfectly." This bedroom also has a balcony that's filled with plants and overlooks the garden.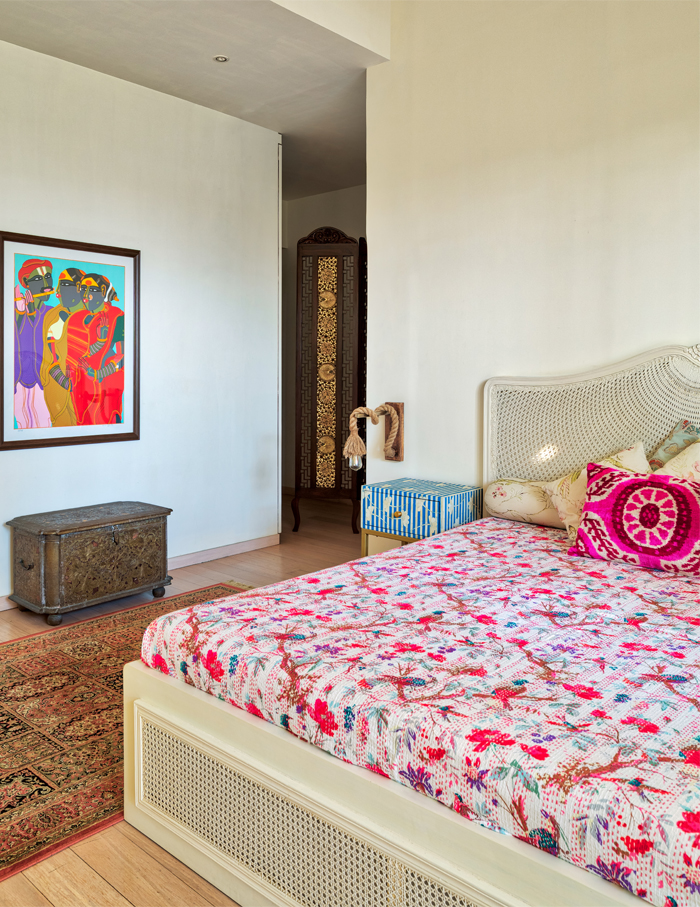 "This home brings together all the pieces I love. Whether it is art, furniture, rugs or colour. I buy pieces that catch my eye—sometimes even when it has nowhere to go in our house at the time—because I love the colour and design!" shares Singhania.
Across from the son's room is the master bedroom with a walk-in closet, which is not only Singhania's favourite but also her son's! Her love for doorknobs is brought to life with the intricate detailing in the wardrobe, while the room features charming blush rose and white inlay side tables.
"Flowers and light were my number one inspiration," shares Singhania. A tour of the home and you will find that it breaks away from the trend of marble floors. Large parts of the home have been covered with bespoke tiles by Bharat Floorings. Not only do these mosaic tiles create art on the floor but they also bring individuality to the space and are reminiscent of our childhood homes!