Homes
This compact Mumbai home by Ali Baldiwala of Baldiwala Edge turns to the 1980s Memphis design movement not just for its colour leitmotif but also the overall aesthetic
MAR 4, 2021
| By Ali Baldiwala
Ali Baldiwala of Baldiwala Edge shares insights into the interior design for this bijou apartment… This is a home that sparks curiosity and is layered with cosy textures and colours.
Our client's request was simply to maximise the layout and give it an eclectic aesthetic. So, we've realised the space as a two-bedroom apartment with a living area, a den and an open pantry that especially highlights the unusual design of this apartment. And that's how the abode got its moniker: Quirk Box.
Breaking away from what we've previously done at our recently rebranded practice Baldiwala Edge, this home mixes bright colours with unusual finds and custom embellishments to match the homeowners' personal preferences.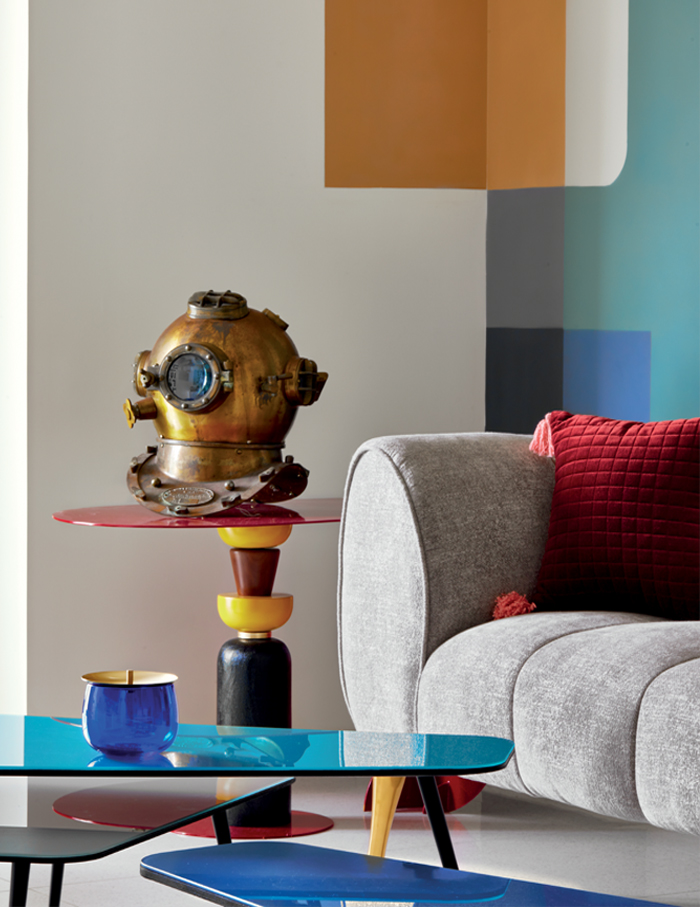 Right from the living room to the master bedroom, you'll find a spectrum of tints, intriguing artsy pieces and designer furniture that uplifts spaces and lends them a luxurious yet homely look and feel. As if in throwback mode (don't we all love everything vintage?), what's old is new again. We've turned to the Memphis design movement, which served as the inspiration for the use and play of colours.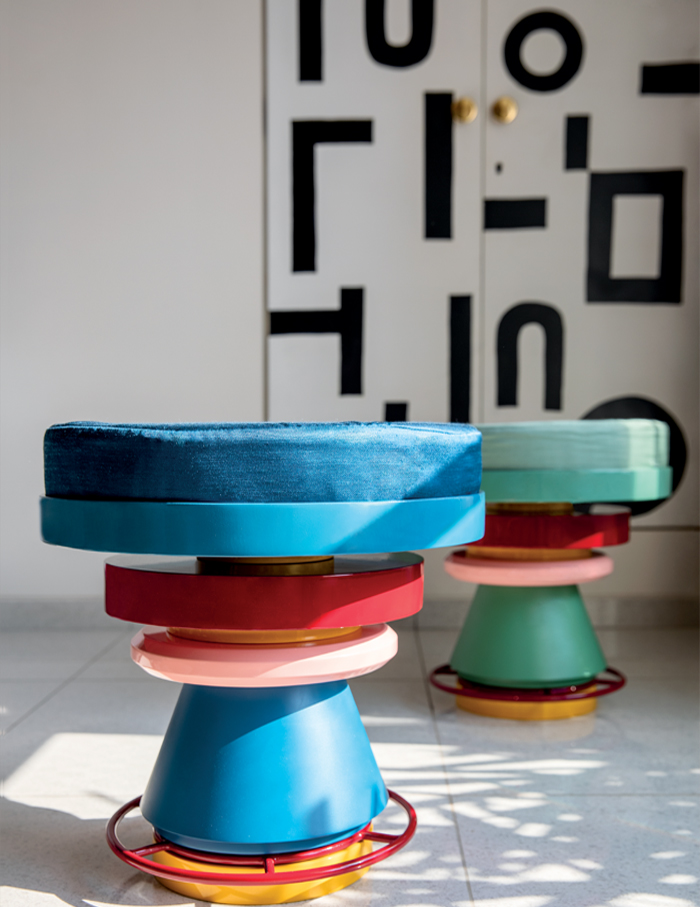 Each room is playfully designed without losing the focus on functionality and tells a tale all of its own.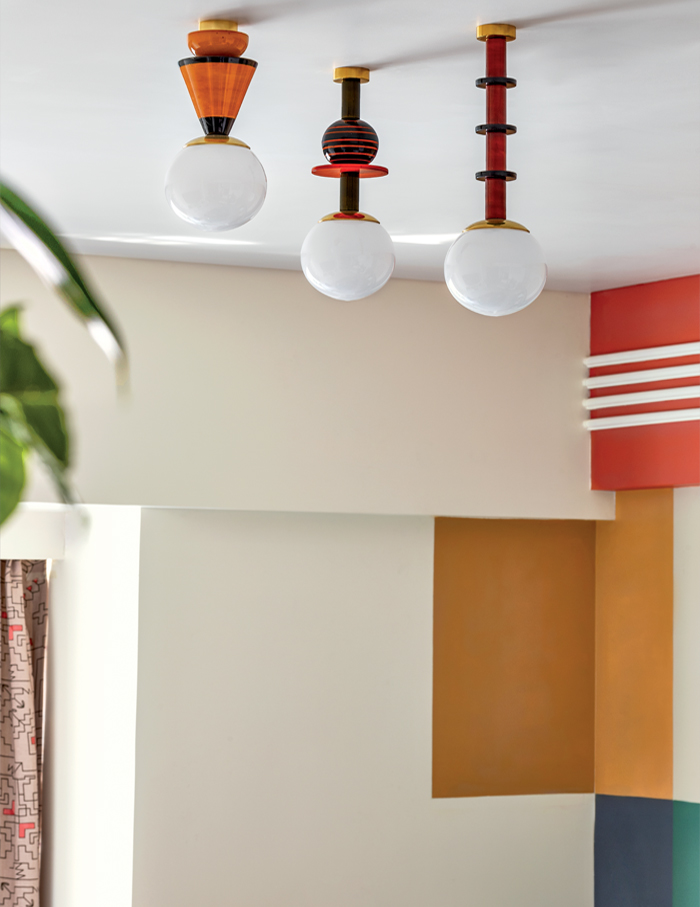 Take, for example, the living room that's anything but boring. It is a colourful representation of the 1980s Memphis design movement complete with funky accessories.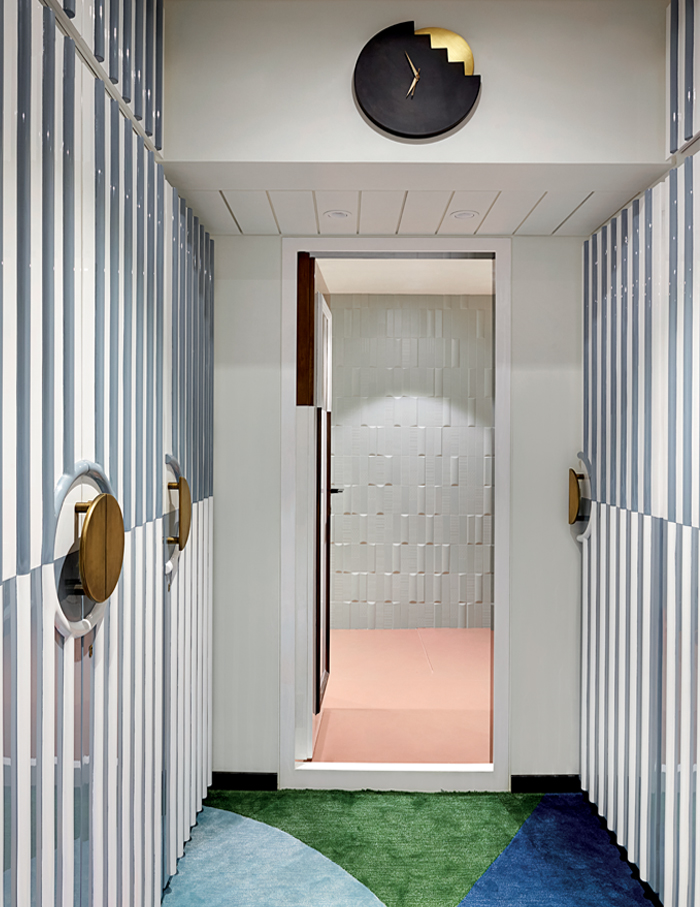 We've placed several statement pieces here that balance perfectly and create a cohesive look such as the candy-coloured Jolly Rancher console, Channapatna lights in vivid lacquer shades by Arjun Rathi, a tribal patterned cabinet curated by ZaWorks and a geometric Jaipur Rugs floor covering.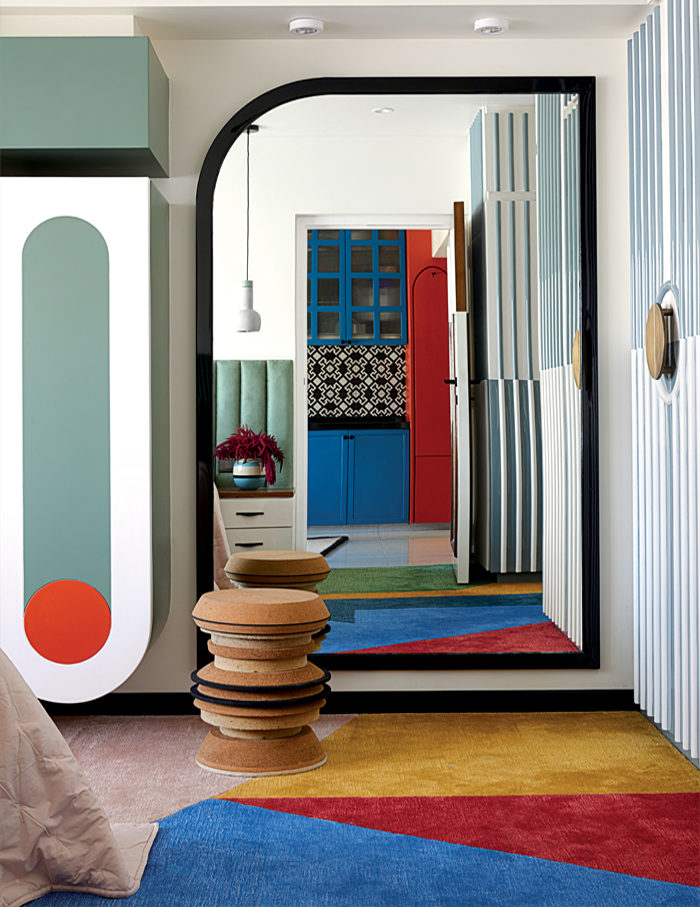 Meanwhile, the master bedroom is conceived as a customised warm nest, a dedicated space for leisure and relaxation. It is bold with patterns dominating the room. While it features softer hues, it is still in sync with the theme of the home, where nearly every surface is saturated with colour.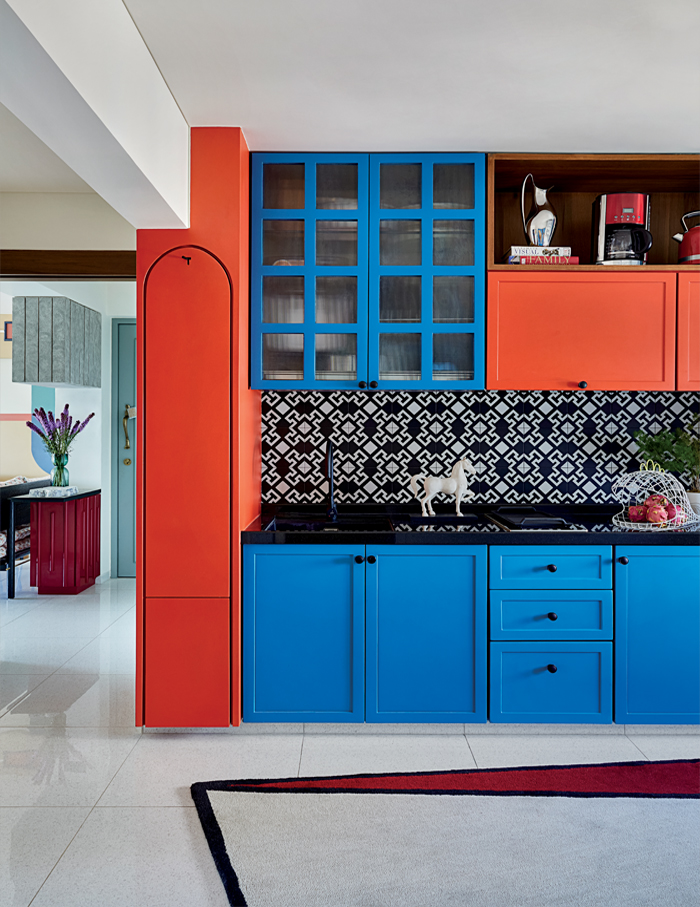 The flooring is elevated with a plush, colour-blocked carpet that adds character in calmer tones. Here, the wardrobe is reflected in the Memphis inspired mirror, and its funky, fluted pattern and elegant brass handles are revealed as a never-ending rhythm.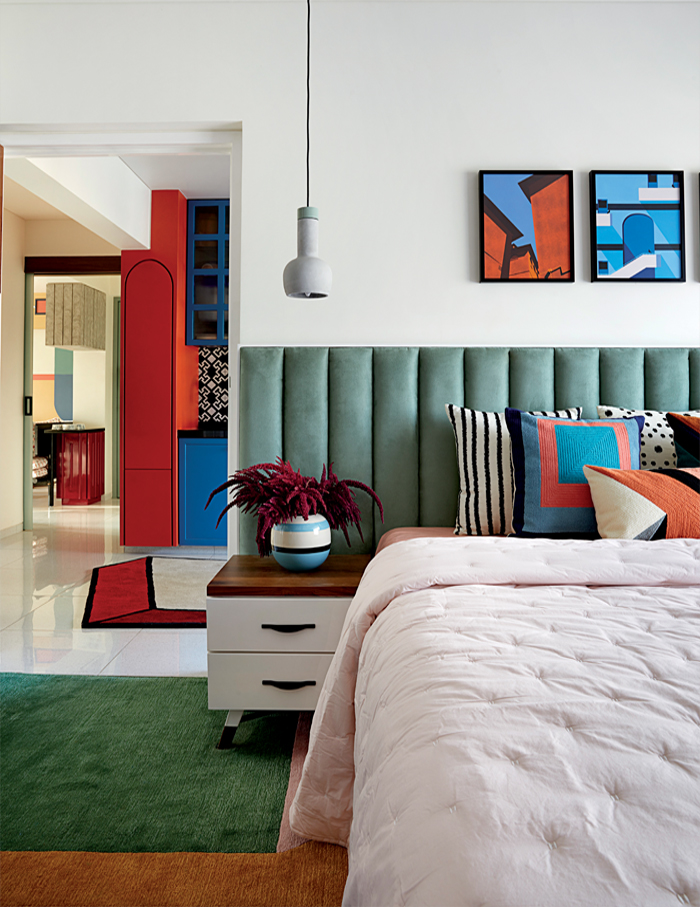 On the other hand, the guest bedroom is in stark contrast. It is far removed from the apartment's overall aesthetic and instead depicts an old town in Gujarat with an ethnic, authentic vibe familiar to the clients.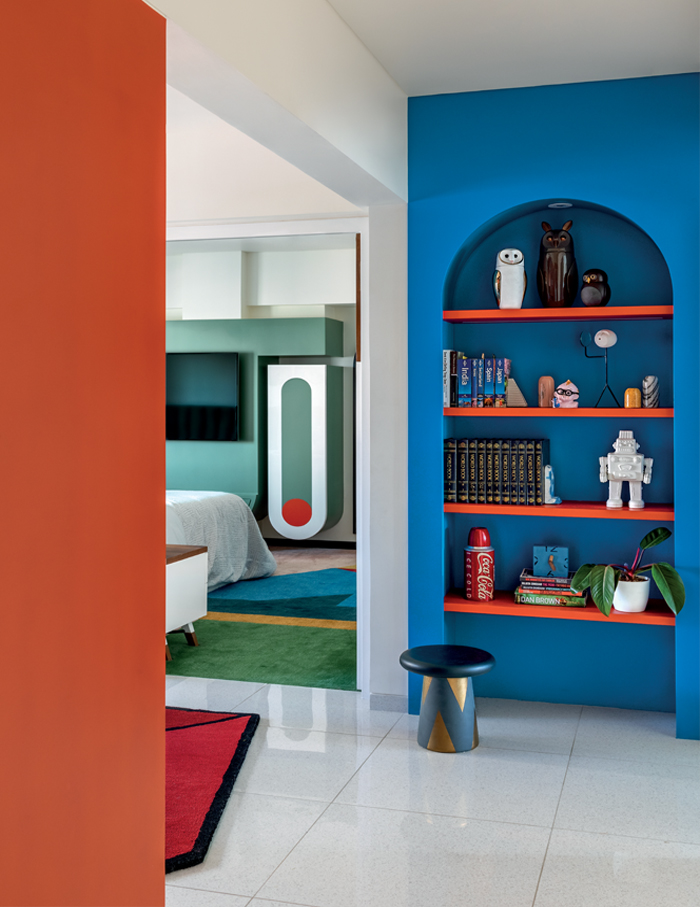 Finally, the den of this diverse abode also opens up to a distinctive arch (another nod to the 1980s Memphis) with shelves, a matte blue library that's dotted with books and designer tchotchkes, and a world map puzzle procured from Ukraine.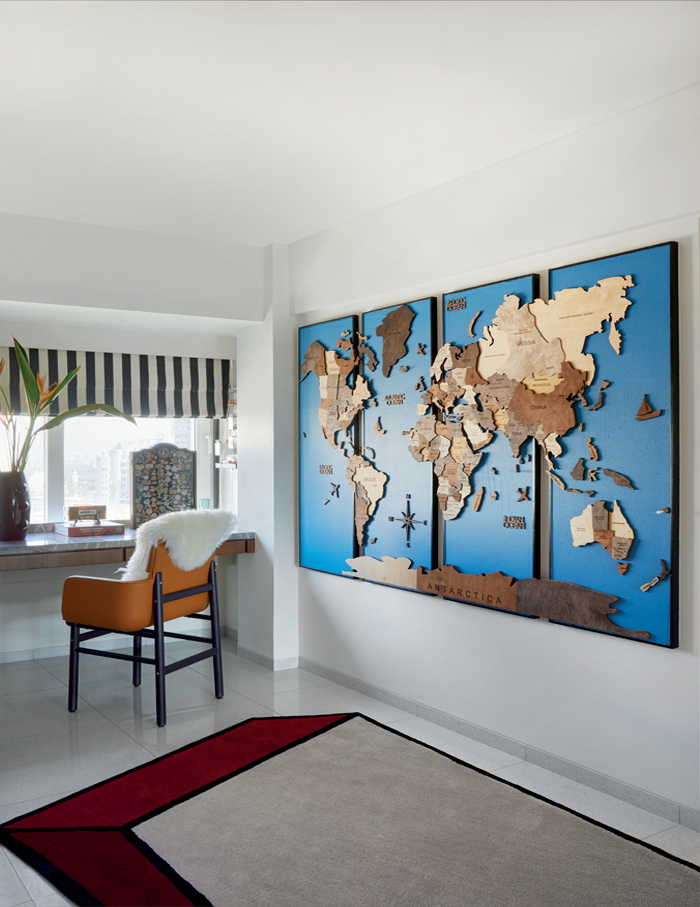 The pantry alongside is also bathed in the same hues as the shelving unit for a touch of nostalgia.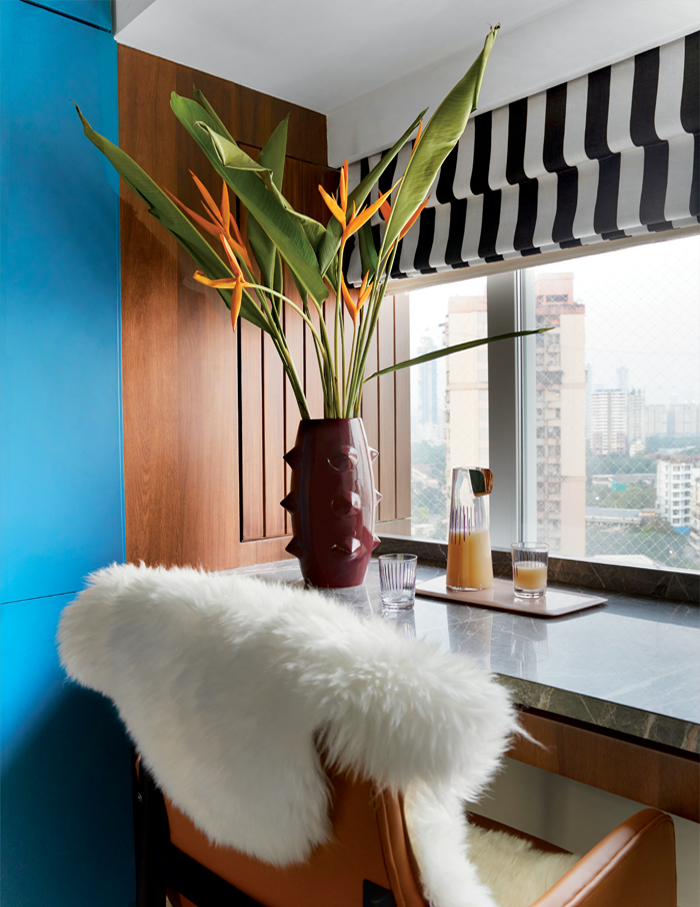 In all, the apartment exhibits the homeowners' personal style and their openness to experimentation, mixing cultures and themes through their unique choice of art, colours and furniture—adding a flavourful and fearless quirkiness to the home.