Homes
Ali Baldiwala blends Japanese and Scandinavian influences that are a world apart for this new South Mumbai home
OCT 4, 2020
| By Sakshi Rai
Bringing a refreshingly new blend of cultures and styles to South Mumbai is interior designer Ali Baldiwala of the recently rebranded practice Baldiwala Edge. The project is christened Mysiga Homu—which literally translates to a cosy home in Swedish—and seamlessly blends wabi sabi aesthetic and hygge decor, characteristics native to Japanese and Scandinavian designs respectively.
This "Japandi" confluence is realised through pale hues, sleek silhouettes and wooden accents that smoothen the road for expansive, organised interiors, just as the homeowners envisioned. It is fascinating to just pause for a moment and appreciate the resultant harmonious composition, knowing that it has stemmed from vernacular designs that are from regions located far apart from each other.
"The homeowners wanted a sanctuary-like environment that was comfortable and employed organic textures, simple forms and clean lines," explains Baldiwala. Natural, hand crafted artisanal pieces further add to the rustic, personalised narrative of the home, which is styled by Samir Wadekar. Other recurring elements that unify the abode include the simple yet striking white statuario marble tiles from Greece.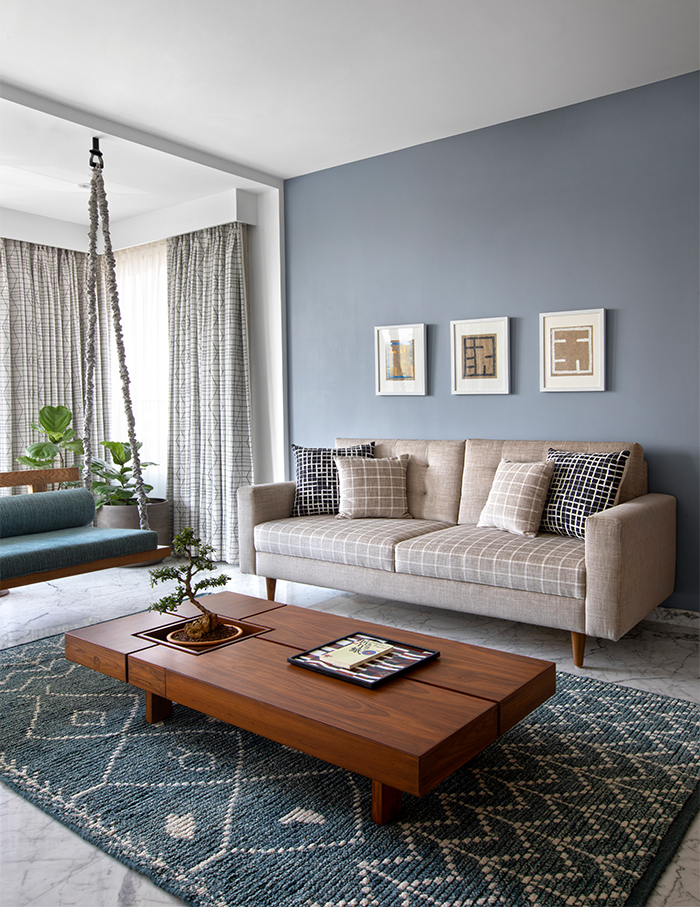 An oak slatted door leads the way inside this lovely abode. Already reminiscent of the outdoors, one steps into a serene living area with a lived-in yet refined vibe. Capturing the true essence of Japandi decor, the interior designer chose to infuse the grey and blue hued space with a few statement accents rather than host a large cluster.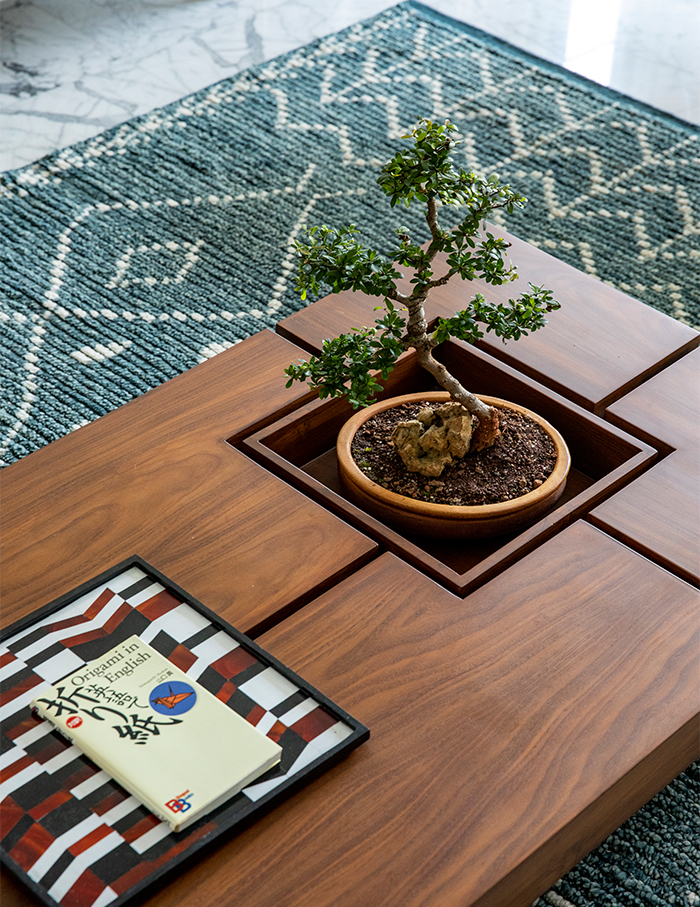 A few examples include a pair of Paul Laszlo armchairs moulded using reclaimed Burma teak and cane, plush neutral toned sofas as well as a chic flutter light from Paul Matter with a burnt brass finish. These along with a wooden table from Red Blue Yellow and a blue aztec printed rug from Cottons and Satins bring unique tones and utilitarian qualities to the area.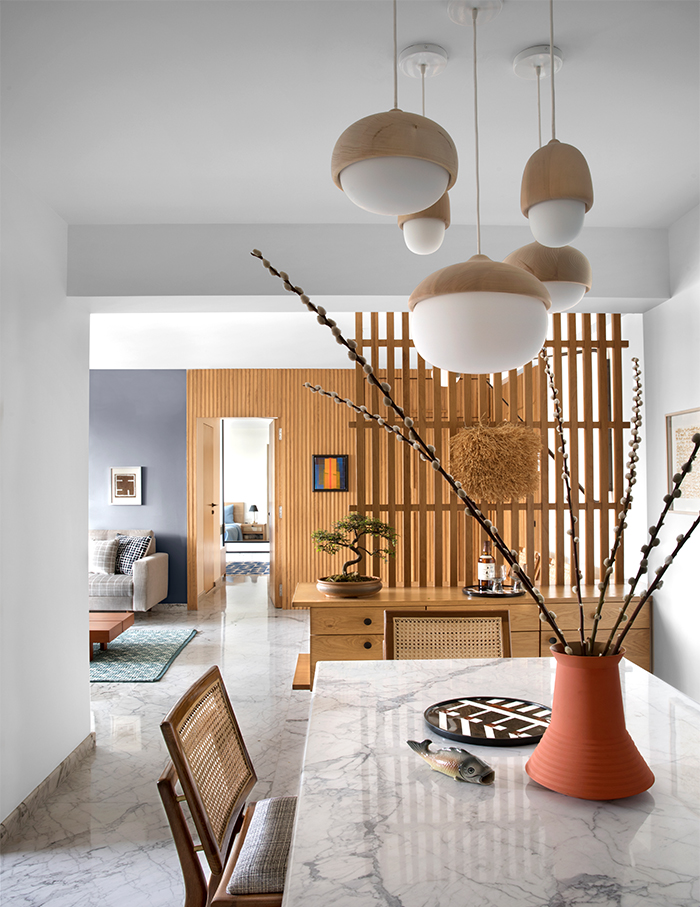 But, of course, the star of the living area is a Japanese styled oak swing, ideal to relax in, whose location is chosen to be in the path of ample breeze and daylight. Completing the quaint picture are a series of bold and abstract artworks by Sudhir Talmale from Studio 3 Art Gallery and Arvind Sundar from Space 118 Studios, among others.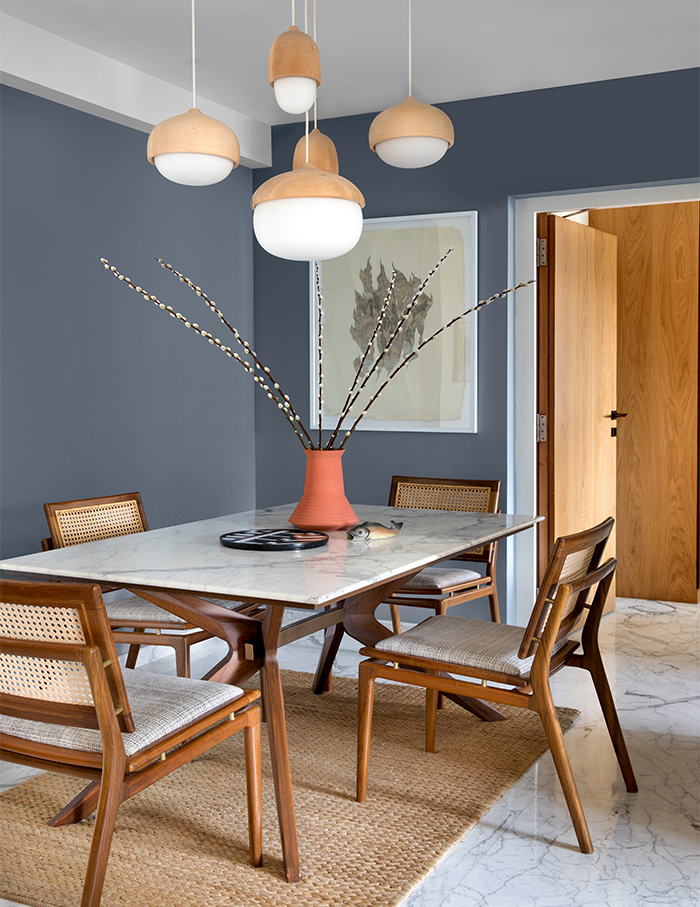 Also seen are Japanese-inspired, oak slatted panels and vertical screens that frame transitional pathways and act as inbuilt dividers. "We also took care to spruce the house with greens such as bonsai plants and pussy willows that add an inherent simplicity and reconnect the homeowners to nature," shares Baldiwala.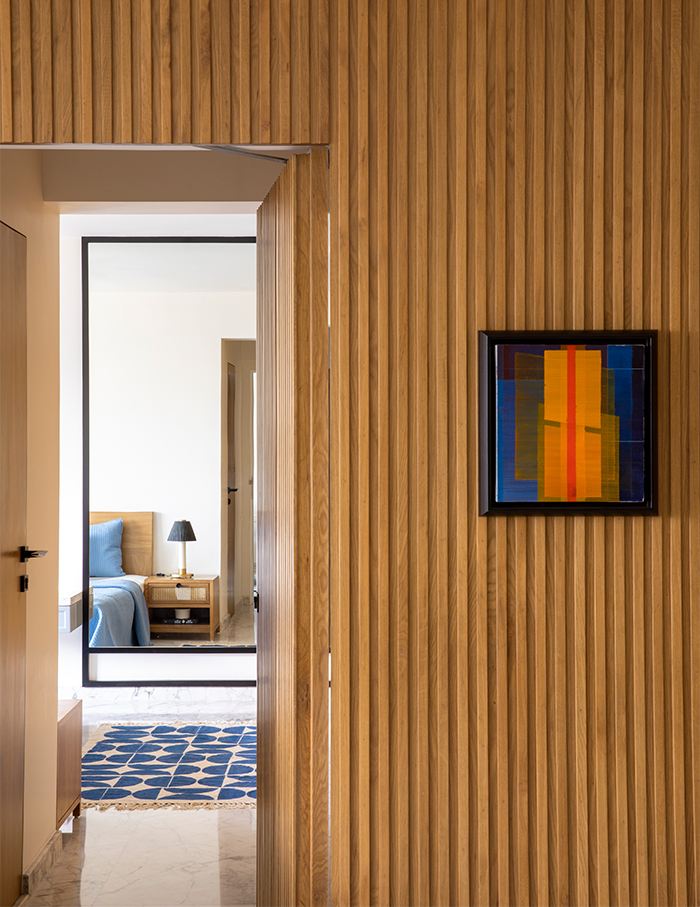 The dining area is punctuated with light and dark wood accents such as Wood'n Design chairs made from reclaimed Burma teak surrounding a marble-topped table with a butterfly leg design. Terho lamps fashioned using linden wood alongside a hand blown grass shade by Mater Design shine overhead. This tranquil space, filled with natural and zen elements, adds equilibrium to the home.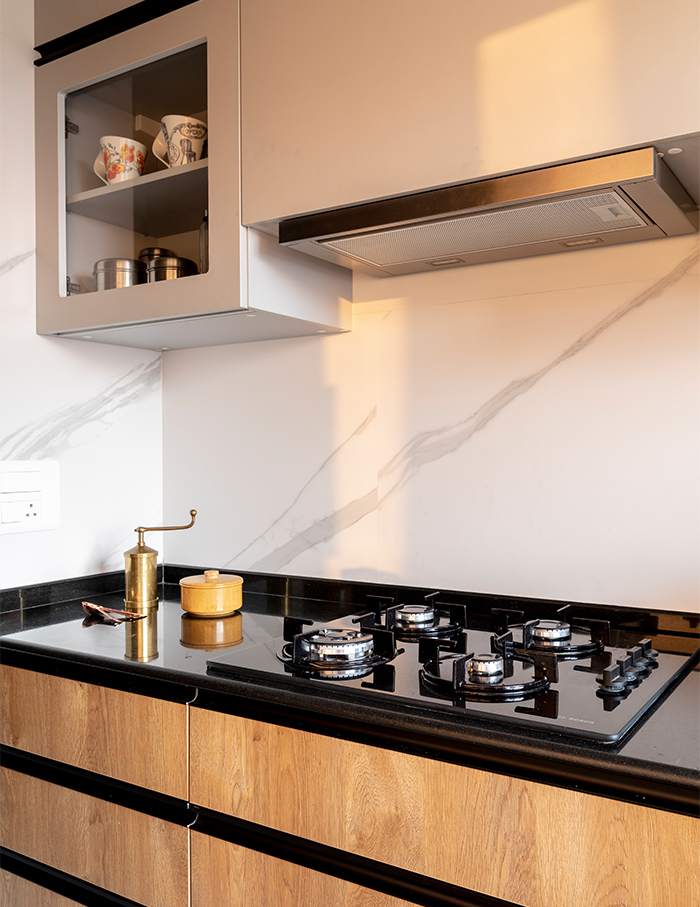 Three minimal tones—provided by the oak laminate finish, black accent hardware and white statuario tiles—form the base for the design of the kitchen. The latter brings a distinct lightness to the modular setup and is ideal owing to its low maintenance features.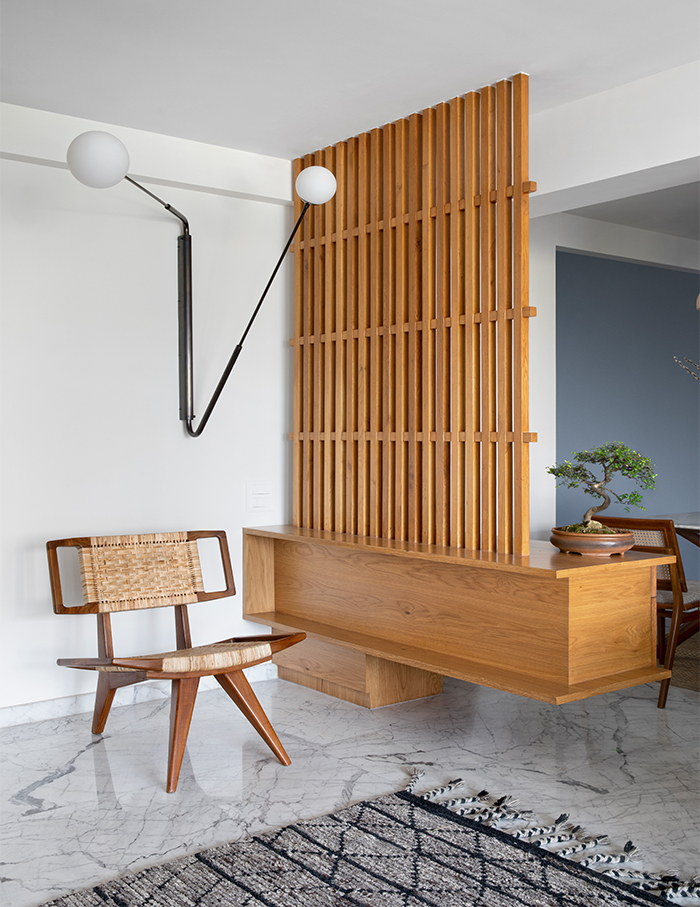 Moving to the sun soaked master bedroom, the first thing that catches our eye is an oversized black-rimmed mirror that amplifies the inbuilt space as well as bespoke artworks. Sticking to the all-wood trail that continues across the home, this space too is decked with oak veneer, cane and timber furniture. One corner is occupied by an exquisite marble-topped table with black metallic legs.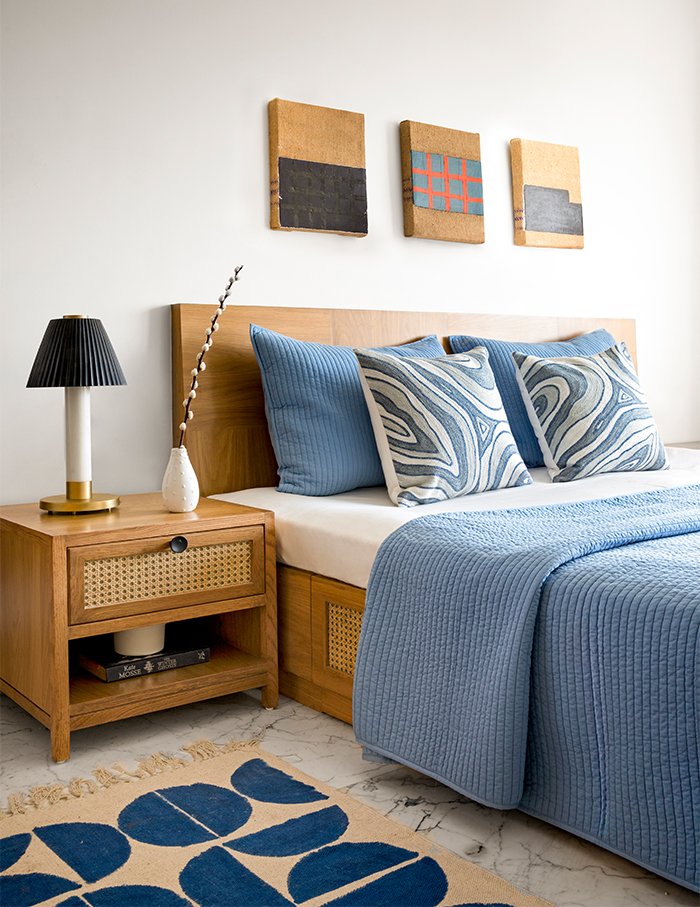 The guest bedroom follows suit. Near the bed and side tables are an elegant wardrobe with black metal accents and handles along with grey, back-painted glass. Warm, earthy tones have been chosen for the upholstery, curtains and linens as well.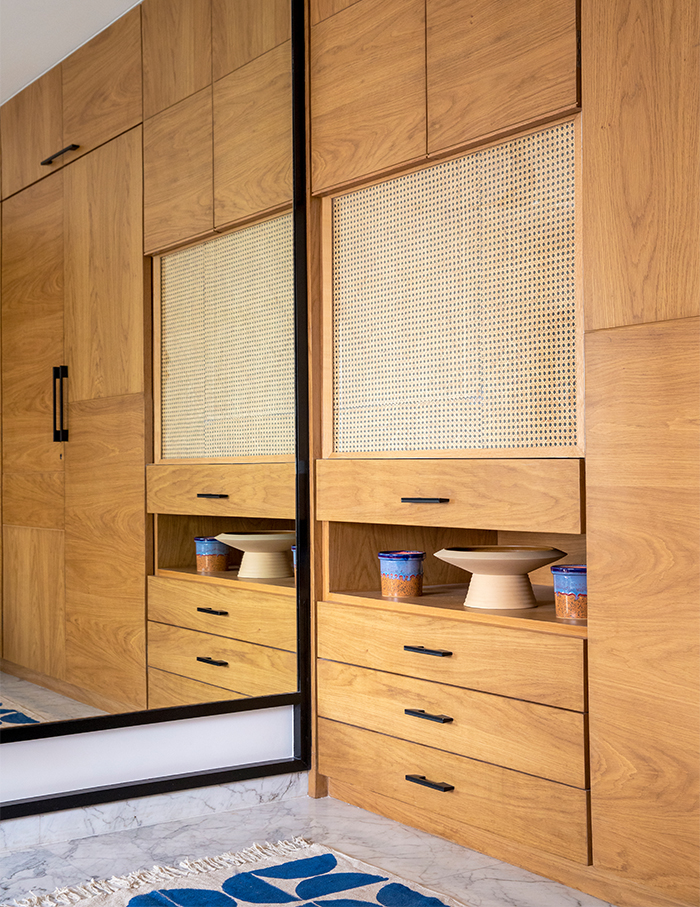 The rustic rhythm and minimal appeal is spotted in the bathrooms too. A backlit, ambient mirror with a marble frame sets apart the white cloaked master bathroom, a cane laundry basket juxtaposed with gold Kohler fittings together hint at understated luxury in the guest unit.
Scroll below to see more images of the Japandi styled Mysiga Homu by Ali Baldiwala…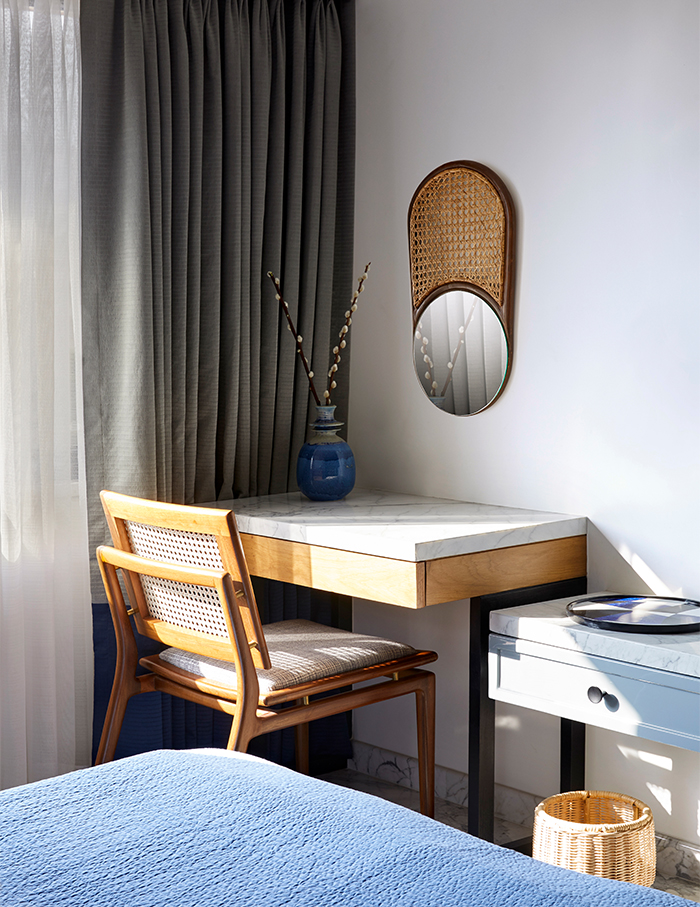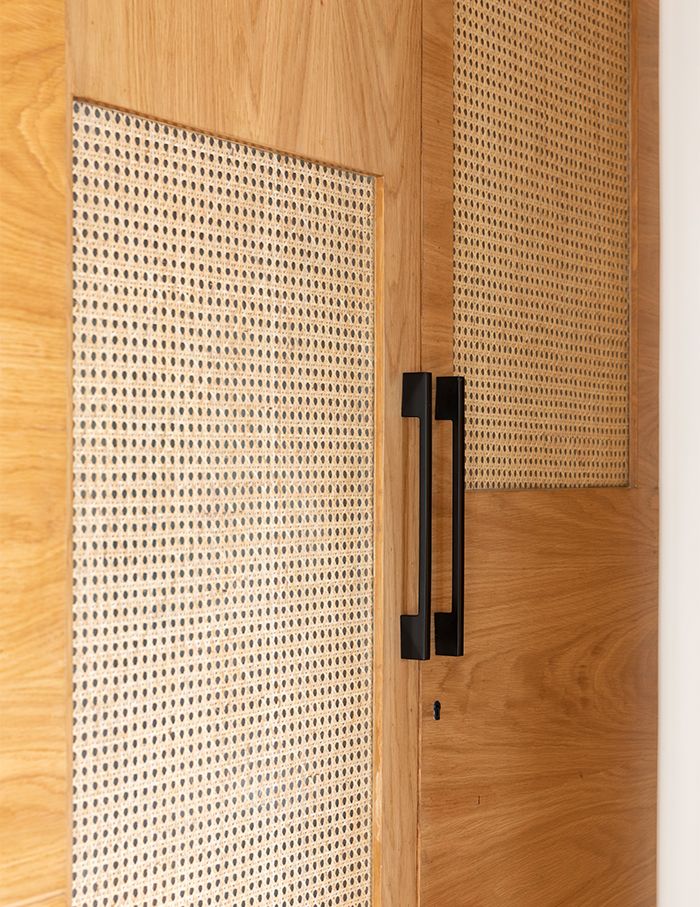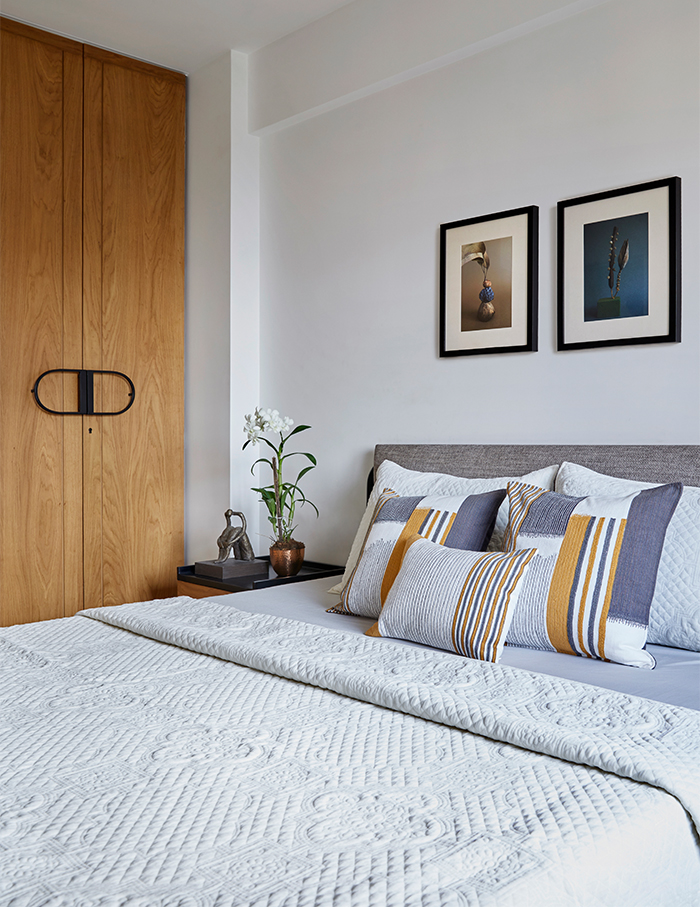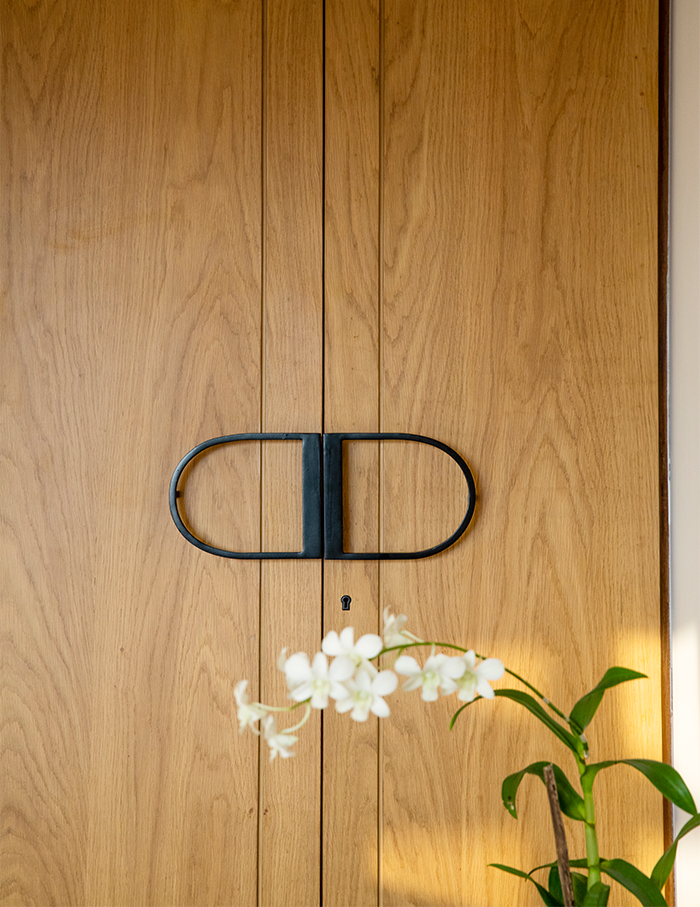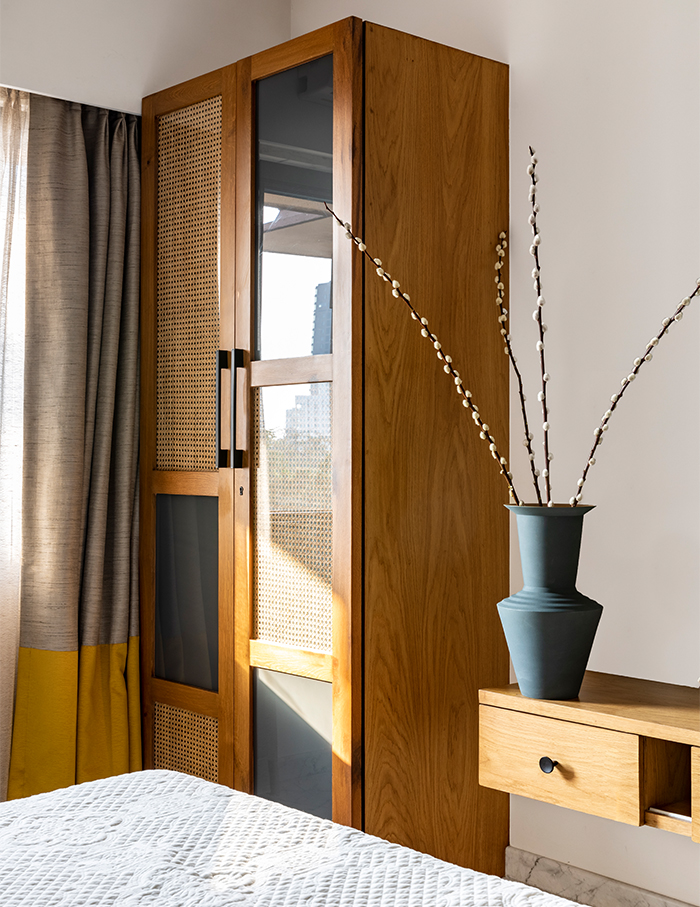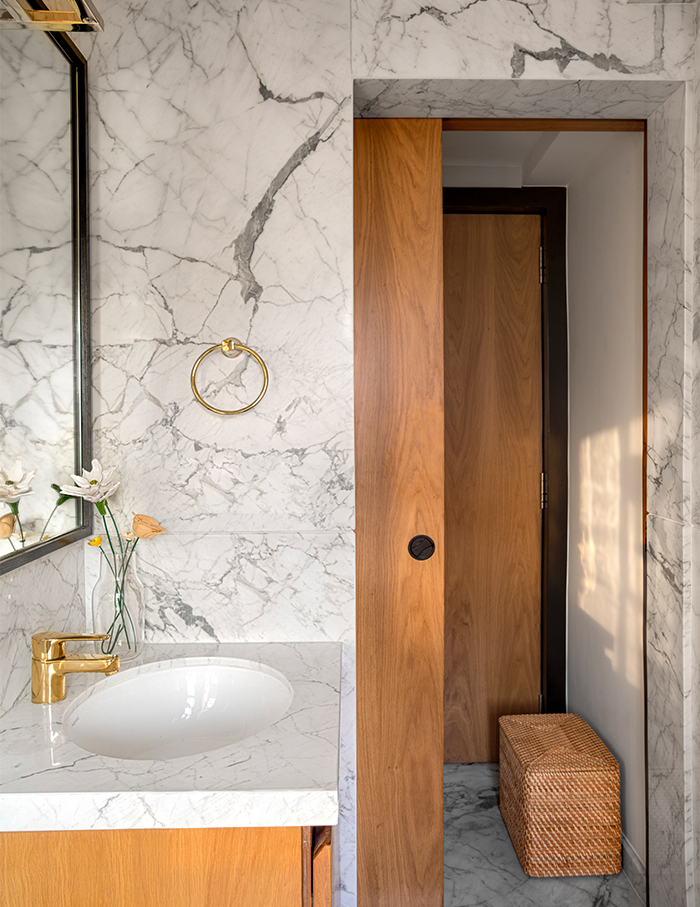 Our Aug-Sept issue is out now! Click here to read and download for free