Homes
This 5,000 sq ft Mumbai home by Niyoshi Sanghvi of Akari Studio is a haven of furniture designs made exclusively for the homeowners
APR 15, 2021
| By Kavya Joshi
This 5,000 sq ft apartment in Mumbai is designed by Niyoshi Sanghvi, founder and creative director of Akari Studio, to seamlessly blend the outdoors and indoors.
A thoughtful, sophisticated, vibrant and meaningful theme is evident in the home. "It was really enjoyable working with the newly married couple, who were clear and definitive about their tastes and likes but happy to explore new ideas and aesthetics," shares Sanghvi.
Warm colour on the walls and light marble flooring serve as the perfect backdrop for the material palette, which varies from one room to another. The home is layered with mixed metals and uses different types of marble for surfaces, textured wooden flooring and enticing fabrics.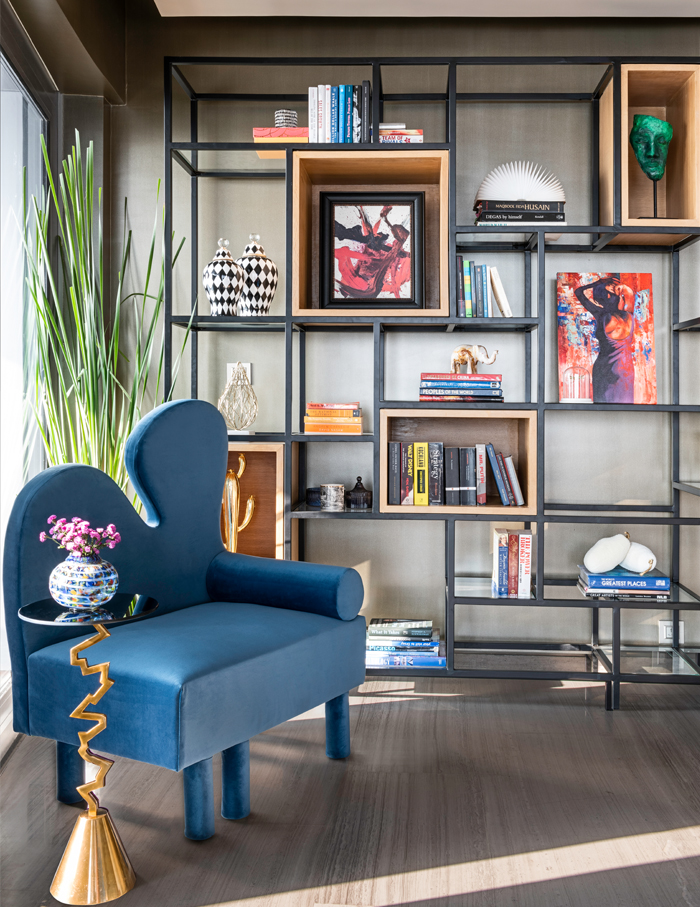 Similarly, the colour palette changes from section to section, depending on the function of the room. Rather than bold and monochromatic tints, deep blues and warm tones have been chosen for the living room. The bedrooms are more relaxed with tonal colours and textures.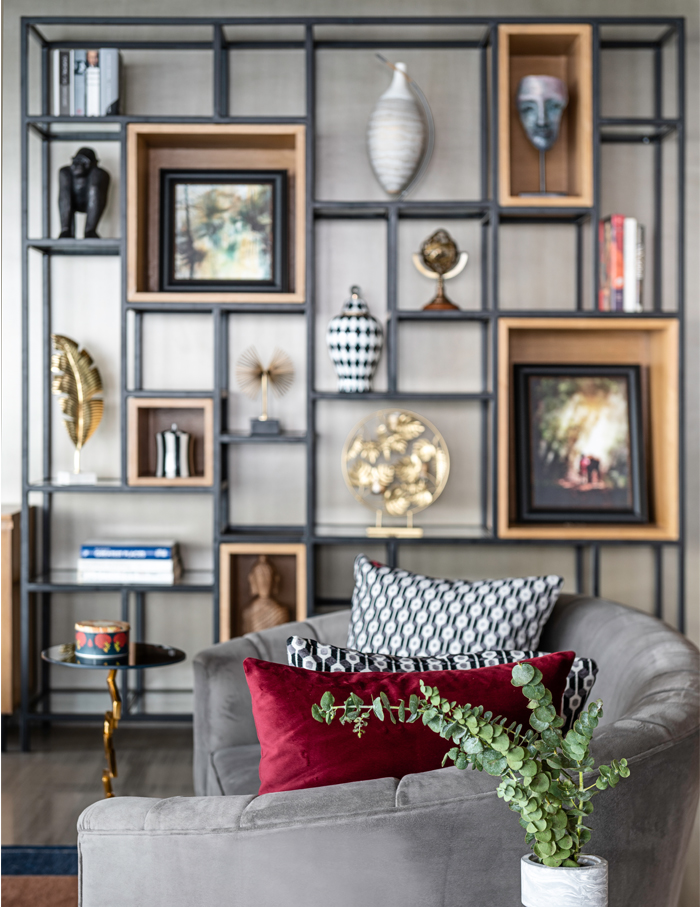 The foyer captivates with custom-designed artwork that depicts street style on warm walls. The flooring is light marble, which allows the vibrancy of the artwork to be the focal point.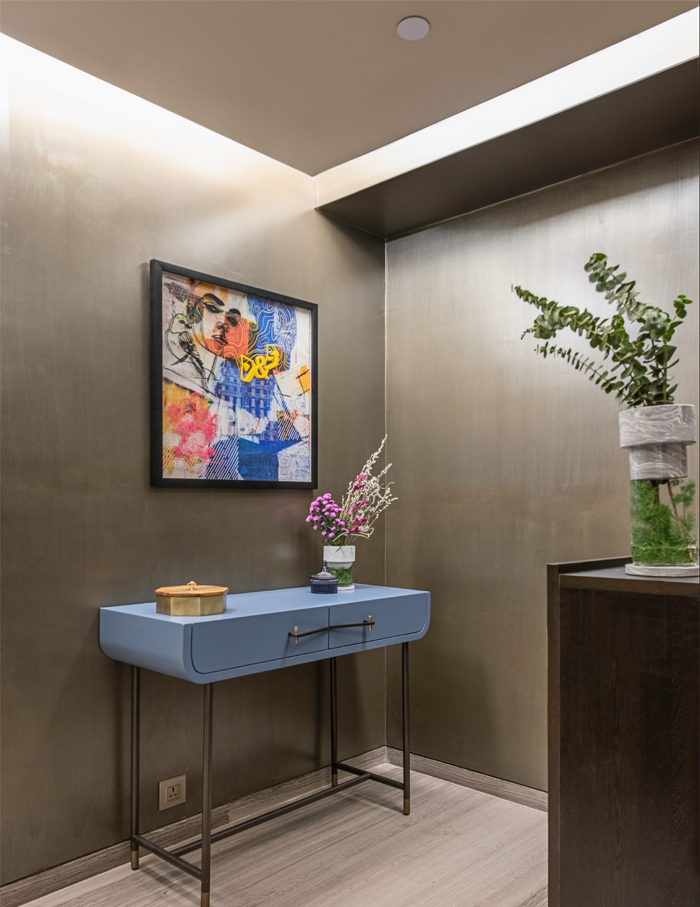 Keeping in mind the homeowner's social life, the studio has designed a 10-seater, black marble dining table with intricate brass inlay. It is paired with blue velvet chairs, resulting in a dining setting that's moody, welcoming and, most importantly, comfortable for soirees.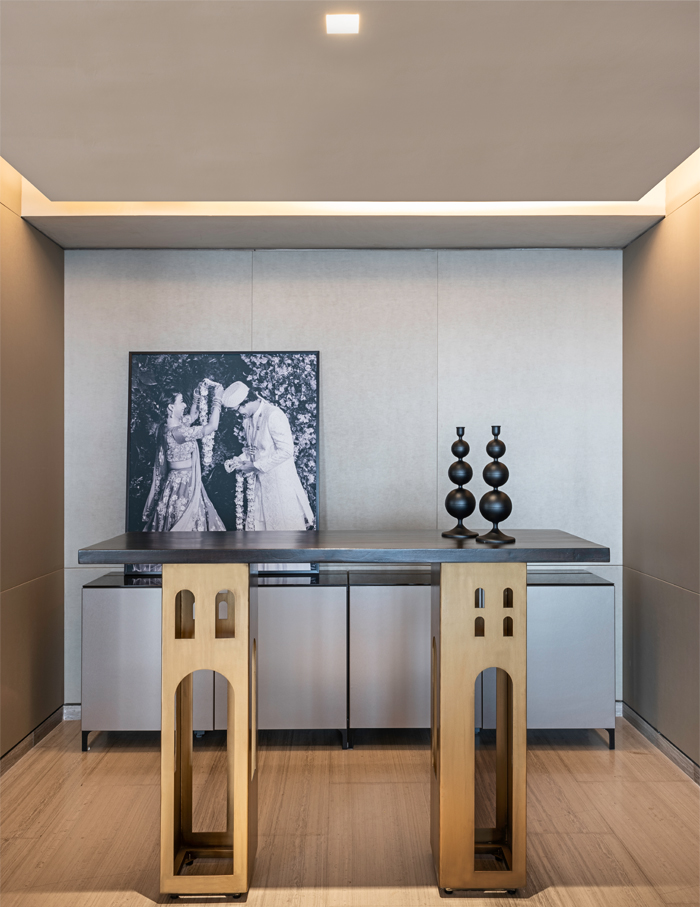 The cosy living room is planned such that it factors in the curvature of the wraparound window bay. Our favourite is the corner with custom-made blue puzzle seats, which are placed near a 18ft metal and wood shelving unit that holds the couple's treasured possessions. On the other side of the living room is a cosy seating arrangement with a custom rug by Akari Studio in collaboration with The Weaver Collection.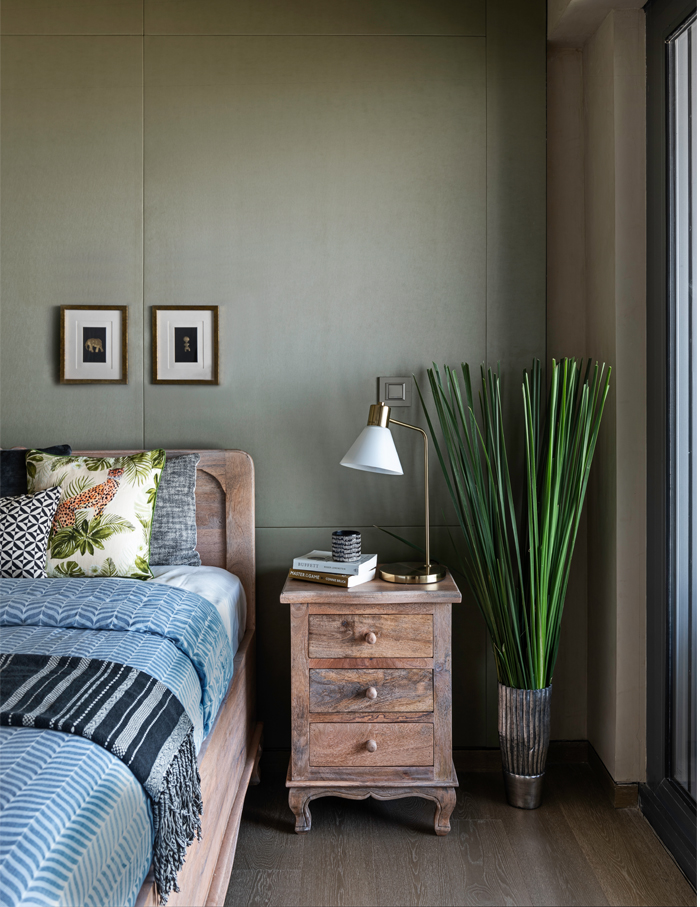 The primary bedroom is a textural haven against tonal greys, pops of mint green and warm grained, wooden flooring. The furnishings are sourced from IDAM and the Sadyaska store, while the artwork is carefully chosen to pair with the colour palette of this space.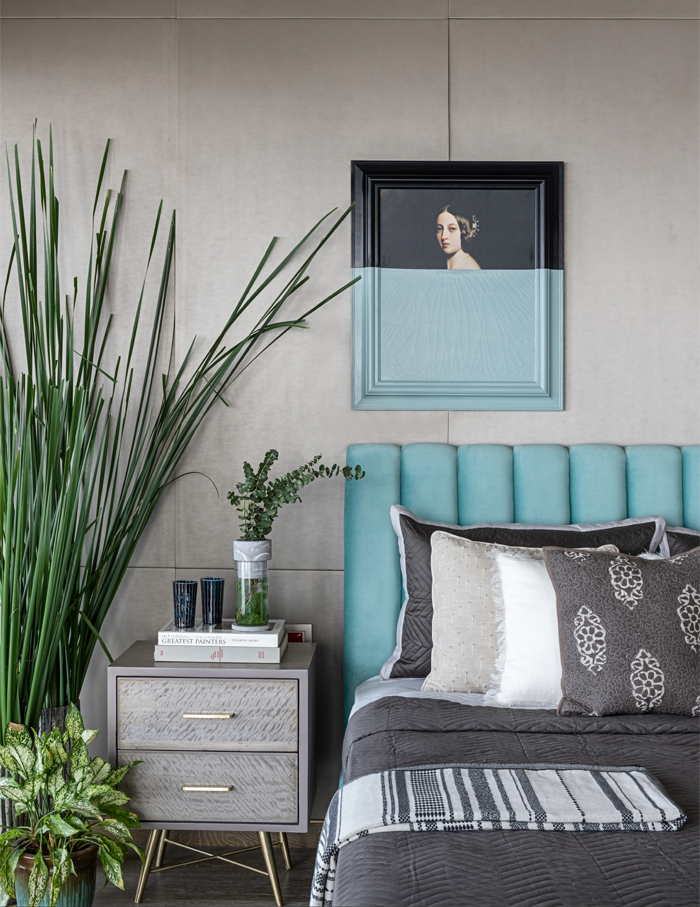 On the other hand, the guest room emphasises local craftsmanship with a nuanced rustic charm. The bed and side tables are made of white stained premium wood, while the soft furnishings feature monochromatic textural elements.
"We've moved away from the thought that all locally sourced or indigenous furniture must fit a modern or traditional aesthetic. In this space, I feel we've successfully blended Rajasthani furniture into a contemporary design scheme," concludes Sanghvi.