Design
Check out these 7 totally 'Instagrammable' venues that'll add a touch of glamour to your portraits
FEB 23, 2021
| By Urvika Barua
If you're looking to add a little colour, design and drama to your Instagram accounts, then these spaces are surely worth your time as their design is intended to grab attention like no other! With dramatic, innovative designs and concepts, every one of these venues offers more than one aesthetic feature for our feed!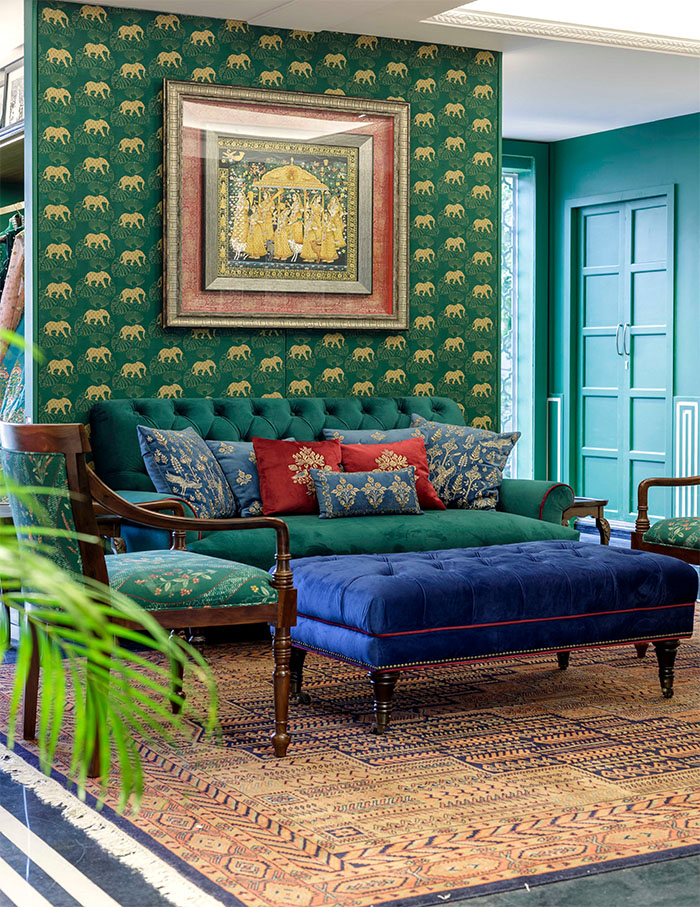 This 4,600 sq ft store by Shonan Purie Trehan draws inspiration from Rajasthani palaces and presents it in a contemporary perspective. Meticulous white plasterwork that borrow heavily from the #royal homes is seen within the three-storeyed store. Additionally, the white marble floors mirrors light in this space, gently reminding of palatial design that uses an array of colours and archways. Natural marble flooring, natural wood and jewel tones with inlay details together create a space that honours Indian heritage and captures contemporary tastes. The store consciously balances the old and the new, and blends nature's bounty with art and crafts—no wonder then that every section proves to be an Instagrammable gem!
Amit Aggarwal's flagship store by Ava Studio and Orproject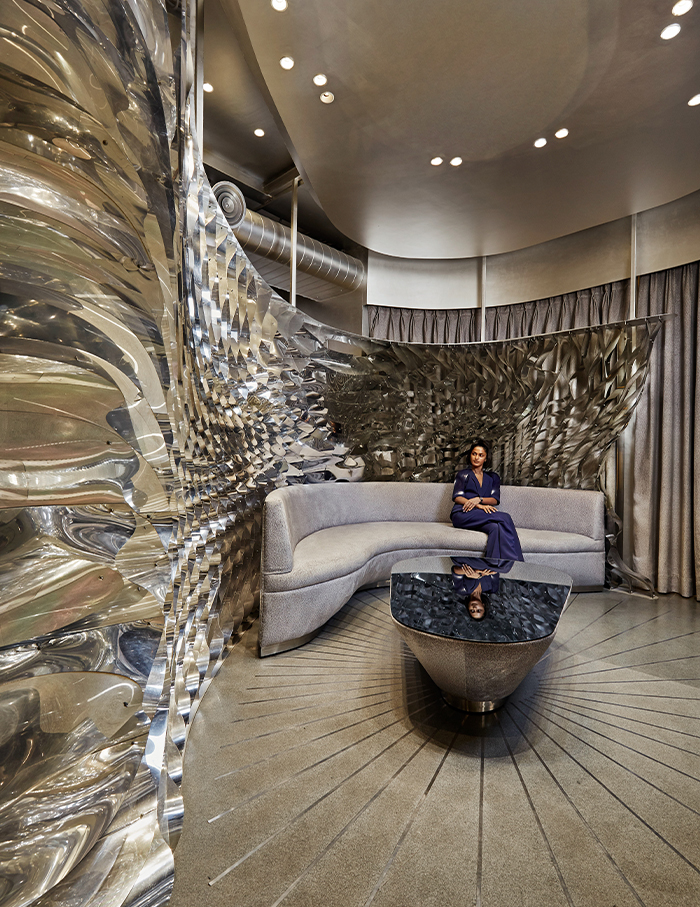 The design of Amit Aggarwal's store is known for its inclusion of innovative textures, fabrics, translucency and reflections. While the retail space is developed by Ava Studio's Alina Vadera, the installation by Rajat Sodhi of Orproject is the highlight here. The incredible structure uses 2,650 exceptional polycarbonate panels, of these 1,816 use a reflective film and 834 are transparent—held together by 5,265 screws. The fluid structural partitions are constructed as sculptural weaving fabrics from reflective sheet material and supported from the ceiling focused on the conceptual parameters inside the Delhi store developed by. Based on the alignment, the curvature and configuration of the panels generate shimmering light reflections with varied transparency and illumination, making this space turn heads for sure!
Fancy Pants store by Quirk Studio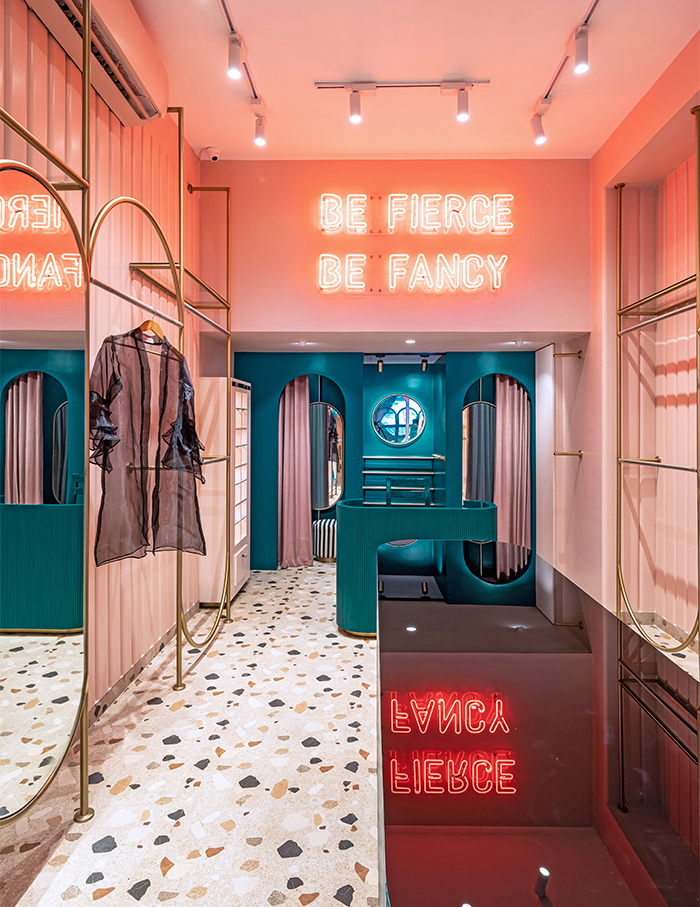 The vivid interiors in the Mumbai store by Disha Bhavsar and Shivani Ajmera are complemented by terrazzo-style flooring, whereas a high ceiling offers ample space and is enveloped with wall panels in blush pink tones. The space designed is distinguished by sleek brass-finished racks and seats, while a custom-designed table with a charcoal countertop is positioned in the middle of the store with the brand's accessories within pull-out drawers. Brownie points for the brilliant LED sign 'Be Fierce Be Fancy' which is perfect for those #forthegram pictures!
Ningbo Zhongshuge bookstore by Li Xiang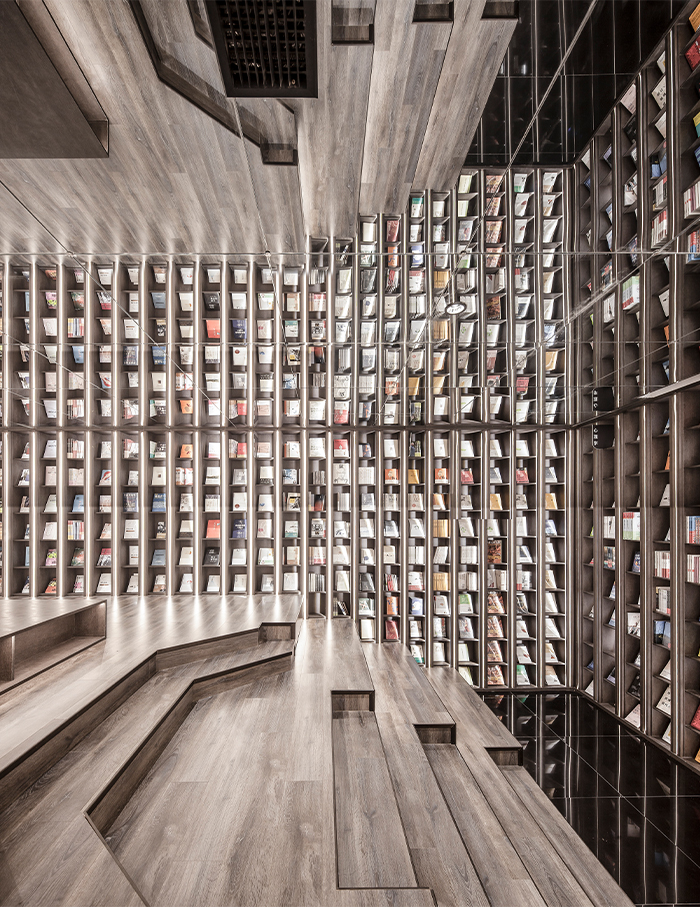 Designer Li Xiang creates an extraordinary ambience in this bookstore. A glass curtain wall embedded in its thick stone facade, which expands into a coffee area and the entrance. Walking in through the massive glass door, a fine grid book wall emerges and transforms the room. A plethora of seating arrangements are planned here to create a warm and welcoming atmosphere. Another architectural phenomenon occurs on the other side of the glass curtain. To emulate colossal rocks that are long-washed by rushing water, walnut and black-hued bookshelves converge. For a spellbinding effect, the designer blends the texture of rocks into the surface of the bookshelves. The bookcases are unevenly organised and the ceiling cabinets are spread, giving space for optical exploration. The design instantaneously draws its readers into the massive landscape paintings exhibiting Ningbo's cultural legacy. The magnificent design of the space makes it a must feature on your Instagram feed!
Boutique jewellery store by VAL Altier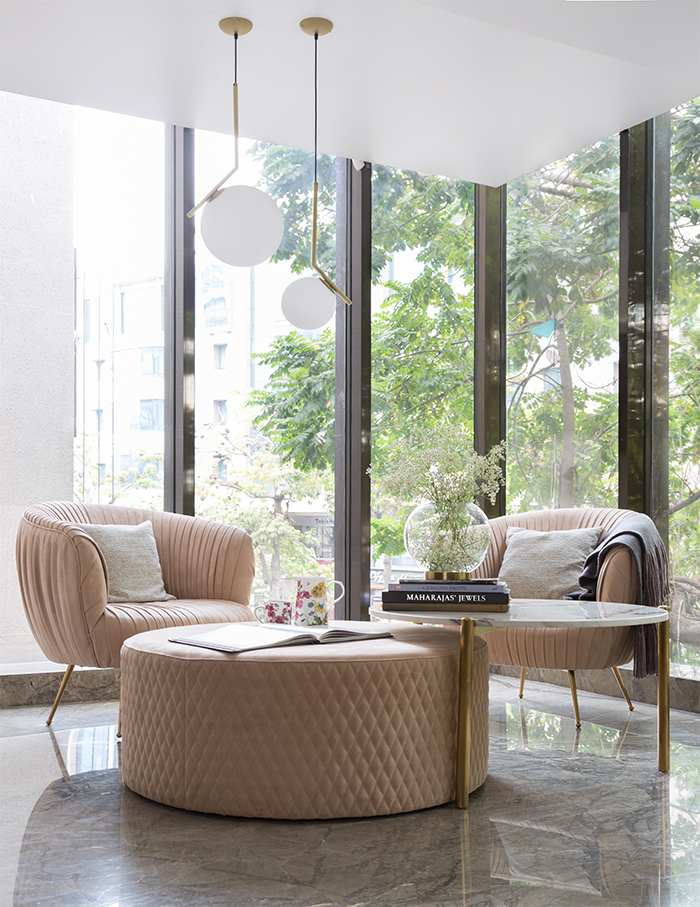 This 10,000 sq ft property extends over four floors, each of which have their own distinct combinations of identity, layout and colour. In order to influence this elegant setting, Vaishnavi Linga has used a palette of neutrals and soft hues. Its sophisticated ambience is established on grey Italian marble floors and suede fabric panelled walls. The furniture is a concoction of suede, velvet and leather, whereas a metallic touch is presented by light fixtures with brass accents. The counters have leather tops with intricate cross features and marble bases. This luxurious ambience paired with pastel shades put together an aesthetically pleasing image! 
MyGlamm store by School House and Gautam Desai Design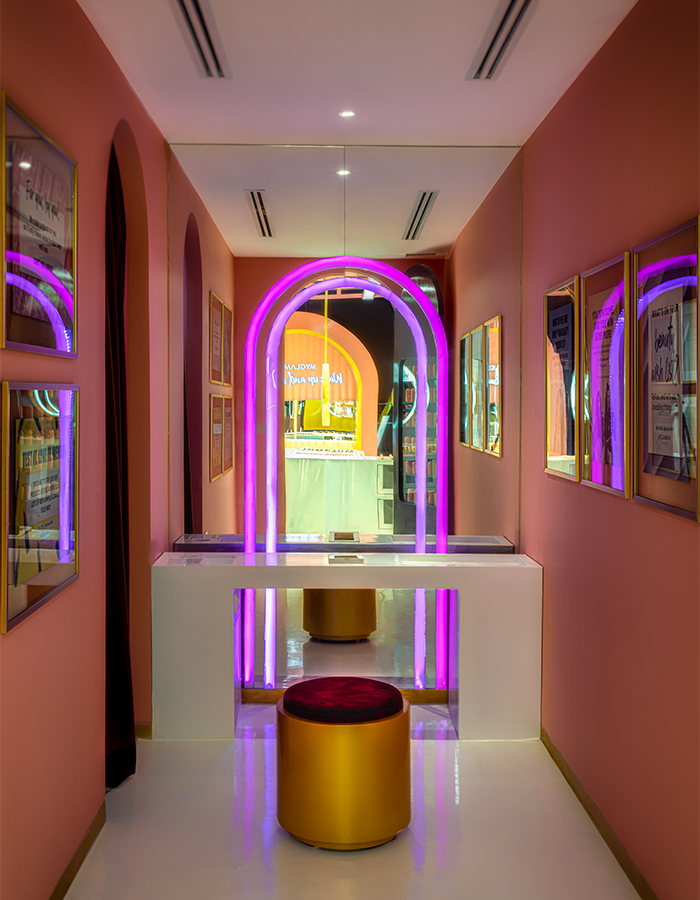 The brand's first store offers an immersive experience with an aim to build a conceptual, retail-design store. One that complements an environment that makes the brand and the shopping experience glamorous as well as Instagrammable by design. The result of a collaboration between School House and Gautam Desai, its indoor atmosphere is warm and welcoming with the influence of soft shapes, warm textures and complementary pastel colours. Mirrored walls, translucent surfaces, and colours such as gold, white and pink are the key elements in the single-storeyed store. With an array of features like an entrance portal selfie, ring-light selfie at display units, an exclusive content creation experience with private photo booths and customisable lighting are just a few of many sections that ensure the perfect capture for Instagram.
MAD by Urban Mistrii Studio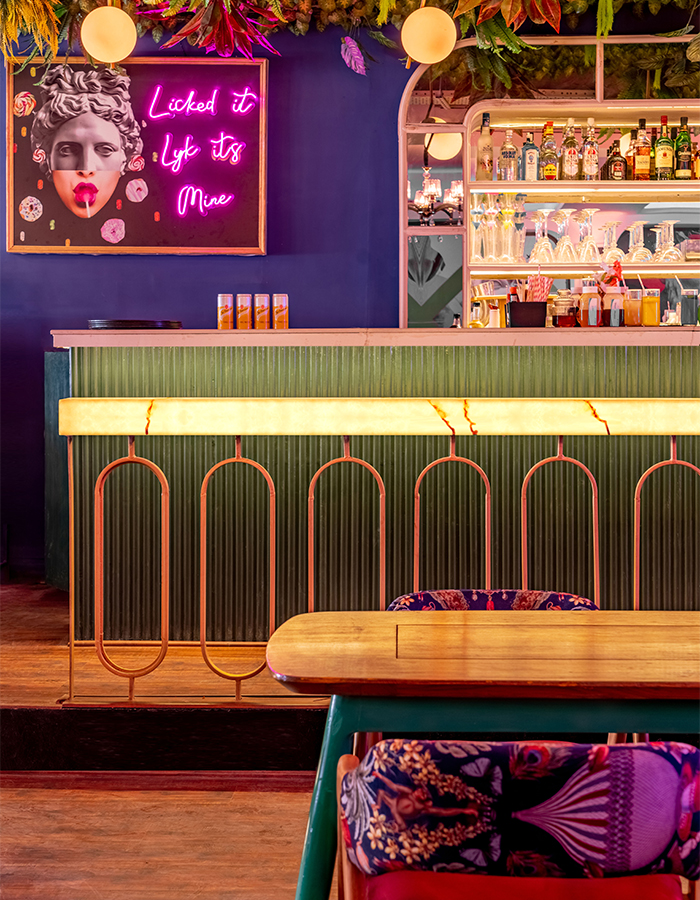 Completed with Kadappa stone and highlighted with LED lights, a short staircase lands in front of a French door fitted into an arch. Once the door opens, an expansive space fitted with wooden boards and completed with Duco in a tunnel opens up. It transports patrons from a concrete jungle and into a tropical safari designed using vibrant and pastel colours. The space's duality is further highlighted by the motifs, fixtures and textures. It varies from the subdued colours of the planters and railings to the vibrant colours of the arched entrance; the flamingo and banana leaf-patterned wallpaper to the neoclassical era abstract portraits; and the neo-classical period abstract portraits. Dainty chandeliers have efficacious geometric spherical lamps, while the flooring is a blend of brown wooden finish and a monochrome geometrical pattern in stone. Its contrasting, quirky and vibrant ambience—crafted by Ritika Rakhiani—is an ideal pick-me-up on everyone's feed!