Design
Hyderabad based VAL Atelier conceptualises this boutique jewellery store as an epitome of elegance and luxury
NOV 28, 2020
| By Sakshi Rai
Nothing paints a grand picture of luxury better than a magnificent, towering structure soaked completely in a veneer of exclusivity and refinement. And this is exactly how Hyderabad-based interior studio VAL Atelier conceptualised the design of a luxurious boutique jewellery store. 
The 10,000 sq ft property, located in the city's commercial centre Somajiguda, stretches across four floors. Each of which have their own distinct identity, layout and colour combinations. However, they are united by a constant visual language.
Concealed behind double-glazed bronze glass, the facade lets in sufficient daylight and also reduces the building's heat gain. The showroom unfolds across the first three levels, while the uppermost floor is reversed for the company's office.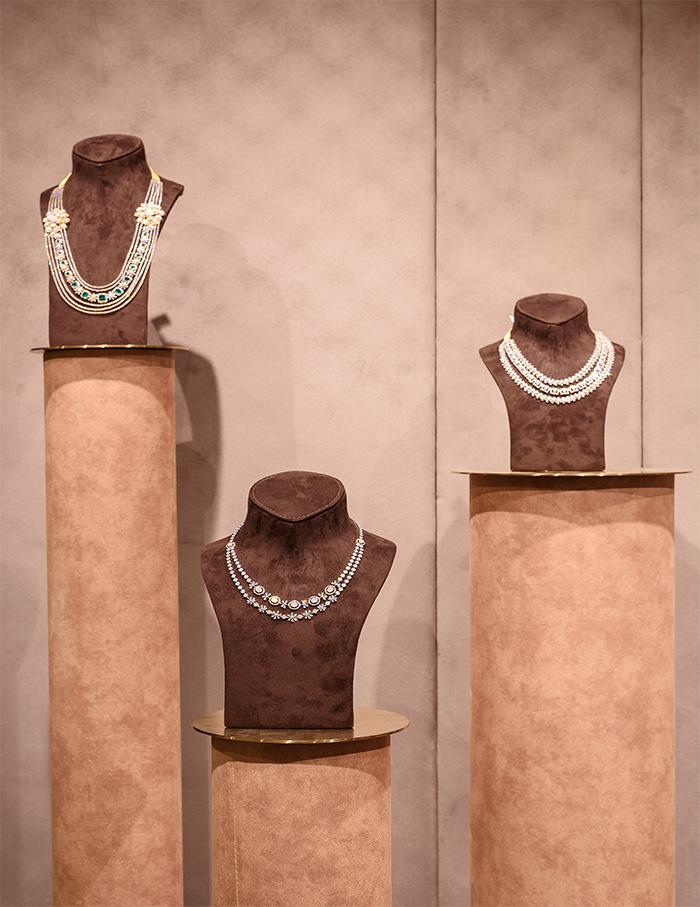 "We opted for a bold approach by creating a luxury boutique with a self indulgent aura around it, rarely found in traditional jewellery stores. The interiors are reminiscent of a premium hotel lounge with plush sofa arrangements. Even the exquisite pieces of jewellery are brought out on bespoke leather trolleys designed by us," reveals Vaishnavi Linga, principal architect of the firm.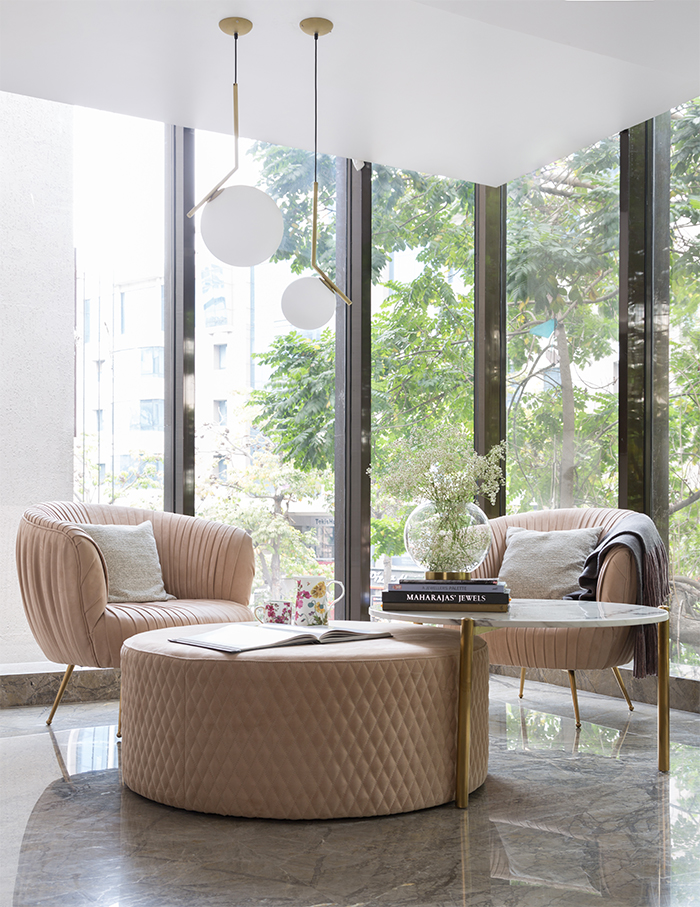 The creatives used a palette of neutrals and soft hues to shape this elegant setting. Grey Italian marble floors and suede fabric panelled walls lay the foundation stones of a sophisticated ambience.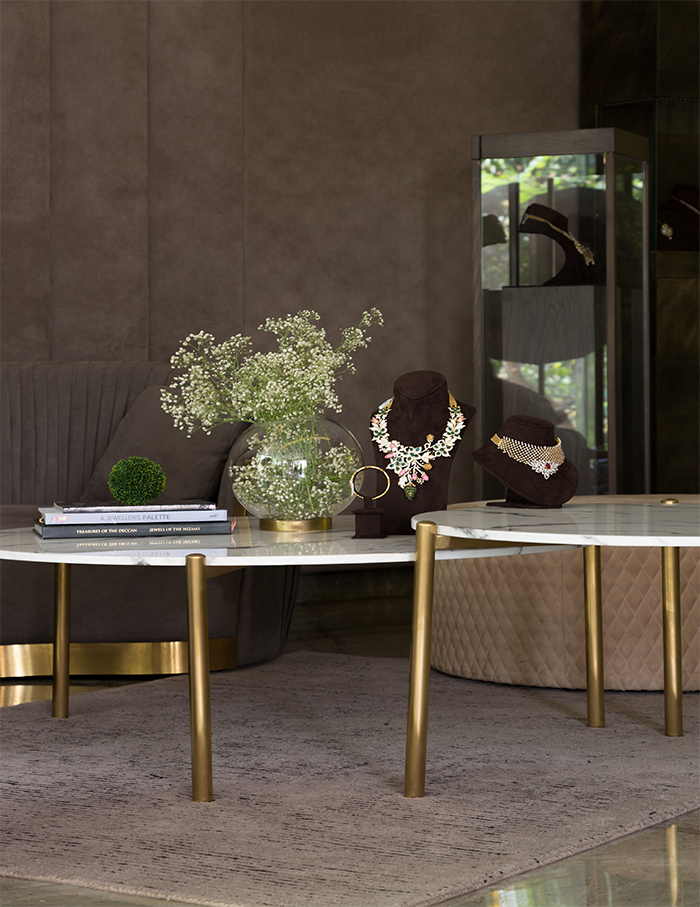 The furniture is a blend of suede, velvet and leather, while light fixtures with brass accents bring in a metallic touch. Even the counters have leather tops with an intricate, cross-stitch detail and marble bases.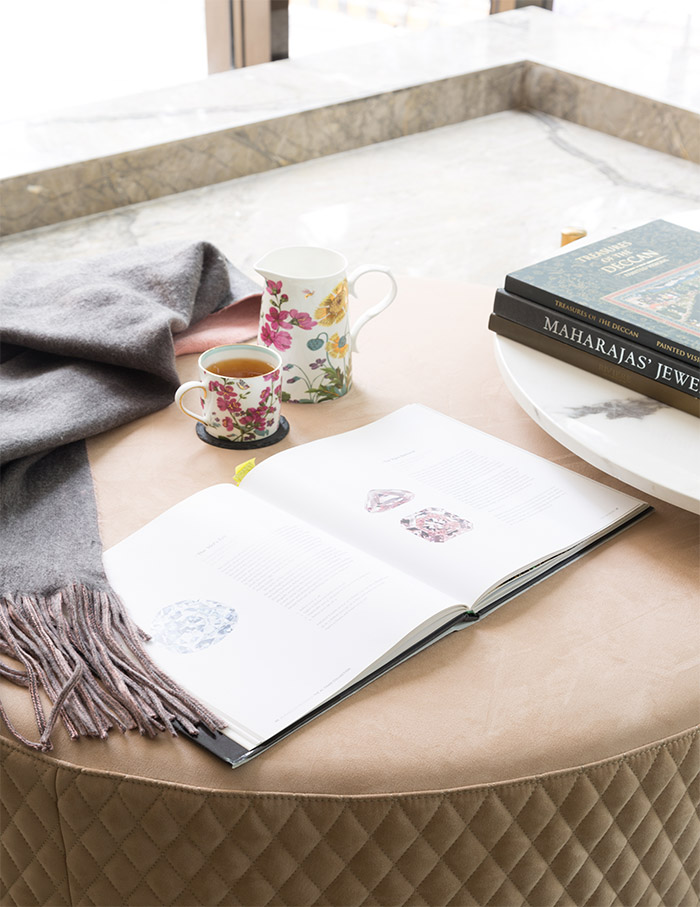 The first floor sticks to a robust theme brought out by a dark marble backdrop and complementary sacramento green and beige shades. Meanwhile, we see a shift to a more feminine canvas of gold and blush pinks as we traverse upstairs. Although, a refreshing green wall with black windows for display is undoubtedly the centre of attraction.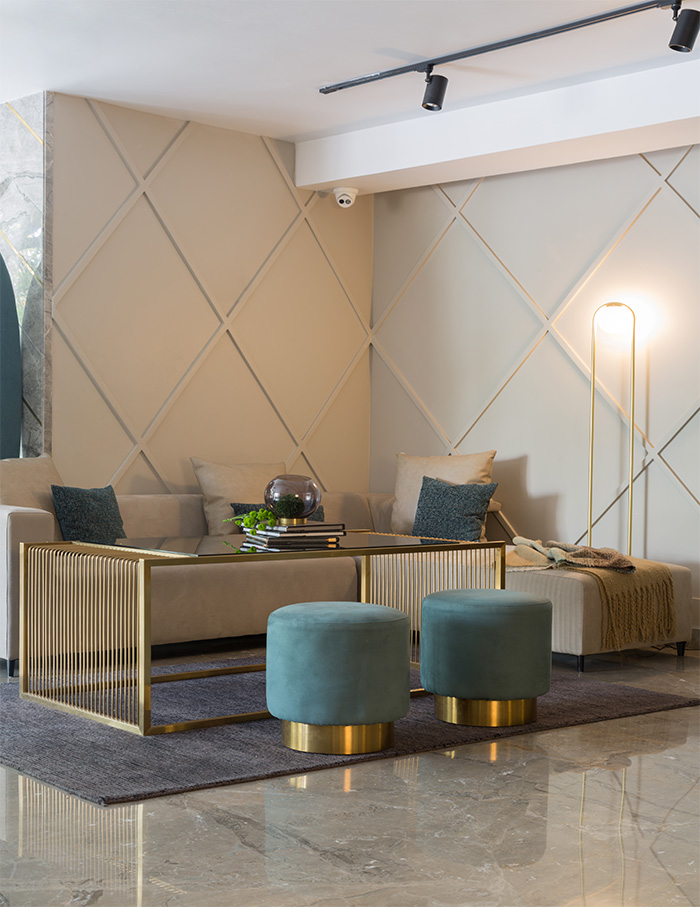 One gets a true sense of  just how wholesome the design of the space is with a glance at the cosy waiting areas provided on every level for shoppers to lounge and relax in as well as the bespoke section dedicated for brides to experience their jewellery selections.
Scroll below to see more images of this lavish Hyderabad showroom by VAL Atelier…