Design
A look at Shonan Purie Trehan's incredible design for the new Anita Dongre store in Hyderabad
DEC 24, 2020
| By Aneesha Bhadri
"The flagship Anita Dongre store in Qutub that was created by Percy and Anita set the design language for all following designer stores. Anita has worked for years with Pichwai artisans of Rajasthan and their work is always a part of the retail design," says architect Shonan Purie Trehan, who recently conceptualised the eponymous House of Anita Dongre store in Hyderabad.
"For inspiration, we looked at the royal palaces of India through a modern lens. The design for this store is a dialogue between the history of India and the present. It is lyrical and narrative. Also, Anita is passionate about nature and animals and so, the store is dotted with references to nature," says Trehan.
These elements are seen right from the facade of the 4,600 sq ft outlet. The three-storeyed store uses detailed white plaster work inspired by the palaces of Rajasthan, while jaali work covers the windows.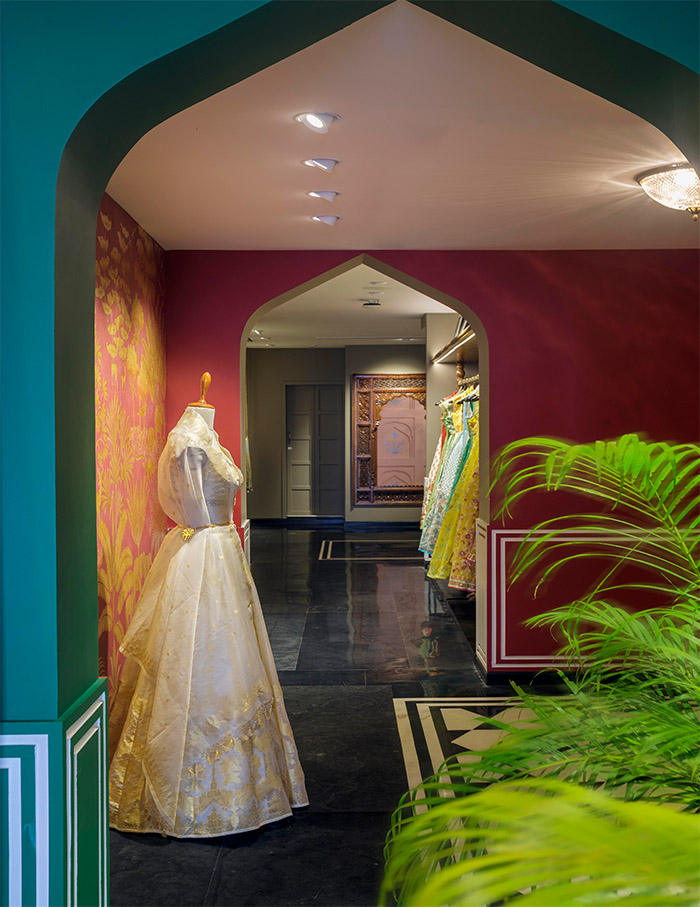 On entering, the centrally placed framed antique garment draws attention. While you browse the sustainable clothes on display racks that are made of reclaimed wood, you hear the sound of water gently flowing over a hand carved stone surface.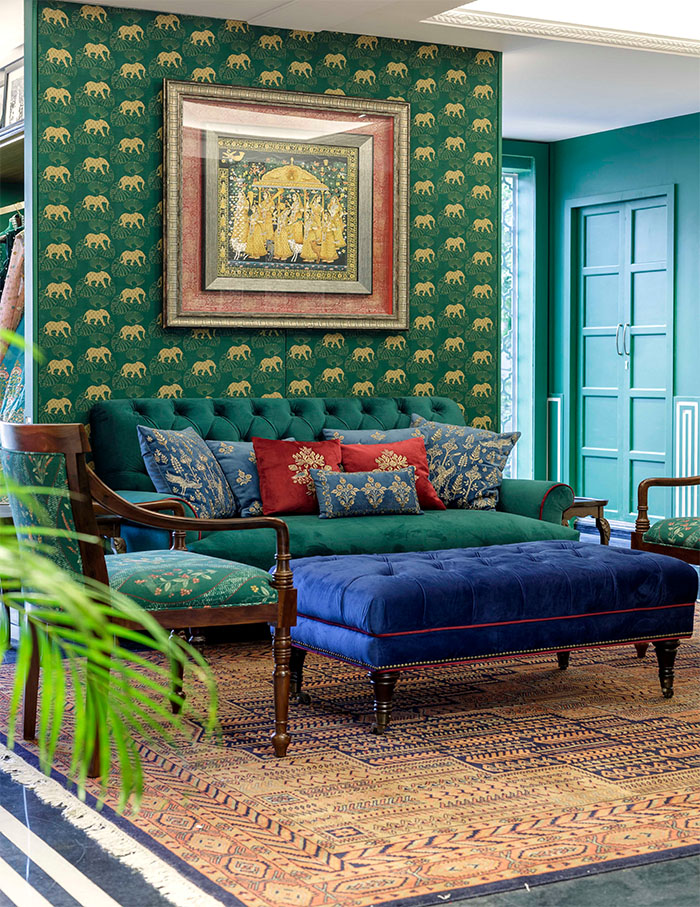 White marble floors reflect the light in this space, where a soothing palette of soft colours and archways subtly remind you of palatial architecture. Natural marble flooring with inlay detailing, off-white plaster, natural wood and jewel tones—all create a space that celebrates Indian heritage while appealing to contemporary sensibilities.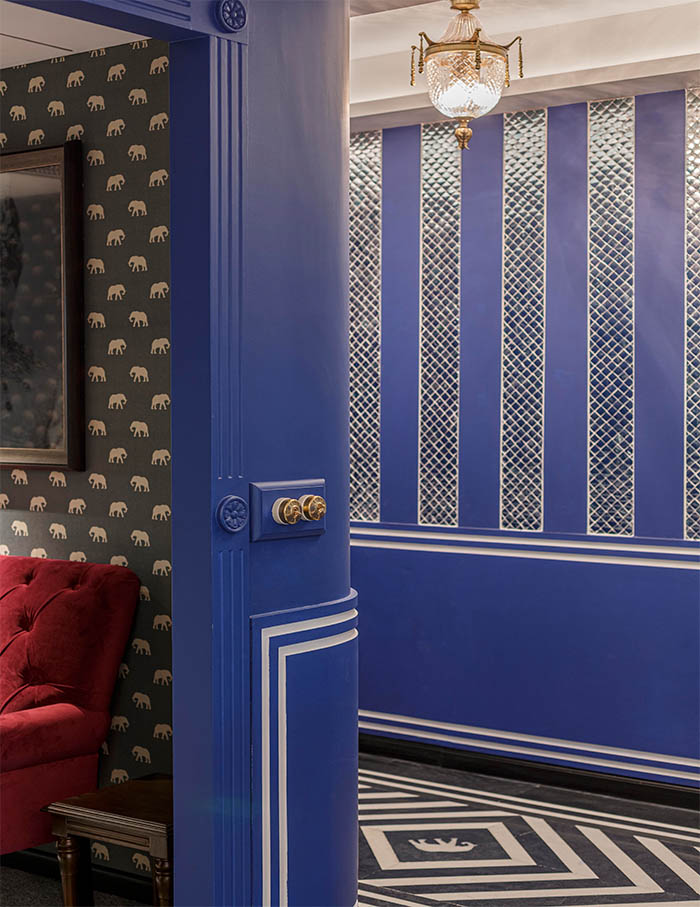 The coffered ceilings have a few antique glass lights. "Anita and her design team created custom prints with the elephant, which is their signature motif, and we used it to panel the backdrops and two spacious trials rooms on the ground floor," explains Trehan.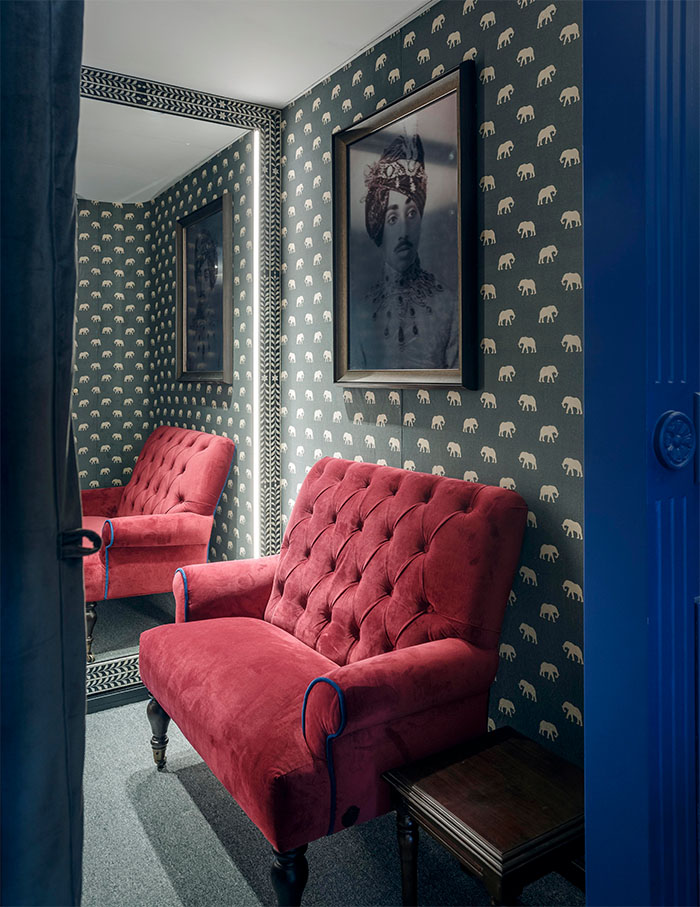 A staircase surrounded by hand-painted floral motifs and vertical panels of thikri work leads to a room, where curated saris are displayed on slender brass rods flanking an antique choli cupboard. Alternatively, an elevator takes you up to the deep red foyer outside the bridal lounge.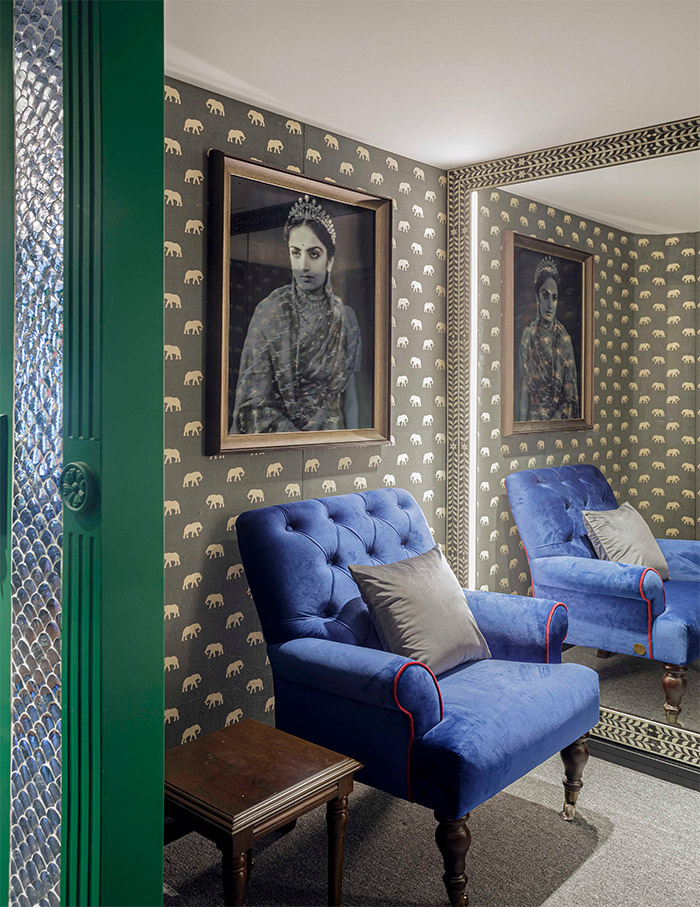 A stunning, hand-painted gold mural greets you at the entryway—"The bridal foyer just takes your breath way," says Trehan. Ancient bronze sculptures pay homage to the arts and crafts of India. Furnishings cushion designed by Dongre's team are seen. The deep emerald bridal room has a central seating inspired by a royal living room.
The bridal wear is displayed on mannequins in front of a hand-painted Pichwai forest. Each bridal creation is framed by an archway, Dongre's favourite aspect. "This cosy spot gives you a view of our gorgeous bridal lehengas and is the perfect space to take in the exquisite nature motifs that make up our Pichwai paintings," says the fashion maestro.
The first floor also has a bridal jewellery suite, where sleek grey displays contrast the flamingo pink walls and thikri work. The menswear section on the second floor favours a deep indigo palette. A central seating area with royal overtones is surrounded by garment displays framed by indigo arches, against a background of hand-printed fabrics.
"The store is a balance of natural materials, craft and handmade elements, in a careful curation of the old and the new. Every space is a curated contrast; history balanced with design," says Trehan.
"Rajasthan's exquisite craftsmanship across textile, art and architecture is celebrated in this one space. These generational crafts are conveyed within the contemporary context, so I like to think of the design principle as contemporary Rajasthan," says Dongre.