Design
5 questions with Aadyam Handwoven's Lead Advisor, Manish Saksena on newly launched Trendloom Forecast
JUN 18, 2021
| By Saloni Rege
In today's time when fast fashion and mass-produced textiles have conquered the Indian market, slow and conscious fabrics—reminiscent of conventional techniques and native prints are prominently making a comeback for the sustainable good of the habitat. Spearheading a similar initiative is Aadyam Handwoven, creating with both the craft and the craftsmen at its heart.
Realised as a noble and innovative collaborative, Aadyam Handwoven joined hands with India Craft Week to launch Trendloom—a forecast that documents trending themes and captures the simplicity of crafts to establish a relation between vast tradition and contextual modernity.
India Craft Week is a creative ecosystem that fosters livelihood and exposure to the craft and artisanal communities. Aligning with the same wavelength, Aadyam Handwoven traversed the process of forecasting, interpreting, structuring and defining the Trendloom as a composite repository—a first edition envisaged to be an annual property.
In an interesting conversation with Manish Saksena, he reveals the concept, process, weaving cohorts and everything in between that contributed towards Trendloom…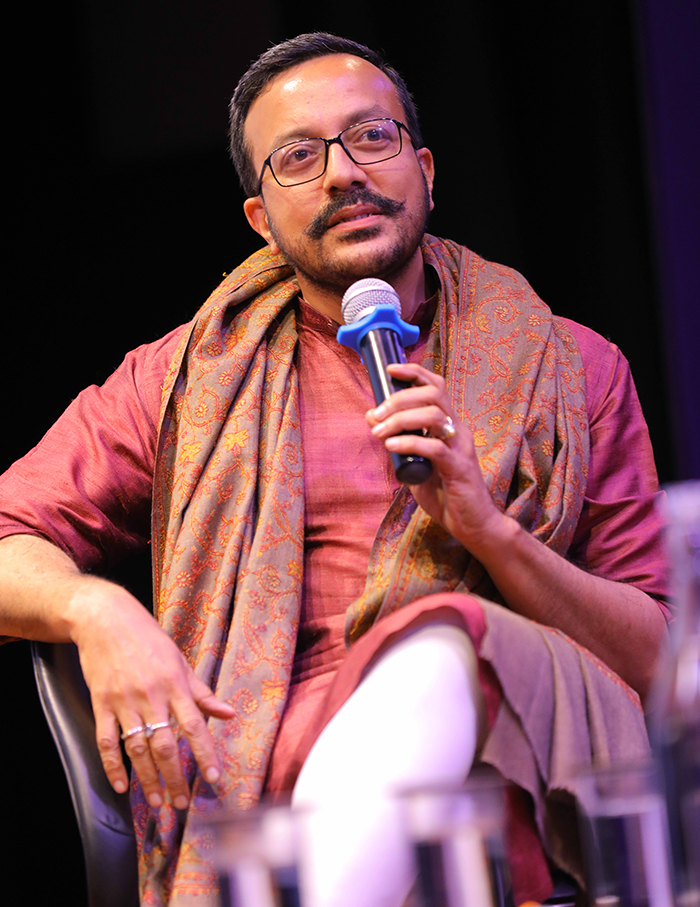 What led to your foray into trend forecasting and gave rise to the Trendloom initiative?
Engaging in a constant dialogue with varied audiences, we realised that a substantial lot relegates handloom to esoteric on one hand and inapt on the other. In view of this, we strongly felt the need to bring out its intrinsic relevance and benefits in today's time. The inherent origin of handloom is timeless and beyond the dictates of any trend. This is exactly what defines its unscarred beauty! However, it keeps evolving with lifestyle patterns.
We chose the term Trendloom—an oxymoron, as a property to emphasise the aspect of 'forever in trend'. We believe that handloom is not a whim or a transient fad, it is instead a way of life. Lifestyle trends around us further inspired us to interpret handlooms for end use in interiors. Our endeavour has been to dialogue with contextual concerns and choices faced by humanity at large as well as to exhibit synergy with handloom. We're glad to have found a like-minded partner in India Craft Week for an enriching collaborative.
Among the many trends, Symbiotic resonates with conscious living. Tell us more about the process and the relevance of the trend in today's age…
The thought of green living has significantly re-emerged, along with responsible consumption. This made us realise the effect of giving back to the ecosystem and contributing towards the healing of our planet. An elevated interest in 'living with nature' has sparked in a symbiotic manner. Preserving the dwindling resources is paramount!
Handloom is inherently employed on a value-chain basis as opposed to a supply-chain model. The trend is defined by a fusion of traditionally rooted craft forms that are ever-evolving in response to time. Handloom uses—indigenously sourced raw materials and aesthetics that are draped in cultural forms and motifs.
Which materials and finishes fit this trend and how do evolved fabric clusters give back to the ecosystem?
A truly symbiotic process of imbibing the surrounding aesthetic and consuming resources mindfully exemplifies the trend. Usage of materials like—organic cotton, natural silk, hemp and linen to craft sheer and sheen textiles that are diaphanous and natural—helps translate the organic ephemeral movement.
We've used grass mats and bamboo bark woven panels in the furniture, lending a direct relevance to the trend. Plus, the use of natural fibres with local organic dyes and the output of least pollutants in processing create fabrics for upholstery, has embraced nature into our homes uninhibitedly. Furthermore, we've imbued the fabrics in the Autumnal Nature palette that renders dusty tones, which express the non-synthetic and non-modulated usage of colours in their most subtle form.
Did you work with a select weaver's community? Tell us about the weaving techniques used, the process, duration et al…
We anchor our interventions on revival and authenticity of the craft, while also generating income opportunities for the varied weaving communities that we work with. Years of such efforts in our weaving clusters of Varanasi have been the backbone of the Symbiotic textile set. The trend boasts weaves that are delicate, translucent and textural as well as classical motifs featuring the flora.
We engage with weavers on the basis of their skills and ingenuity as they eventually become a part of the Aadyam family. Many accomplished experts have created these fabrics with their heart and deft hands. The process duration from the design board to the loom can usually take up to three months as it is—hand-driven, slow, restrained, precise and intricately lends the fabric its breathability and finesse.
How do you perceive the foreseeable future for the handloom craft?
With overarching concerns on empathising consumption of resources, there's a substantiated need for us to rekindle a revival with our age-old wisdom and conventional handloom practices. Never more than now, is the need to see sustainability as a way of life and informed choices.
We look at this initiative as a collective and organised thought that will seemingly find its audience organically. It aspires to see the beginning of a reverse trend—one that originates from the craft villages and travels to cities in a hope to impart creative abundance and originality for a foreseeable future.