Design
Unbound by trends and styles is this indigenous workspace by Studio33 Architects
MAR 17, 2022
| By Kashish Kaushal
When you're an architect or designer, creating an office space for your own practice that aligns with your design language becomes imperative. Working out of a study room for three years Ranu Verma and her partner Naman Bharihoke, principal architects and founders of Studio33 Architects, always wanted to have a space of their own with a seamless flow between indoor and outdoor spaces. 
"One day when Naman was looking for a tenant for their ground floor space, which was earlier their house, it occurred to us that we can make a few civil changes and have our studio there instead," shares Ranu.
Located in Indore, a 1,000 sq ft space fit for a smooth flow of work and ideas was thus built.
You may also like: Ashiesh Shah curates a sublime, minimal capsule collection for West Elm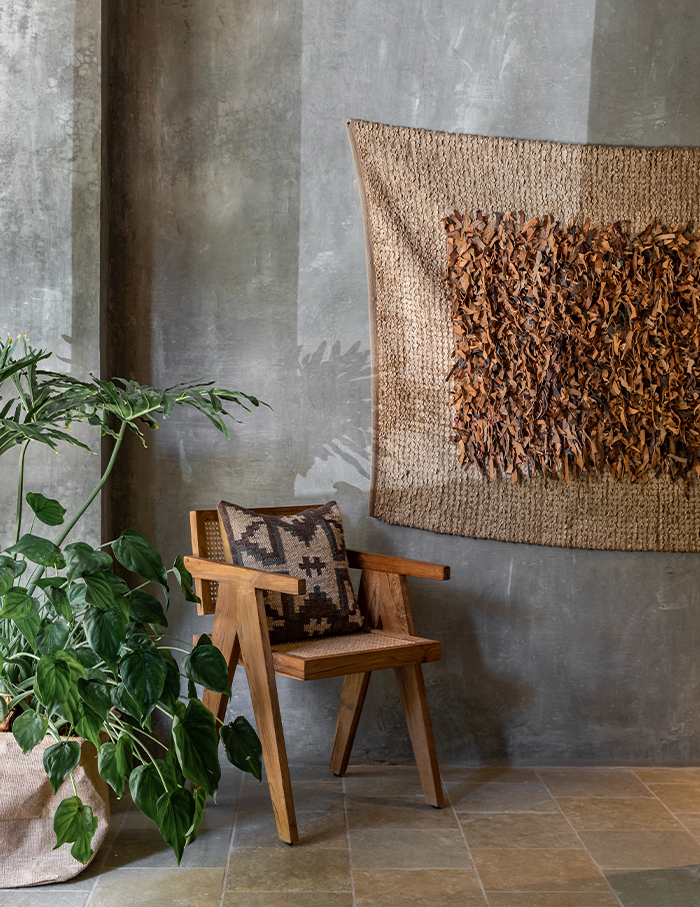 "The studio layout is open, so we had to break the walls between a hall, bedroom, verandah and kitchen to accommodate a workstation and meeting area and kitchen further divided into pantry and toilet," elaborates Naman. "Having a personal outdoor space was always one of the reasons why we never moved into a commercial building, not only does it provide a spillover space but also a visual relief," adds Ranu. 
Abiding by their beliefs and philosophies, the duo made a conscious effort to design an office space that is not bound by trends. This thought led them to experiment with a timeless palette that included materials like wood, stone, concrete, etc.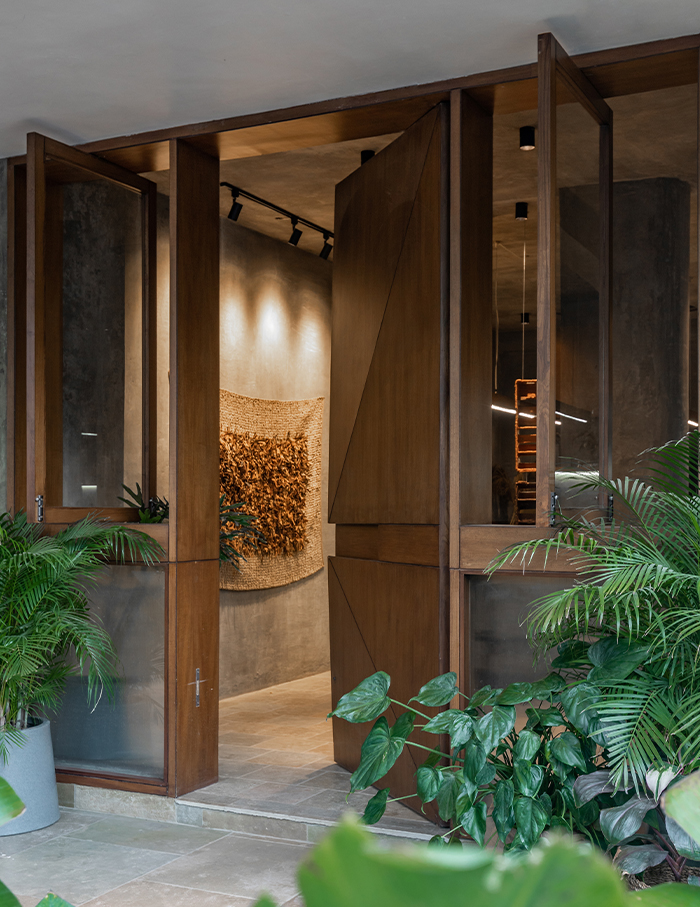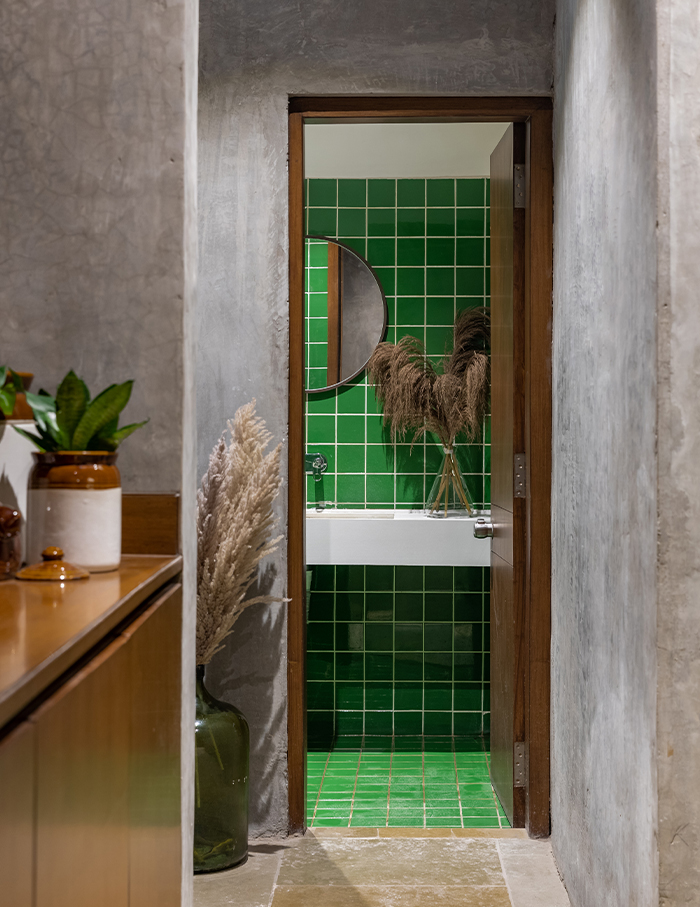 Keeping the design language as minimal as possible, a lot of permutations and combinations were explored with respect to natural materials. Upon entering the main gate of the house, on the right is a verandah that extends into the landscape of the front yard.
You're then greeted by the full height pivot wooden door and witness two columns straight up with a beautiful terracotta sculpture at centre.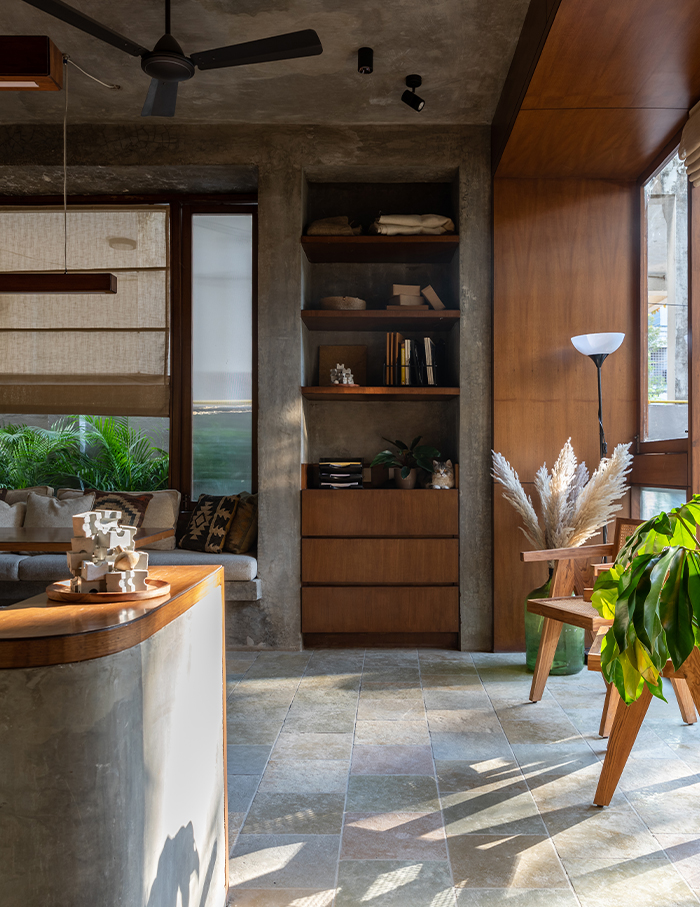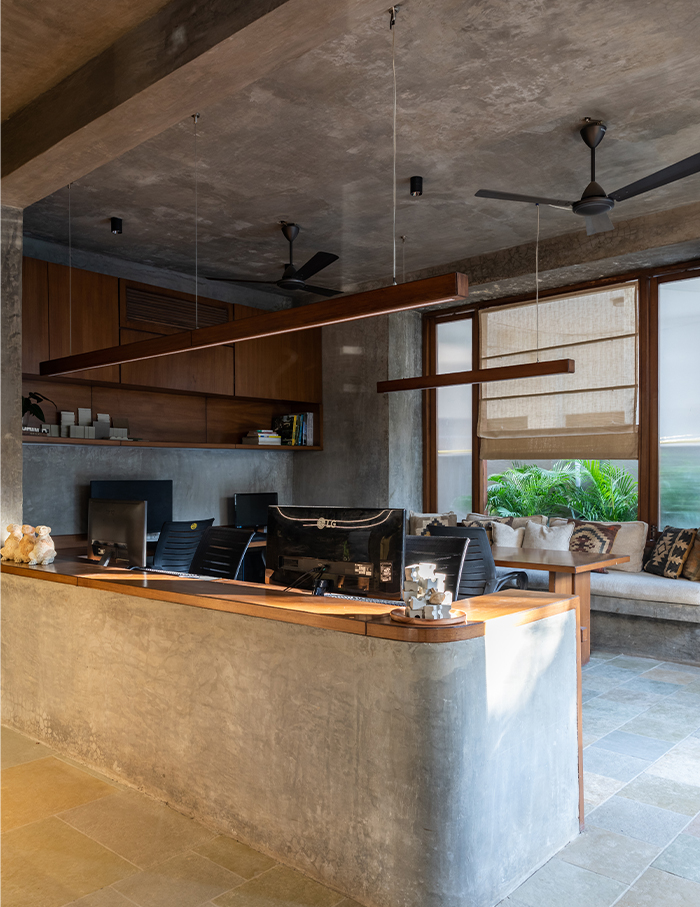 These columns create a visual partition between the meeting table and the entrance. "Our meeting table is used for a number of activities, right from meetings, for lunch and dinner, for game nights, movie nights, when someone needs a break from screens, so on and so forth," divulges Ranu. On the right, the workstation area is enclosed by an 850 mm high wall between the meeting and working space.
Sharing the obstacles faced by the team, Naman shares, "Most challenging was to interpret the existing structure in a way that it compliments the new layout, that's how the two columns came into picture, a single column stood right between the entire space when we started breaking, so we increased the size and softened the edges of it and made another one which now acts as a division between the entrance and meeting area."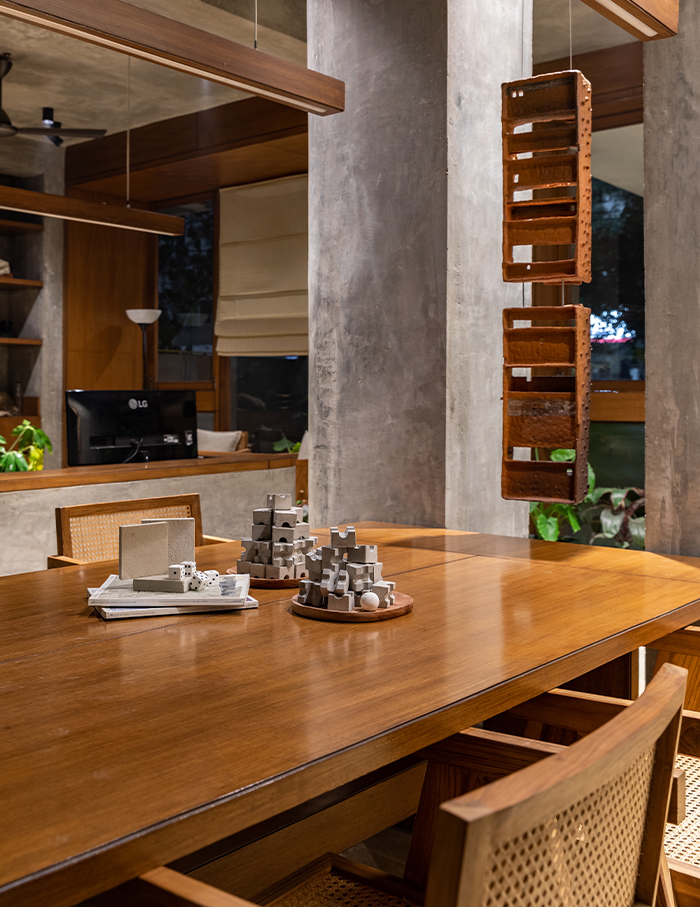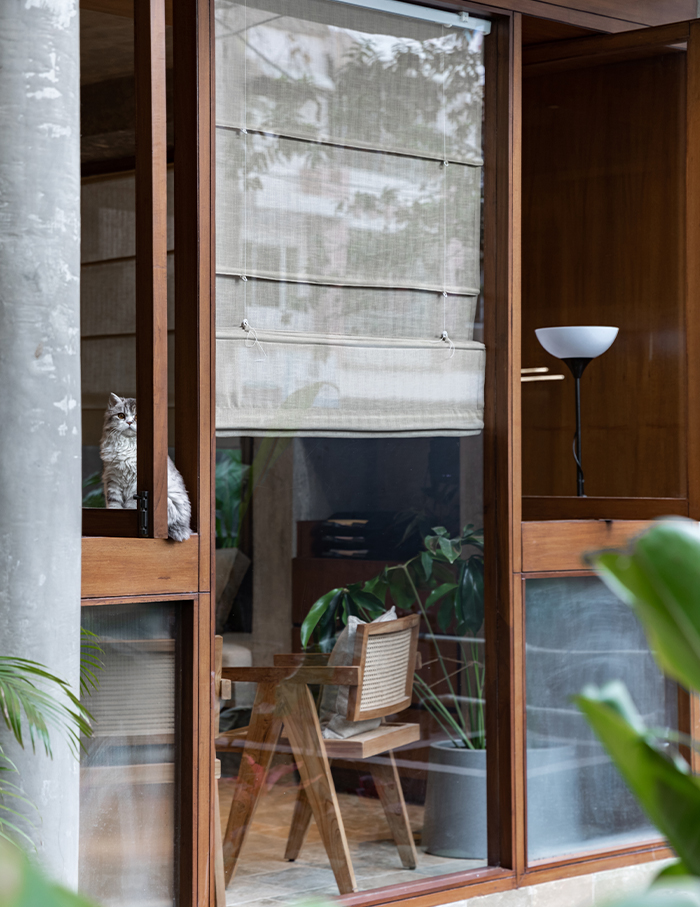 Spaces should never be static, it must tell a story. It should reflect the people around which it is built in a functional and balanced way. "We never wanted a workspace that has no scope left, we almost did not want to finish designing the space, and we haven't.
With each passing day, there are things that we add or remove depending on the mood of the day or the week, and it all makes sense. I think that's what we were aiming for and have pretty much achieved it," concludes Ranu.
If you like this space, make sure you check out this millennial-friendly workspace designed by Saniya Kantawala Designs!