Design
Expressing vibrant and edgy energy is this Mumbai office by Saniya Kantawala Designs that reimagines work from office
FEB 17, 2022
| By Rhea Sinha
Initiating excitement and ease in employment is what embeds excellence at the workplace. The industry is young, and the future bright. Meet this millennial-friendly workspace designed by Saniya Kantawala Designs.
Bustling with bold and budding energy, Saniya Kantawala, Principal Designer, Saniya Kantawala Design (SKD), weds work and wit in her virginal venture for Mumbai-based Soch Office. Spanning over 3,500 sq ft this stimulating Santacruz structure was modelled meticulously for the modernist millennial mindset. 
Conceptualised into a trine division of comprehensible work space sections, each with their own specifications, the office space was designed deliberately to enhance employee morale, increase efficiency and boost productivity. 
You may also like: ELLE DECOR India's curated list of cool and unique offices in India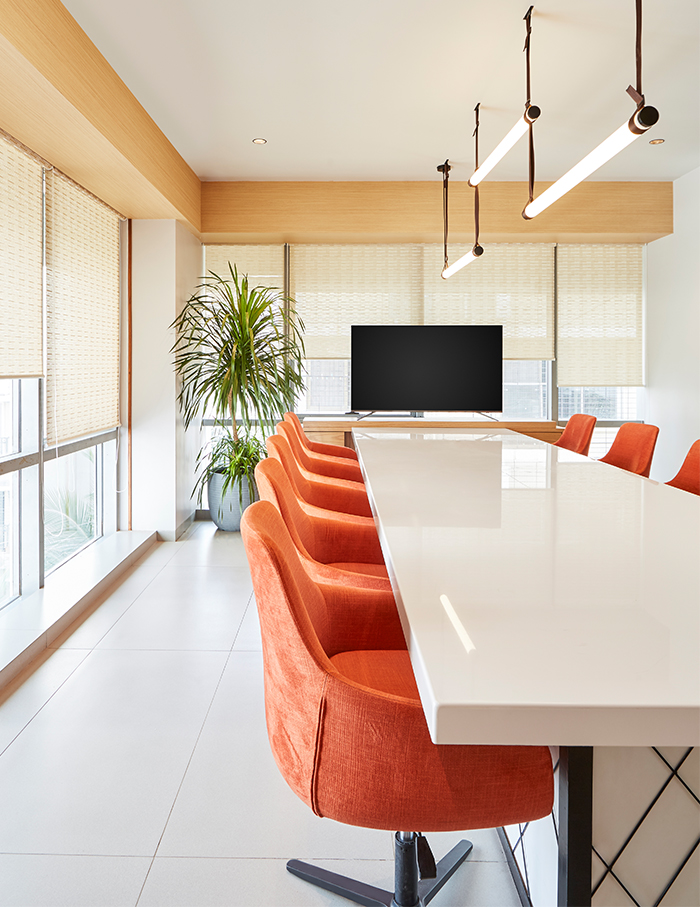 Cultivating a crisp and contemporary construct with a crunch in their timeline, the designers at Saniya Kantawala Designs dominantly make use of modest materials like wood, glass and metal in the project's material palette.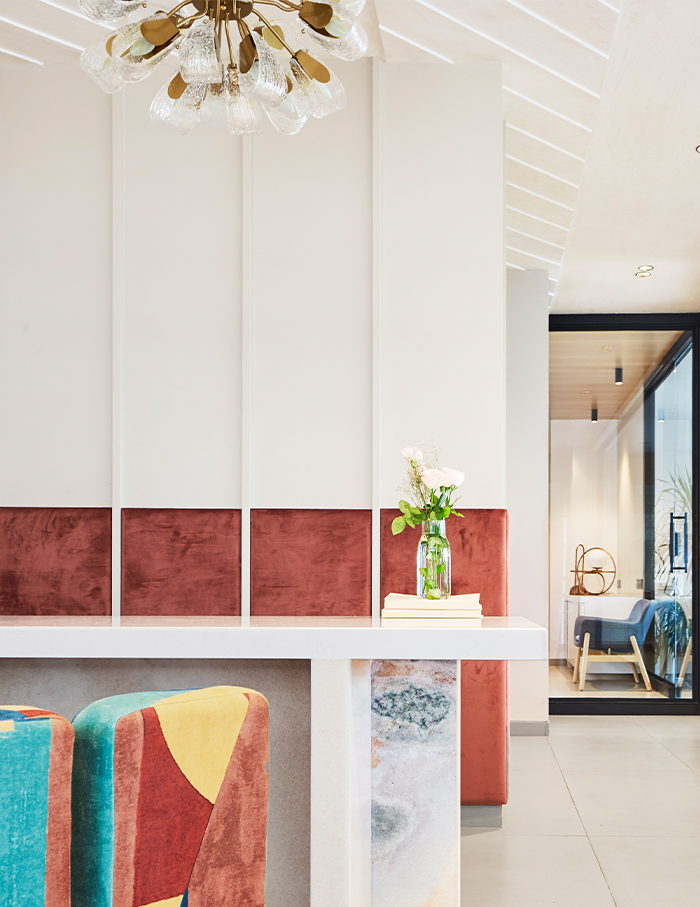 Catering to exhibit the spirited and sunny character of its energetic employees, the centre incorporates vivid and vibrant chromes of sunshine and earth in its colour scheme as per vastu. Muted walls of modest and neutral tones maintain a clean canvas crafting a contrasting juxtaposition of colour.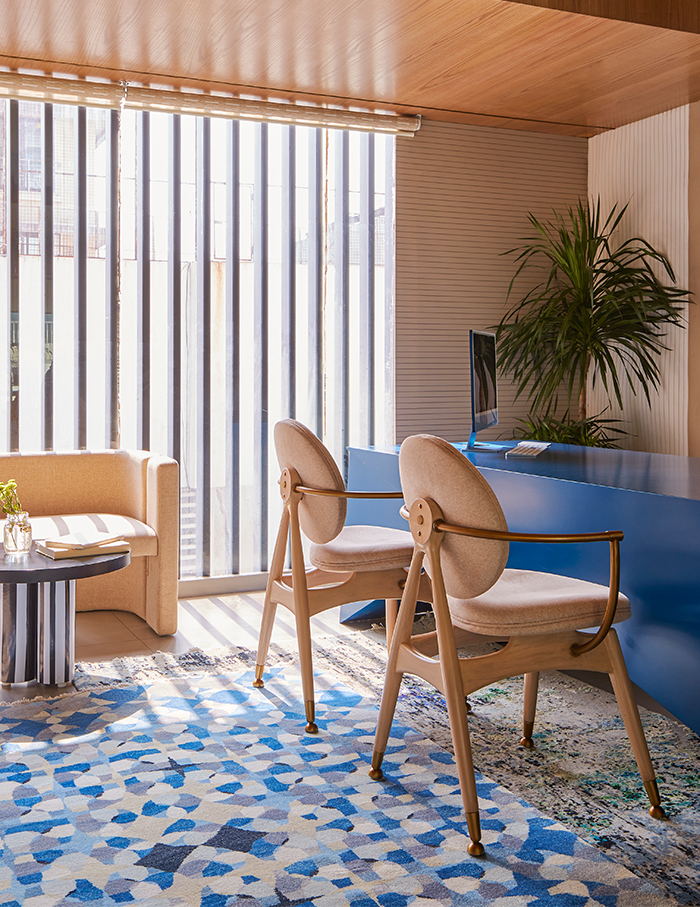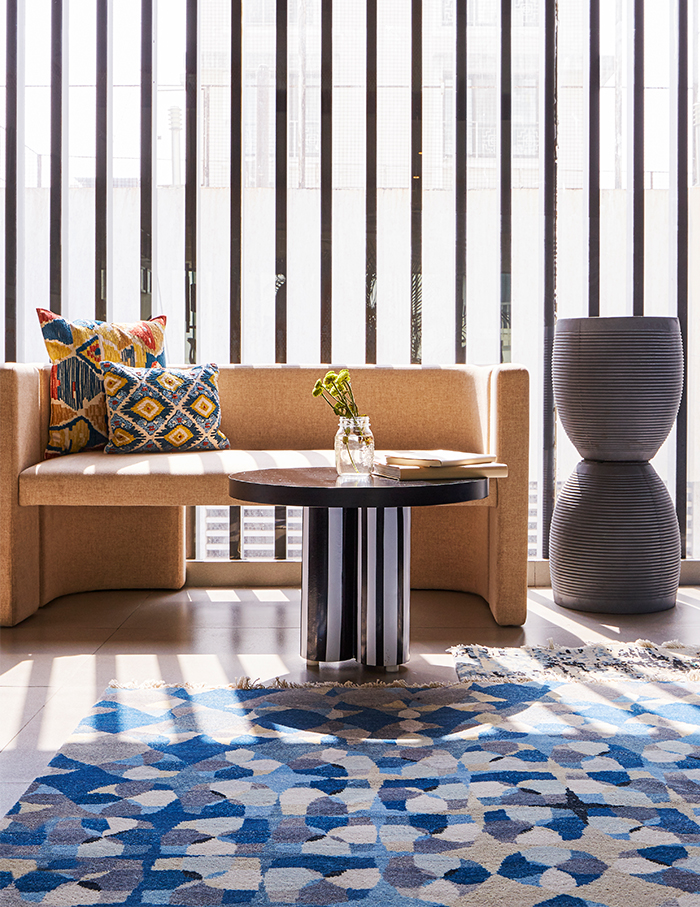 Raising the curtain right into the reception and waiting area is the elevator. Equipped with custom contemporary tables and seating, the entrance exudes a welcoming setting straight from the beginning. Colourful carpeting from Cocoon Fine Rugs brings in a whiff of warmth into the waiting area. 
Curated in collaboration with Nitant Hirlekar from Mutation Lab, a parametric installation crafted in metal using four layers of ombre finished hexagonal mesh extends over the open ceiling from the entrance up till the meeting pods.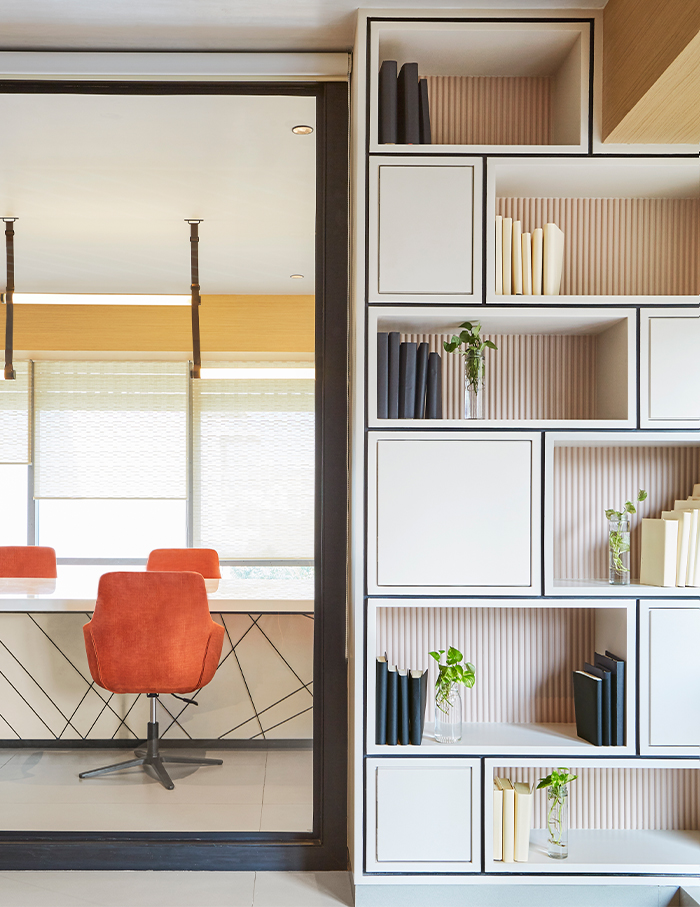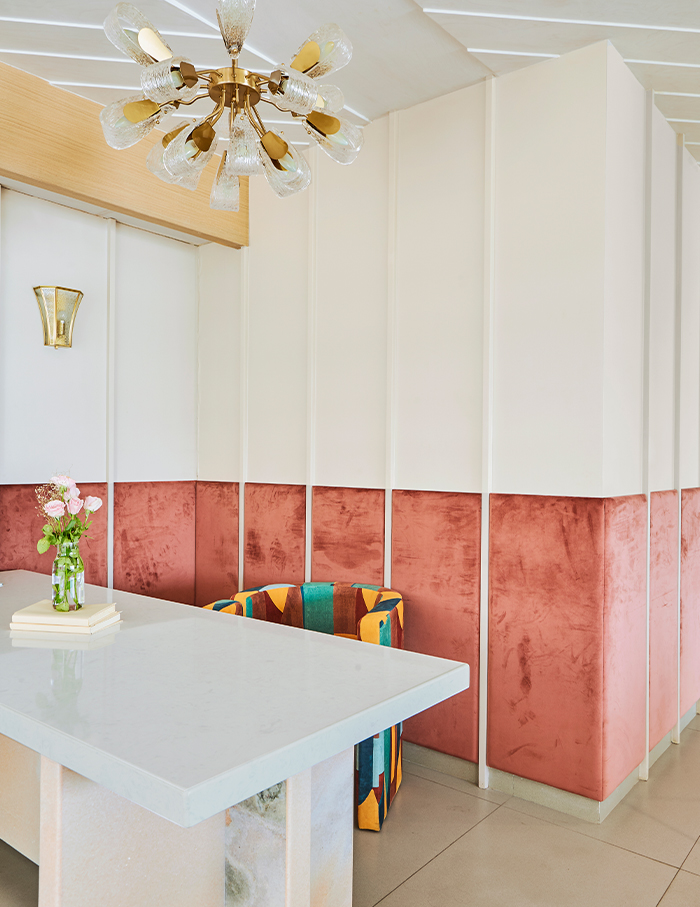 Breaking away from standard bygone norms, the staff section cancels the conventional cubical composition of traditional office spaces and replaces it with refreshing distinct desks from Kering Krafts.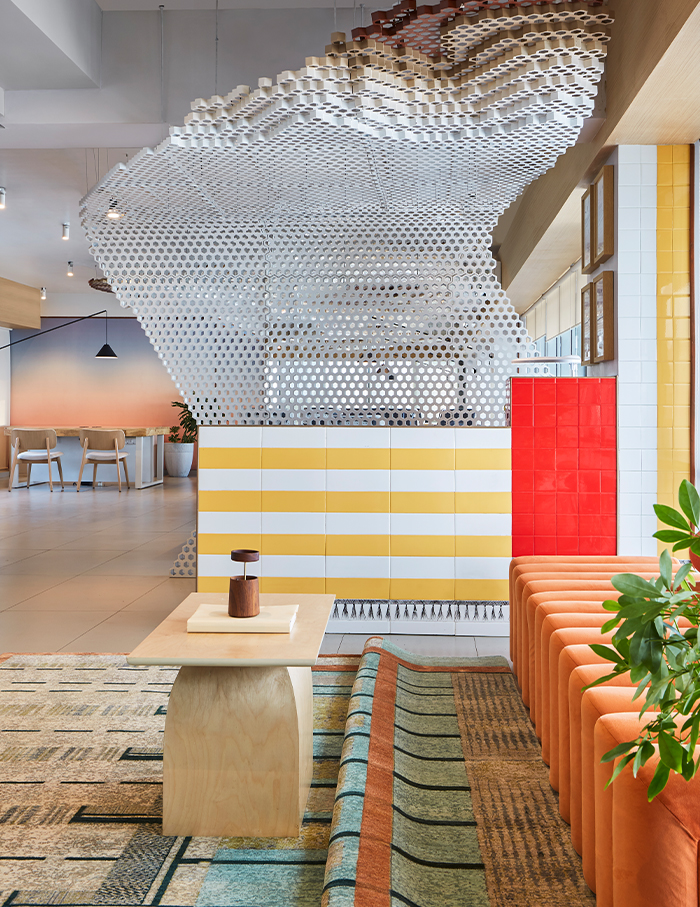 The open floor plan introduces unobstructed meeting pods sheathed with sunset wallpaper from Shutterstock and custom furnishings, encouraging advancing an activity based approach in the office's blueprint. 
Upon a right turn from the reception, the director's division includes a waiting area of its own. Featuring an assistant's desk and two side by side cabins for the co-founders, the section subsumes an altered theme in comparison to the rest of the construction.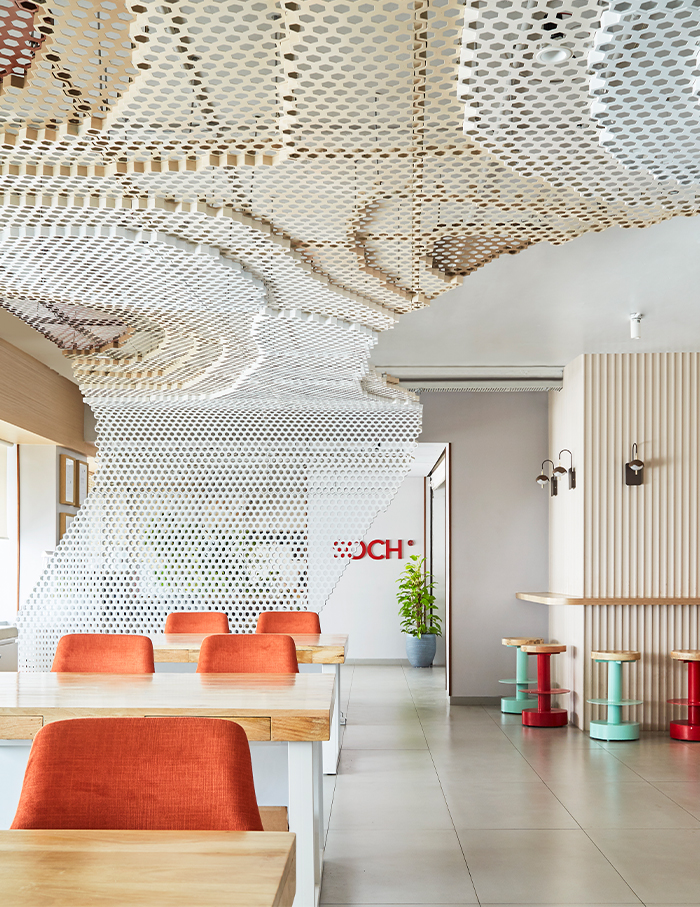 The first cabin clad in a classic scheme of white and blue is furnished with custom pieces, soft furnishings from D'decor and cushy carpeting from Cocoon Fine Rugs. Botany from Greenland functions as a filler ushering an organic element into the office space. 
The second cabin entails a white washed veneer ceiling and fabric padding in its wall panelling. The space showcases a snug and soft approach in its decor, decked with a custom built-in library, furniture and a charming chandelier from The White Teak Company.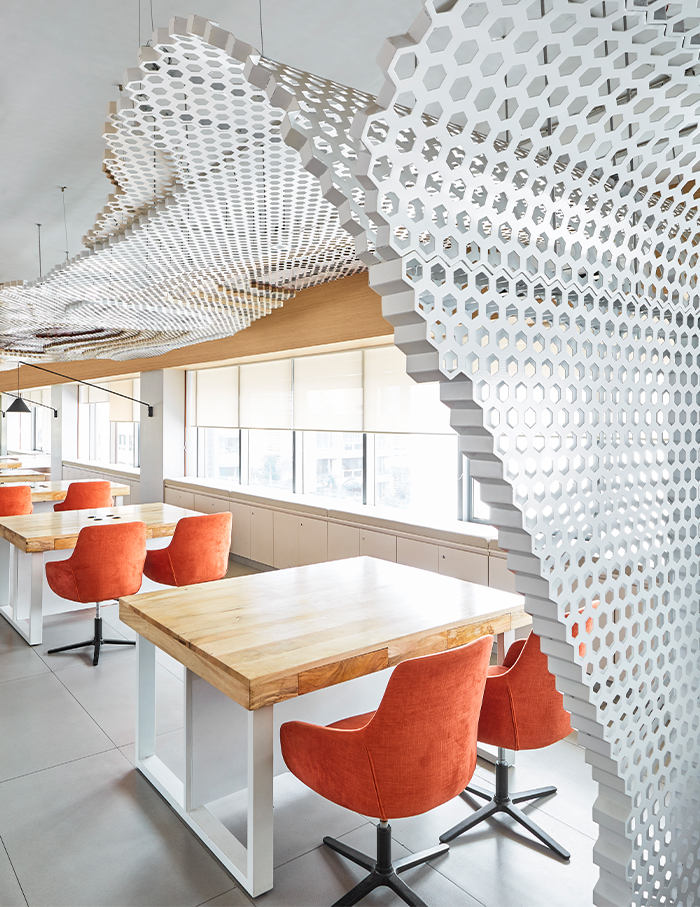 A capacious conference room seating ten, completed with a custom Kalinga quartz conference table and contrasting custom chairs makes for a stimulated work space. 
Visualised whilst anticipating the animated psyche of the perky millennial reaching his prime working years, Saniya Kantawala and team devised a dynamic office space focusing on fulfilling a friendly and functional flow in the workspace environment. 
"Since it is a start up with a lot of millennials working and the oldest person in their company is only 35 years old. We knew we had to design a space for a millennial mindset and move away from traditional space plans,"  shares Kantawala of Saniya Kantawala Designs on blanket design sensibility of the space. 
You may also like: Saniya Kantawala combines cuisine and culture at Oye Kake restaurant in Mumbai