Design
ELLE DECOR India's curated list of cool offices are unique, employee-friendly and enhance workflow
JAN 31, 2022
| By Anushua Aich
All work and no play makes Jack a dull boy! This proverb, in the day and age of efficiency trap, holds a deeper meaning than ever. Driven by the idea that work can be fun too and boost morale of employees, evolving design brands and experts are coming up with strategic, meaningful plans to shape the landscape of workspaces.
The following list of cool offices redefine the design of workspaces and amplify that offices should have always looked like this from times they have come into existence. 
Grey Mango Office, Mumbai
Overlooking bustling cityscape, this 350 sq ft Grey Mango office, located in Mumbai, is adorned with striking yellow interiors accompanied by a contrasting black and white chevron-patterned floor. Designed by Shivani Bhandari, principal designer of Shivani Bhandari Design, this office primarily regards itself as a startup company, specialising in Home and Personal Care domains.
Bhandari further shares that she conceptualised this workspace based on the colour of the brand products that are mostly themed to have a dash of yellow. The chief areas of this office include—an entryway , a seating space, and  staff work stations. 
To make work fun and interactive, the staff workspace has an L-shaped long continuous table which was refurbished and used on site. In order to have seamless views, the glass partition is built to have simple grids in aluminium that are painted in black. Also, the seating area has armchairs and pseudo upholstered sofas and a space that reflects love for greens. Bhandari elaborates, "We wanted to emphasise on the fact that small office interiors can be playful in terms of colours and patterns and yet become simple and elegant in its own way."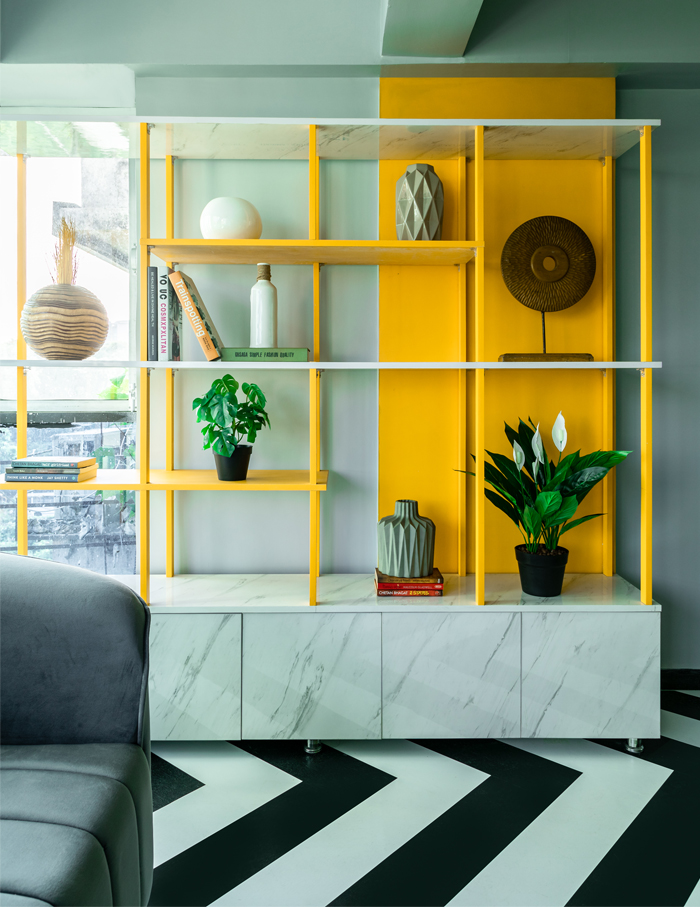 The Storefront Workspace, Pune
Envisioned as an open office, this 1200 sq ft Storefront Workspace, located in Pune, encompasses a glass facade that renders interesting views of the street. Crafted by Kshiti Shah of KSD Studio, this office comprises contemporary materials like corten steel panels, concrete flooring, fabric as acoustic panels to the hand painted artwork on canvas and the custom-made banana fibre lamps.
As one steps inside, the reception lounge is to the left and a vibrant pantry space on the right. The large volume of this storefront strip, is broken down in two distinct volumes by the use of corten steel panelling as a backdrop that wraps itself to the ceiling defining these two spaces. The residual volume accentuates the height of the space and tucks within the services that are left exposed intentionally.
To the far right, is a 12-seater meeting room with fabric panels on the walls and corten steel tubes paired closely to break monotony. A minimalist design, with a nifty choice of materials has been used to curate a workspace that is stimulating for it's employees.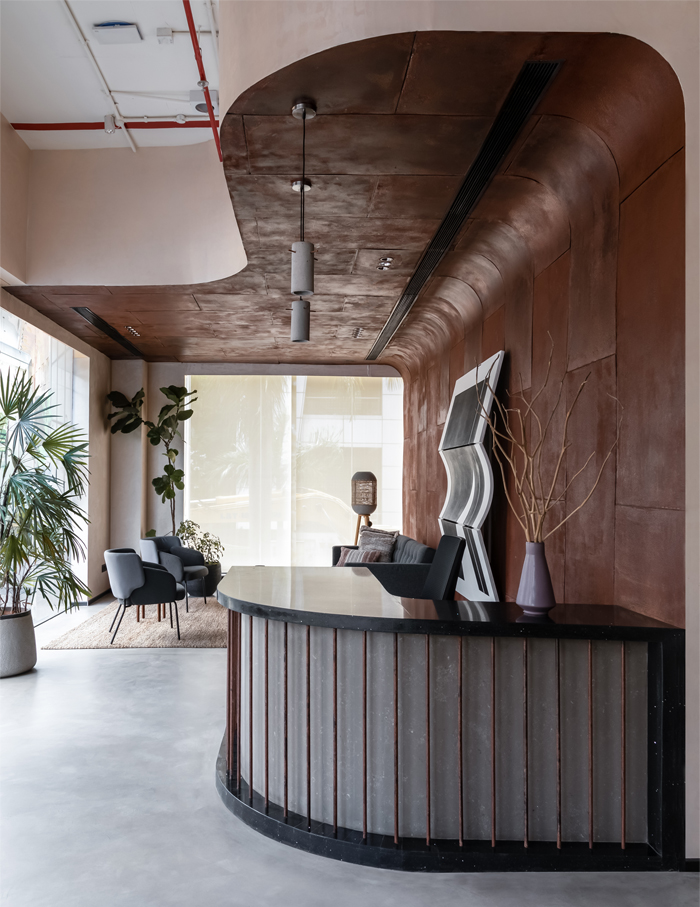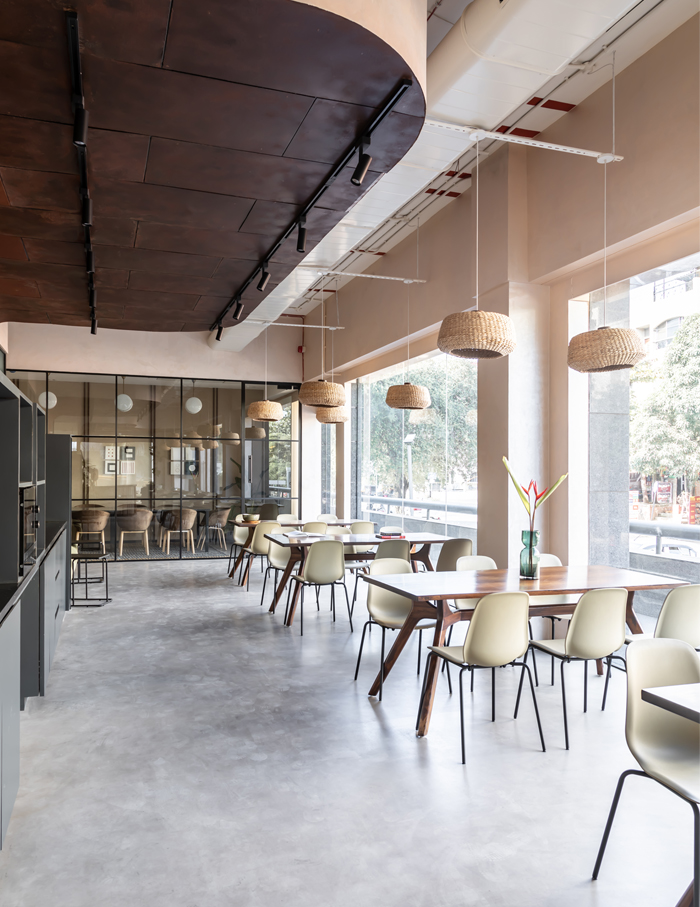 Para Cubes Office, Gujarat
Featuring an unconventional blend of parametric and curvilinear elements, this 1120 sq ft Para Cubes office, nestled in Dahod city, Gujarat, is divided into diverse working zones that synchronise coherently to induce an orderly functional flow in the office.
Designed by Parth Chitte and Vishal Chitte, architect and interior designer of De' Caves by Chitte Architects, the office envelopes a dramatic play of light and shadow which makes it's interiors charming.  Also, the exterior colour  palette of lime and terracotta, and interiors of yellow Jaisalmer and natural wood gives a tranquilising feeling which tends to break the trend of platitudinal cuboidal working spaces. While, the textured subtle teal green shade emerges independently.
The designer duo further shares that a lot of the sustainable features are incorporated in the furniture as well as in the artefacts. Chitte says, "The natural conference table, the multiple curve light fixtures, organic parametric artefacts and sufficient storage spaces define the true contemporary design consciousness."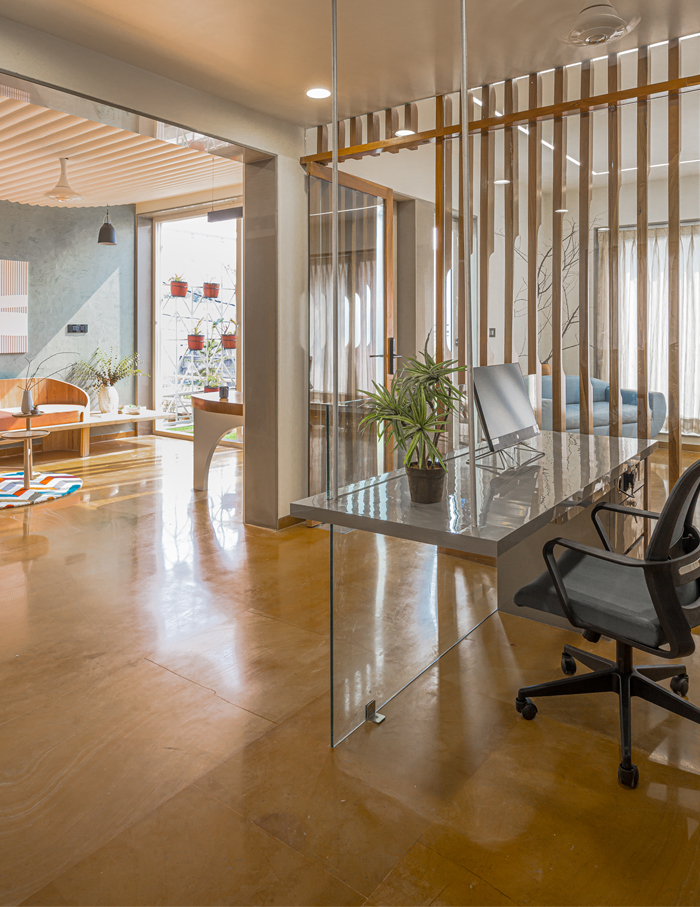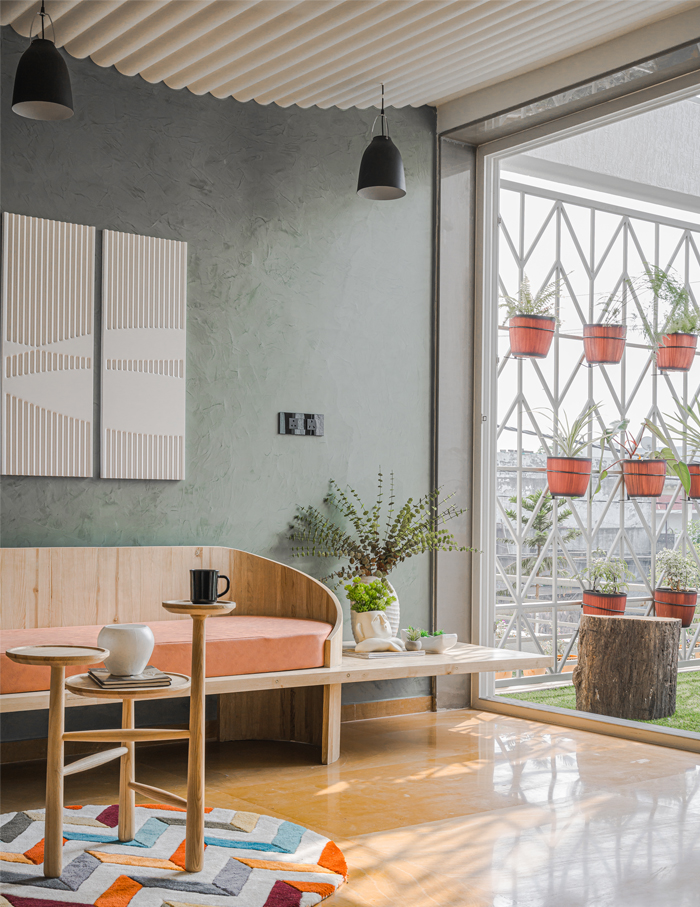 DB Office
Crafted as an exclusive corporate head office for an industrial manufacturing company, DB Office embraces a refreshing and subtle colour palette. The office sits on the top floor of a four-storey commercial glass building.
Designed by Pramod Parikh, principal architect of Parikh and Associates, the office entails a reception area, the director's chamber, a conference room, a pantry and workstations. 
The structure of the building played an integral role in determining Parikh's conceptualisation of the office. As he shares, "The structural grid of the building was well planned with columns positioned merely around the building circumference, offering us a huge scope to design the internal planning of the office without being restricted to the position of beams and columns."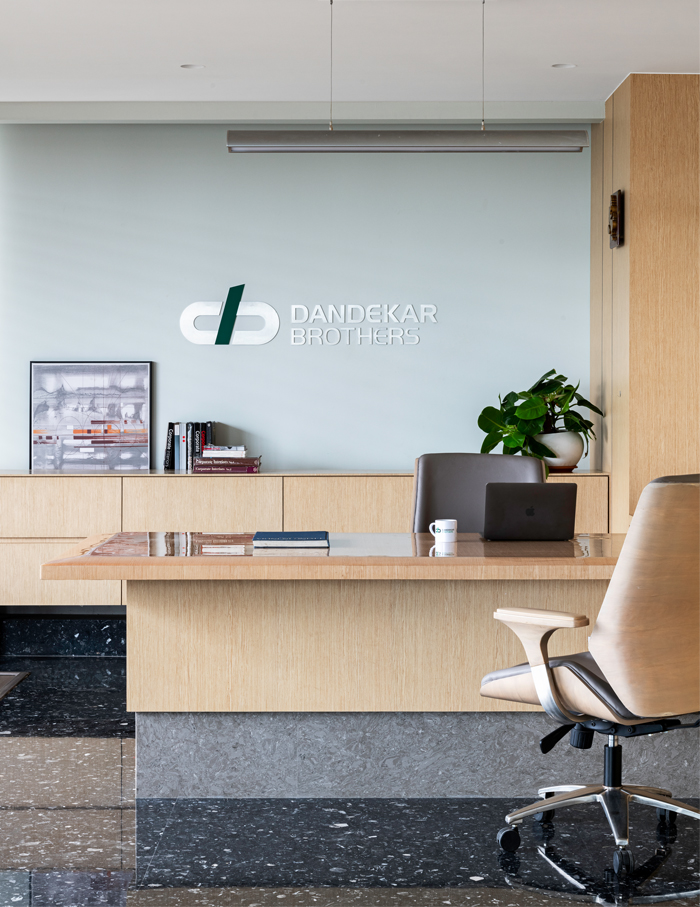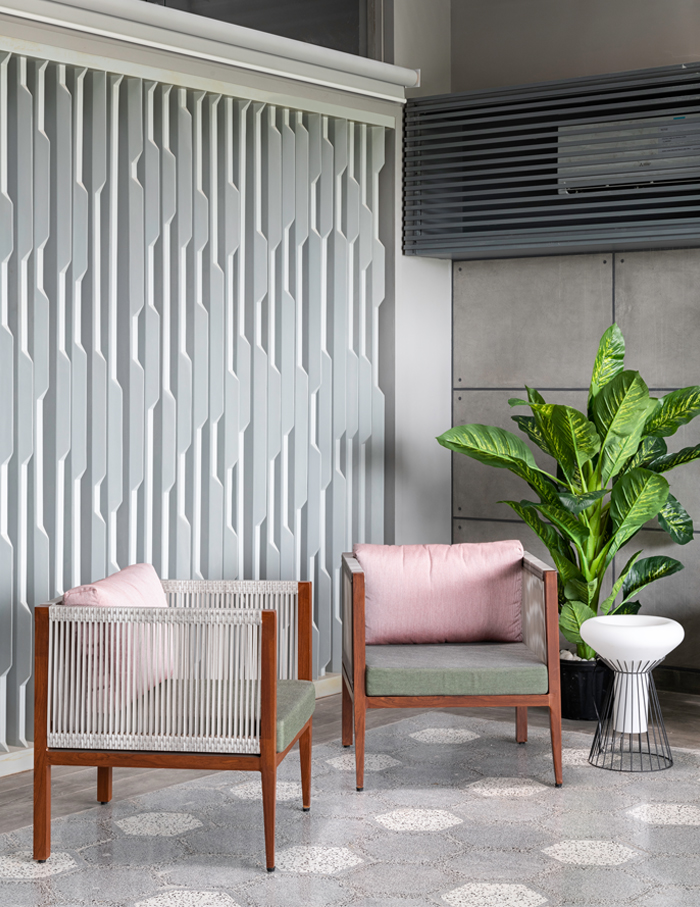 Beige Art Studio, Gurugram
Exquisitely combining work and leisure, the Beige Art Studio brings forth a novel optimism through it's serene palette and elements. Designed by Studio Siddharth Saluja, this 1300 sq ft artspace is home to various communities of artists from architects to fashion designers, who come along under the same roof to practice their art.
The space is an effortless amalgamation of ethnically rooted elements and contemporary modular structure. In order to accommodate multiple activities and maintain a collaborative working space, Saluja incorporated rustic and earthy materials like mosaic tiles and bamboo products. 
This art studio also celebrates the craftsmanship and labour of makers of handcrafted goods. As Saluja feels it renders the space an organic and sustainable essence.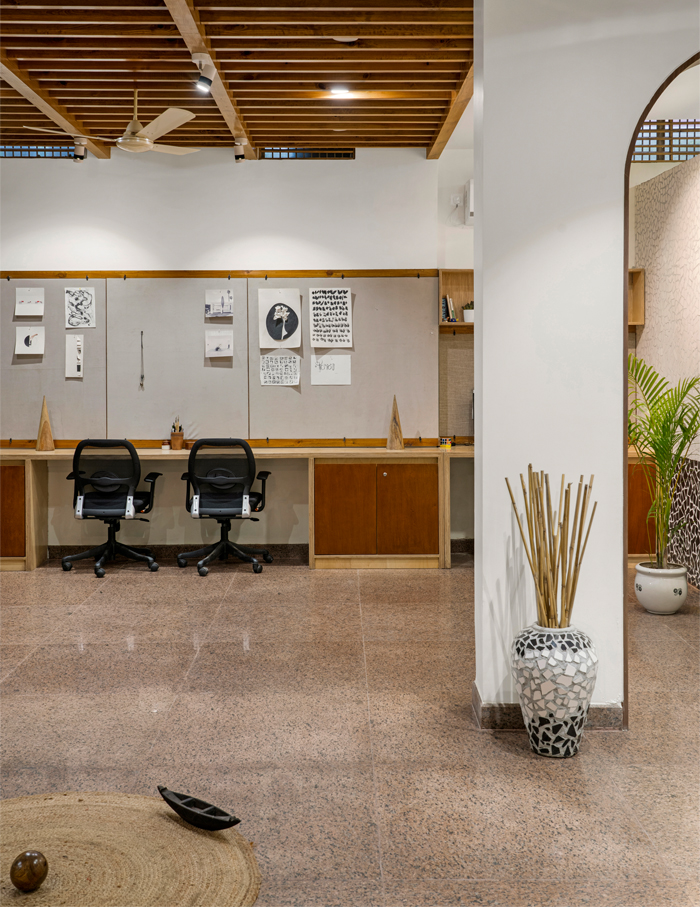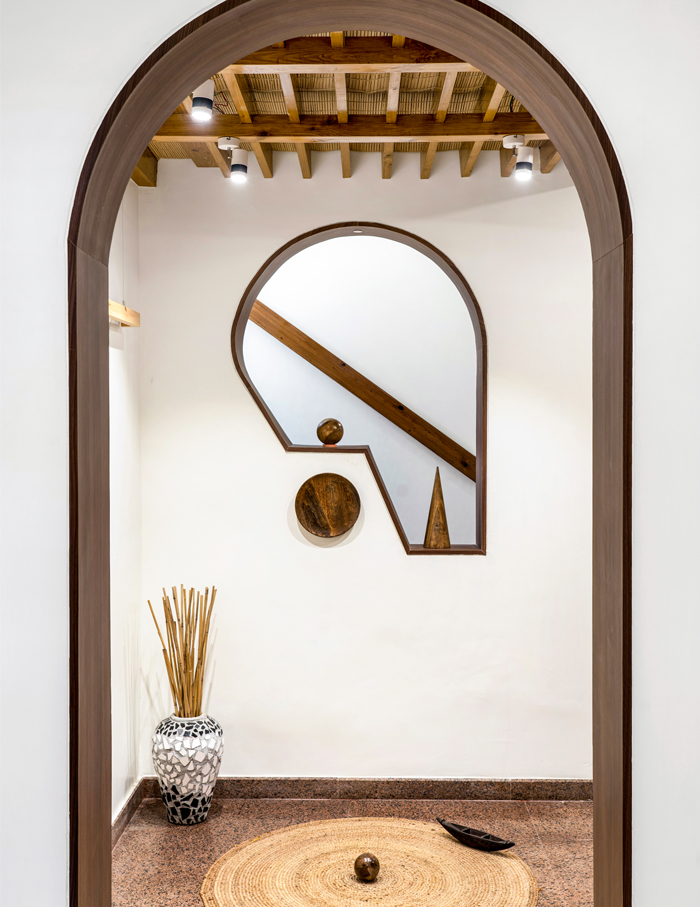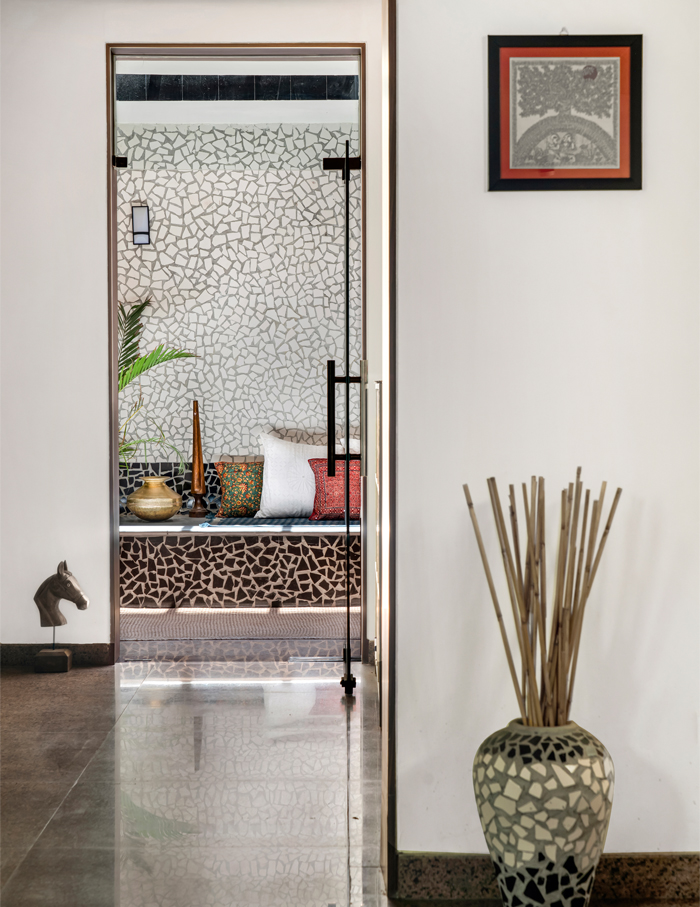 Skootr Palace Office, Gurugram
Known as India's foremost 'Premium Managed Office Space' operator, Skootr, has recently crafted it's newest workspace at Cybercity in Gurugram. The office reflects design sensibilities that are steeped in India's rich cultural heritage—of magnificent palaces with a touch of contemporary luxury.
Including private work zones, a managed collaborative space with meeting rooms, F&B services and enhanced hospitality experience for the end-users, the office interiors feature an elite palette of colours which is embellished with handmade paintings created by local craftsmen of the region. Over 20 ethnic artists were involved to create riveting artwork such as Pichwaai paintings while interior designers, and technology experts looked after the form and functionality of the workspace.
Custom woven furniture with inlay wooden work shape the relaxing landscape of the common areas—lounge and office reception. Additionally, biophilic elements such as air purifying plants, water fountains and water sounds surround the space which adds a soothing vibe to the office space. To help employees decompress uninterruptedly, Skootr has also designed quiet aquascape rooms for the staff to enjoy some peace of mind. 
Sequoia Office, Gurugram
Post-pandemic workspaces are expected to make workers feel at home as they transition from home to office. Located at the foothills of the Aravallis in Gurgaon, this quaint 1,200 sq ft office adapts to the necessities of the changing times. Designed by Meena Murthy Kakkar from Envisage projects this bespoke office transforms effortlessly based on strength of its users and change in function of its space.
Conceptualised as two comprehensible office layouts, each with their own specifications, the varying sensibilities craft a design conductive to change. Application of muted colours and cane in multiple facets of design renders a perfect balance between a workspace and home.
This highly customisable layout is quick to execute and economical in nature. The minimal construction and lack of elements makes it favourable to improve and magnify the design and lease out as and when required. The design recognizes growth and the multi-faceted nature of a transformative office.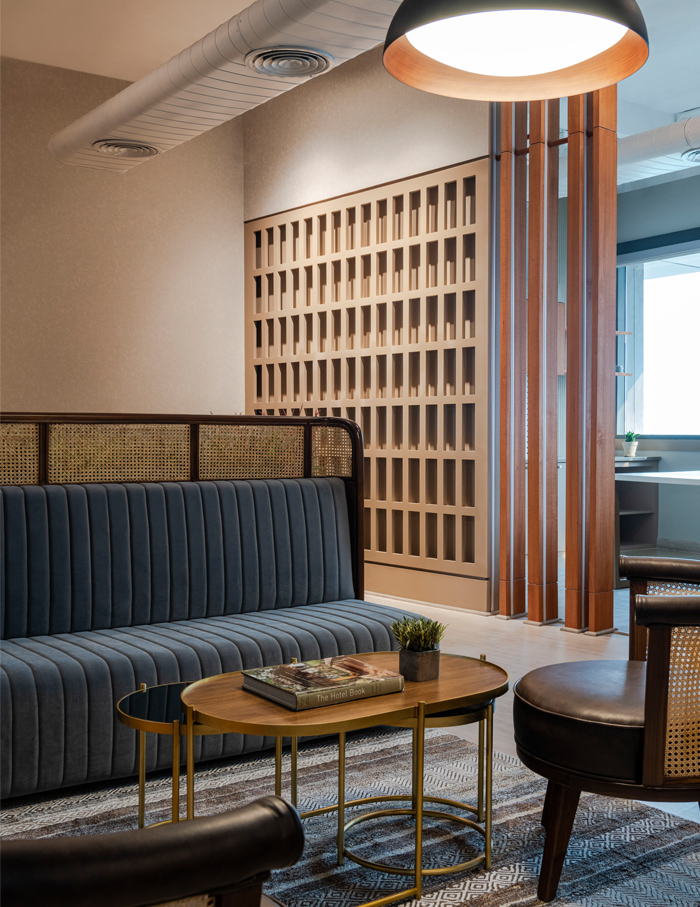 E-HEREX
Called second homes, offices are homes for longer duration than actual abodes for workers. It's necessary for office designs to increase employee morale, productivity and efficiency. A place they willingly want to be in, and not as an obligation. Designed by Akshay Selukar, this office is a blend of decency and artistic style with its distinct and creative designs.
Located in Bhopal, the activity-based design plan allows employees to work from anywhere in the office that suits their current activity. With a belief to connect with nature, openings are retained for natural light and air to improve quality of life. 
The interiors are fused with a balance of distinct colours, each perceived with a mood. Made adaptable, the workplace is ideal to relax, socialise and impart a sense of belonging to the users.