Homes
Vivek Kadecha paints a melodious symphony of colourful and natural elements in this Ahmedabad house
JUL 20, 2021
| By Kashish Kaushal
Nestled in one of the upmarket neighbourhoods of new Ahmedabad—The Sky City Floris, a 2,700 sq ft four storeyed house, is constructed primarily on the client's belief of a home. Vivek Kadecha, principal Designer and founder of Vivek Kadecha Interiors, Lifestyle & Design, built the foundation of this home entirely based on his extensive conversations with the client. 
Spanning across four floors, the house caters to a couple, their parents and two young kids. Styled by Chintan Dhaduk, the house establishes a beautiful connection through tranquil and transparent spaces. It constitutes a basement and a ground floor that hosts common areas like living and dining along with the parent's room. The primary bedroom, kids room and a reading space are on the first floor while a guest room and terrace constitute the third floor. 
Keeping the colour palette simple yet bold, the white walls act as a blank canvas for colours used in furniture pieces, artworks, tabletops, and metal structure in common areas. "My design philosophy is simple—a design that reflects my clients, their personalities and lifestyle. I think that is what matters over everything else, be it signature style, trends, materialism and so on," shares Kadecha.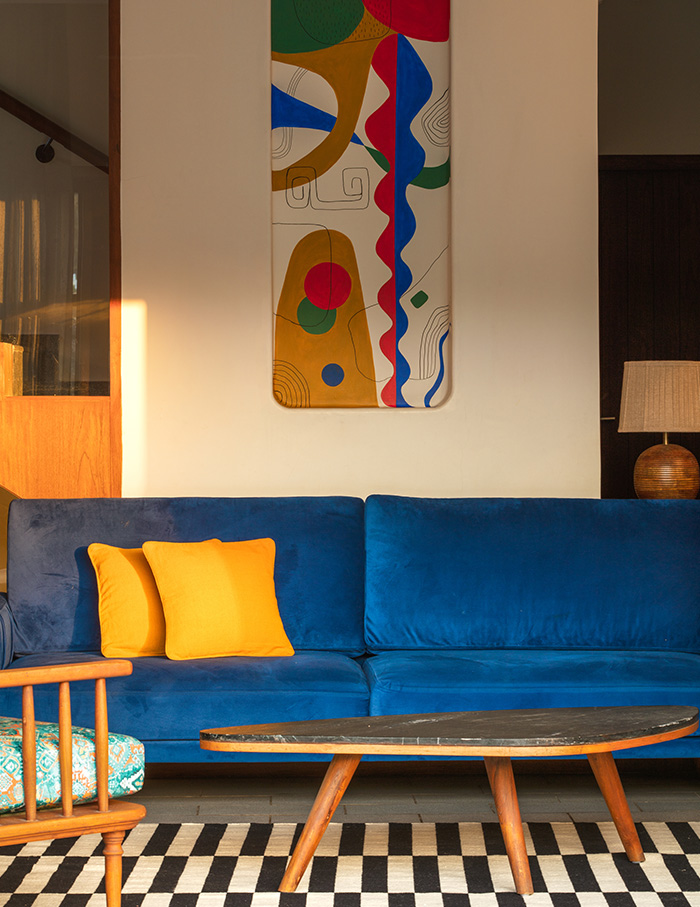 Inspired by the painting style of Le Corbusier, a combination of primary colours have been used in the living room. A Blue sofa and painting by Bhoomi Vyas in bold colours strikes a compelling narrative. To balance some of it, a classic old school Stockholm rug, reclaimed old Burma teak wood and florals on the fabric of custom made chairs have been used. Black Indian marble with leather finish on furniture pieces and magenta painted metal sections—used to break the entire material palette of the space, adds a vibrant charm.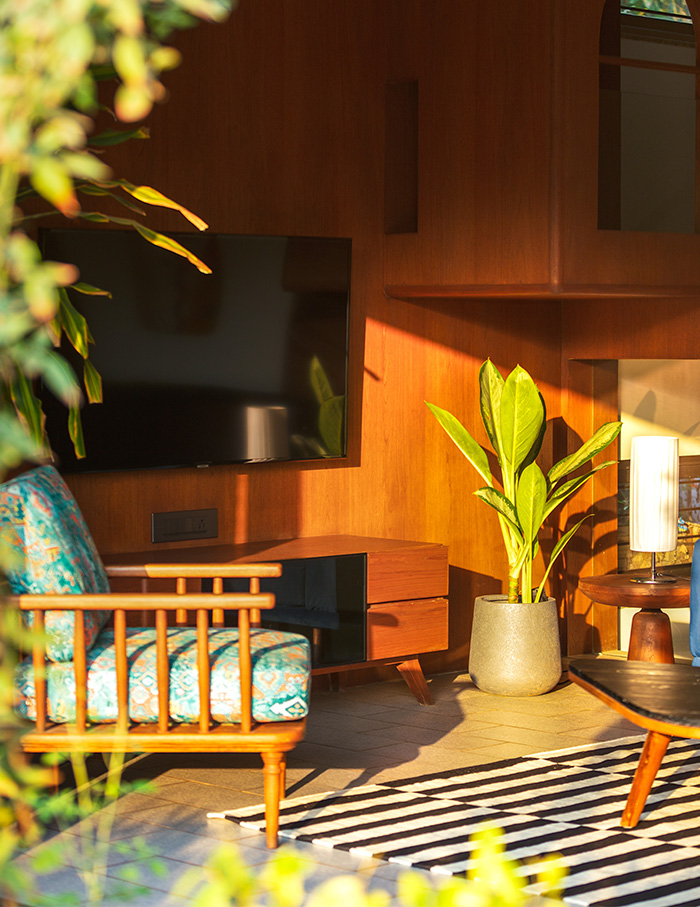 However, the most remarkable feature of this space is the pop-up balcony, made specially for the kids. Connected through the adjacent staircase, this small protruding element is like a cub's den where the kids love to peep out and play.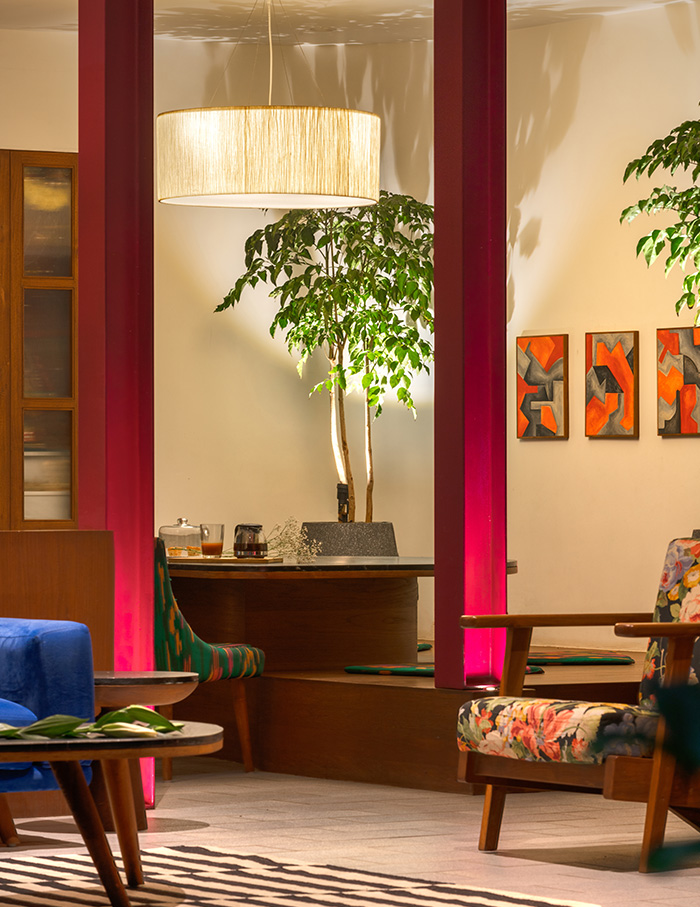 Another striking element of this abode is the dining space with a raised platform. "There were a lot of intangible and basic discussions with the clients where they told me how they wanted a low height dining space in their new home—a space where they along with the kids can enjoy their meals traditionally while sitting on the floor. Considering easy access of the grandparents, we customised the dining space where the parents can sit on chairs while the rest of them can dine together, sitting on a raised platform," reveals Kadecha.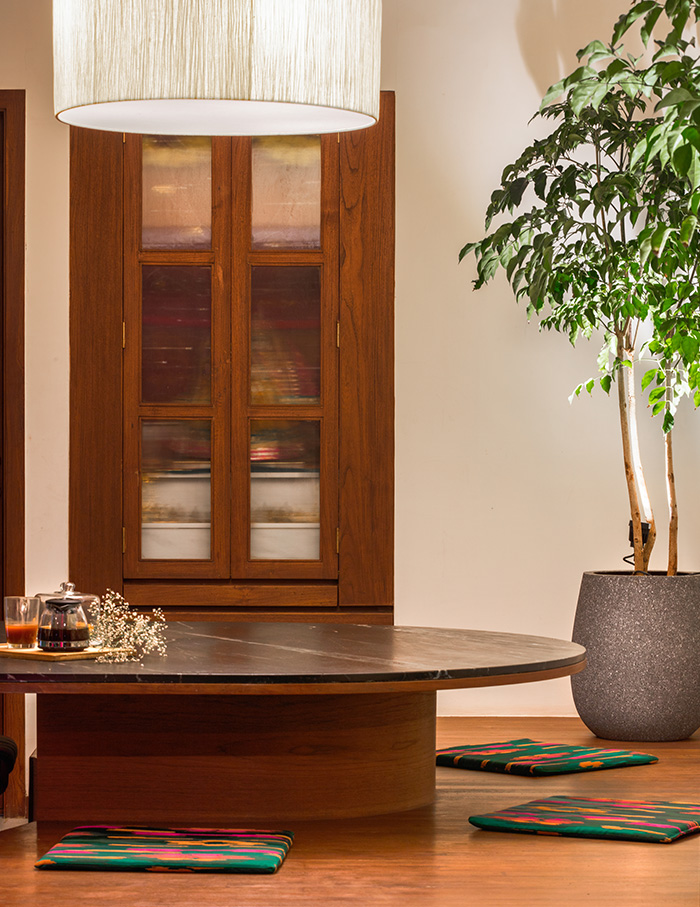 Barrier free, the dining space is built on black Indian marble in leather finish which is complemented by two indoor plants in the corner and a huge light fixture. Beautiful frames between plants painted by Bhoomi add a regal touch to the area. 
Moving up, a library unit doubles up as reading as well as a workspace for the couple. It is supplemented with custom made seating for reading with integrated storage near the study table. This space has been made in a way where the couple can work and read, yet stay connected visually with the kids in their room. For the same reason, the primary bedroom sits right across the kid's room. Due to its westward location, the primary bedroom gets ample evening sunlight, painting the walls of the room with spectacular colours. A platform bed facing right towards the french window also offers an amazing view of the sunset.
Modern, eclectic and striving to make its own mark, this family home is free and functional. With barrier-free, connecting spaces, it breaks away from the mundane while facilitating the needs of every individual that inhabits it.
If this arresting and vibrant home by Vivek Kadecha appeals to you, you must check out this artsy penthouse extension designed by Sandesh Prabhu!