Homes
Art of Minimalism, an intimate and minimalist abode by Vivek Kadecha, invites us to a divine realm
FEB 10, 2021
| By Saloni Rege
We'd love to live in a house that ages gracefully over time! That's why we're in awe of this simplistic abode christened 'Art of Minimalism' by Vivek Kadecha, founder and principal designer of Vivek Kadecha Interiors, Lifestyle & Design.
This 700 sq ft home in Ahmedabad is a canvas of integrated spaces and textures with a vernacular essence. The entire two-bedroom apartment is conceived as minimal and hassle-free, making it perfect for the enthusiastic couple who owns it.
"I've always believed that spaces are akin to living beings. When you unfurl the fabric of ornamentation and imitation, what remains is the beauty of scars and tragic imperfections. And that was my approach with this project too," shares Kadecha.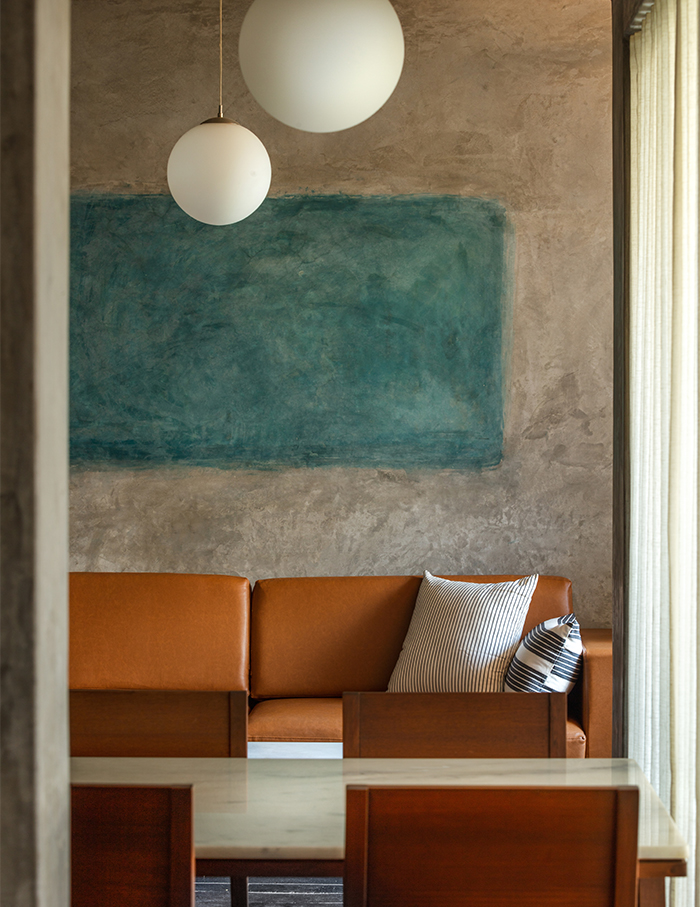 Therefore, the abode weaves in the homeowners' frequencies and their simple, working lifestyle. On entering, a clutter-free foyer with wall-infused storage spaces opens out to a warm and inviting living room. A sense of intimacy prevails owing to the use of traditional artisan techniques for embellishments.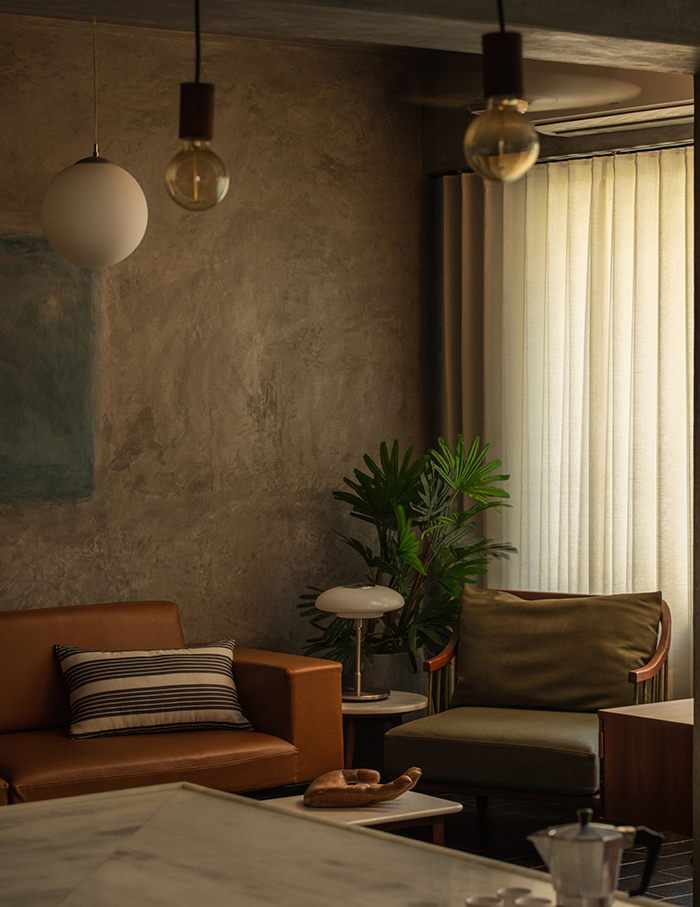 Dotting the minimal living room is a faux leather sofa, dark olive accent chair, a sleek centre table with an Indian marble top and customised solid wood furniture—all of which are placed on kadappa stone flooring and lend a soothing vibe.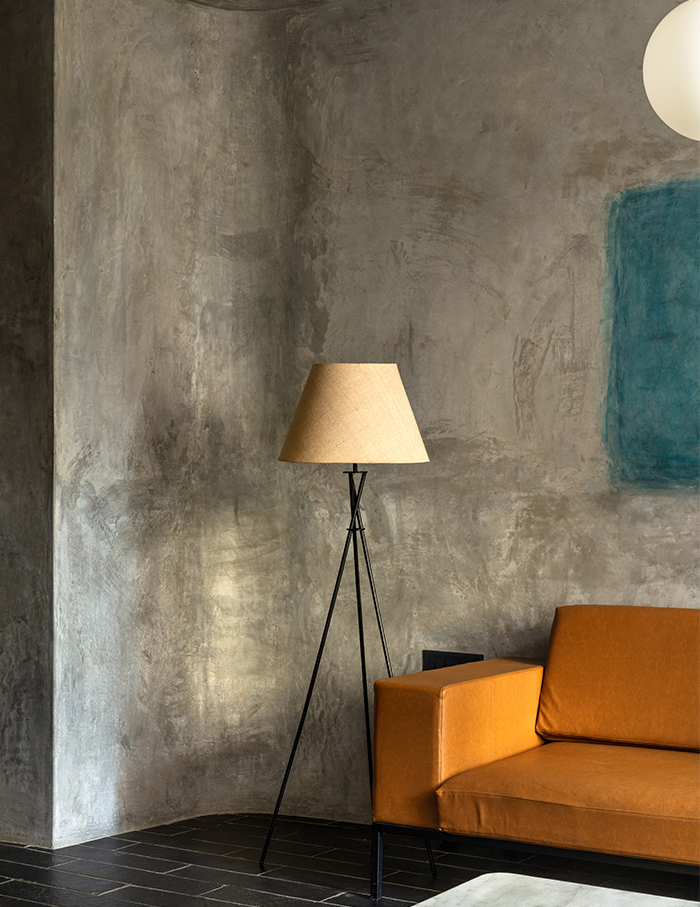 The highlight of the abode are its grey IPS oxide walls by Vernacular Building Techniques. The texture has a unique attribute of reflecting soft light and creating a subtle ambience. This low saturated colour palette is punctuated by a turquoise patch in the same material, which adapts as an artwork.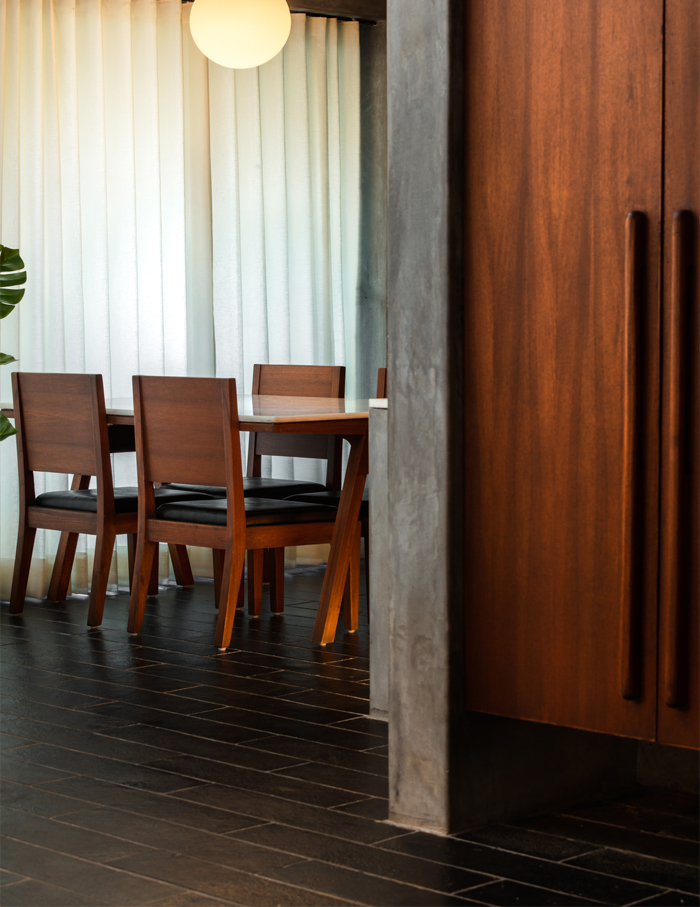 The dining and open kitchen are interspersed for easy circulation. The furniture is made using reclaimed teak and veneer, adding to the earthy theme of the house. Like the centre table, the dining table and kitchen counter are finished in Indian white Ambaji marble.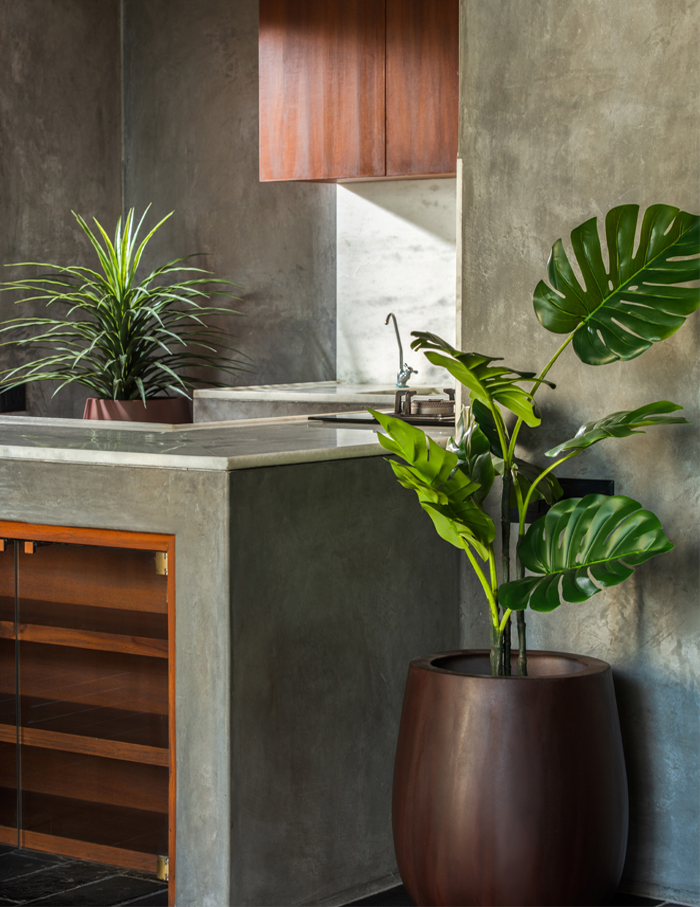 The vernacular alignment is obvious in both the master and guest bedrooms. Indeed, the former is dressed in metal furniture in matte black and bed linens from Saphed Home's Gulaabjal and Haldar series, adding to the divinity of the room.
All in all, the entire apartment focuses more on the intangible and so the walls are free of embellishments. Instead, they are simply treated in local, age-old techniques and polished in wax and coconut oil. Kadecha puts it perfectly when he says, "My creations echo my influences, the client and the project typologies. I believe that if design ignores people, people ignore that design."