Lifestyle
Vivek Kadecha revamps Ahmedabad's iconic Lalit Palace restaurant to be architecturally timeless by fusing modern and vintage styles
OCT 28, 2020
| By Sakshi Rai
Being approached to design a heritage property with a resplendent historic legacy brought with it an inherent sense of pride, privilege and responsibility even for interior designer Vivek Kadecha.
The brief included the structural revamp of Lalit Palace, a 35-year-old restaurant located in a posh Ahmedabad neighbourhood. This meant that the newer version had to live up to the eatery's reputation and sync with its identity, while also serving as a benchmark for similar franchises across India in the future.
Of course, over the past three decades, the architecture had been renovated numerous times. However, those efforts resulted in an unorganised and complex frame. So, Kadecha, with the guidance of structural engineer Deval Soni, decided to start afresh and tear down the existing levels and mezzanine floors.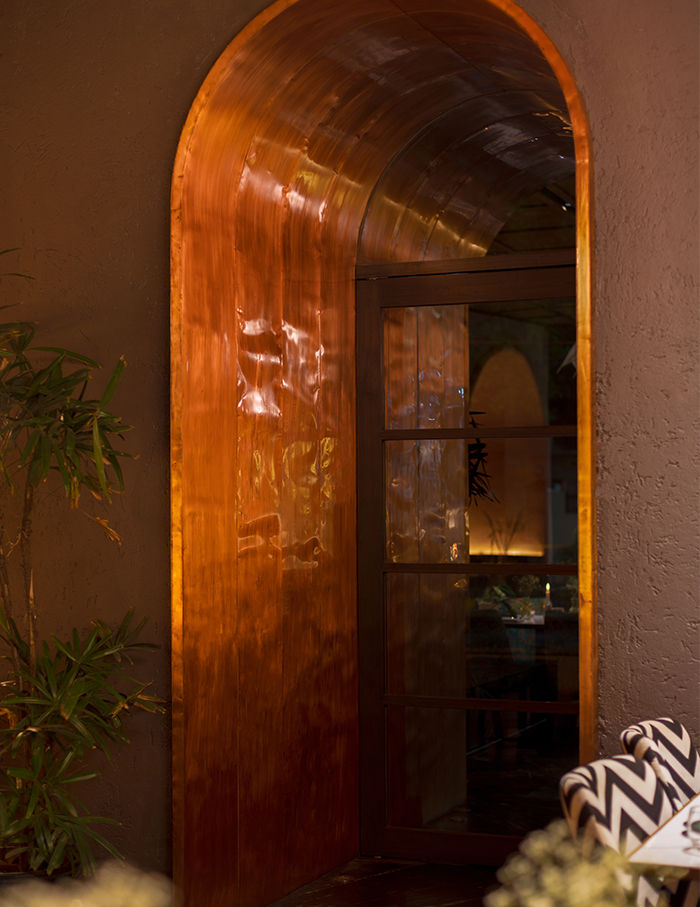 It was only the structure was stripped down did the team experience the 14 ft high, raw, hollow structure to experiment with. That's when they began to visualise its rebirth and transformation. "I have always believed that spaces have the power to ignite certain emotions and feelings. And for this project we definitely wanted a palatial look and ambience," shares the designer, founder and principal at Vivek Kadecha Interiors, Lifestyle & Design.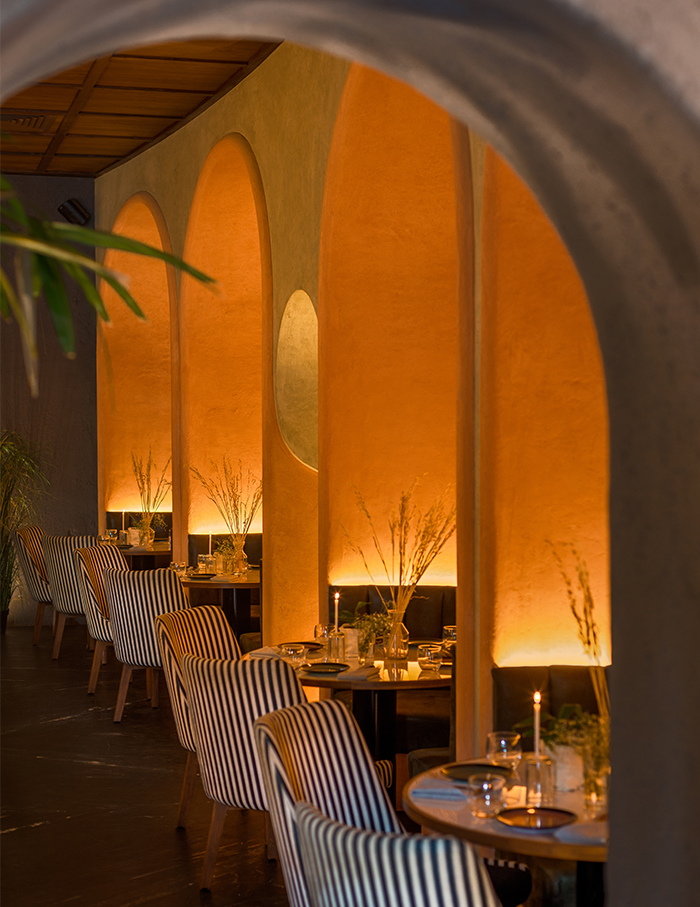 Kadecha continues, "Nothing paints a picture of aristocracy better than arches, which is why they were essential architectural elements in the construction. We've shaped them as grand, copper vaulted entrances, bifurcations in the seating and even as wall panels."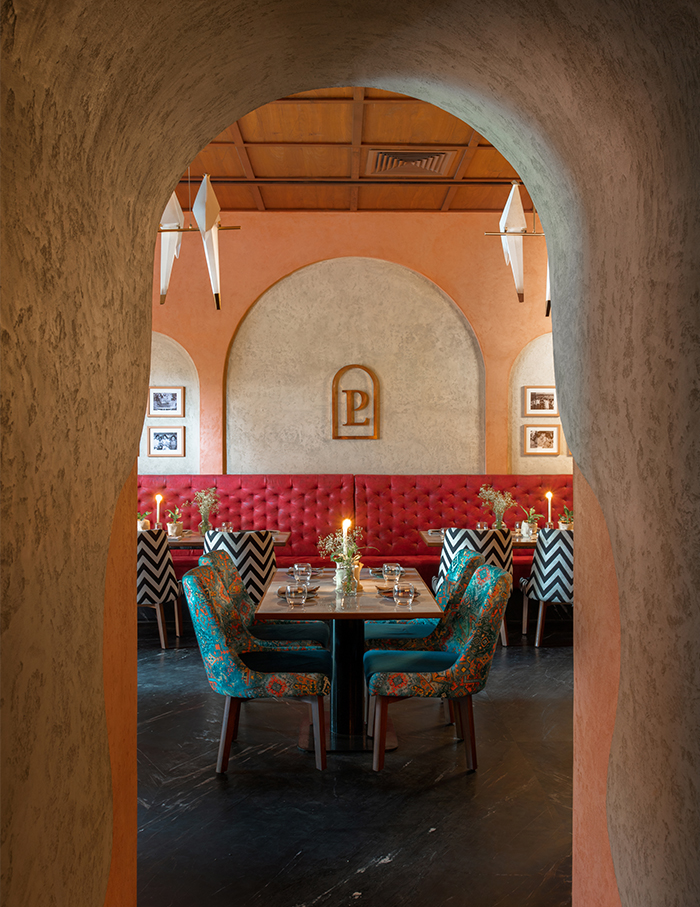 Another feature that's reminiscent of the past are the gorgeous art deco styled balconies. These curved, metal-clad structures were especially hard to construct owing to their cantilevered state and the fragile condition of the building. Since these were the first portions visible from the particularly busy street, Kadecha wanted to ensure that they were welcoming without being too overwhelming. So, he chose a copper finish for the balconies that paired elegantly with the subtle grey texture seen on the facade.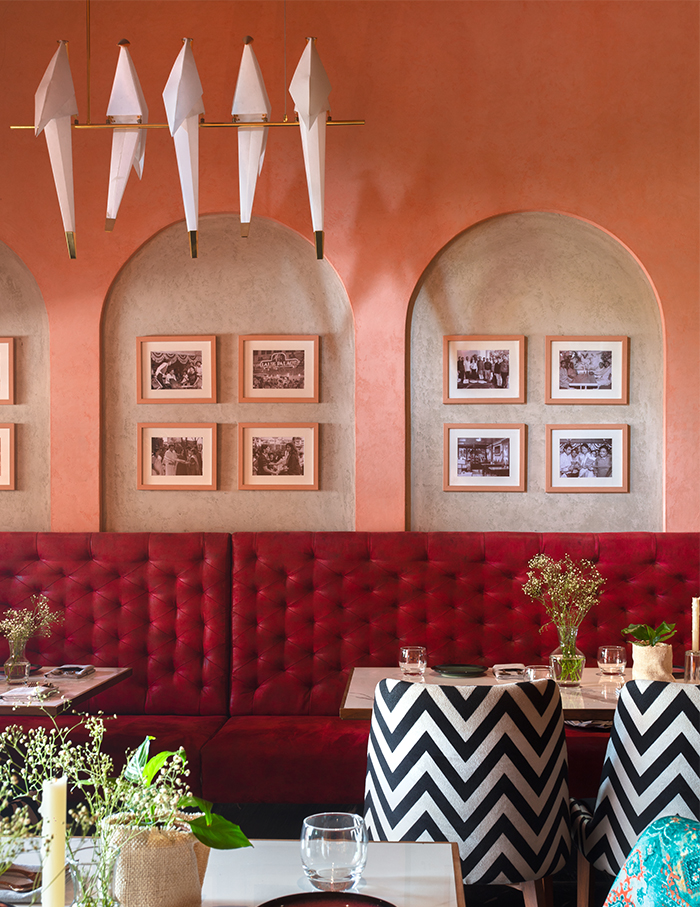 Underneath these balconies, a glass enclosed seating area has been fashioned to face the road. It is a particularly popular spot for breakfast. The niche is done up with a copper ceiling and regal blue tapestries re-upholstered as sofas to offer a royal start to their day! Old, sepia-toned photographs marking landmark celebrations and events over the restaurant's lifetime line the walls, bringing in a touch of nostalgia and timelessness.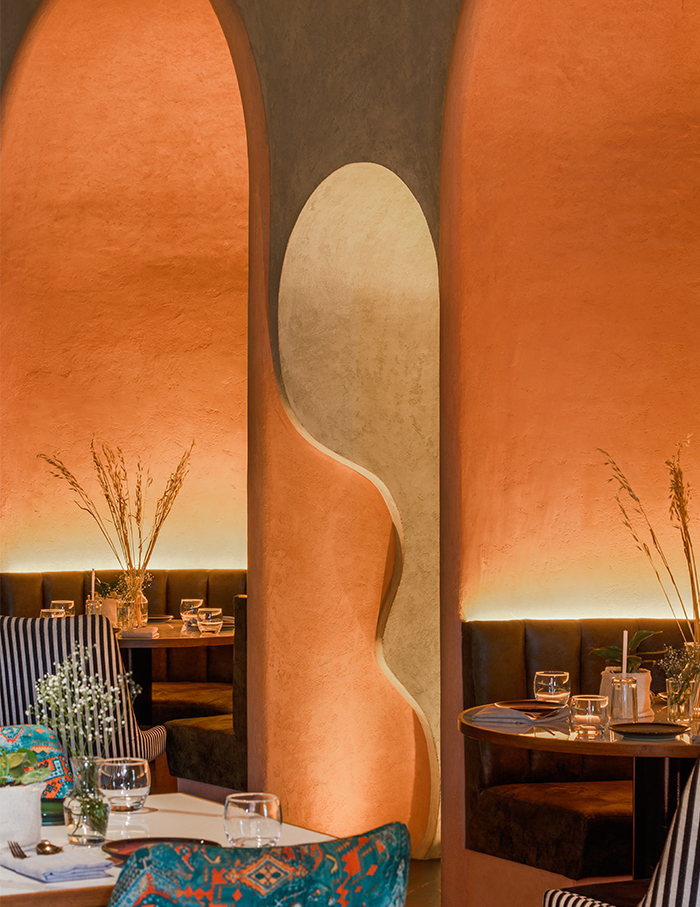 Delicate hues and finishes like lime pink or the subtle grey lime-based texture by Limocoat soften the masculine form of the arches. The furniture takes a bold spin as we spot black-and-white chevron and stripe patterns on chairs as well as a red faux leather sofa and turquoise blue fabric with orange detailing.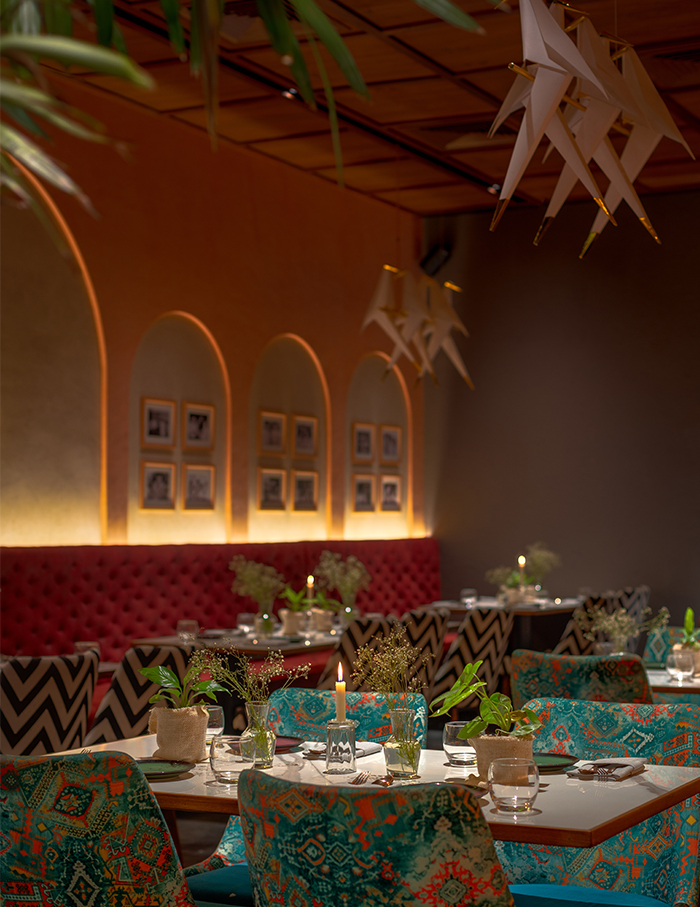 The classy furniture pieces rest atop Abu black marble floors—a monotonal base for an outburst of a vibrance. Adding a final touch of drama are bird-shaped origami pendant lights perched in flocks, over each table setting.
Scroll below to see more images of the magnificent Lalit Palace restaurant by Vivek Kadecha…