Homes
Designer extraordinaire Timothy Corrigan laces this London mansion with extravagance and classic British design
FEB 4, 2021
| By Vedika Nair
Adored for his ability to create OTT luxury homes suffused with comfortable elegance, celebrated designer Timothy Corrigan revived this Mayfair home to its former glory with a touch of his renowned design sensibilities.
Built in the 1800s, the 12,000 sq ft mansion in Mayfair, London, has a rich history (it is a Grade II landmark!) and elegant detailing. And when the homeowner—a Qatari Prince acquired this eight-storeyed home—it was commissioned for a makeover.
At the time, unlike the facade, the interiors of the home were stripped of its period details. So, Corrigan decided to breathe new life into the abode with influences of classic British design, craftsmanship and antiques. He turned to traditional country houses for inspiration and ensured that the mansion exudes aristocratic influences with the help of opulent elements.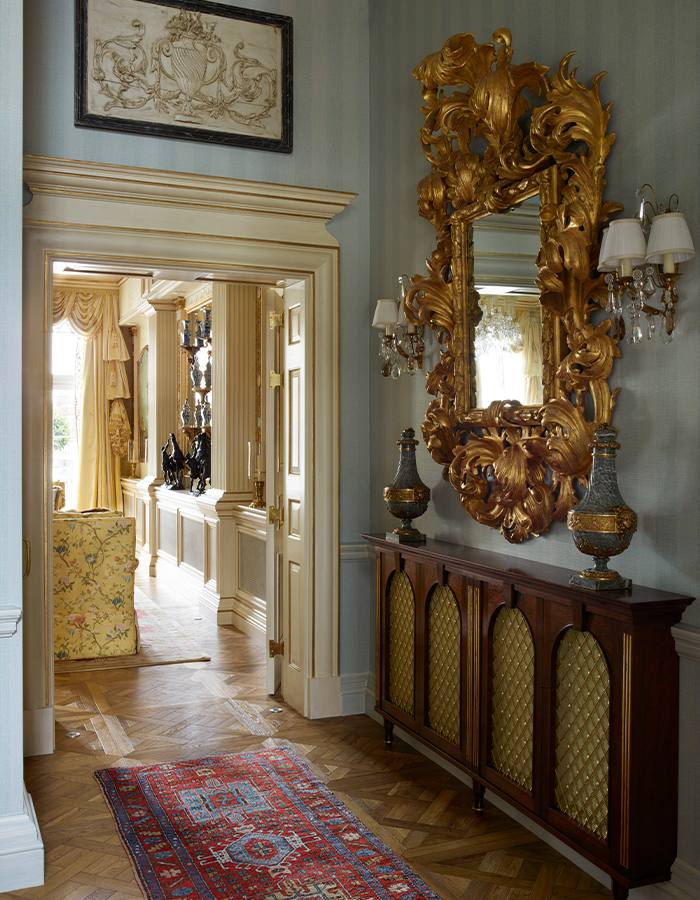 "We replicated the traditional London multilevel Georgian townhouse layout. The grand rooms are at the front and smaller rooms overlooking the garden at the back. This structure gives an intimate appeal to even the grandest houses," shares Corrigan.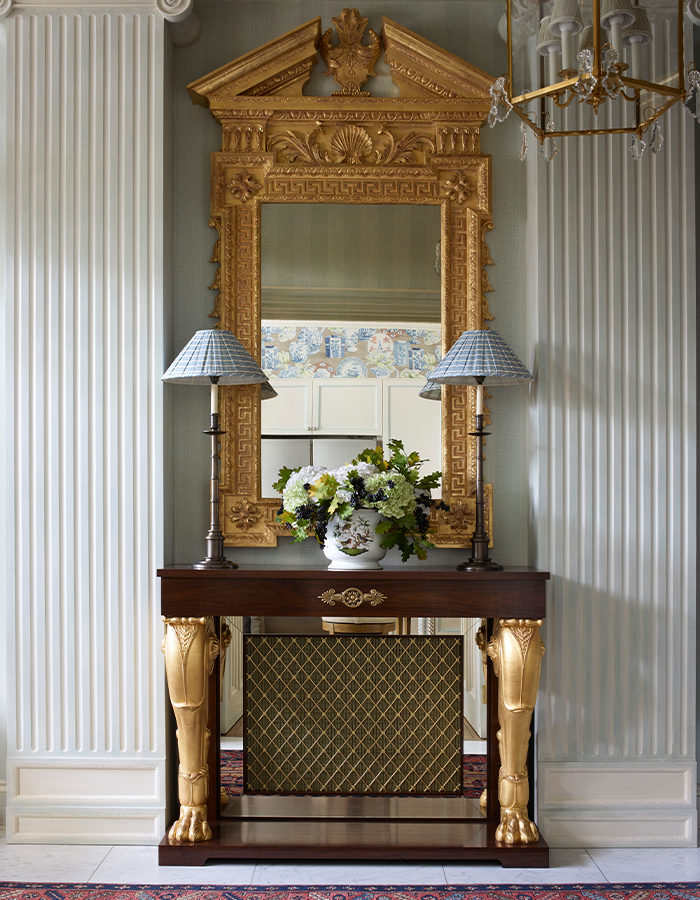 After a tour of the eight levels of this mansion and we can't help but fall in love with every corner! Some of our favourite spots include the sitting room on the ground floor. It is lined with a custom hand-painted Fromental wallpaper and lit by an oak leaf chandelier, bringing to mind English parks and gardens.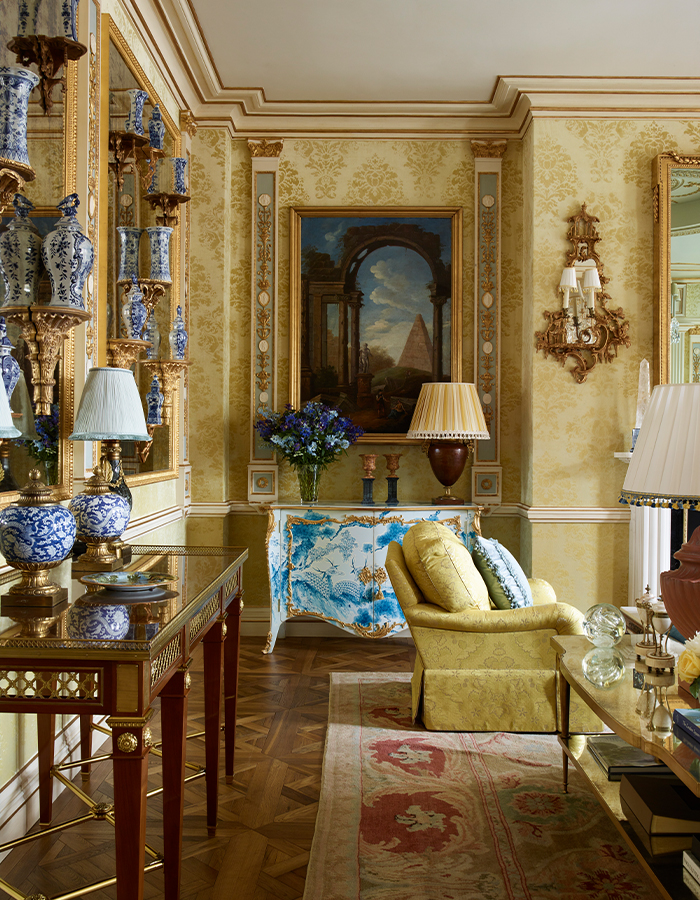 What was once a formal dining room is now a warm, American-style kitchen with an island, a big dining table, TV unit and seating space—all tied together by a palette of blue, white and silver further accented with Delft tiles and a quirky wallpaper. To suit the homeowner's preference of small family gatherings, we ensured that the adjacent family room is fitted with cushy seaters.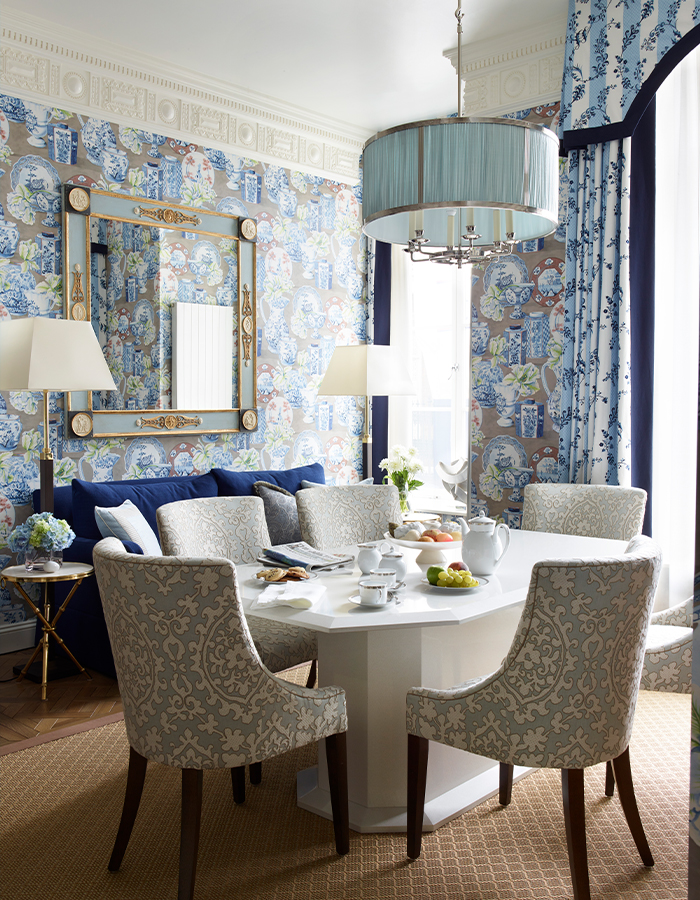 Considering that English homes are known for their dramatic window treatments and embroidered drapes, Corrigan incorporated the trait for this London residence too. The creative took inspiration from John Fowler and cloaked the home with gold curtains, hand-embroidered sheers, passementerie trims, embroidery and fringes.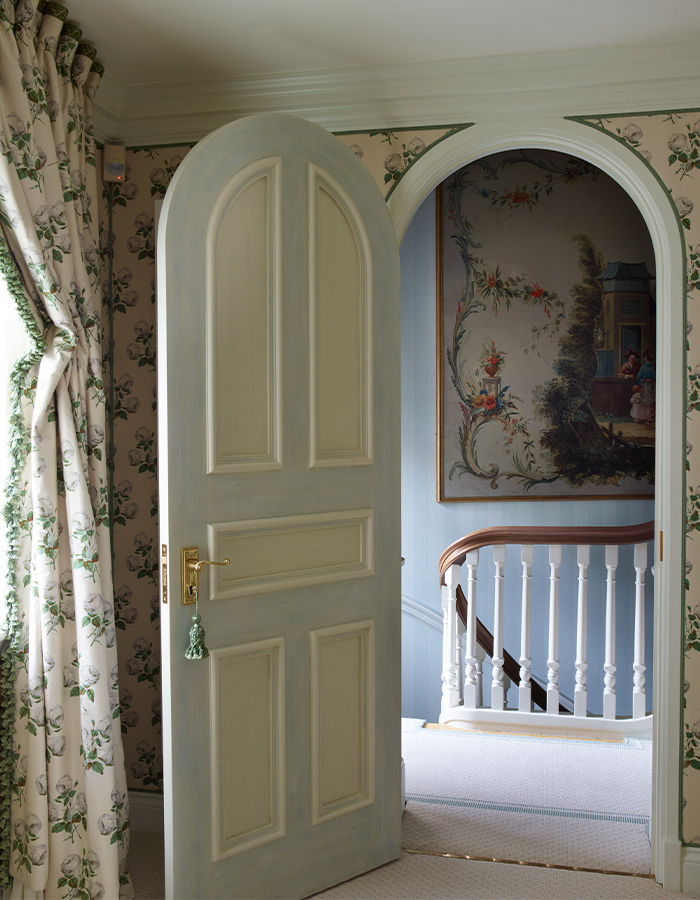 Perhaps the grandest section of the mansion is housed on the first level. A canvas of pale yellow, gold and blue, it is furnished with an upholstered blue sofa that adds a sense of warmth. Then there's the drawing room, which is decked with an 18th century Savonnerie carpet, traditional parquet de Versailles floors and porphyry urns on George III pedestals. Plus, 19th century Venetian touches are seen in the gold brackets, sconces and painted panels. The resulting effect is that of a room crafted to display the trophies gathered on the traditional grand tour of the continent—one made via jet and motorcycle.
We also love the family room. It mirrors the sitting room on the lower level but is cosier, more intimate with a witty Cole & Son wallpaper (it looks like an accumulation of old maps). The space is furnished with a pair of overstuffed Knoll sofas and a bespoke arabesque patterned rug by Corrigan.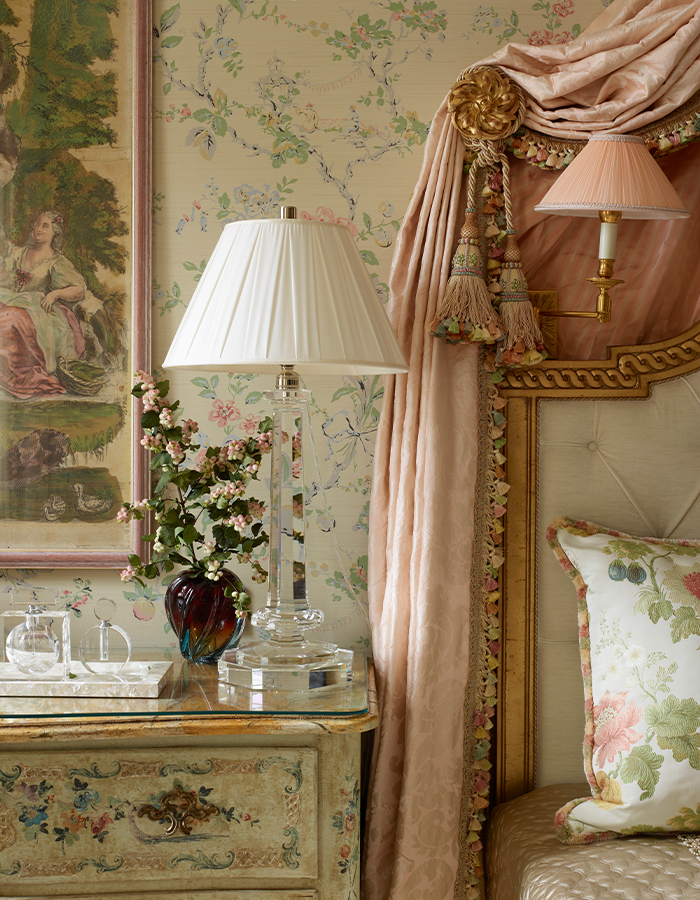 A subtle blue and gold palette is seen in the master suite and dressing rooms that lie on the third floor. The traditional bed is encased with fabrics, the wallpaper is an archival design by Watts of Westminster, and the chandelier adds to the colour scheme. An abstract photograph of the watery Thames by Michael T Noonan is a splendid touch.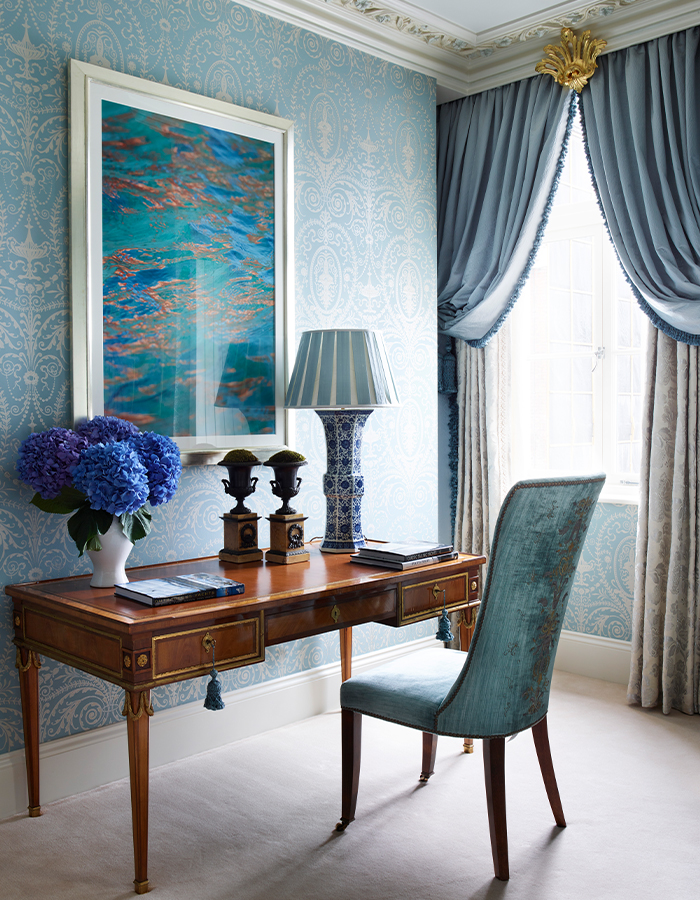 From among the three bedrooms and bathrooms on the fourth floor, the largest is decorated with an archival floral wallpaper pattern that's re-done on silk. The space also features crown moulding and mirrored cabinets with panels that are glided sheaves of wheat.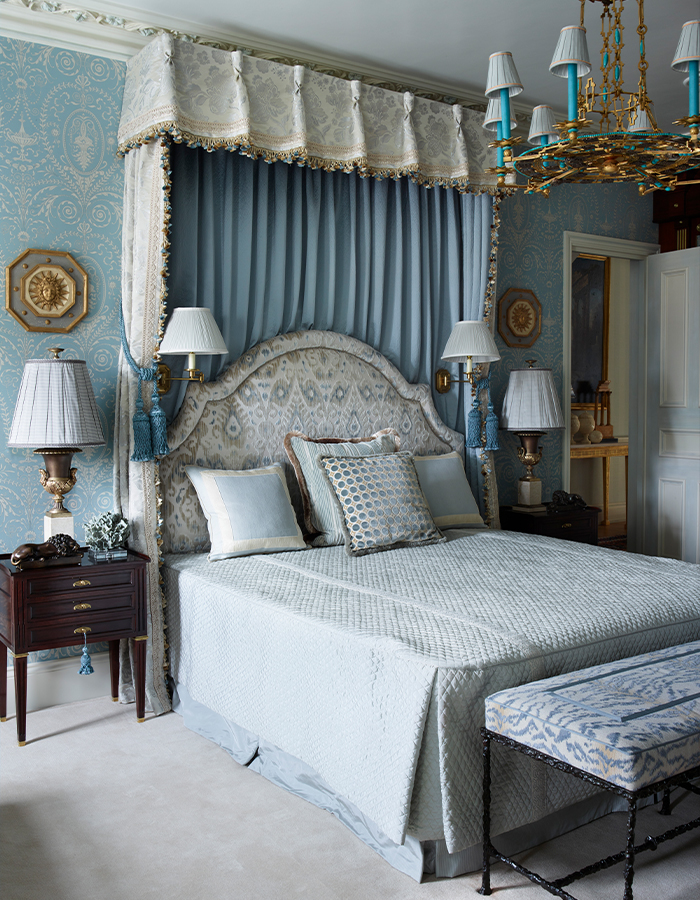 "My design philosophy is 'comfortable elegance'. This simply means that I don't believe in sacrificing liveability to achieve a specific look. If a room isn't comfortable—no matter how beautifully it might be decorated—to me, it's not really successful," says Corrigan.
The designer adds, "While this London home definitely exudes elegance, it also communicates comfort in terms of the scale and proportion of the furnishings as well as the mix of performance fabrics and luxurious materials. This is a home that is meant to be lived in and enjoyed…because every day is special!"