Homes
Interior designer Timothy Corrigan envisions this Beverly Hills mansion as a fantastical place, straight out of a fairy tale, where grandiosity is tempered with whimsy and humour
DEC 1, 2020
| By Timothy Corrigan
This 1922 mansion in Beverly Hills is one of the largest private estates in the city with expansive gardens and sweeping views of Los Angeles. The house was designed by Gordon Kaufmann, one of California's leading architects at the time, who mixed Spanish Revival elements with art deco on a grand scale.
The owners—an artist and a real estate developer—wanted to update it in a contemporary and fun manner. They specifically stated: "It's strange that in this city of creativity, there are so few homes that really showcase imaginative design". They challenged us to make this house a canvas for creativity, for both their and our own wildest ideas.
My firm is known for designing comfortably elegant homes for royalty, Hollywood celebrities and corporate executives worldwide. We have designed everything from palaces to mega yachts, beach villas to penthouses. We try to realise spaces that look like they have evolved over time, by filling them with plush upholstery, antiques and classic elements.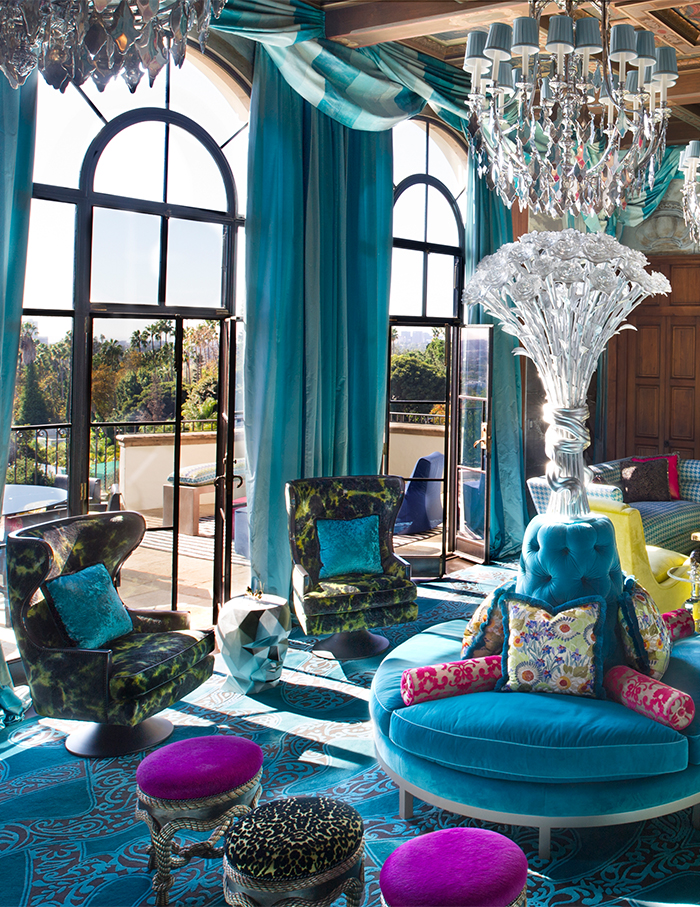 By that logic, I shouldn't have been the designer to consider for such an OTT incubator. Yet it was our client's respect of my knowledge of design history and penchant for custom furnishings that reassured them that I would harness their wildest ideas and bring them to life.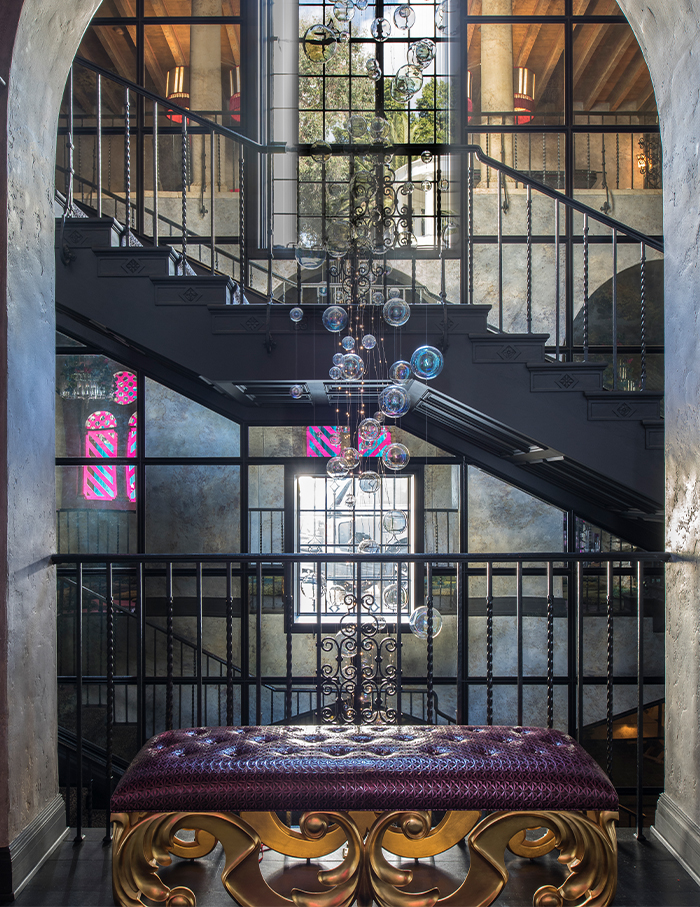 The plan was to create a contrast to the home's architectural grandeur and traditional elements by injecting humour and surprise. This is immediately evident in the entryway with polka-dotted marble floors inset with circles of glass that allow you to peer down to the room below. The adjacent hall of mirrors is lined with a bespoke carpet that mimics an Argentine moss garden; overhead multicoloured butterflies utter around rock crystal light fixtures, while leather-wrapped torchieres light the way.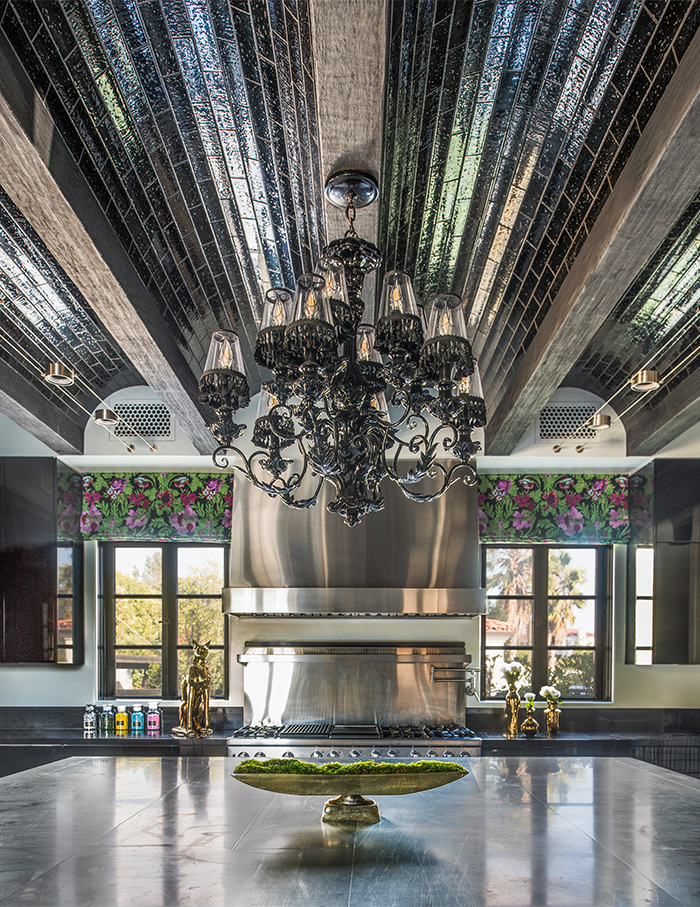 Each part in the mansion unfolds fantastical themes. Take, for example, the living room, where a mural inspired by Spanish artist Josep Maria Sert is offset with painted peacocks. Or the library, where walls are lined with refrigerated, brass front wine cabinets rather than books, and the traditional wood panelling is inset with tortoiseshell. Here, an illuminated, sunken bar takes centre stage. The original plaster ceiling, lacquered in a reflective black, showcases a superhero made of glowing rock crystal beads soaring overhead.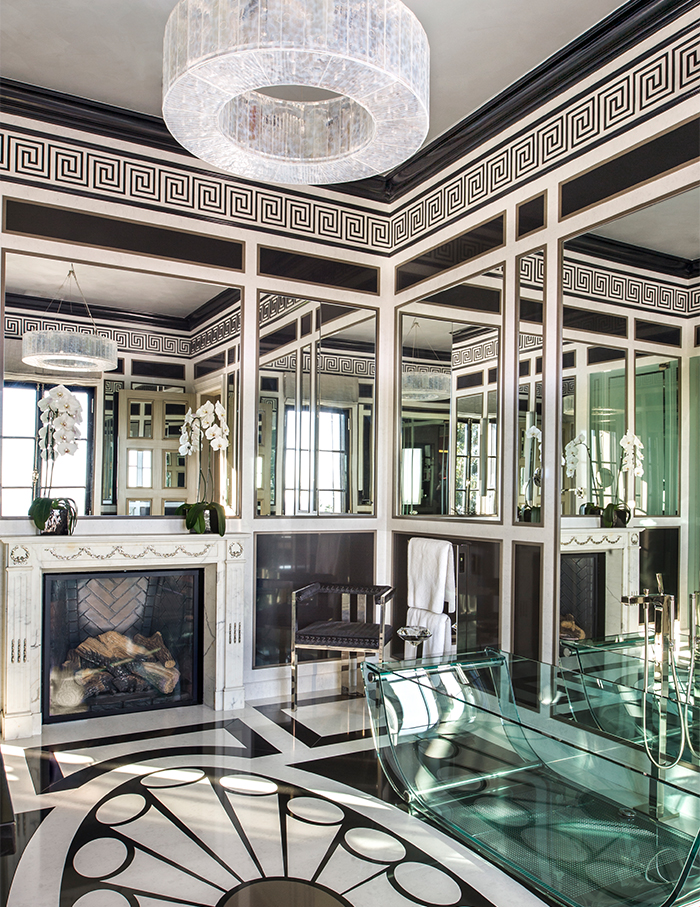 This wild creativity continues in the private spaces too. The dark panels enveloping the sitting area in the master suite are offset by chrome strips that wrap the walls and ceiling like the nest marquetry. In one of the guest rooms, the walls are upholstered in a wonderful art deco fabric that depicts budding trees and leaping gazelles. I love the juxtaposition of the Napoleon III bed with art deco references—who would ever want to get out of bed with so much eye candy to devour?
The offbeat home office is upholstered with lime green leather squares, with a custom brass desk and animal print covered guest chairs. With a view overlooking Beverly Hills and the Pacific Ocean, I am not sure that I would be able to get much work done in that office.
Despite the whimsical attitude that inspired the decor in this home, the attention to detail and care was consistent—from the hologram wallpaper and Cubist mirror in a hallway to a room carpeted in faux grass with playful window treatments, evoking the awnings of 1950s country clubs.
This home offered us a great opportunity to stretch our creative muscles and indulge our client's brazen wishes. It reminded me of how important it is to introduce a little drama into every home.
While the residence is theatrical, extravagant and even a touch decadent, it also accommodates daily needs for the homeowners—from exuberant parties to teleconferences. And as the clients requested, it is never boring or conventional.