Design
Three Yellow Circles—This restaurant in Ahmedabad poses a visual balance between minimal and whimsical
MAR 29, 2022
| By Pratishtha Rana
For two distinct thoughts of design — minimal and whimsical, suggestive but subtle — to come together and exist parallelly in one space can yield results worth catching one's attention. This is precisely the play of contrast this restaurant, Eat Punjab in Ahmedabad envisions and embraces, ever so effortlessly.
This design project is helmed by the creative minds at Compartment S4, a collaborative of eight architects focussed on offering design solutions across architecture, urban design, rural infrastructure and interiors.
Lending a true blue North Indian chain of restaurant Eat Punjab, a design vocabulary of its own that is readily idiosyncratic yet can be reimagined in more ways than one at other outposts, Compartment S4 sketches a melodic mood board that is understated yet absorbing.
You may also like: La Poz place in Kala Ghoda, Mumbai, is where European interiors meet a fantastic food fare!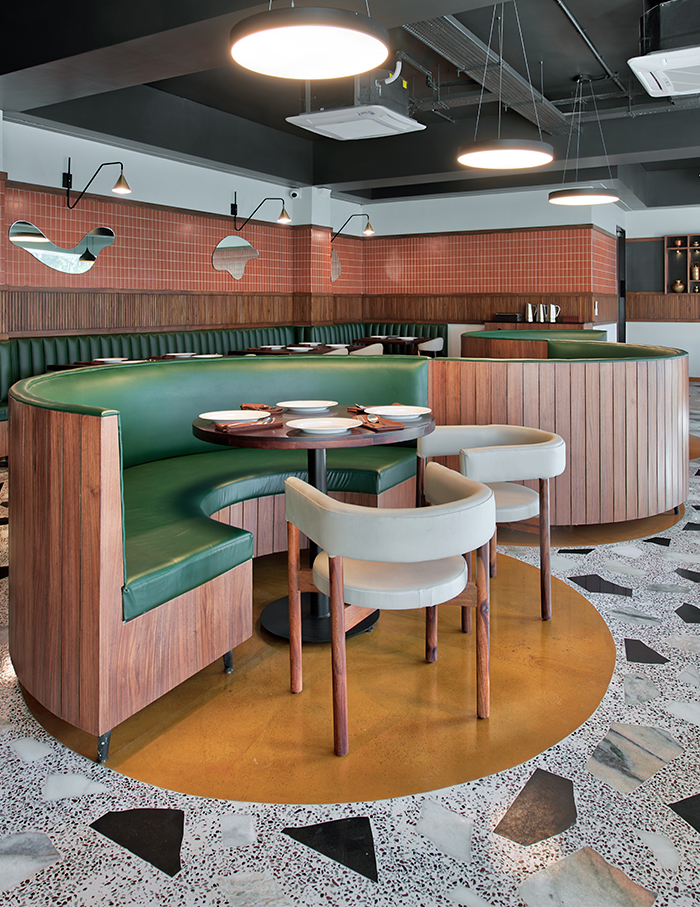 Kishan Shah and Manuni Patel, Architects and Co-founders, Compartment S4 muse, "The client wanted to bring elements in design that remind the guests of a royal house or palace in Punjab, but in a subtle and abstract way."
Sprawling a generous 1,450 sq ft area, Eat Punjab stands right in the heart of the city in Gujarat. Clean, commodious and perched in a commercial complex, the restaurant models a large rectangular column-less space, easy to navigate in and out.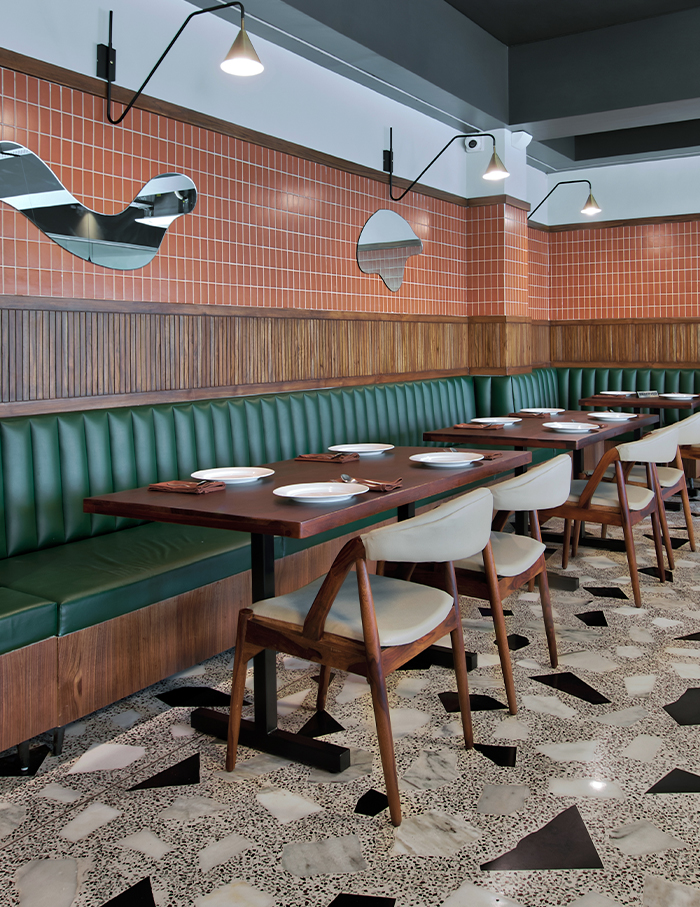 But why Three Yellow Circles? Kishan and Manuni inform, "A little whimsical story forms the basis of the design idea of this project. Three large yellow circles floating in the midst of infinite matter, collide and stick to one another to form a glowing center."
The flooring here grabs the limelight with the rest of the interior elements falling right in sync with it. Fashioned entirely out of easily available natural stones, the flooring design brings alive a striking visual impact as one enters the restaurant. "Almost like bright objects floating in space or like kebabs floating in delicious Mughlai gravy!" aver Kishan and Manuni.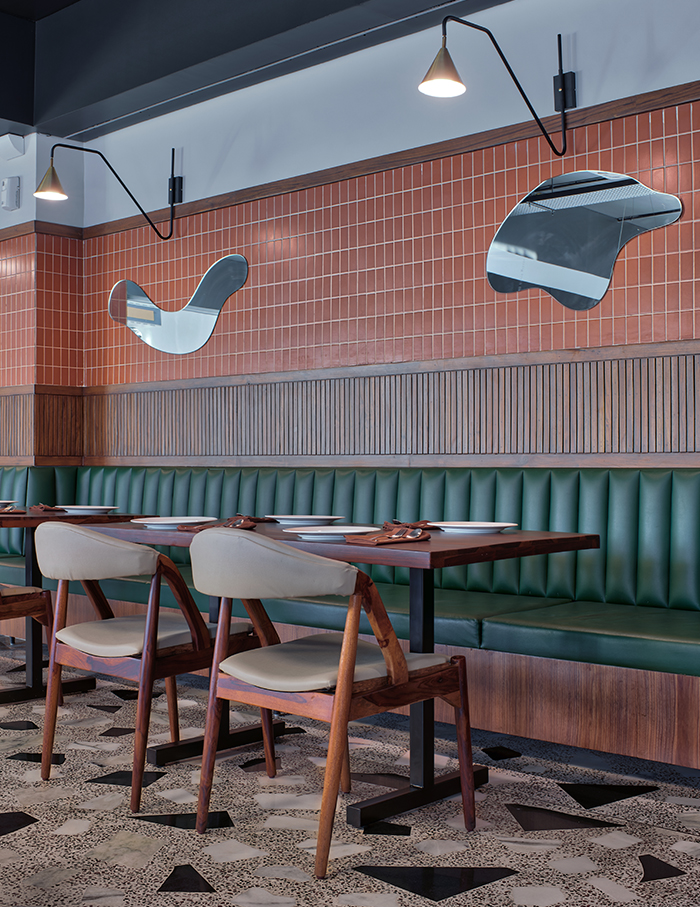 If you do a double take at the floor, which rightfully draws attention, three large golden-yellow Jaisalmer stone circles coincide with black and white terrazzo of industrial waste cut pieces of Ambaji marble and Kadappa stone. On these circles are stationed three circular tables meandering into beautiful curvy forms pinned with hues of green and wood, washing ashore a naturally soothing colour palette.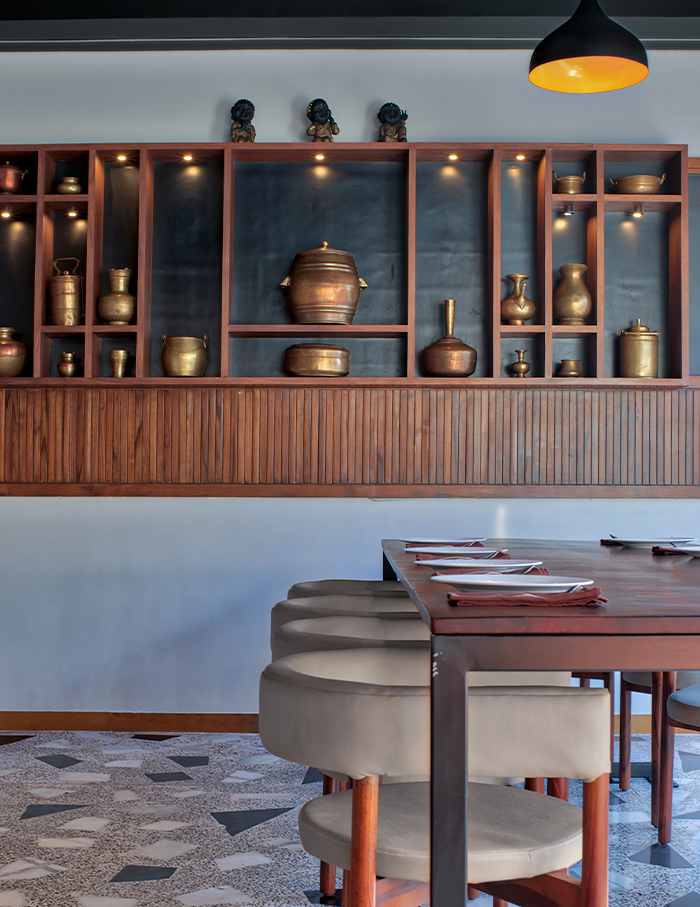 On the other side of the restaurant, a long Forest-Green sofa swathes the lengths of walls. While on the other side sits a row of diagonally placed square tables. A bigger table is placed astutely on the adjacent back side to host a bigger number of patrons and families.
An interesting juxtaposition of materials and textures is witnessed at Eat Punjab with mud-orange tiles and fluted wooden panelling on the walls. Teak furniture and natural flooring tunes in with hanging brass lights, brass utensils, and randomly shaped mirror panels on the walls.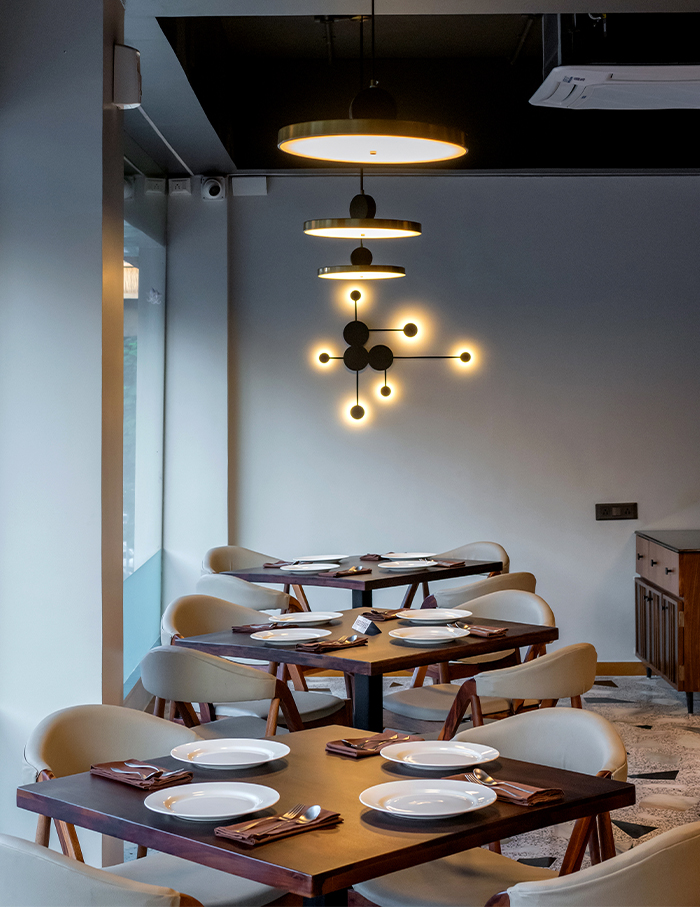 Kishan and Manuni sum up the design approach of Compartment S4 for this space, revealing that, "All these elements create nostalgia of being in a haveli or a palace, somewhere in Patiala, reminiscent of the spaces, culture, landscape, and most importantly, the food!"
If you loved this restaurant in Ahmedabad, then check out this Mumbai restaurant OPAKipos offering Greek food and interiors