Homes
This Pune apartment by AMPM Designs fuses classical elegance with a bold spirit
DEC 28, 2020
| By Saloni Rege
Nestled in a luxury property in Pune, this 7,500 sq ft apartment is designed by Poonam and Akash Mehta of AMPM Designs to serve as a haven of elegant and bold elements.
"The client wanted a hassle-free space that is subtle in nature with a tinge of striking statement decor as well as that resonates with their personalities," share the designers. In keeping with this brief, the Mehtas conceptualised Bafna House such that it is segregated in a hierarchy of spaces from semi-private to private, while interspersing functions together.
The apartment opens up to a grand formal living room at the centre. It becomes the focal point and is ideal for both private and social gatherings. The material palette has muted tones of beige and white, accentuated with vivid furniture pieces in shades of blue and grey. "This is our favourite space, where elements like blue sofas and bold statement chandeliers lift the space," say Poonam and Akash.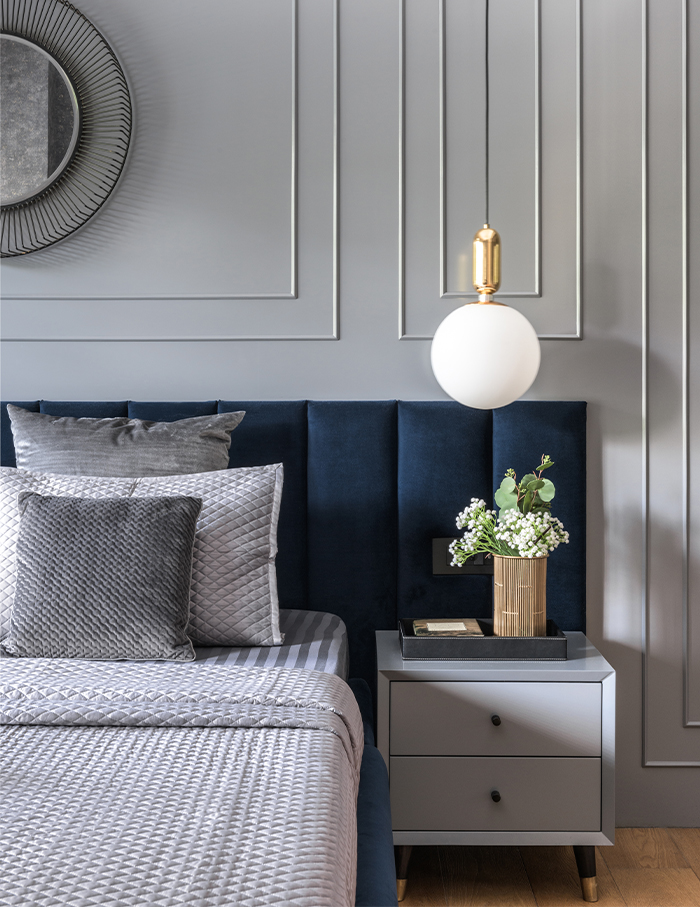 The dining area is opulent and receives plenty of natural light, much of which spills into the semi-open kitchen nearby. Apart from the range of furniture and lighting pieces by Eichholtz Netherlands, the home is defined by the shift in flooring materials. Lighting is soothing and is engraved in a false-ceiling cove, running along the edges of the rooms.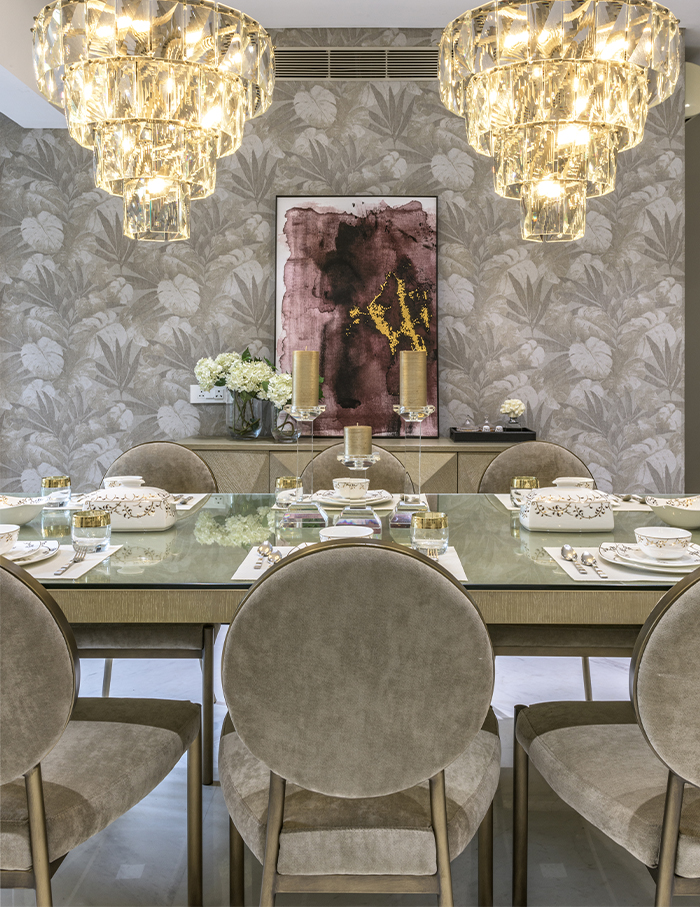 Another camouflaged access point from the lift lobby to the residence welcomes visitors into the informal living room that is dominated by light oak veneered wall paneling. A minimalist TV unit is highlighted with a marble and veneer backdrop panel. Velvet fabrics in tints of grey create a serene vibe. A guest bedroom (soon to be converted into the son's quarters) boasts a palette of blue and grey.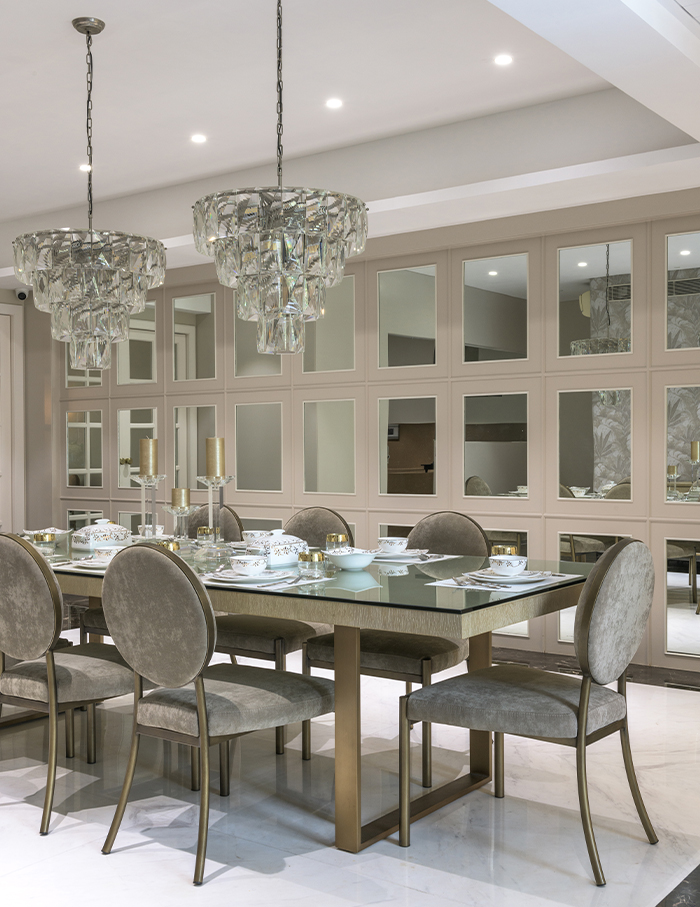 The master bedroom comes across as a subtle yet plush setting that has silk wall coverings along with inserted brass accents. Shades of taupe and grey prevail throughout the space. Sleek and visually light furniture is adopted, while the tufted winged headboard steals the limelight.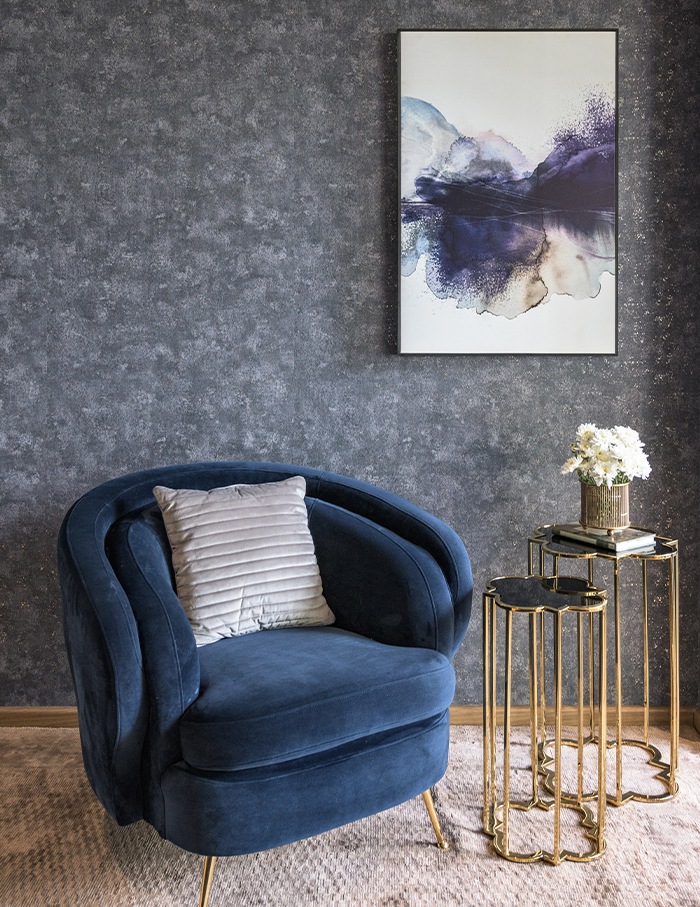 The apartment also includes two other bedrooms, all of which align with the fusion contemporary theme. Although, it was not easy to accomplish. Poonam and Akash say, "We had only four months to complete the project. It wasn't easy, especially since we had to create a second master suite, carve out a storage space and make structural changes to the prayer room!"
To beat the time crunch, the designers brought their A-game to the table. They went on to infuse greens wherever possible to lend a sense of freshness to the abode. We love that both living rooms open out to a terrace garden—one half of which is a family lounge with a projector screen, while the other features a wooden pergola draped with creepers and decked with outdoor rattan furniture.