Homes
Sahil Jain of Morphlab opts for contemporary chic decor to create rounded, free flowing interiors for this Kolkata residence
DEC 4, 2020
| By Sahil Jain
Fluid, organic and intuitive, The Mould House by my practice Morphlab defies all limitations. The structure of this 3,200 sq ft property is realised through curves and contours—spaces that are intertwined rather than separated. The essence of our design was to play with asymmetry, blur boundaries and create an abode in which the occupants truly feel liberated and at ease.
This Kolkata apartment is home to clients who enjoy travelling and have a penchant for bold, contemporary design. Since our creative practice is deeply inspired by the evolution of natural shapes, we chose abstract, organic forms that draw from local clay craft techniques for this project.
Our aim was to maximise the floor space and enhance the connection between the inbuilt sections. The moulded, organic formations add to the connectivity and provide seamless transitions between different parts of the house, without compromising on the warmth or intimacy of either.
Upon entering, one encounters brightly lit expanses of the open plan living and dining areas, which, despite sharing common ground, are still treated as distinct sections demarcated by patterned carpets. White marble flooring underlines the home with a subtle elegance, while the walls have a slight sheen much like the metallic furniture.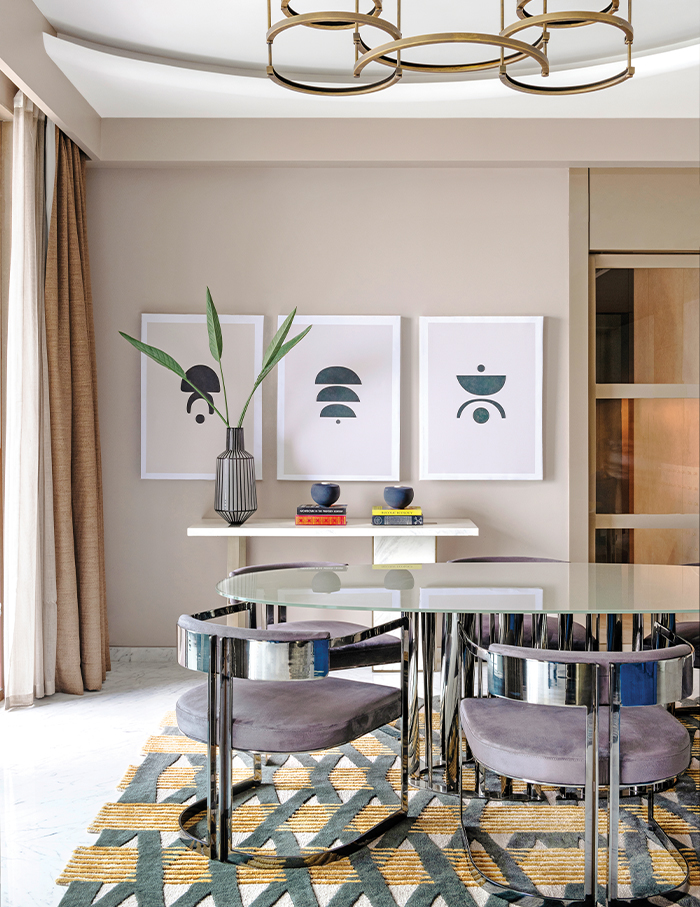 The white and brass tones exemplify the idea of subdued luxury, as bold blue hues elevate the space. Quirky accents such as the cactus inspired, white and brass console table and bar unit from scarlet splendour reference the natural world in a subtle yet glamorous manner.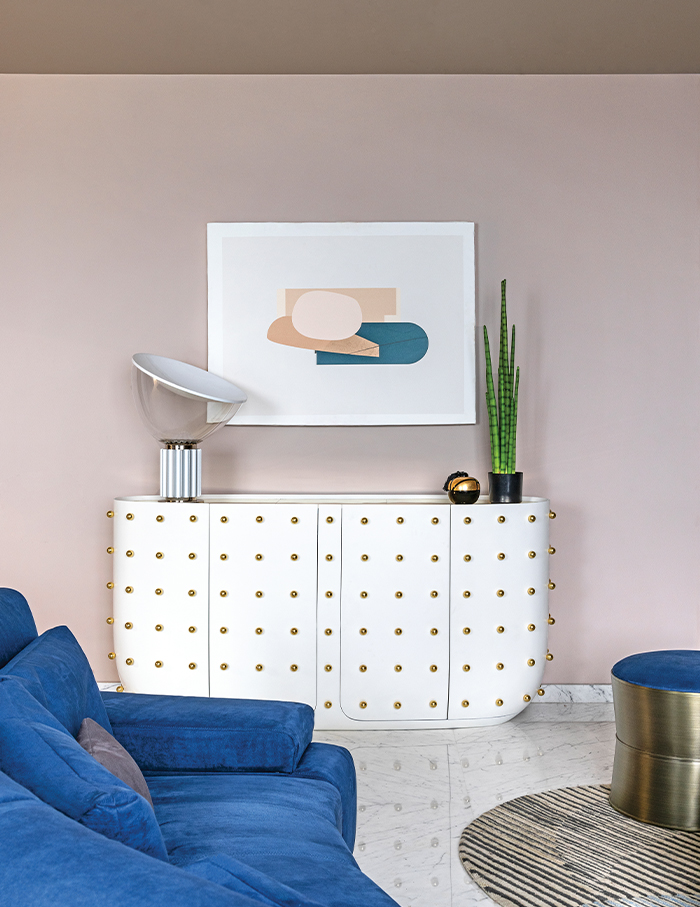 While redesigning the structure of the apartment, our focus was to bring in the outdoors. This was achieved with the help of floor to ceiling windows that let in plentiful natural light.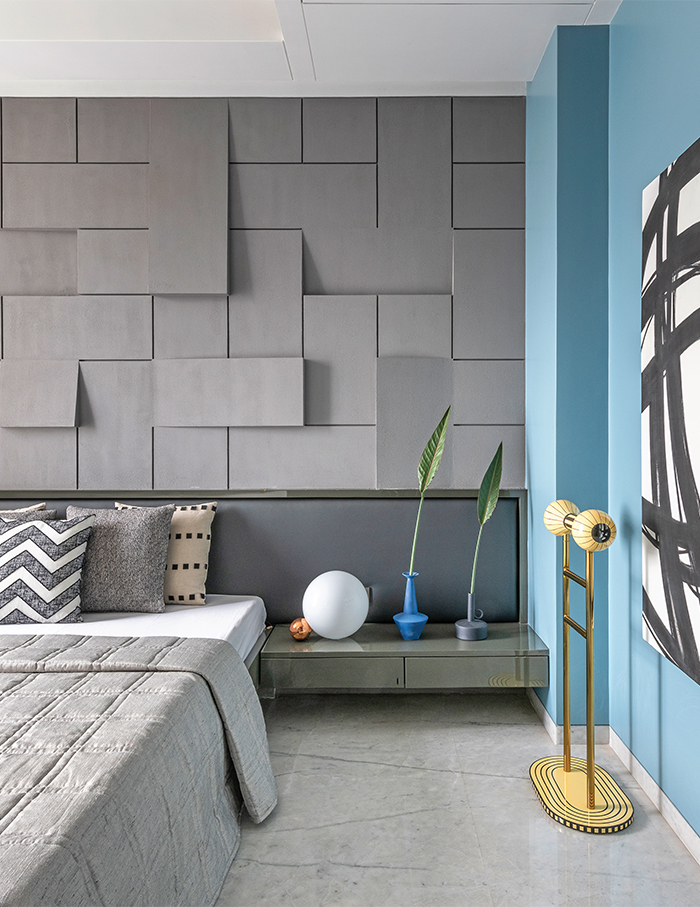 One end of the living area is flanked by the bedrooms. ere, the metallic tinge continues with the use of bronze flooring. The walls are in lighter shades but accentuated with art. The latter not only reflects the asymmetrical geometry of the home but also adds pops of colour. One of the most significant works is a resin-coated and hand-painted, organic piece of customised abstract art used as a shower panel.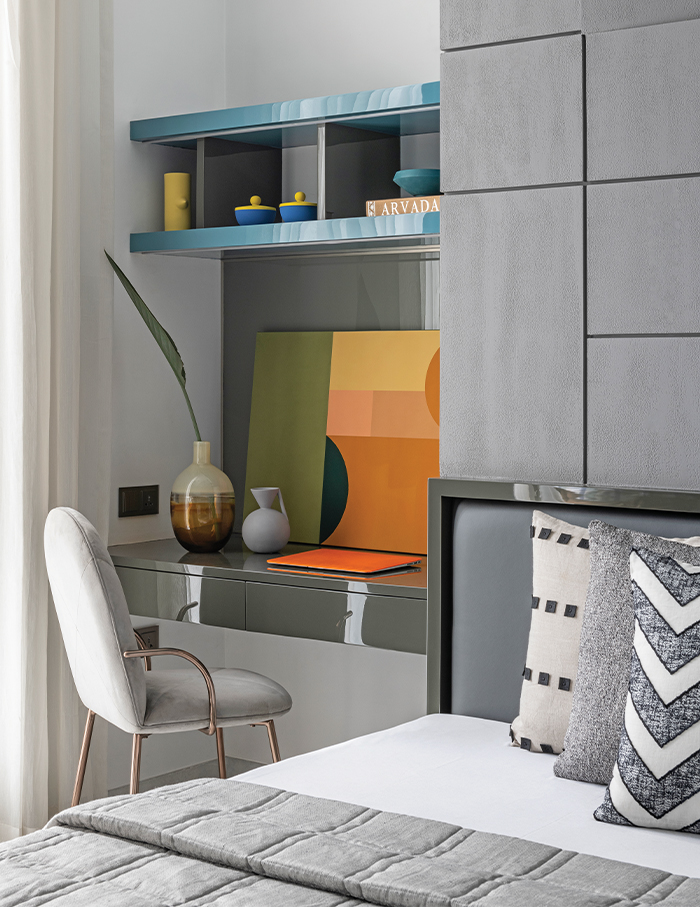 The apartment is part of a high rise, surrounded by traditional, Bengali houses, which tend to be quite colourful. We tried to bring in the hues seen across the neighbourhood through the art and decor. The elegance of modern, minimal contours enliven the apartment, while a keen eye for tradition and the natural environment soften the space with a sense of familiarity.
Overall, this residence is a meditation on geometric form and elevating shapes to promote freedom as well as connection. Its play of bold colours and soft silhouettes redefines the limits of contemporary comfort.