Homes
Sana Shaikh and Rishita Ojha of Studio Aten design a monochromatic marvel in Pune
JUL 29, 2020
| By Vedika Nair
American designer Nate Berkus famously said, "Your home should tell the story of who you are, and be a collection of what you love under one roof." It is something that Sana Shaikh and Rishita Ojha have imbibed into their practice Studio Aten and into this marvellous residence in Pune that fuses the owner's heirloom and vintage furniture with contemporary aesthetics. 
The roomy 4,000 sq ft condo is done up in natural and artificial stone in shades of white, black and grey, while wood is the material of choice for the furniture pieces. Various textures are employed across the house—from leather to linen (including the white sheers for the windows), from suede and chiffon. Yet, the space is homogenous owing to its use of earthy tones. For the lighting, the designers have chosen brass wall lights, ceramic and wooden table lamps, and black metal and glass pendants. 
"We've gone with a warm and rich colour palette by infusing the space with leather and wood, while grey adds depth and offsets the use of black and white that pervades the home. Majority of the walls in the house are white to amplify natural light, while warm lighting brings an ambience of intimacy. Artworks, wallpapers, hand painted furniture pieces and bed linens add colour in the otherwise neutral space," explains Shaikh.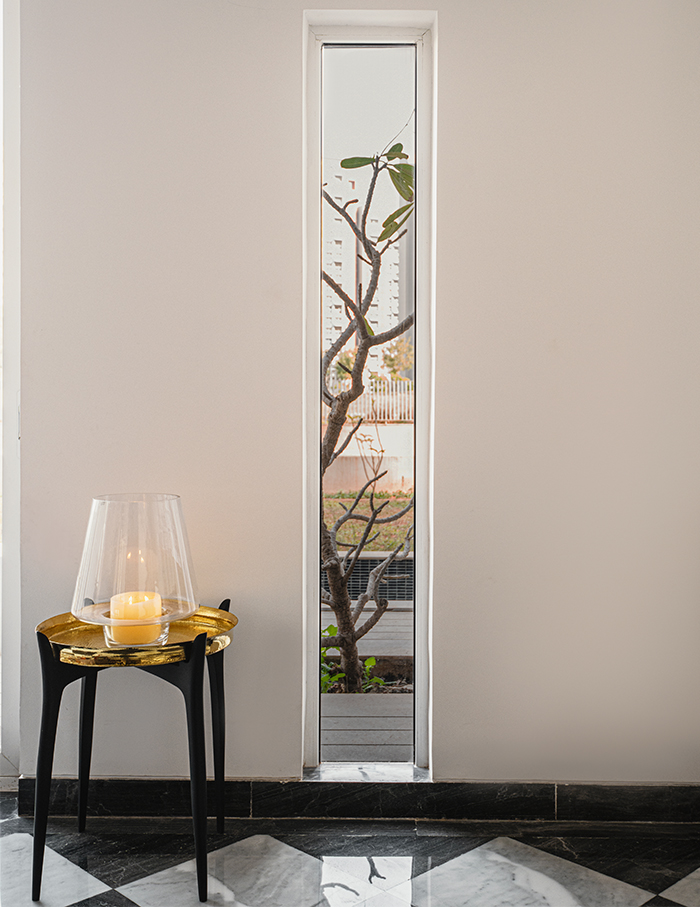 One look at the double heighted lobby through the entrance, and we're hooked! It leads us to a corridor decked with vintage brass lights and a series of paintings along the wall. We love the checkered black and white marble floor used across all the common spaces.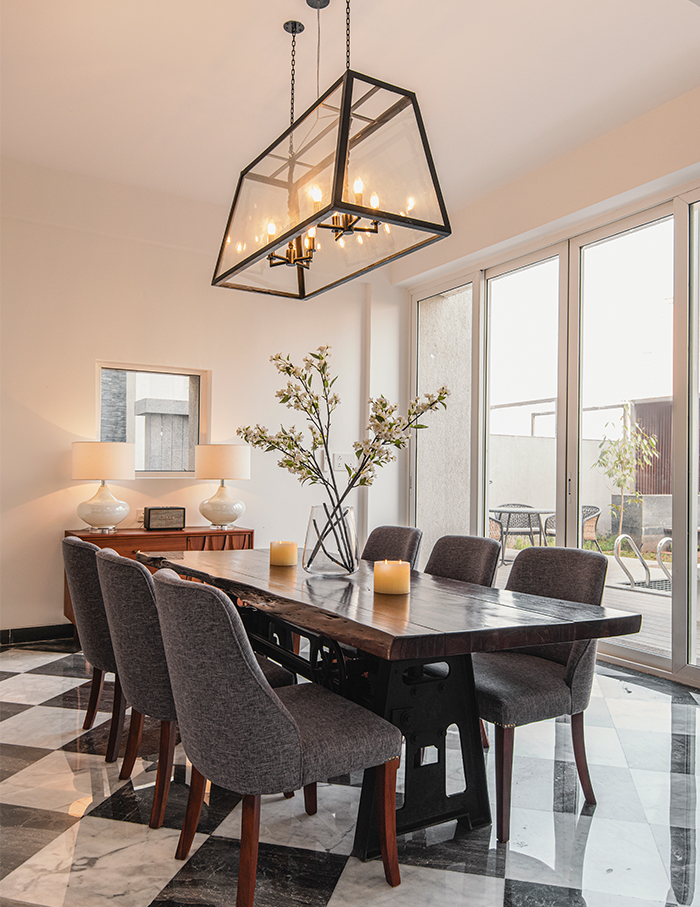 As we linger inside, glass french doors open up to a regal study, where a captivating refurbished 100-year-old desk is surrounded by memorabilia and vintage lights. A wooden console, dark tan leather chairs and a leather armchair complete the room. Nearby is the opulent, Satvario clad bathroom.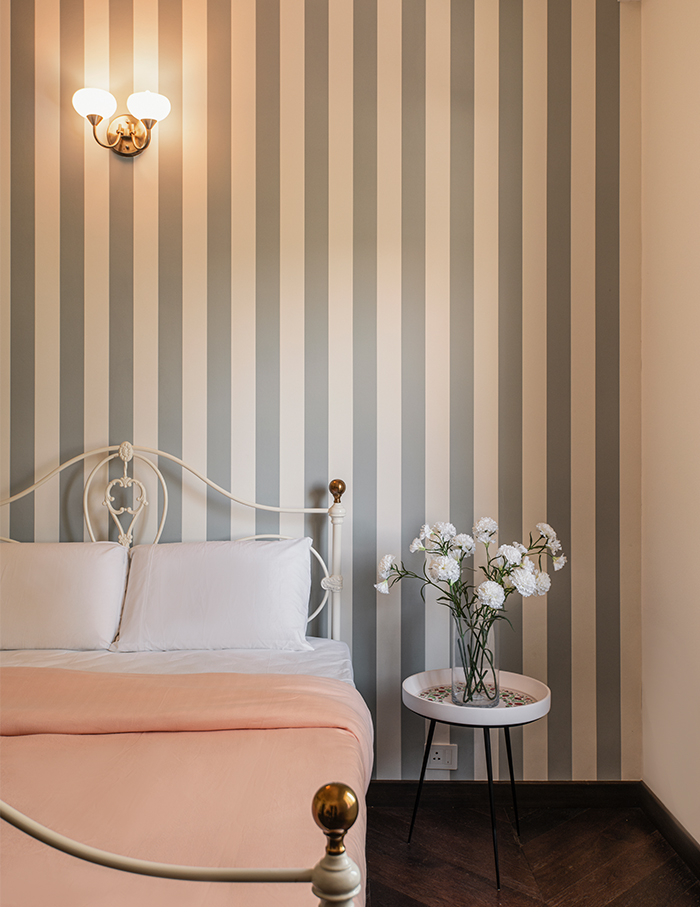 The corridor plays a dual role—it houses cleverly concealed storage spaces, while also serving its basic purpose of connecting to the double heighted living and dining rooms. Contemporary seating, suspended wrought iron lights and marble centre tables holding lamps and vintage artefacts characterise the living zone. In the dining space, a sleek metal and glass light from One Pearl Creative hangs above the table, which is made using a single block of wood and paired with a wrought iron base. Against the walls here are consoles with primaeval paintings and decor elements.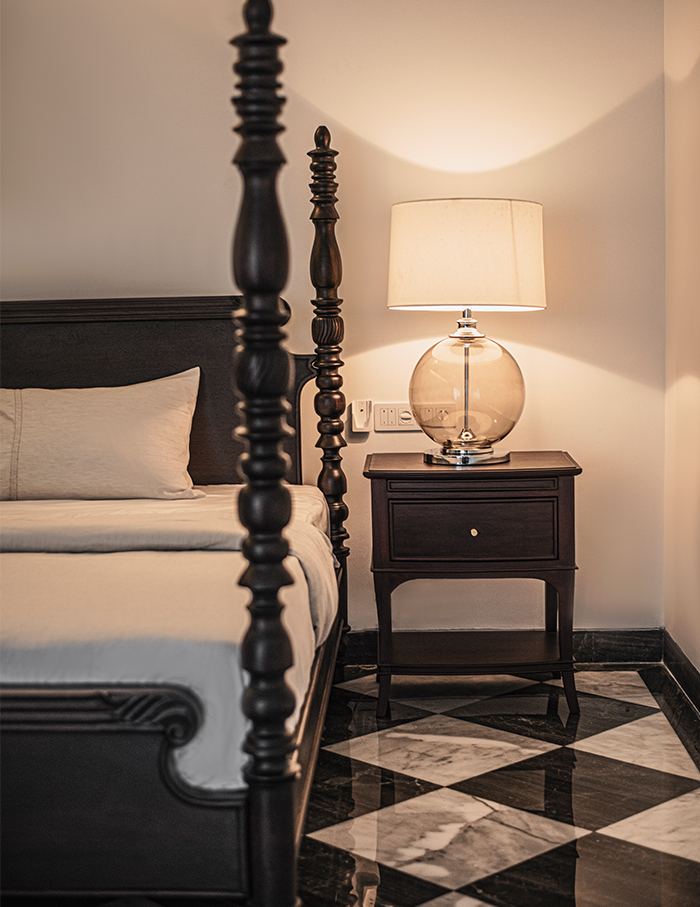 A simple wooden stairway supported by metal balustrade (and with concealed storage) takes us to the floor above. On the right of the landing is the parent's bedroom, cloaked in white shades and embellished with midcentury furniture, with the ensuite that uses wood and stone elements. Also on this side of the floor is the media room that's accented with table lamps and murals of Indian deities as well as a minimal and elegant guest suite, complete with a white moulded wrought iron bed, sleek side tables and a hand painted armchair.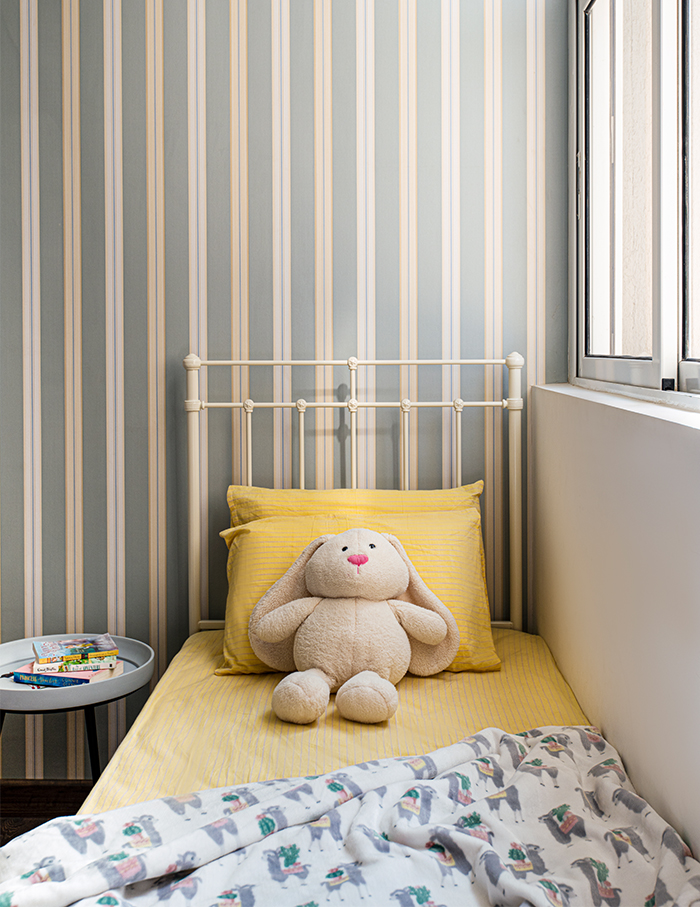 The master bed chamber on the floor above is segregated into zones. It has a seating area, an ensuite with indoor and outdoor facilities, a walk-in wardrobe, a seating area and an attached terrace. The checkered flooring appears here and, like the parent's bedroom on the level below, large windows allow daylight in. French doors connect from one end to the spacious closet and lead to the bathroom, which is designed using marble, vintage lights and oval shaped sinks. We love that all it takes is a sliding glass door to make the shower an outdoor one.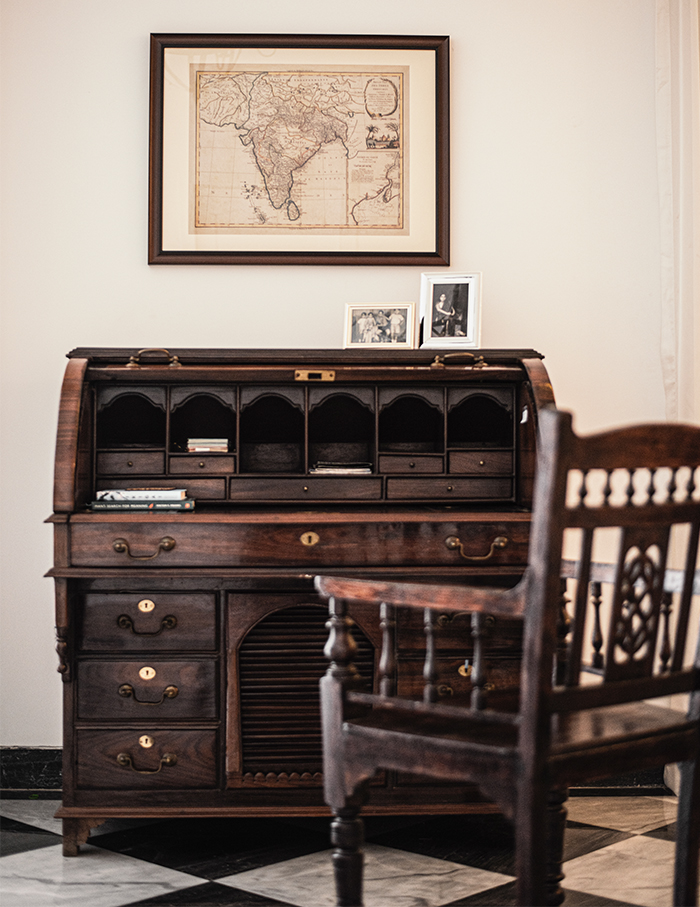 Also on the uppermost level is a cutesy children's room. The pristine space gets pops of colour through soft furnishings, wallpapers and wooden flooring. "The design of this home breaks away from a singular, specific theme. We've used a variety of tones, textures and themes all across to create a space that highlights the client's exquisite collection of furniture, artwork and artefacts. We've only added elements that complement as well as play a functional role. To create a truly unique home, we've also meticulously customised every piece of furniture, art and furnishings in line with the client's vision," adds Ojha.