Homes
This Hyderabad apartment gets an industrial-chic makeover courtesy Vinithra Amarnathan of Weespaces
MAY 1, 2021
| By Saloni Rege
A vintage, industrial-chic charm takes the aesthetics of this apartment a notch higher! Curated by Vinithra Amarnathan, founder of Weespaces, this home is infused with all things rustic—exposed bricks, textured concrete, metal frames and timber decor.
Contrasting accents are paired with spirited hues in this 3,200 sq ft home in Hyderabad. It belongs to a young couple Arun and Daniela, who met in Spain and moved to India bringing with them Spanish art and style.
"We gave the home an urban, industrial loft vibe using elements that embodied the homeowners' love for colours and patterns. The challenging part was to design the apartment remotely, in view of the ongoing pandemic. But we're so glad to have accomplished structural changes as well, like converting one of the bedrooms into a lounge," shares Amarnathan.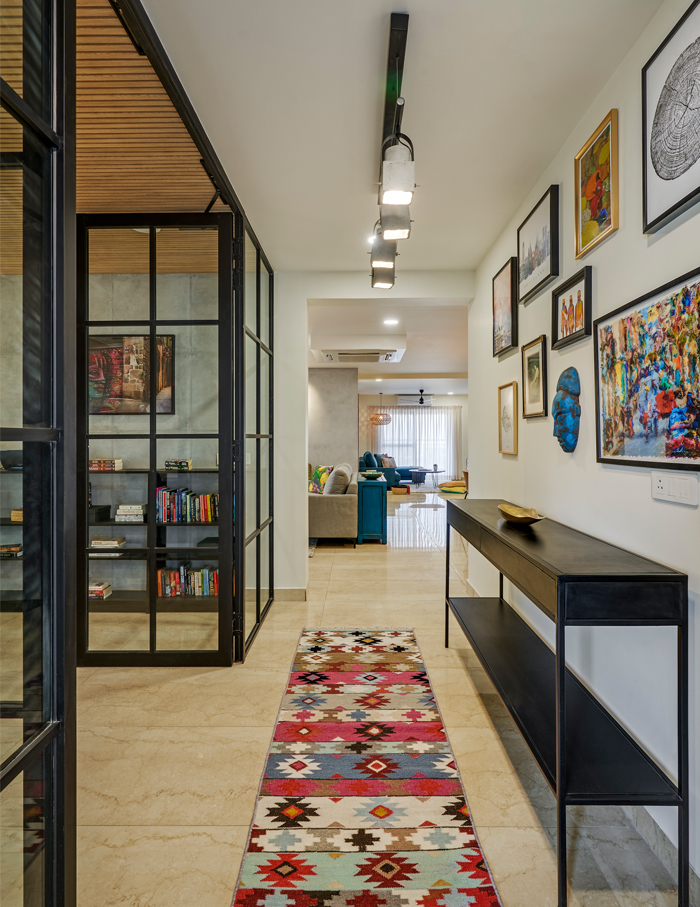 A long, lean entryway, draped in a chirpy rug gives visitors glimpses of the seamless living sections of the home. Starting with a metal console on the right, which is placed under an art wall.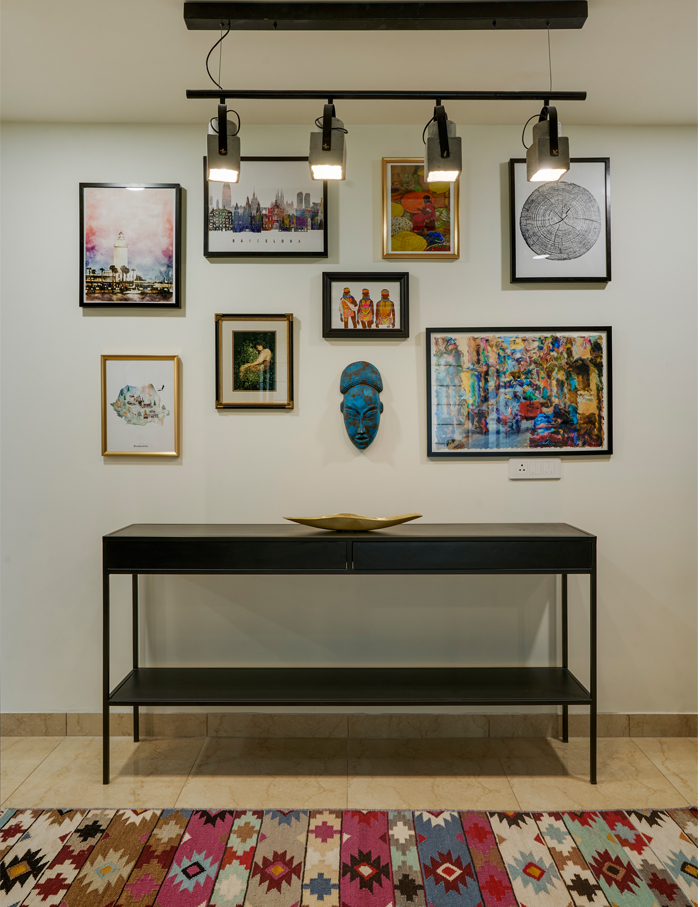 The first space that reveals itself is a former living area that's transformed into an office, partitioned by openable metal and glass screens. It is infused with light and a material palette with the help of a fluted wooden ceiling, natural timber desk, concrete walls and metal shelves.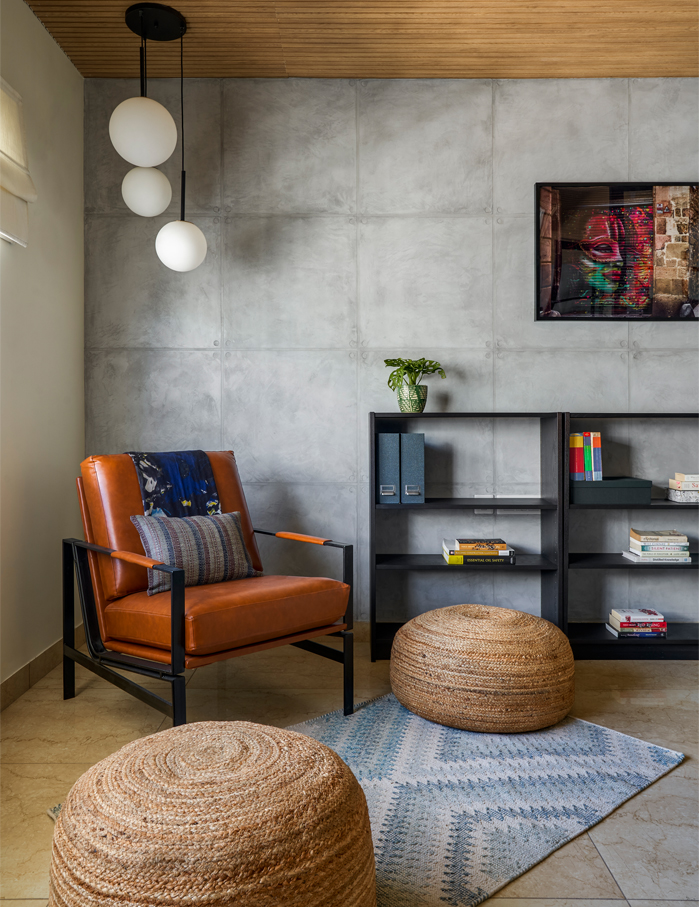 Beyond the home office is a formal living room, which is visually interspersed with the dining and kitchen areas, as one expansive space. Here, concrete-finished and exposed-brick walls are paired with soft Mediterranean tones.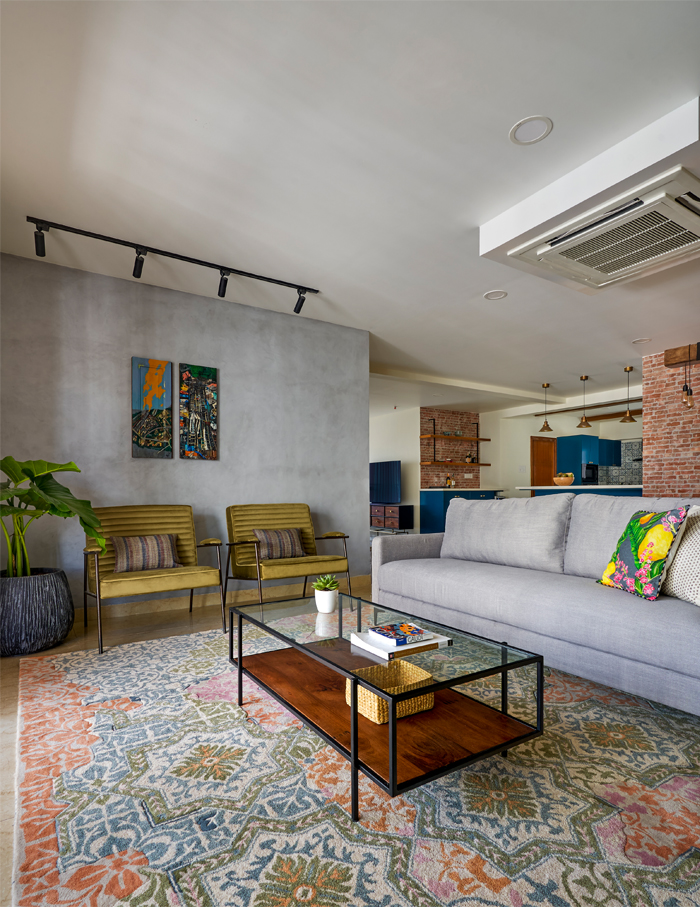 A bold, distressed turquoise cabinet acts as a sofa table as well as a storage credenza in the dining area, segregating them functionally. The dining ensemble comprises an edgy table with faux leather chairs. It is illuminated by pendant lights strung along a rustic wooden log, making a strong visual statement against the brick backdrop.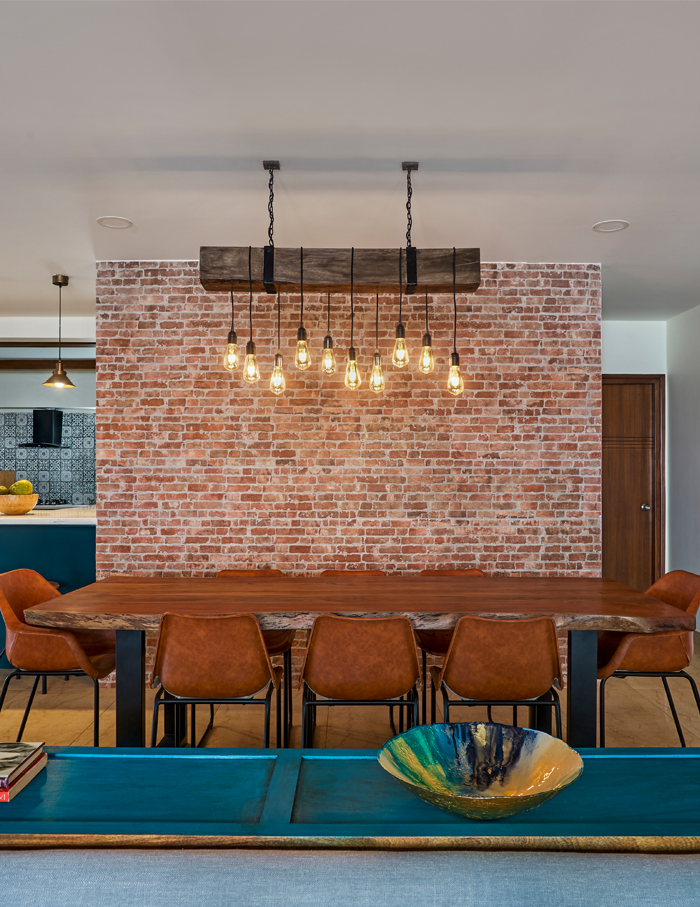 Adjacent to the dining is an open kitchen, which is wrapped in deep teal cabinetry and tiles in shades of blue and white, borrowed from the hues and patterns seen on Spanish tiles. A large open counter with vintage barber stools and antique brass pendants faces the brick-lined wall.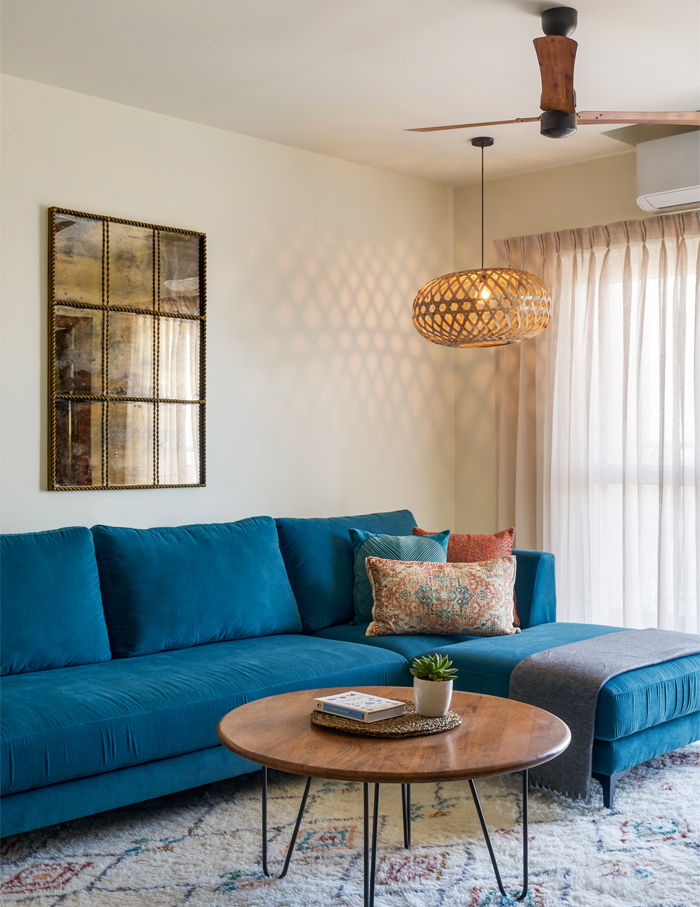 Tucked within a demarcated yet integrated space is the cosy lounge, which is perfect for entertainment and casual conversations. It houses a teal velvet sectional, a vintage brass and wood media console, a dramatic bamboo pendant and an ivory rug.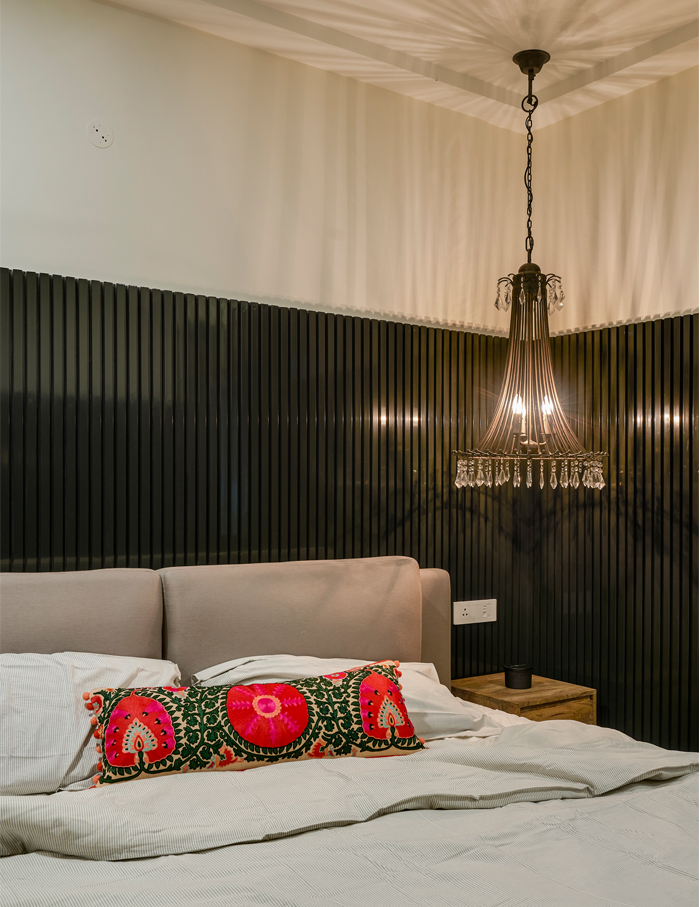 The primary bedroom digresses from the blue tones—instead, it resorts to a bold contrast of black fluted walls (along three quarters of the way) and painted white walls. A plush upholstered floor bed sits on a floor covering from Jaipur Rugs. An industrial touch is added by placing rustic wooden side tables, a media console that doubles up as vanity, and a distressed plaster wall with exposed bricks.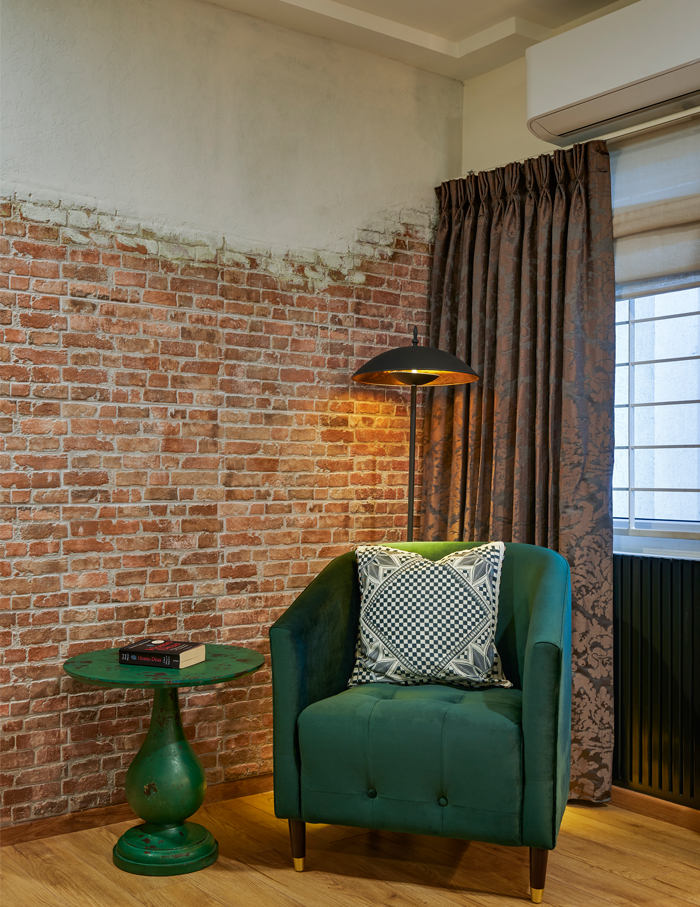 The master bathroom and walk-in closet follow similar palettes of natural wood, glass and metal. The wardrobe has fluted glass, metal shutters and open flexible storage. On the contrary, the bathroom boasts distressed teal tile with a tinge of copper and a recycled wood tile that highlights the back of the mirror wall. Poured concrete countertops and gold fixtures render an urban rustic essence.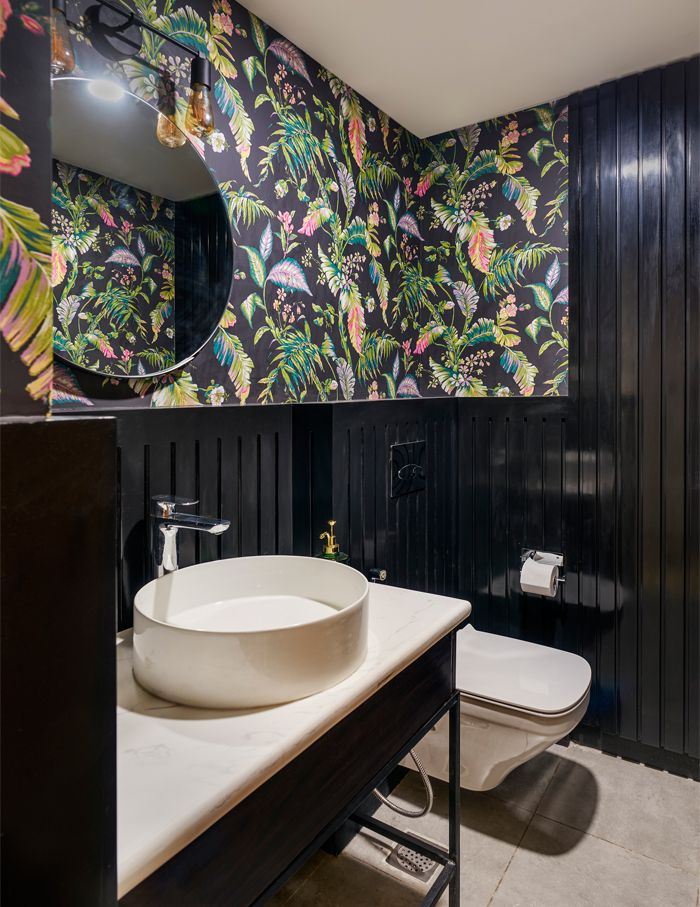 The apartment also consists of a guest bedroom in neutral tones, teak flooring and colour pops. Near it is a home theatre, which has walls lined in deep blue foam for acoustics and a concrete-finished ceiling. The entertainment zone also hones a feature mural, inspired by the the movie Fight Club, and a few customised furniture pieces.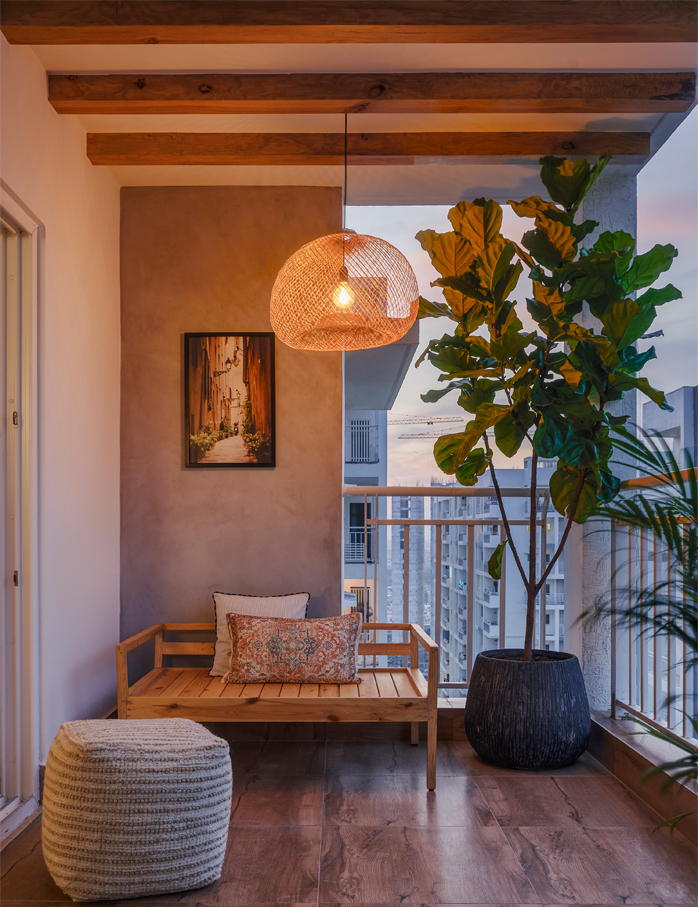 "My favourite space is the home office and the entryway. Indeed, the apartment infuses a design aesthetic with arresting visuals and vignettes, and hinges on a balanced material palette. We've given it a character by weaving the homeowners' travels and cultures—from Romanian folk art to Spanish street-style graffiti. And lastly, this industrial-styled apartment effortlessly blends Arun's love for clean modern lines, glass and metal with Daniela's love for colour, warm brick and eclectic accents," concludes the Amarnathan.