Homes
This Bengaluru villa by Vinithra Amarnathan of Weespaces brings to mind old plantation homes
SEP 24, 2020
| By Aneesha Bhadri
With its earthy palette and quaint, minimalist charm, this duplex villa is reminiscent of an old plantation house and transports you to the lush countryside. A verdant 800 sq ft garden sits next to this 1,800 sq ft abode in Bengaluru, lovingly nurtured by the young homeowners.
The couple from Kerala wanted a simple modern home with a warm and organic appeal. "We immediately connected on our mutual love for high ceilings, beams and a modern farm estate vibe," says Vinithra Amarnathan of Weespaces, who designed the house.
A narrow entryway leads to a large, open-plan living and dining room. We love the dramatic manner in which the double-heighted living room—characterised by gorgeous dark wood beams and a custom wood fan—seems to extend out, blending into the patio and garden. The kitchen connects to the dining area directly below the high ceiling.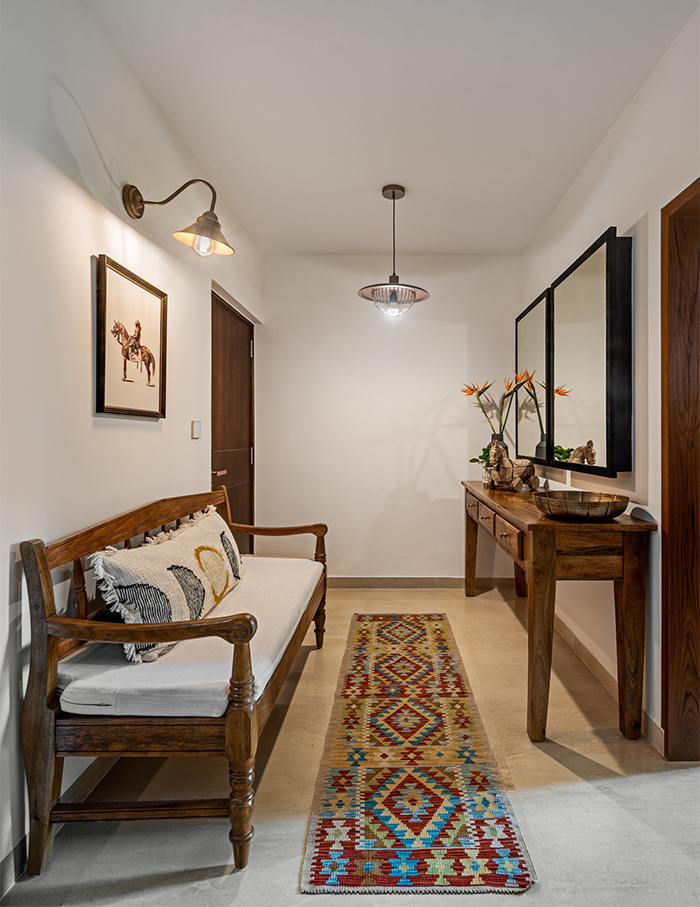 The kitchen is a minimalistic, two-toned delight that maximises storage with ceiling-level cabinetry. It also opens out to the garden, allowing for a delightful and impromptu alfresco experience. A guest bedroom that's replete with traditional colonial elements that reference plantation homes, a sit-out and powder room complete the lower level.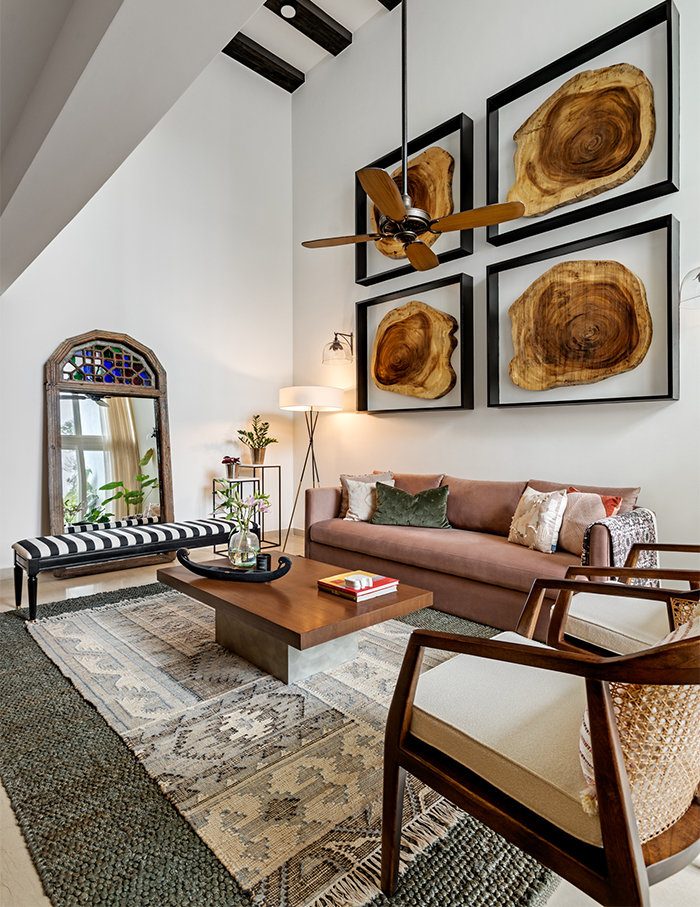 A small nook turned into a cosy home office greets visitors at the top of the staircase, while a common family room overlooks the lounge below. Two bedrooms lie on either side, one for the couple and the other belonging to their daughter. The master suite is predominantly swathed in monochrome tones, while the daughter's room is resplendent in pastels.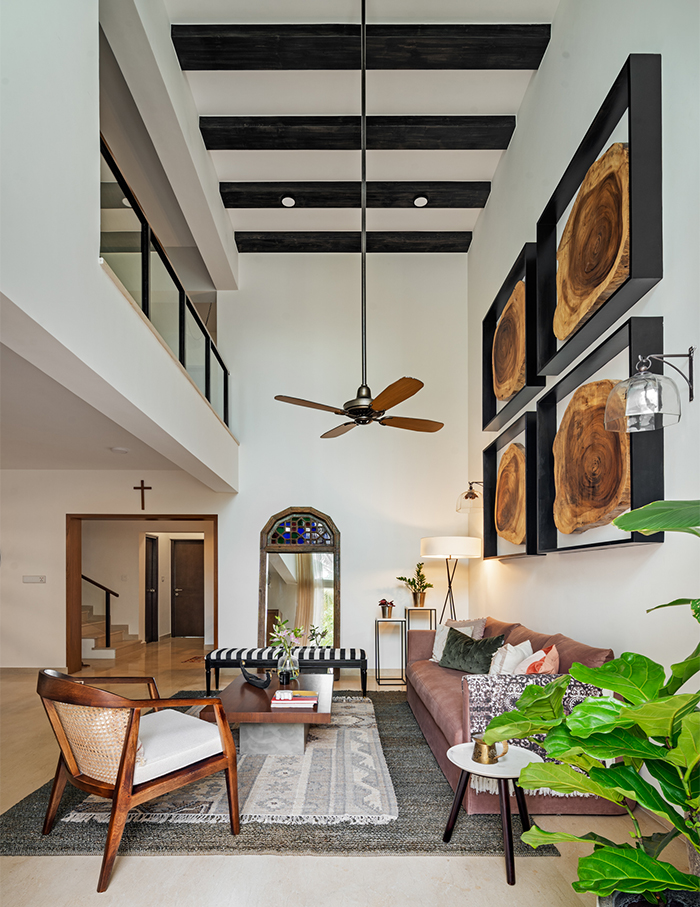 The colour scheme largely comprises earthy hues, where warm terracotta and blush tones are balanced with cool greys, marble, dark wood and black metal for contrast. A material palette of natural textures highlights the overall modern yet organic look of the split-level villa.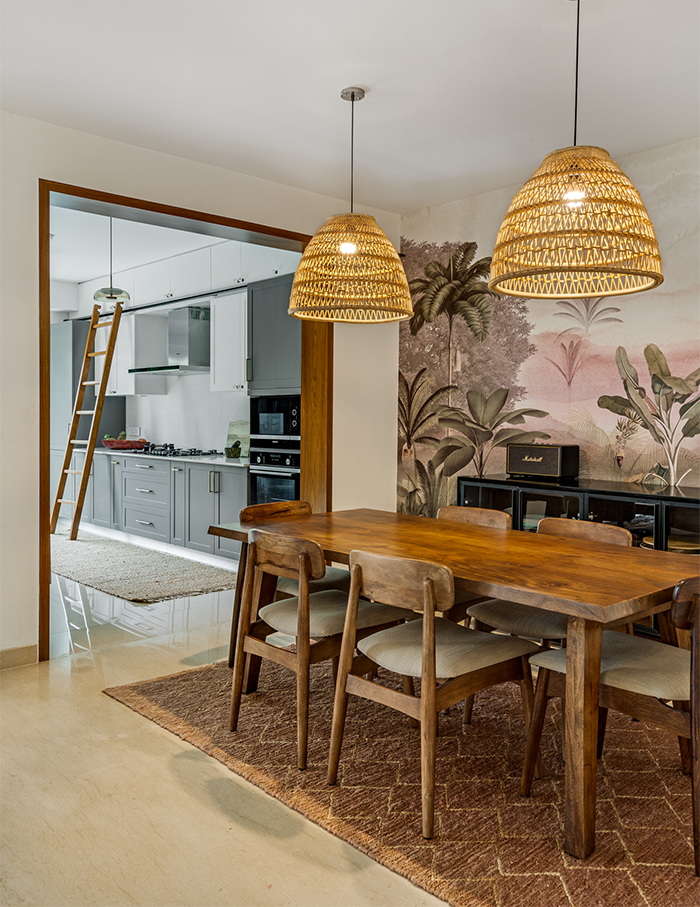 "I particularly love the double-heighted living area. It has a sense of flow and brings the outside in. I'm also fond of the colour and material palette of the tiny but punchy powder room that has terracotta, jaali-patterned cement tiles, burnished brown hand-textured walls and a striking marble with blush veining that ties it all together," says Amarnathan.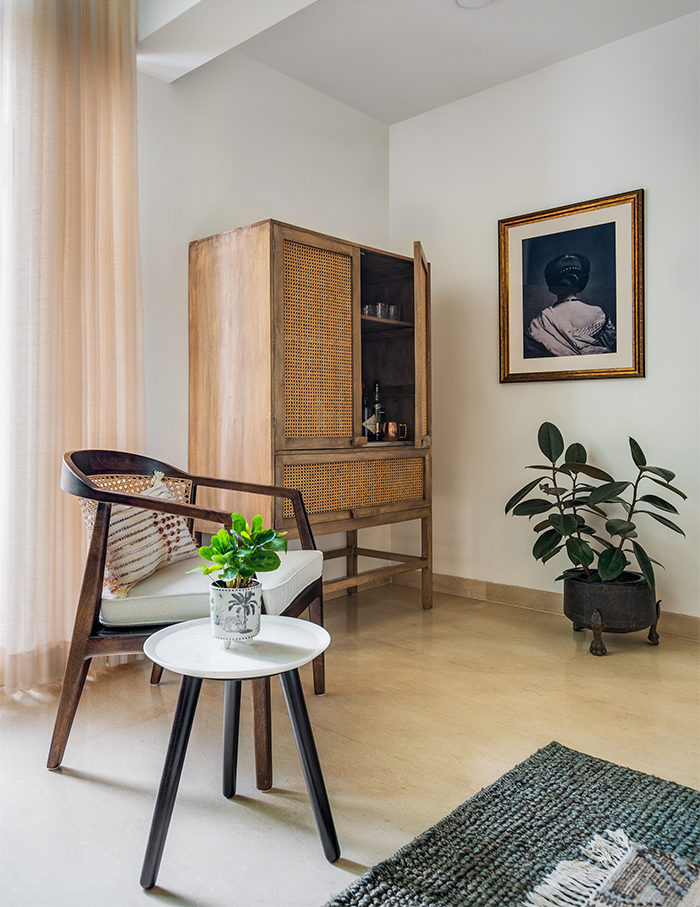 "My work centres around clean balanced design but one that makes for striking visuals. Each and every space engages you but never takes away from the story of the home. From the raw wood logs in the living room walls to the soft wall mural in the dining area to the minimal yet striking kitchen, this villa has such arresting places that hold you as you walk through it," she adds.
Scroll below for more images of the Bengaluru villa by Weespaces…