Homes
This contemporary home gets the luxury hotel treatment by ADHWA architecture.interiors
SEP 3, 2021
| By Tanzim Pardiwalla
Designing a hotel—a home away from home is one thing, but crafting an abode as a luxury getaway is quite another. A waltz between homely and luxe designs gave way to this apartment by Ankita Jain & Dhwanil Patel, principal architects at ADHWA architecture.interiors. Home to a family of three, a young couple, and their toddler, the designers had an interesting brief to work with.
Conceptualized as a departure from the clients' traditional family home, the 3,700 sq ft apartment located in an upscale township called Adani Shantigram in West Ahmedabad steers away from grandeur. "Referring to their travel stories and experiences in different parts of the country and world, the initial brief required a look and feel of their new home similar to high-end, luxury hotels," share the designers. 
Decked with furniture from Indian labels, luxury brands and handpicked elements from eclectic boutique stores, the apartment walks the fine line between quintessential luxury and tradition. Of course, a side of character, courtesy the clients' specific demands didn't hurt. As one enters the space, one is led into the family living room bathed in natural sunlight and dining area which is rightly described as the soul of the house.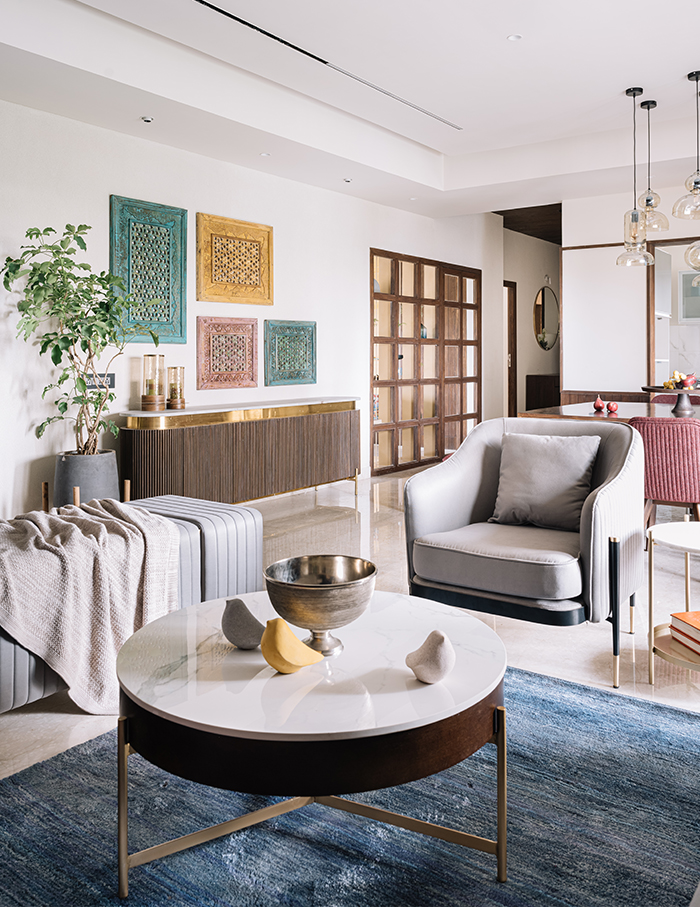 "We aimed to create a suitable balance of Indian traditional values with contemporary comforts. Therefore, we did not follow any large-scale trends, but created finishes and elements which stayed true to our vision," the designers explain the home's theme. For the most part, the colour palette includes walls in soft whites, save a few specialized panels and wood retains its natural texture.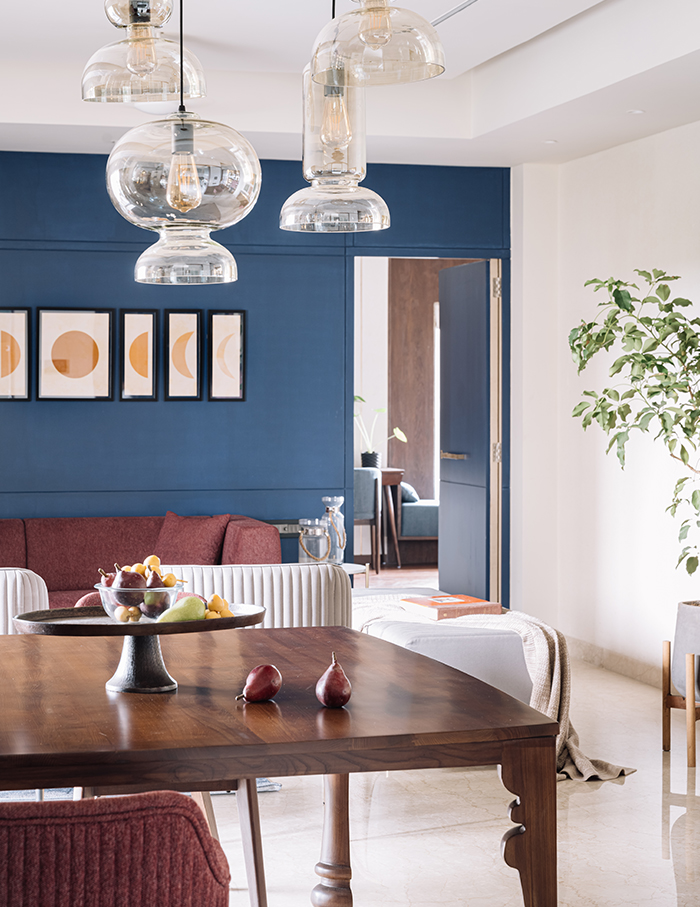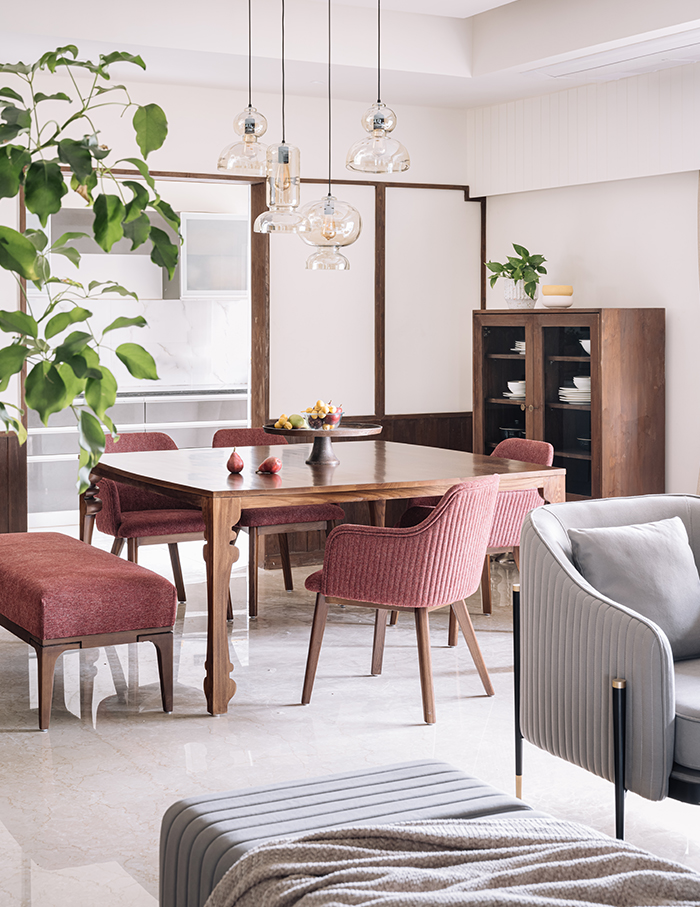 Originally a family room, the study space has a touch of nostalgia. The haven of wood, glass, and stone features a door and partition with a custom-designed wooden grid, with clear glass for visibility. A shelving grid displays the client's books and objects of their choice. The wall, sensitively designed in wooden panels and yellow Jaisalmer stone displays the client's late father's portrait and artefacts from his military career.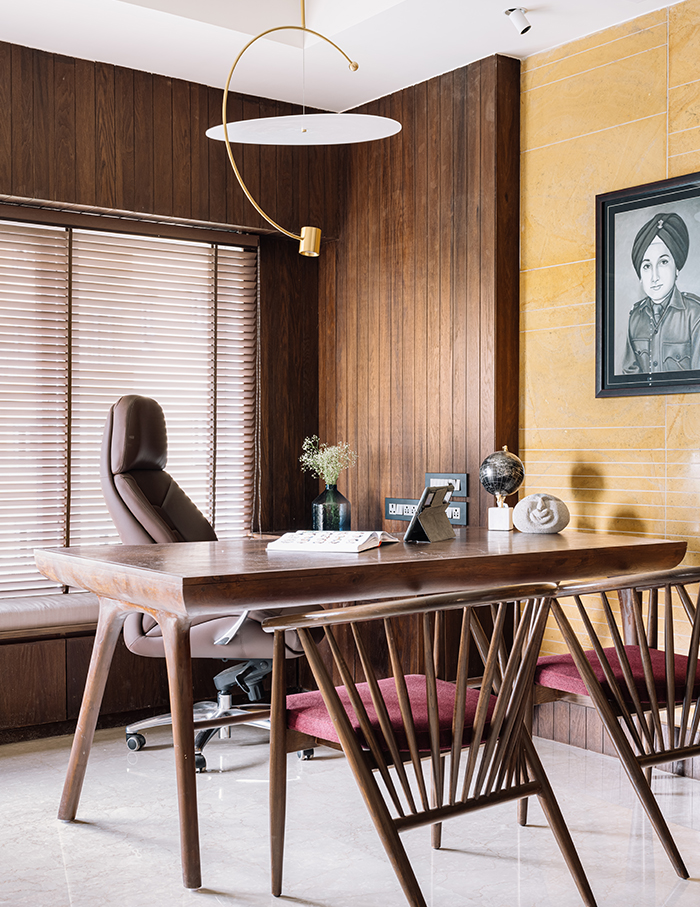 Connected to the living area, the master bedroom is a large space centred around a four poster bed with custom designed draperies that go with the rustic feel of the room. On the walls, textured lime coat-based plaster in blushing peach adds to a sense of serenity. The designers also added a memory wall in the room that opens out into a long balcony. "Specifically for the living and master bedroom, the space is an outcome of careful referencing and borrowing design hints from the best luxury hotels and boutique properties India has to offer," noted the designers.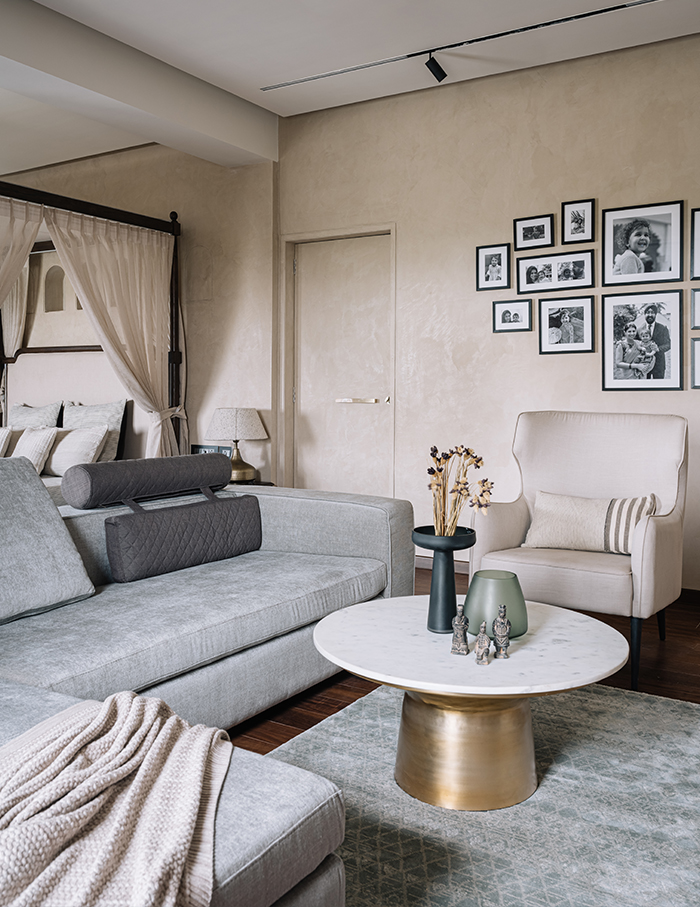 The daughter's bedroom, near the master bedroom, features a multi-level play zone, for the child to play and sleep in.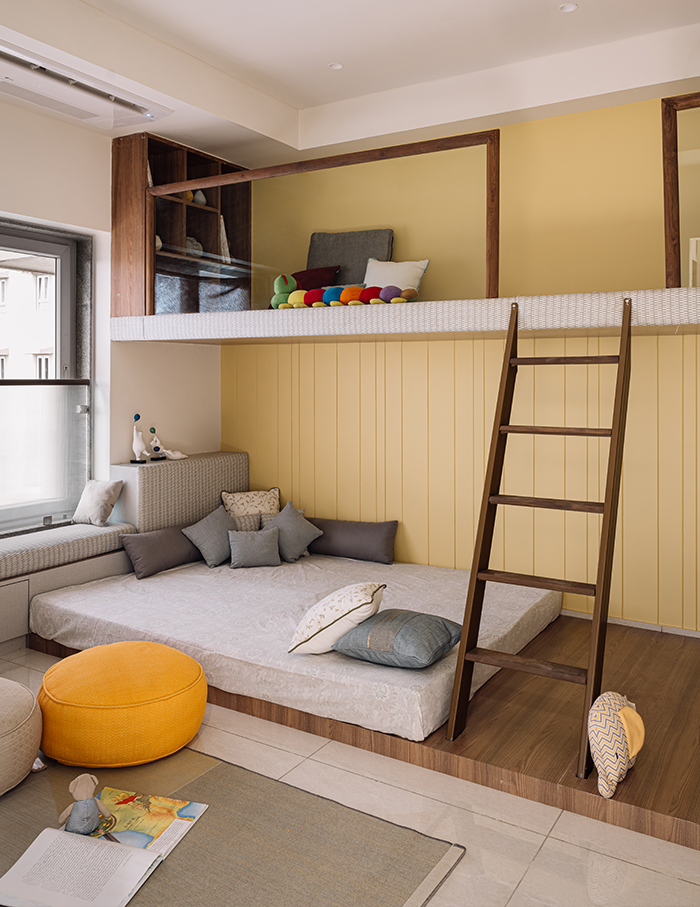 Mulling over their design philosophy, the designers revealed "As part of Adhwa Architecture Interiors' ever-evolving design idioms, we keep truth of material, an openness to natural light and a balance of textures at the core of the design process. Here too, we were fortunate to receive clients with an open mind to allow us to experiment as well as balance two different design styles, classic Indian and Scandinavian, to create a beautiful blend of both."
Scroll through for more images from the home….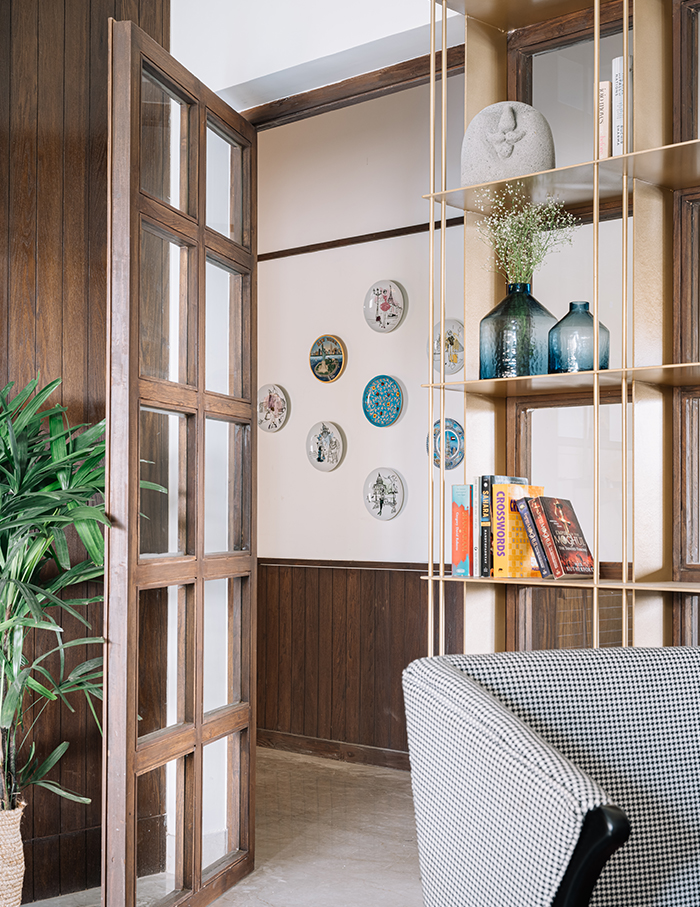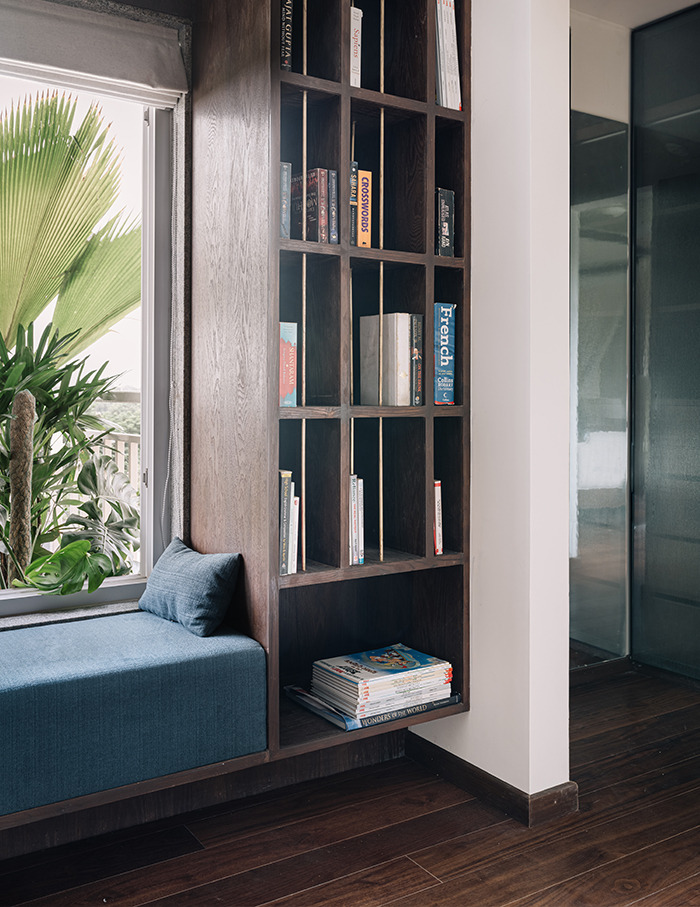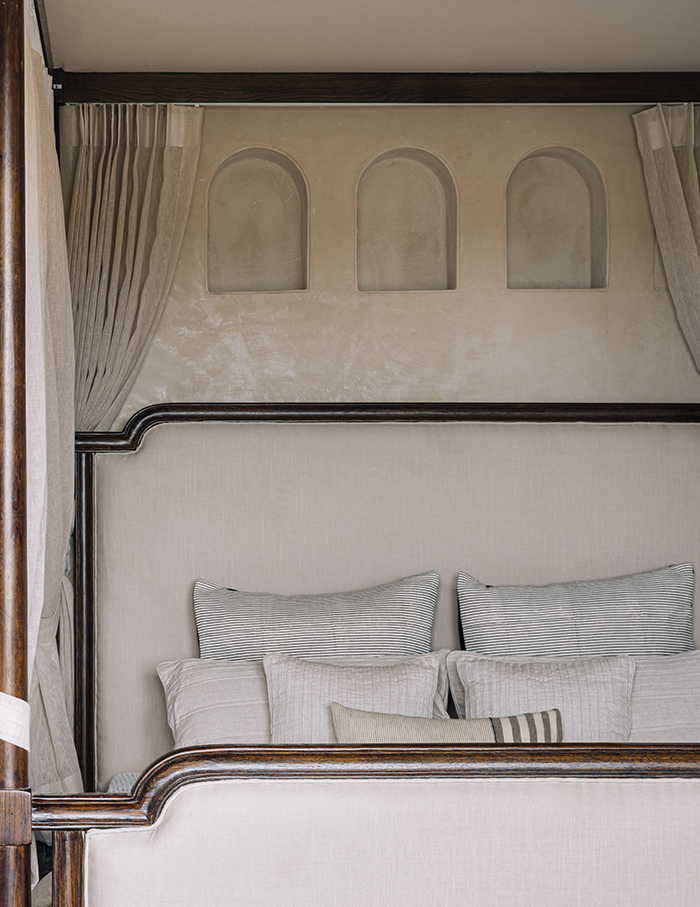 If you liked this contemporary apartment by ADHWA architecture. interiors, you will love this Pune home by Natasha Shah of Between Walls…