Homes
Natasha Shah of Between Walls 'blues' us away with this contemporary chic Pune home
MAY 24, 2021
| By Vedika Nair
Bound by a muted material palette, hues inspired by the British Flag and a contemporary theme, this 2,300 sq ft home by designer Natasha Shah of Pune based Between Walls is a total charmer! Suffused with a blend of modern and timeless elements, the abode is a reflection of the homeowner's life and love for London.
Consisting formal areas, two bedrooms and a bedroom turned library, the home is a bouquet of open spaces that welcome the outdoors. Materials like marble, basalt stone, teak wood, walnut veneer and quartz cloak the shell of the home, while shades of blue and muted tones complement a subtle white palette.
A street-styled lobby with paver blocks on the floor, a park-style bench with a dummy window and the Queen's famous saying "keep calm and carry on" greet us in the lobby, while a vibrant red box adds a pop of colour.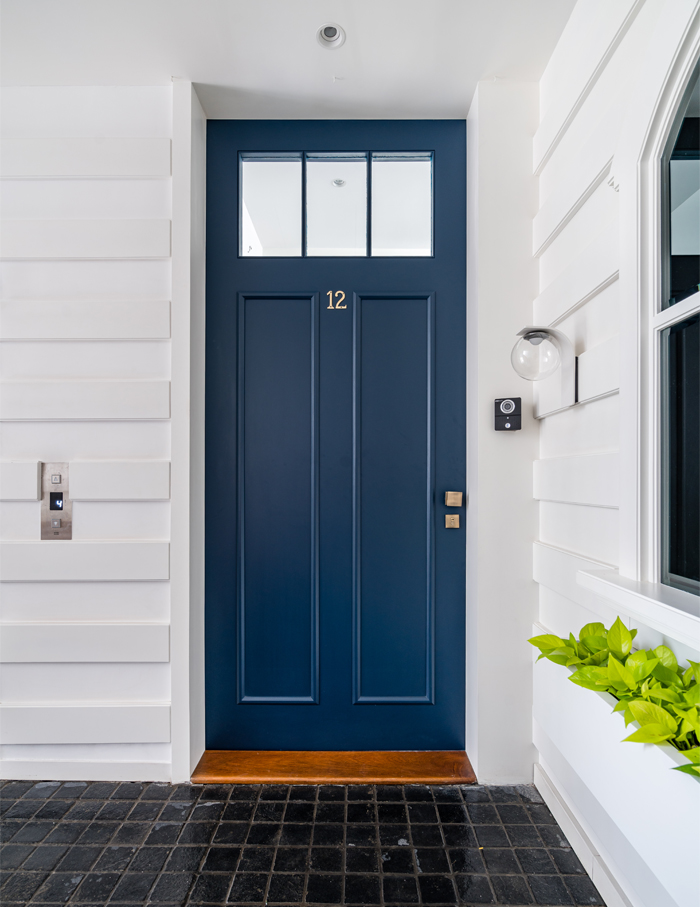 A tall blue door welcomes you inside through an arched opening and grid partition. Here, we can catch a peek at the modern and dramatic entertainment cum study area that features bold monochrome striped chairs and a bespoke grey-toned magnetic atlas. The space also doubles as a library and gaming zone for the homeowners.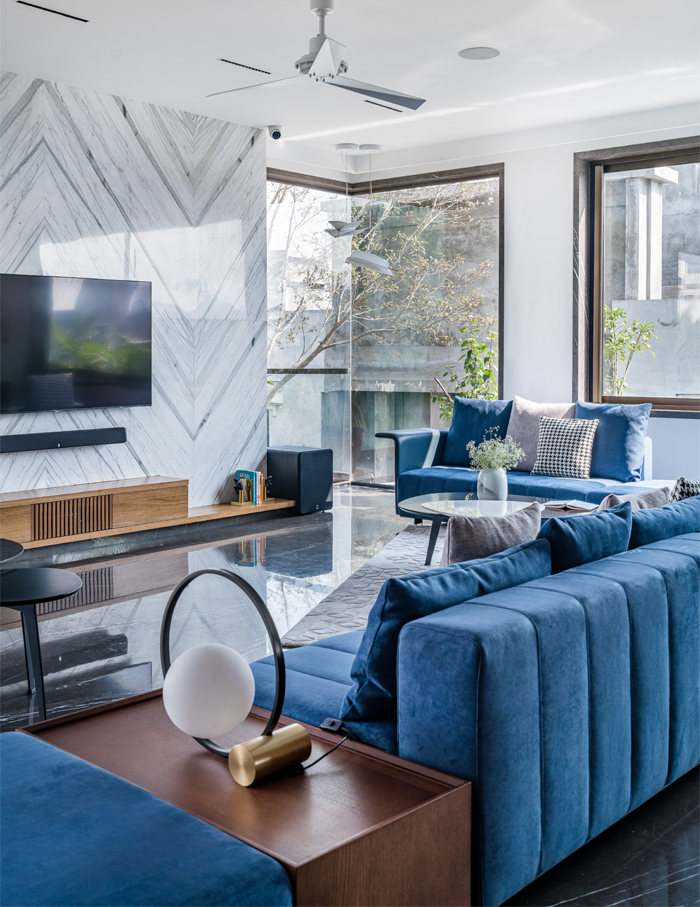 Inside, the enormous living room is brought to life by a vibrant blue couch and the most arresting Imbalance swing by POD (Pieces of Desire). Behind the swing is a wall filled with memorabilia clicked by the homeowners.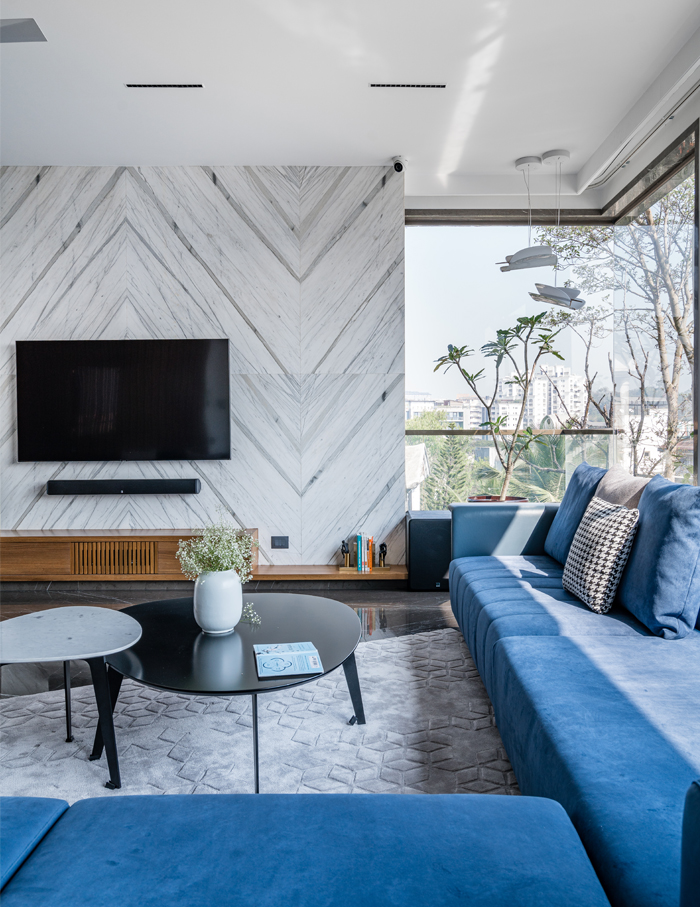 Rays of light shine on the white statuario marble TV wall and panoramic windows allow for cross ventilation. A small prayer space is concealed within the panelling in the living area, blending in with the contemporary styled room.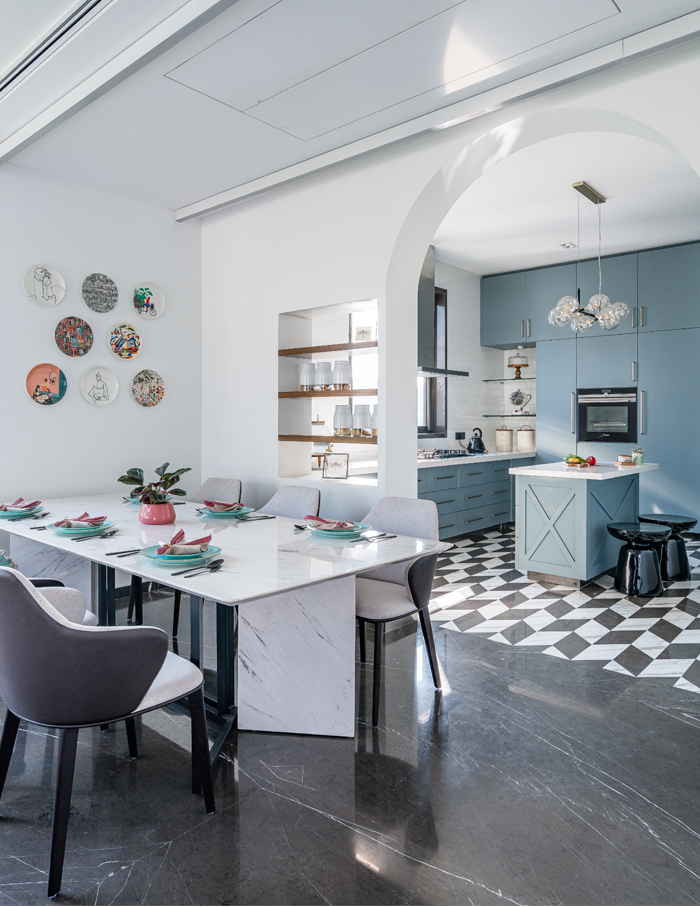 A large table for eight sits in the dining room right between the living area and kitchen and a wall here is decorated with art from The Plated Project. One enters the marble-clad kitchen through an arch with a small breakfast nook for two.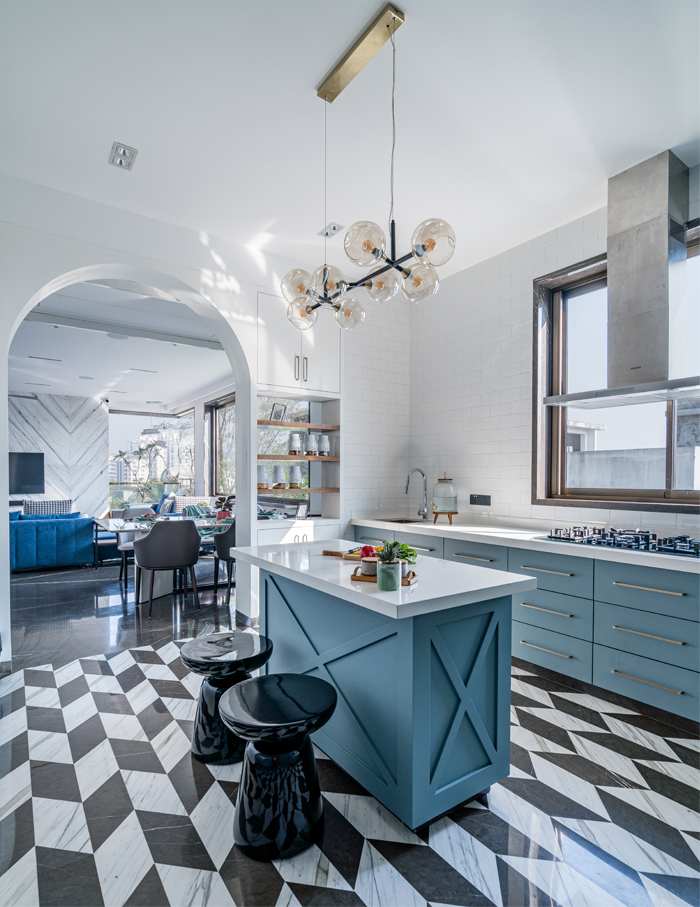 "I absolutely loved designing the kitchen. Not only is it stylish, but it also emulates a classic sense of design," shares Shah.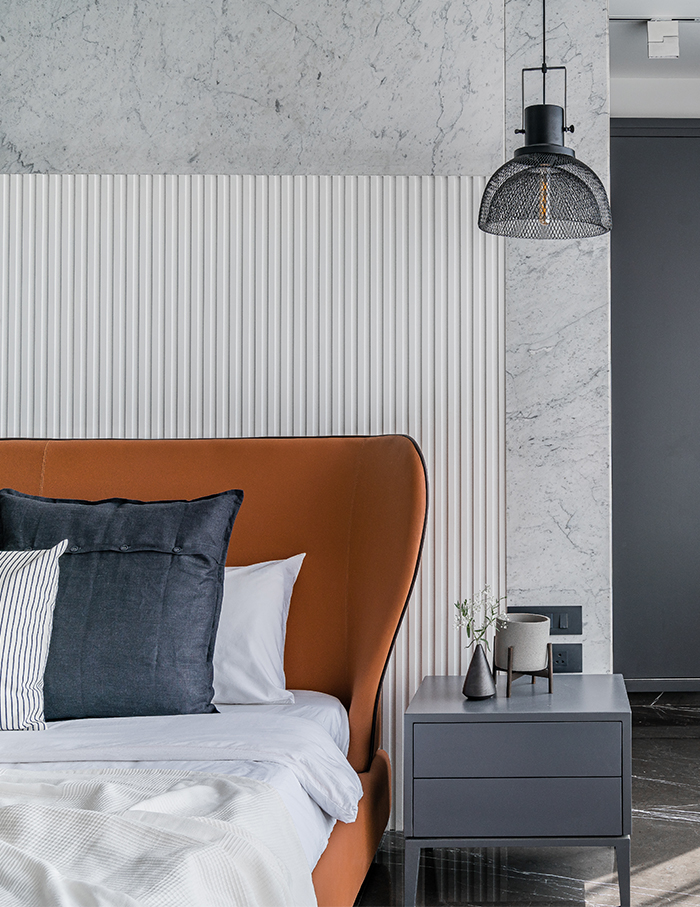 Meandering inside, we step into the main bedroom dressed in a grey palette with splashes of tan. A marble partition divides the bedroom and closet, while the glass bathroom combines the two spaces.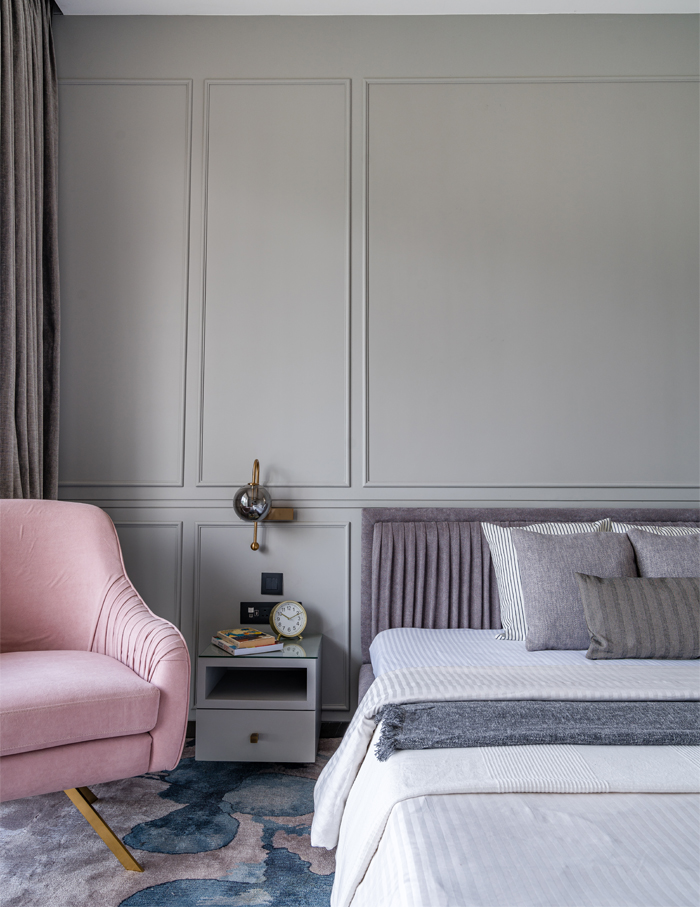 In contrast to the main, the guest bedroom is drenched in pastel hues and emits a cosy aesthetic. This room is connected to the living zone through a balcony dressed with clay brick tiles, a coffee table set up and an outdoor swing, perfect to unwind!
"At Between Walls, we're all about the needs of our client! Our speciality is a fusion of modern and traditional design," concludes Shah.