Homes
This Brooklyn apartment designed by Ruchi A Mohan is a concoction of ultra modern elements that denote style and comfort
JUN 1, 2021
| By Kashish Kaushal
Ingenious, lively and ultra-modern best describe this tranquil abode in Brooklyn, New York City. Crafted by Ruchi Mohan of DesignbyRUCHI LLC, it is a pet and kid friendly apartment spread across a 1,500 sq ft area. The residence embodies a tailor made design outlook that is stylish yet comfortable for everyday living.
In her first meeting with the client, Ruchi deciphered the kind of lifestyle they lived and aimed to incorporate as much utility as possible in the interiors of the house. 
Traversing the apartment, the visitors are greeted by a beautiful organic wallpaper by Flat Vernacular right at the entry foyer. To the left side of the entrance is the great room with the kitchen at the far back, followed by the dining room, living room and further access to the outdoor space. Ample natural light coming from outside into the great room keeps the apartment relaxed and refreshed.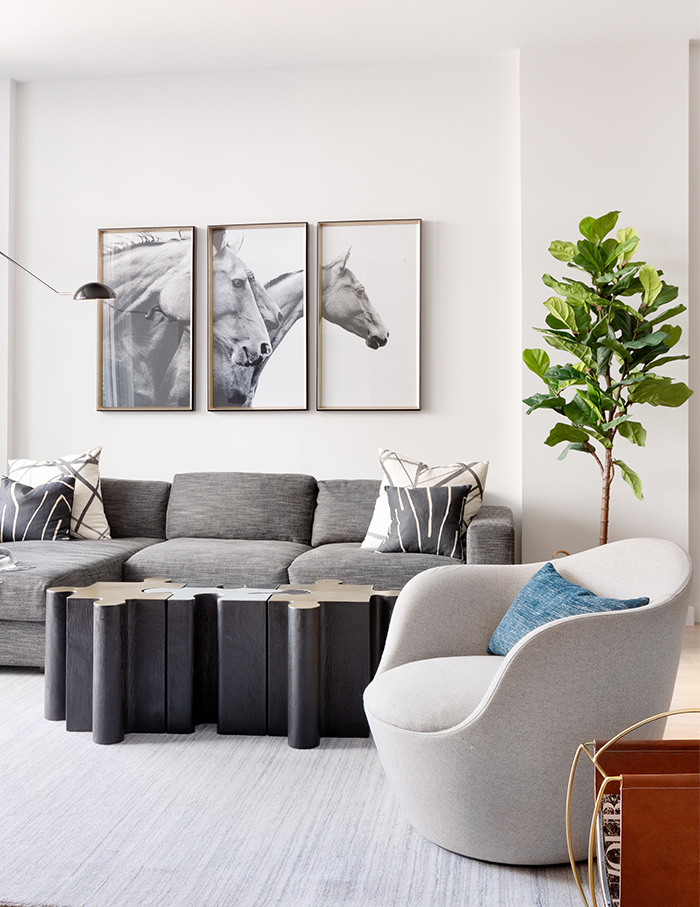 For Founder and Principal Interior Designer, Ruchi, the living room was her favourite space to craft. Elaborating further she reveals," From the jigsaw coffee table to the soft lines on the swivel chair; the leather magazine holder to the walnut media console that fits the alcove perfectly, there are so many wow moments that make the room extremely special."
The kitchen with all-natural walnut custom cabinet fronts and cabinet panels complements the comforting theme of the house. A warm focal point is created by the island which is centered in the kitchen. Mixing of walnut cabinets and light oak wooden flooring is yet another highlight of the space.
In the principal bedroom, all the elements have a natural inclination towards ivory and muted greys. Elements like the wallpaper, use of multiple textures and layers in upholstery and bedding create an inviting ambience.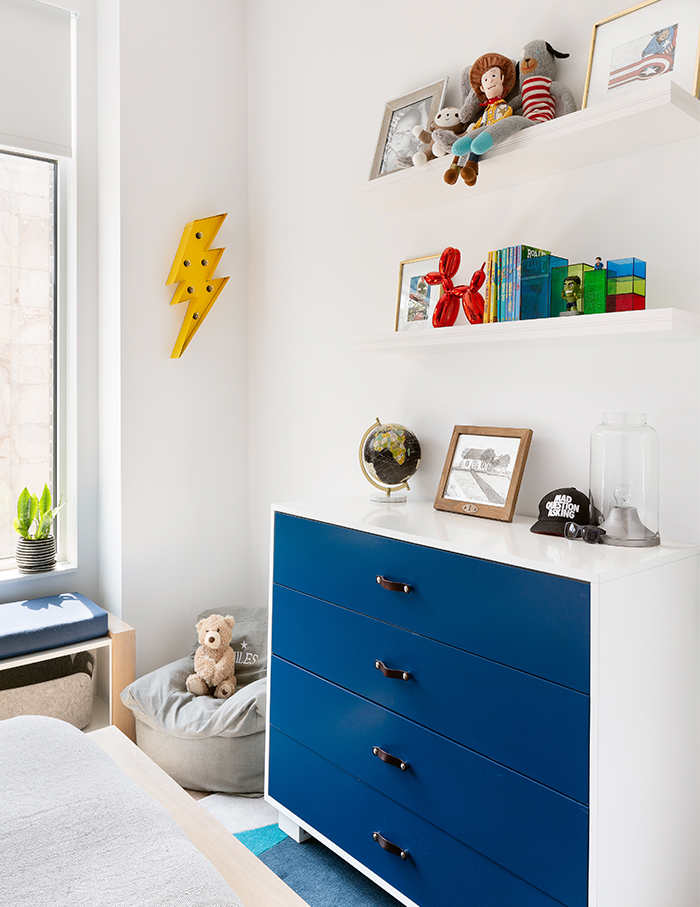 Every 3 year old kid today dreams of a superhero-themed bedroom. Ruchi made a point to keep that brief in mind while developing a progressive design theme. The kid's room is a fun mix of blue wallpaper, custom blue millwork with bleached walnut frames, black metal nightstand and plain white painted shelves. The little client opted for the tumbling blocks wallpaper from Schumacher due to his adoration for blocks. Tailor made furniture with blue upholstery was also added keeping his favourite colour in mind. 
 Across a plethora of modern and contemporary homes executed by DesignbyRUCHI, this Brooklyn apartment easily knocks it out of the park for a six!