Homes
This breezy beach house near New York City by Aamir Khandwala Interior Design (AKID) is equal parts elegant and playful
NOV 11, 2020
| By Aamir Khandwala
"We're looking for a designer to do one room at our newly purchased house in Bellport"—from this initial conversation with my client, the project evolved to transform the entire home, landscaping, installing a new gunite pool, and, most recently, the guest house on the premises.
This modern waterfront home was built in 1950 in the quaint village of Bellport in Long Island. It is an idyllic place to take refuge from the bustle of New York City, less than a two hour drive away. I had the pleasure of working on this project with my clients—a young family of five. This 5,000 sq ft beach escape with six bedrooms and bathrooms provides plenty of space for the three kids to run around and feel free!
The layout of this sun filled home is fairly open, so it didn't need any major architectural changes.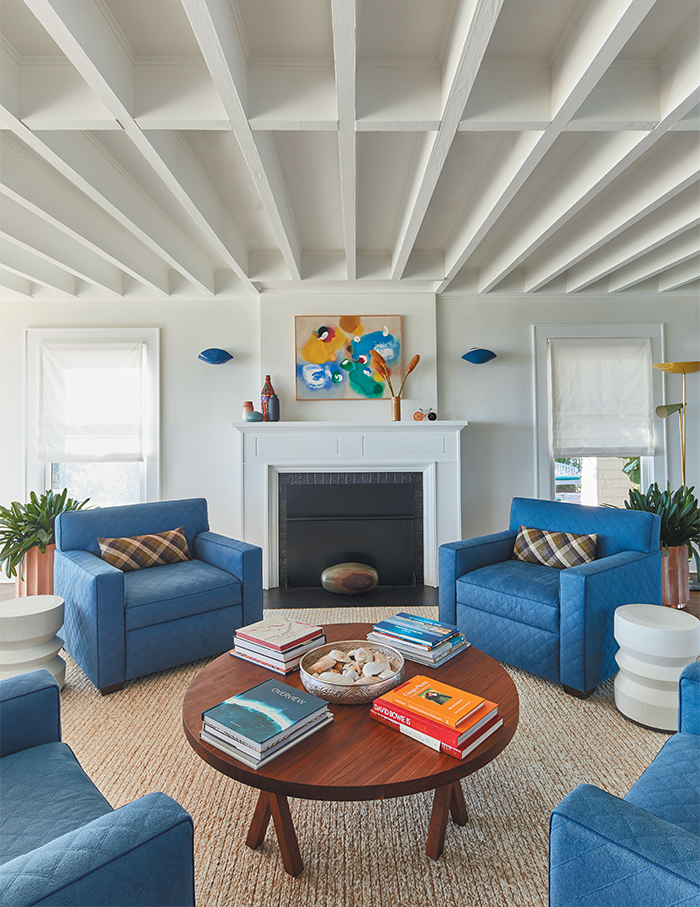 Just inside the spacious entrance hall lies a bold geometric flatweave custom rug by Alt For Living, which connects to the living room overlooking the Patchogue Bay. We selected low profile furnishings with clean lines to ensure that the focus doesn't shift from the mesmerising view of the sky and sweeping vistas of the bay.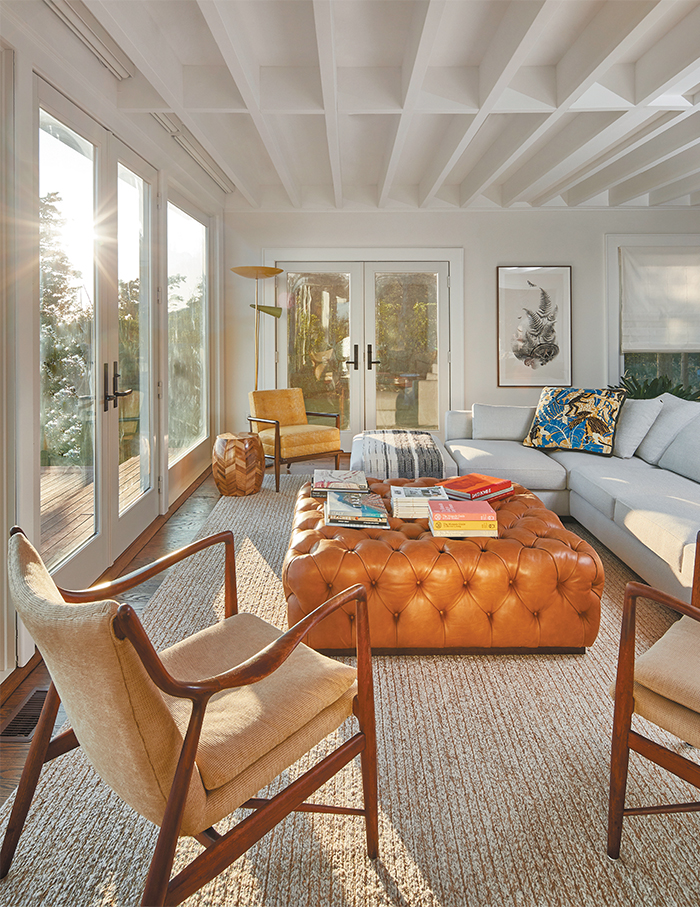 The living room is connected to an open kitchen and dining area, and a nook with soft upholstered walls in outdoor fabric. From the breakfast room, you arrive at the cosy den—designed for snuggling and watching TV. Upstairs are three spacious bedrooms and baths, and on the level above is a large, open studio style fourth bedroom with an ensuite facility. This room features a turquoise daybed, nestled in an architectural niche with the best view of the water.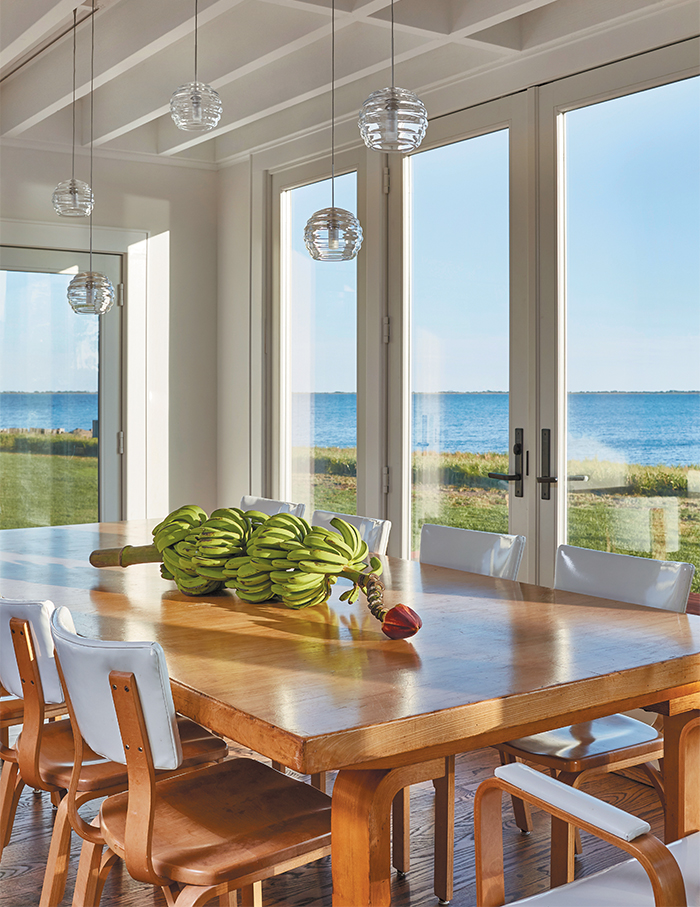 Adjacent to the main house is a charming guest house, complete with a lounge, kitchen, dining zone, play area, and two bedrooms and washrooms. Between the two structures is a pool, wooden decks, tennis courts, and open fields with flowering bushes and evergreens. The homeowners have busy lives between work, raising three children, maintaining two homes, philanthropic commitments and travel. So, we designed this one to be sophisticated (but not precious), playful, colourful, child friendly and easy to maintain.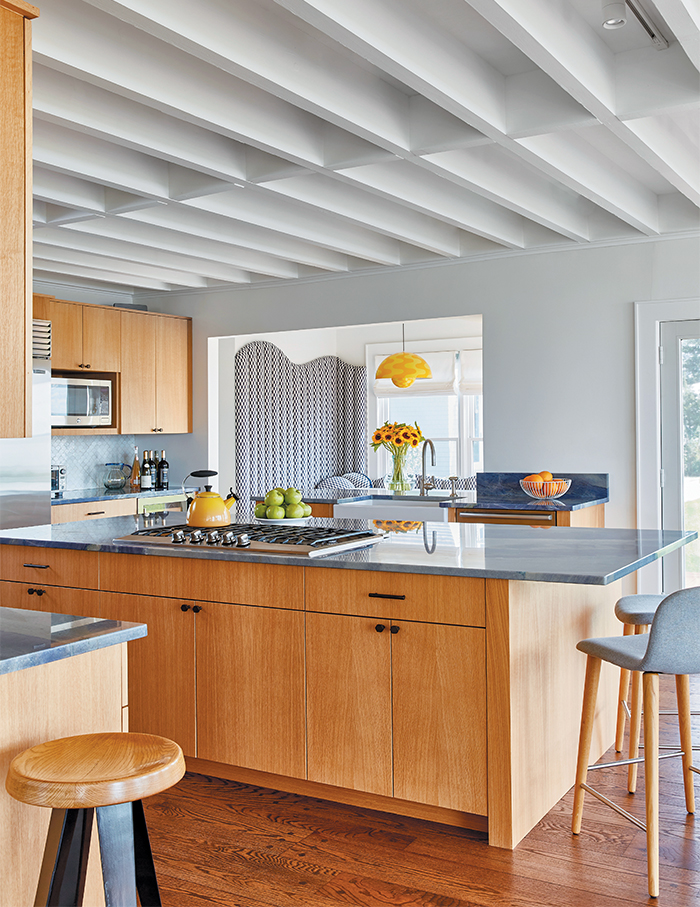 We incorporated high quality natural materials like 100 per cent organic cottons, linens and wools that are soft to the touch. Furnishings have been sourced from far and wide—bespoke rugs were made in India, Nepal and South America, furniture was bought from contemporary galleries in the US and Europe. We designed all the millwork as well as custom barn doors separating the entrance hall and den. The stone for the kitchen is from Brazil, while the tiles are from Morocco. I believe the materials and subtle textures give the space an eclectic, modern feel that is casual yet chic.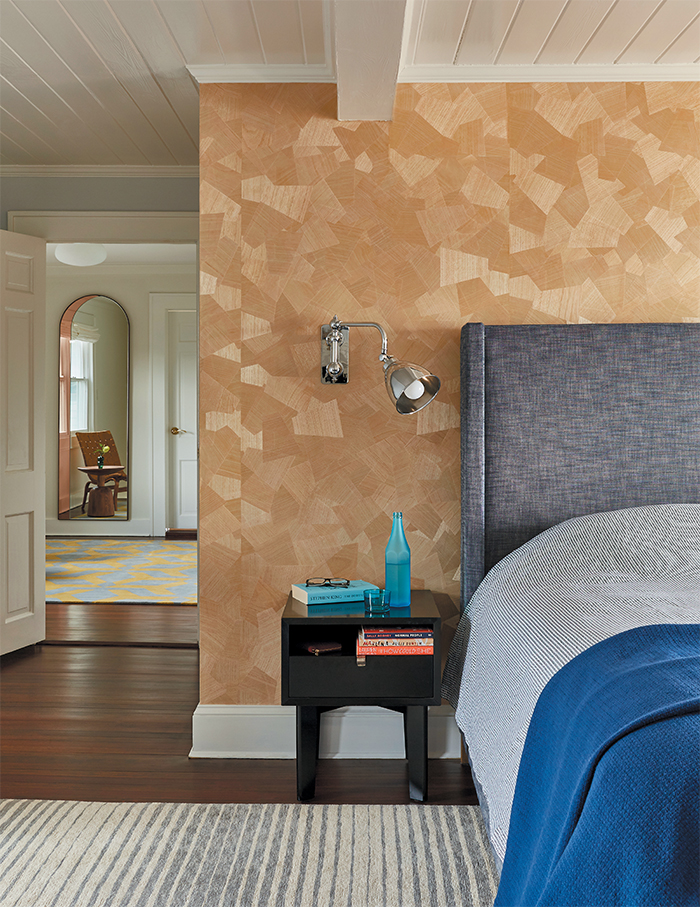 My design philosophy—even while I was working with my mentor Robert Couturier—has always been that a home should reflect the sensibilities of its owner. It is not I but my client who lives in this home. So, I make every effort to curate a space that feels timeless, not trendy, with essential pieces that are rich in history but effortlessly styled such that everything has a place, and that there is a sense of dimension and geometry, colour and surprise. Energised by the transformation of this weekend home, we are now collaborating on their townhouse in Brooklyn Heights.
Scroll to see more images from this weekend haven in Long Island conceptualised by Aamir Khandwala…