Design
Meet The Craftery by SUBKO in Mumbai that houses a cafe, bakery, retail zone and more designed by STaND
MAR 23, 2022
| By Pratishtha Rana
If one takes a moment to ruminate, a hot cup of freshly brewed coffee holds an unavoidable vigour that echoes in your senses and memory interminably. This profound interaction with coffee is squarely bundled up into The Craftery by SUBKO, a destination in Mumbai co-founded by Rahul Reddy and Daniel Trulson.
Beyond the palate of the grounded coffee beans, the duo fixated their attention on the flavours of the interiors. Sauntering the unruffled lanes of Byculla, The Craftery stands on a paved alley in the JAK Compound drenched in Kerala green.
Previously an abandoned industrial warehouse and printing press, the cafe rebirthed on the drawing board of STaND architecture + design studio by Siddhant Tikkoo and Nikita D'Silva.
You may also like: The best, innovative coffee blends in India you should be pouring in your cup right now!
The key brief was to metamorphose the 2,100 sq ft space into a production and hospitality venue that would engage in a routine dialogue with the patrons about SUBKO coffee's journey from plantation to table. At the entrance, original barn doors stand refurbished romancing the greenery around.
A monopoly of materiality is seen inside with a synergy of brick, crafted metal, granite, concrete, Indian spotted marble, teakwood and glass. The walls dressed up in exposed bricks and creamy beige hues are structured with lean black metal frames, which flare up softly with the luminosity of accent lights.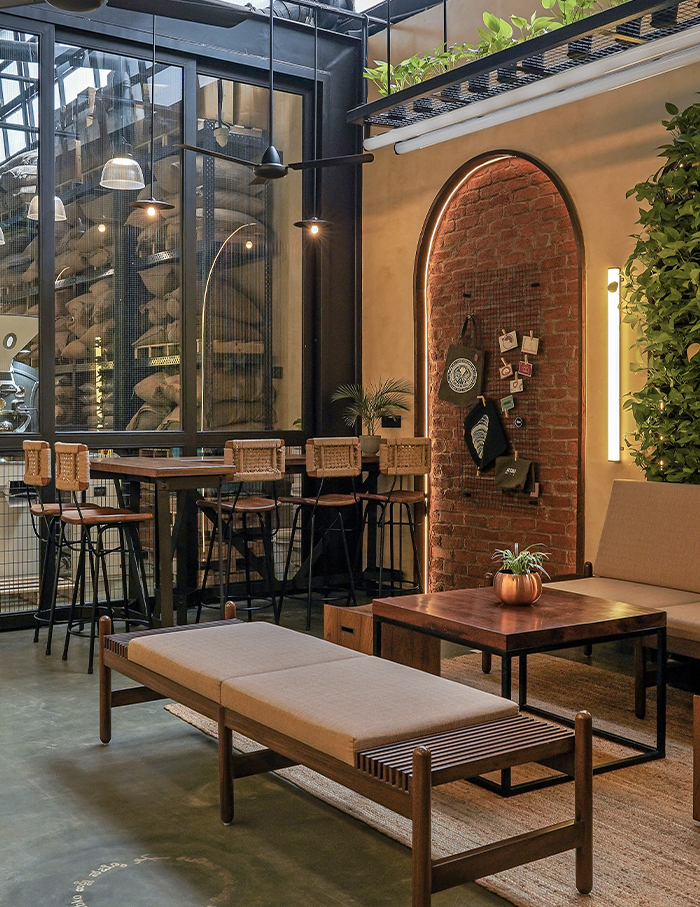 To encapsulate a holistic coffee escapade, the architect duo apportioned The Craftery into a bar, a roastery, an experience zone, a sensory lab and a cold room, every turn splattered with custom designed furniture, machines, decor and biophilic details peeping in from all sides. The outlet at large is stamped with a rectilinear layout for people to seamlessly explore every area and its function.
The cradle of The Craftery is the cold room bordered with transparent glass and metal partitions yet visually tethered to the whole space. It hosts a specially crafted teakwood island sourced from Auroville, Pondicherry where the baking processes take shape, literally!
The ocular tour of this zone is incomplete without the croissant motif that maps the wall designed by Anuranjini Singh. This delicious emblem was screen printed on a massive marble panel by Pritam Arts, then erected and plastered meticulously by the masons.
This venue being SUBKO's second outpost, the first one located in a revived colonial-style bungalow in Bandra, the interposition of STaND to reshape the decrepit site that was once a landmark locale meant retaining an essence of the old times and coalescing it with SUBKO's language that aspires to pour unique Indian brews into the cups of globally discerning consumers.
Loved The craftery by SUBKO in mumbai? Explore more on it in the latest ELLE DECOR India's February – March 2022 issue…