Design
Spaces with bricks that you'd love to mimic!
JAN 3, 2021
| By Saloni Rege
We love buildings with bricks. And here are six such constructions that make the most of this versatile and traditional material. Take cues from these structures and how each one uses bricks in a diversified manner for a vernacular tinge.
Castle Royale by Varsha and Deepak Guggari Associates (VDGA)
Nestled amongst green canopies, this warm and earthy home (see scroll above) is an escape from the hustle bustle of urban scenario. Designed by Deepak Guggari, this Pune residence plays with varied materials, including exposed bricks. The dining area and living room are set against a distinct backdrop of an exposed brick surface that acts as an accent wall and breathes a traditional homey vibe into this modern space. Instagram: @studio_vdga
An Alluring Villa by Ignitus Architectural Studio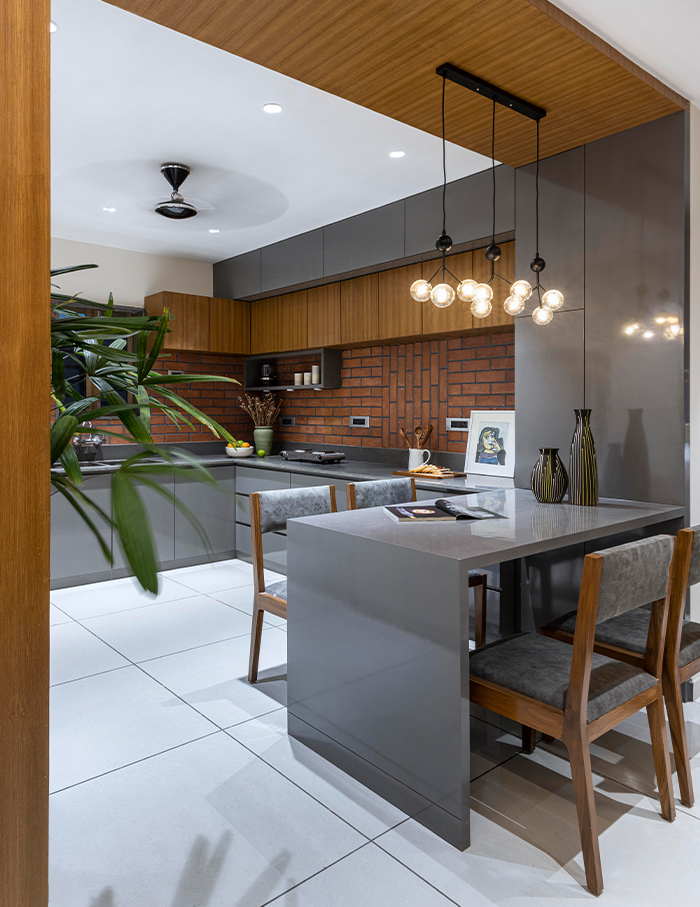 This almost 1,800 sq ft vacation home in Ahmedabad designed by Chirag Panchal embodies a sense of cosiness. Adding a rustic appeal to this tropical themed home are the kitchen walls, which are clad with clay brick tiles. This sustainable choice and earthy radiance makes the space stand out against a PU finished unit in dark grey palette. Arranged in an alternate manner, these tiles are vapour and grease free, making them a feasible choice for culinary spaces. Instagram: @studioignitus
St Andrews Institute of Technology and Management Boys Hostel by ZED Lab
This 60,000 sq ft boys hostel block in Gurugram, crafted by Sachin Rastogi and Payal Seth Rastogi of ZED Lab is testament to a dynamic, robust architecture. The structure with its exposed concrete facade obtains character from its 21 feet-long brick jaali.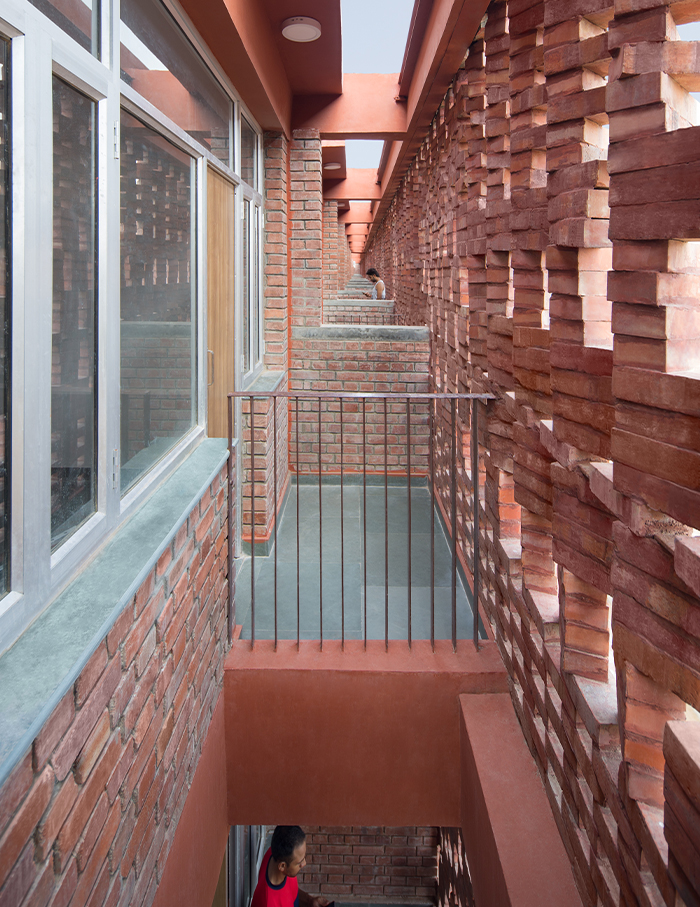 The jaali envelopes the structure and houses a Flemish bond with alternate punctures for diffused light. Also serving as a thermal insulation, it vouches for comfort-infused habitable spaces.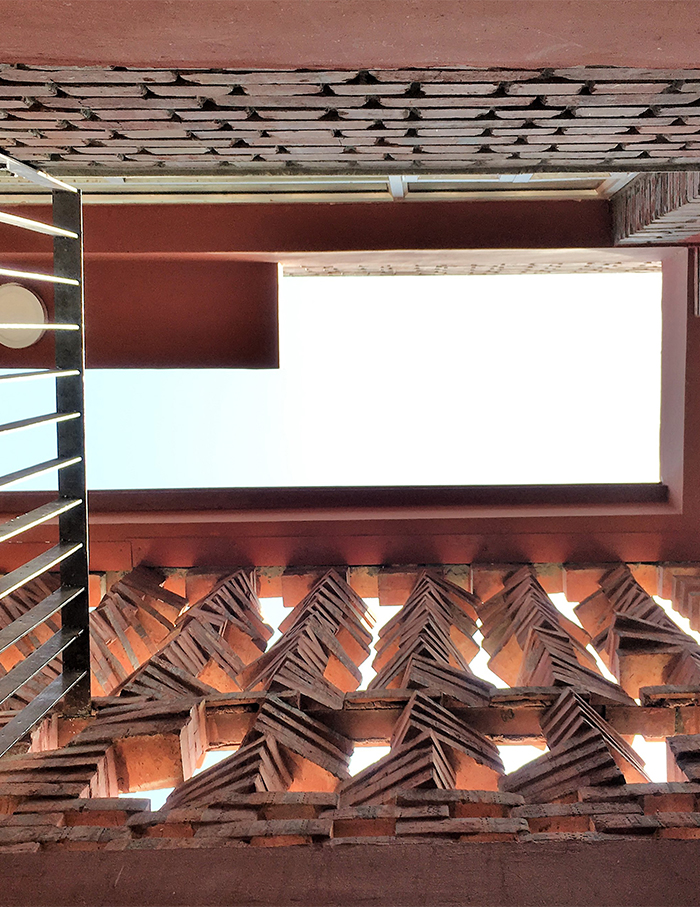 In certain parts, bricks are rotated at specific angles to create patterns of light and shadow as well as for ventilation. Focusing on horizontal emphasis, this brick facade gives room to dramatic spaces.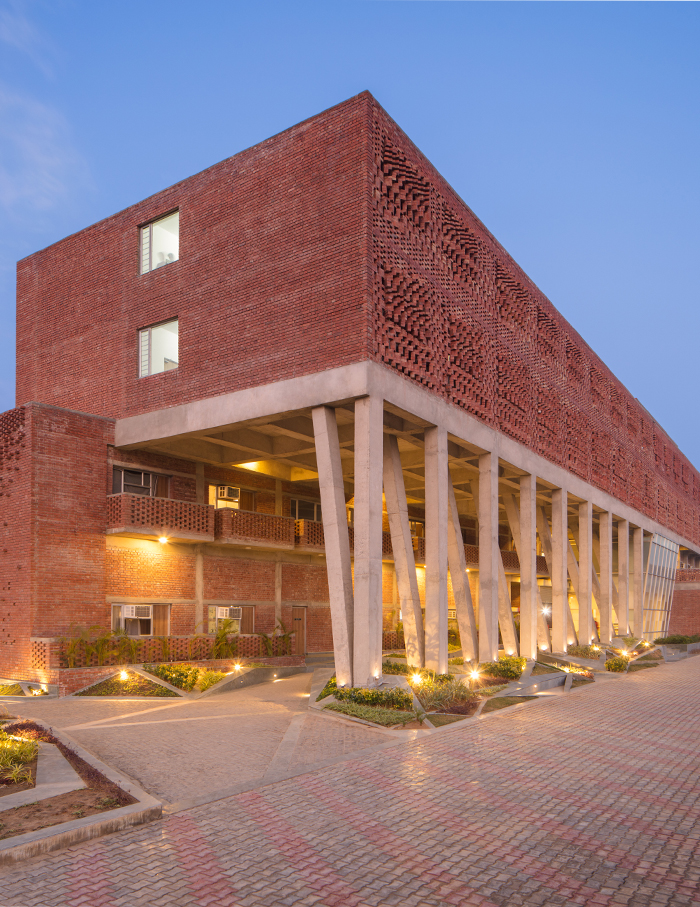 We love how vernacular material is fused with contemporary style in an interactive composition. Instagram: @zeroenergydesignlab
Tete-a-tete by Nestcraft Architecture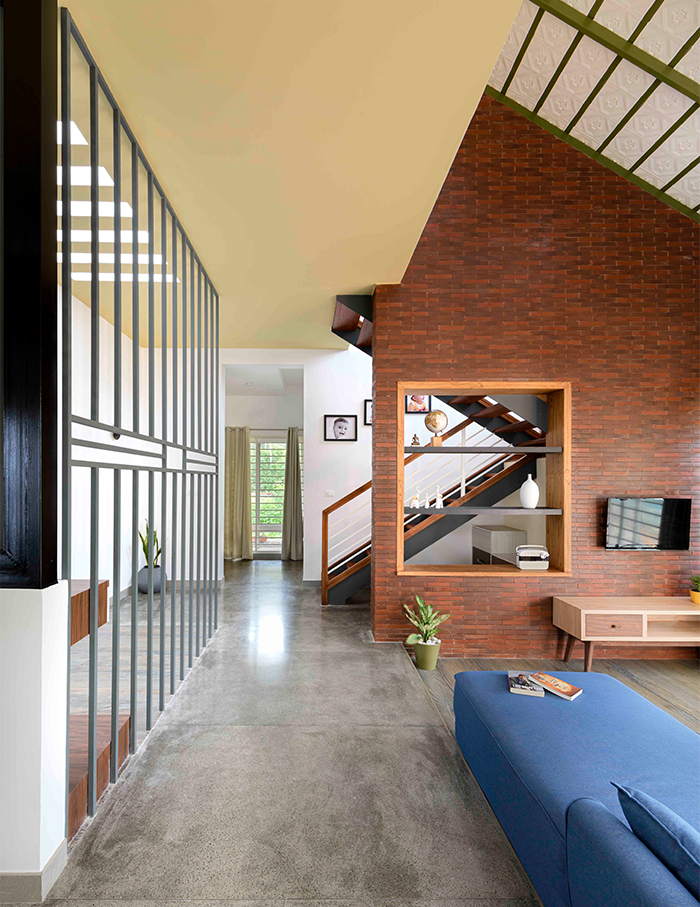 This nearly 2,850 sq ft villa in Kerala connects with nature owing to a humble material palette. Crafted by Rohit Palakkal, this residence is an expression of simplicity and interplay of textures. With its inclined wall being the focal point, it's dressed in a subtle brick wallpaper that enhances the textural quality of an otherwise minimal space. Instagram: @nestcraftarchitecture
The EcoHouse Kottayam by Elemental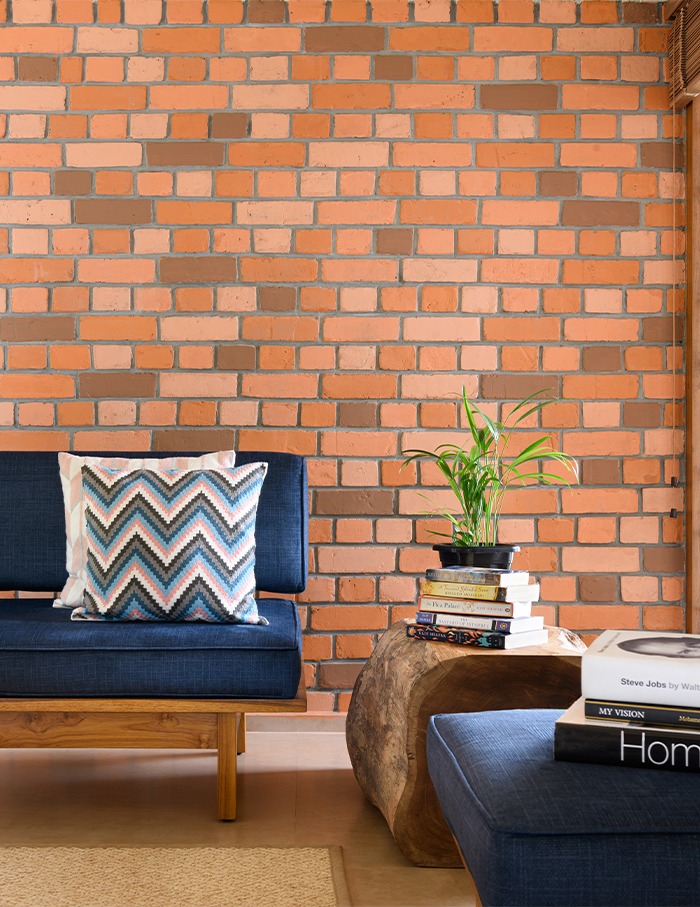 This minimal house by Elemental's Amruta Kishor uses a glorious colour and material palette. Blue offsets the backdrop of burnt clay bricks, which boasts critical regionalism. Meanwhile, the snug furniture and warm appeal resonates with the Danish hygge way of living.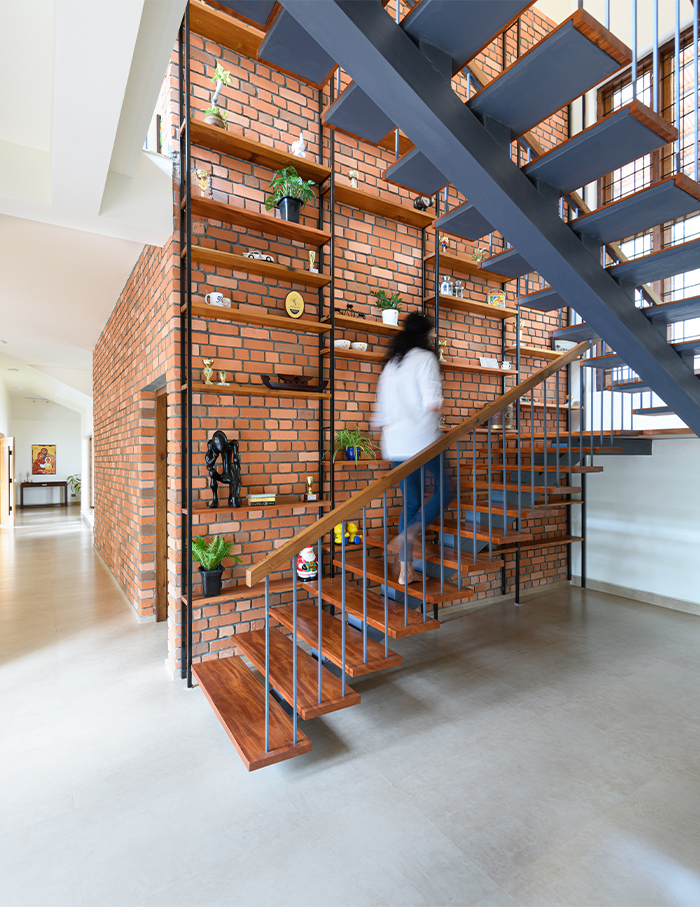 A cantilevered staircase is flanked by another burnt clay brick wall that's fitted with a shelving system, which steals the limelight with its juxtaposed composition and voluminous quality. Instagram: @elemental_ar
The Mann School, WhiteFlower Hall, Girls Hostel by Envisage
Transforming an institution into an interactive space, Envisage's design head Meena Murthy Kakkar fulfills every child's dream school. The vertical brick facade of new block breaks the monotony with its existing colour scheme of reds and greys.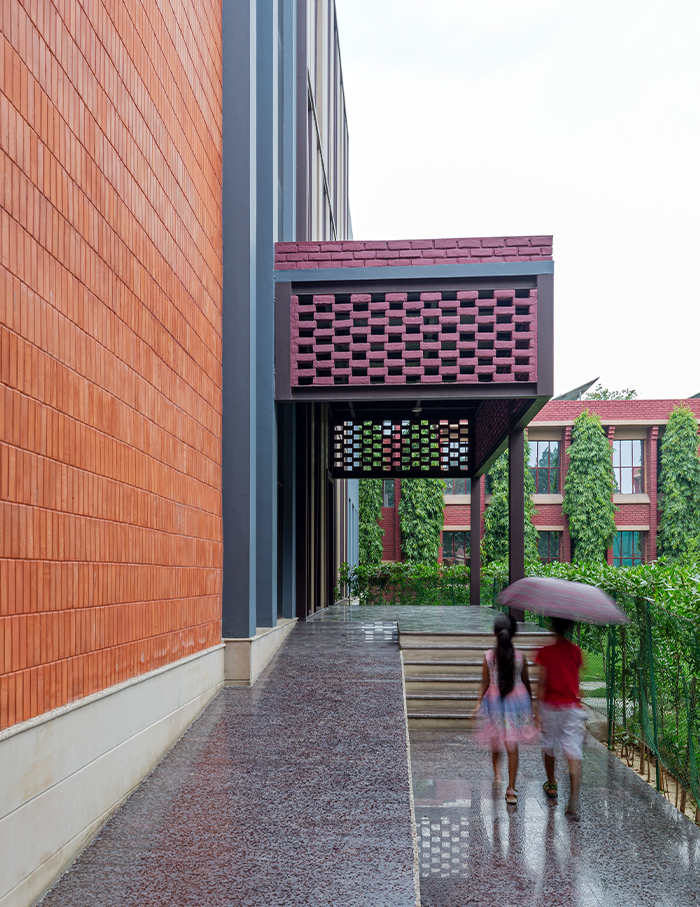 Merging with other exposed brick structures in the campus, this new facade formulates a cohesive design. The vertically aligned bricks are built out of rattrap brick bond and sourced from local kilns. They are also fitted such that cavities appear along the facade to thermally insulate the interiors.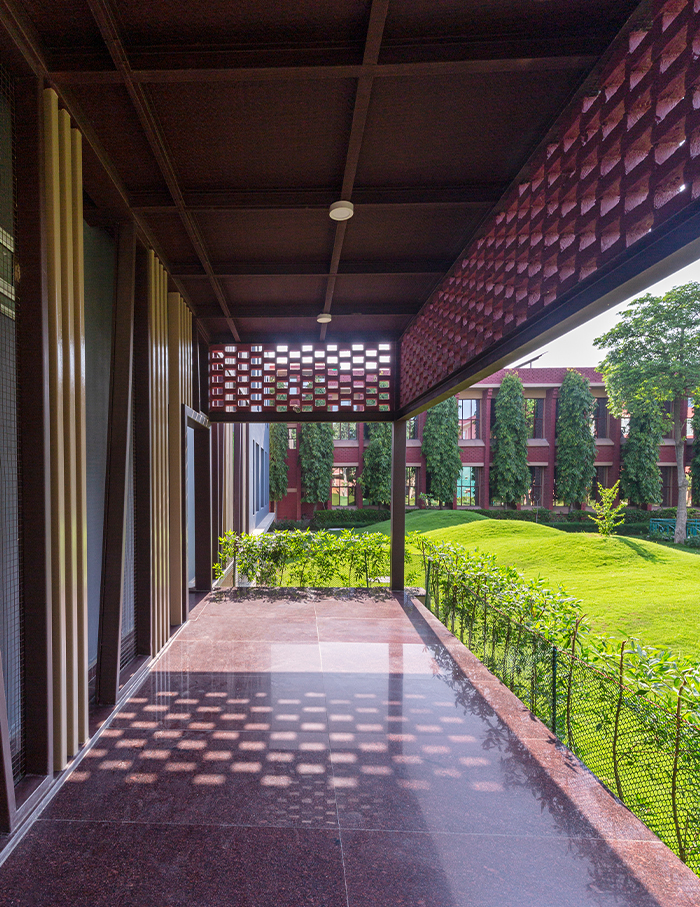 The play of light and shadows highlights many semi-outdoor spaces that open up for usage. Instagram: @envisage_architecture