Homes
Maite and Paolo Bulgari's Morocco home is a wunderkammer of artefacts and decadent vernacular furnishings
OCT 18, 2019
| By Beatriz Fabian
For their home in Morocco, Maite and Paolo Bulgari dreamed of incorporating an Oriental twist. On a trip to Seville, they were amazed by the beauty of La Giralda and its similarity to the Kutubbiya Mosque in Marrakech and the Hasan Tower in Rabat.
That was when they decided to look for Andalusian references. "Both Maite and Paolo have been hands-on with the project and, while they offered complete freedom, their personality shines through this house," says interior designer Pablo Paniagua.
"All or nothing" became the mantra for the Malaga decorator. He drew every design detail of the riad in Marrakech for this expansive property, which is located in the heart of the old town.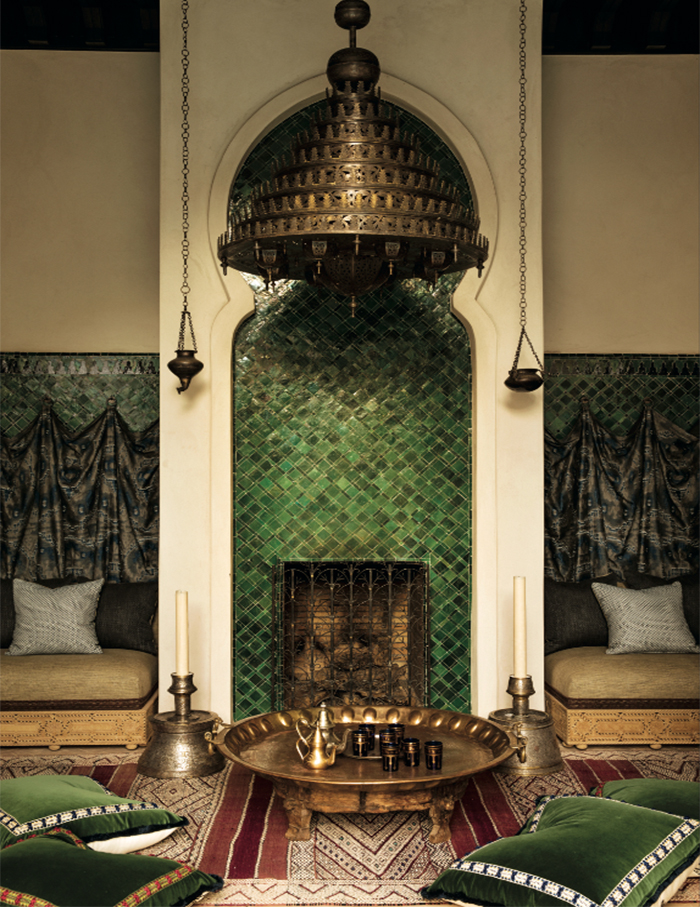 "To create a language different from what is largely understood by the West", Paniagua diligently pursued several lines of study, delving into Islamic craftsmanship and French Orientalist art to understand "traditional interior styles that existed before the arrival of the Europeans."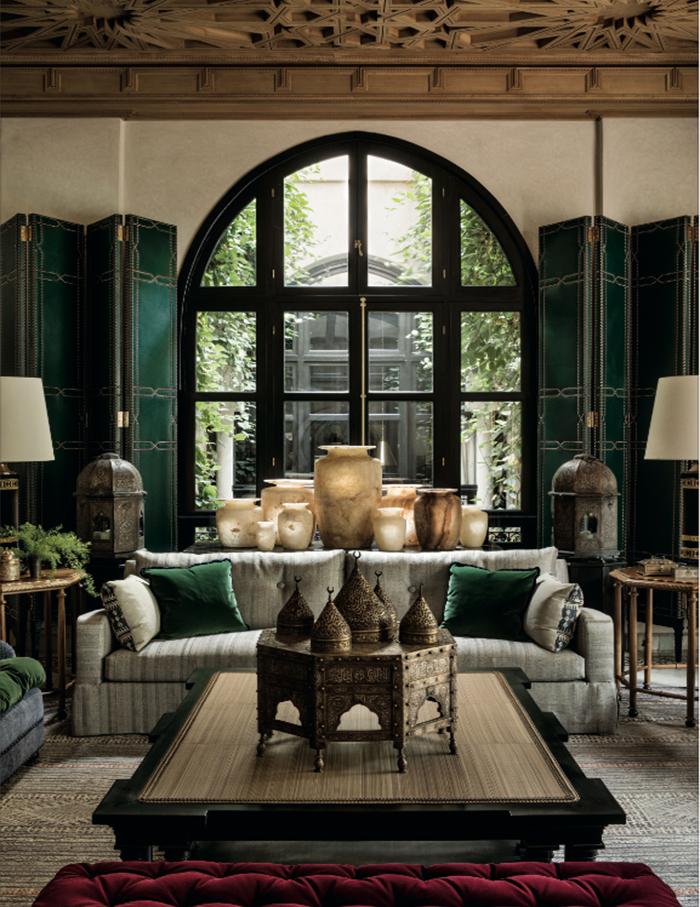 From Granada inlay work to Syrian gold and silver craft, Moroccan woodwork to Egyptian alabaster— none of the ornate elements employed are foreign to Morocco. "It is a melting pot of cultures," says Paniagua, "We've collected objects from four of the country's imperial cities—Meknes, Rabat, Fez and Marrakech—Egyptian alabaster, some French brush strokes and ad hoc designs." Excluding these, the owners ensured everything else was procured solely from Morocco, favouring a close affinity to the country.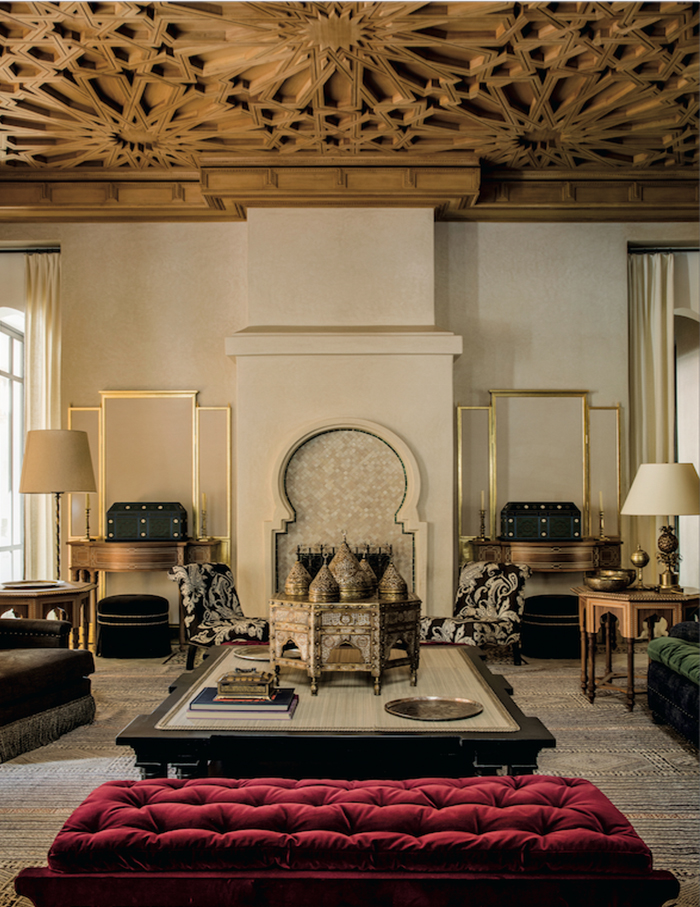 The treatment of floors and walls is a prominent aspect; it enables a complete immersion in the most typical and traditional Moroccan environment. The carpet and drapery fabrics are sourced from the Low and Middle Atlas mountains. Among the glorious textiles is a fabric with trimmings made in Seville, using Moroccan yarn and wool, over eight months. Its trellis combines Islamic crafts and influences of a piece from the Spanish city of Ronda.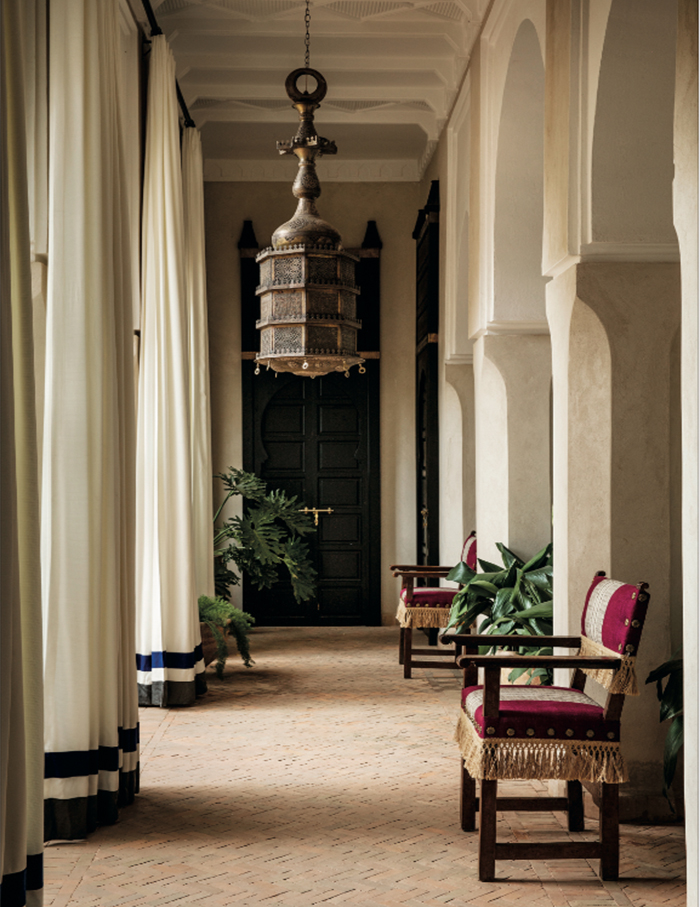 The walls in tadelakt—sand finished in true Moroccan style with black soap and wolive oil—feature traditional zellige sockets based on ceramic tesserae, and some following the patterns taken from the Alhambra of Granada.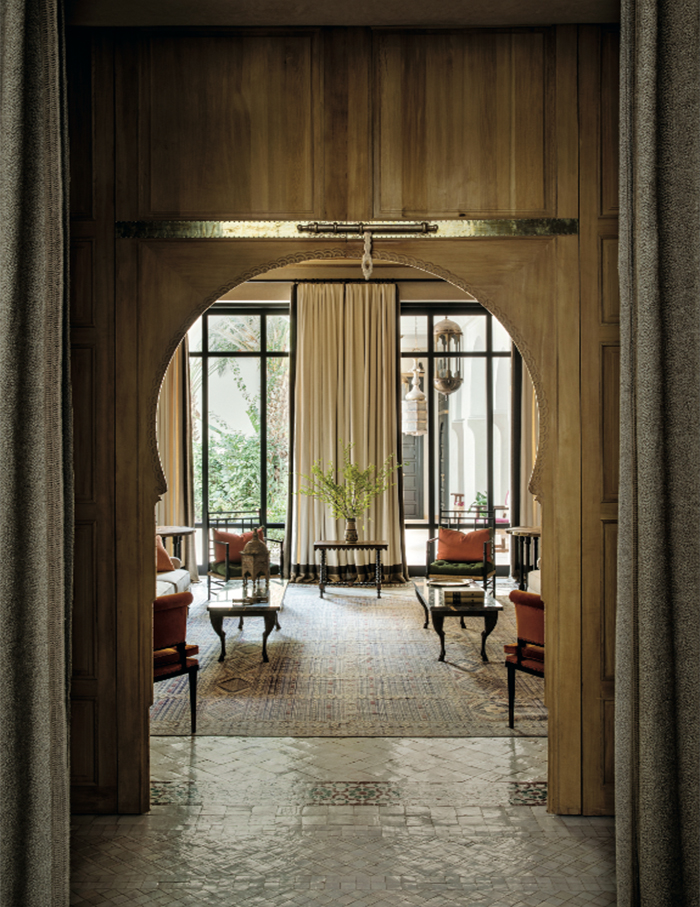 The ceilings showcase models by Gustavo Paniagua, based on coffered ceilings of 16th century Marrakech that connect with Spanish designs of Mudejar tradition. True to the spirit of local craftsmanship, Paniagua fashioned a classic palette of white, green, burgundy and blue. To complete the luxurious setting, the rooms are effused with the quintessential aroma of Morocco—the scent of cedar, making one more of Maite's wishes come true.
Scroll below for more images from Maite and Paolo Bulgari's gorgeous home in Morocco!