Get Inspired
City home with city views—This Pune home by Mind Manifestation Design flaunts curvy silhouettes and vernacular musings
MAY 5, 2022
| By Twinkle Tolani
There's nothing like understated luxury grounded in the simplicity of vernacular materials. If you cannot imagine what we mean, 'The Curves', a 1,400 sq ft Pune home by Chetan Lahoti and Anand Deshmukh, principal architects of Mind Manifestation Design, shall help you shape your imagination. Its address on the 16th floor of condominium development in the vicinity of Pune city's nexus blesses it with scintillating urban views, which the residing family of four drinks in often. 
The visible framework of beams and columns in the existing space gave it a crude, edgy feel. To balance this ruggedness, the architects have introduced curves and gentle planes throughout the home. The entrance, especially aligned to fit the straight circulation corridor, opens into a unique lobby.
While on one side of the lobby, a full-height storage unit with cane shutters impresses, on the other side, over the parapet height, a pivoted facade grants a peek into a brick-laden sit out area. One can easily climb through this opening to the sit-out. The best part is once you climb from one end, your feet are no longer dangling on the other side and instead meet a brick amphitheatre, built at the level of the parapet. 
You may also like: When classic meets modern— This Gurugram condo by The Chalkwhite Home is exemplary of a calm vacation away from the chaos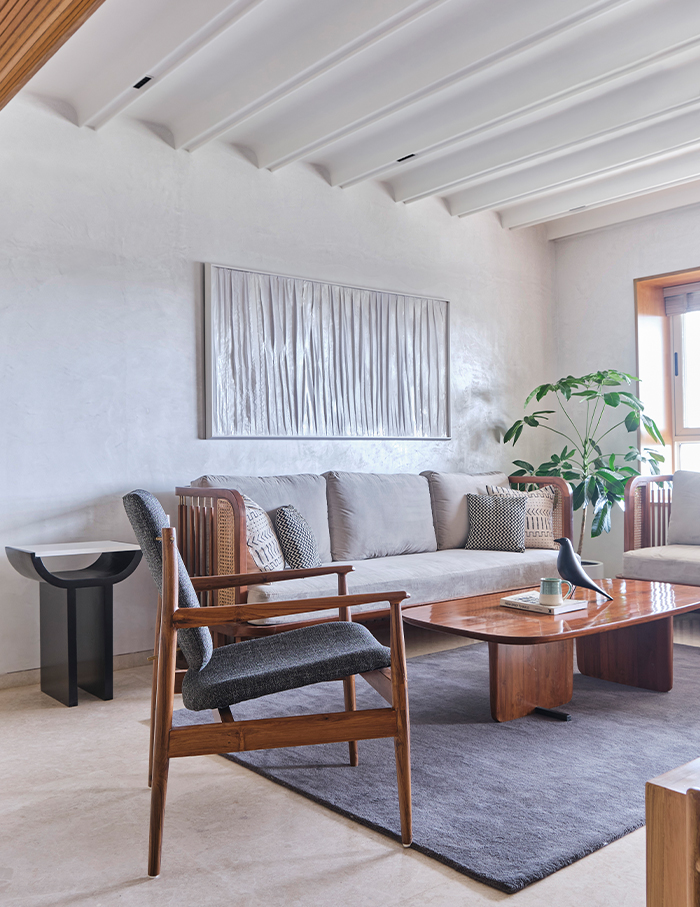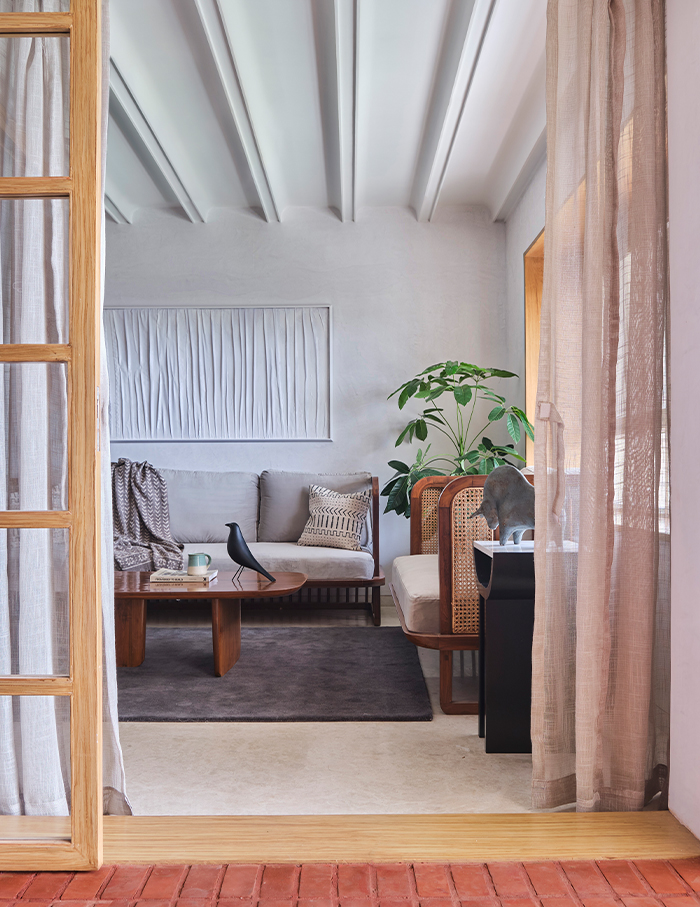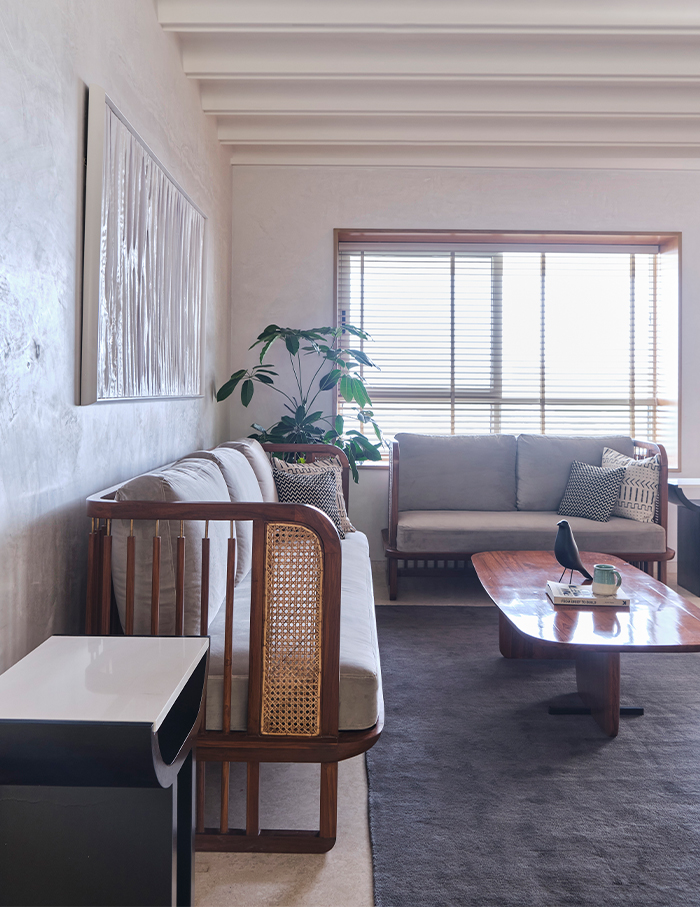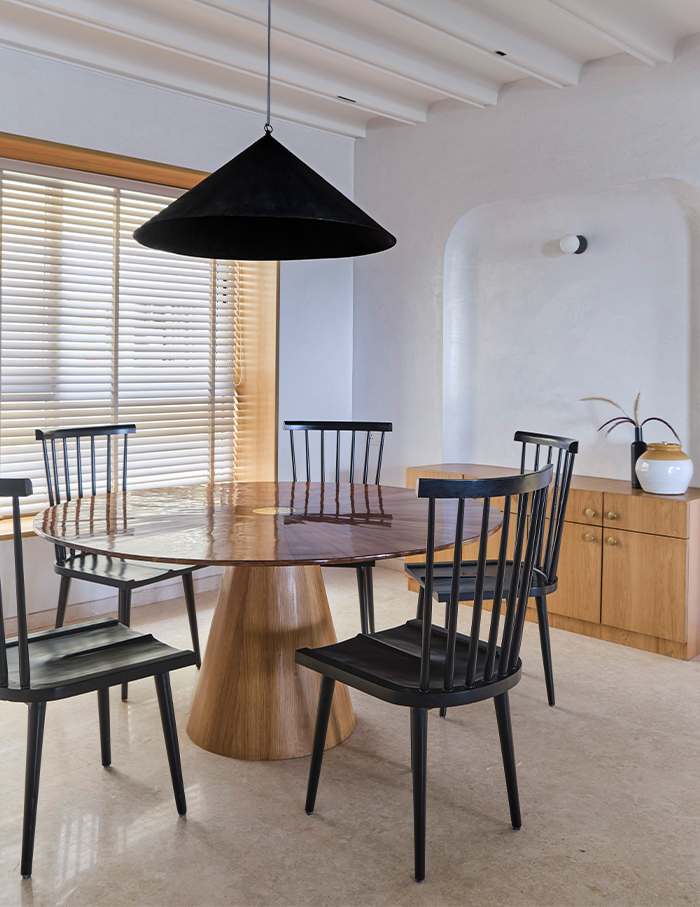 Once out of the trance of the anomalous lobby through a wooden enforced arch, to the left, the living room's lime plastered walls glimmer due to the ample natural light in the space. Solid cabinetries compliment soft upholsteries and cane musings in the area. The exposed beams issue an earnest aura. 
Across a passage under a curvilinear plywood ceiling, a quaint dining area with a round table and five chairs set a tranquil lunch setting. Huddled in a shallow niche, a light-stained console table matches with blinds on the window. A large ceiling lamp in the middle of the area is characteristic of the minimalist yet luxurious theme.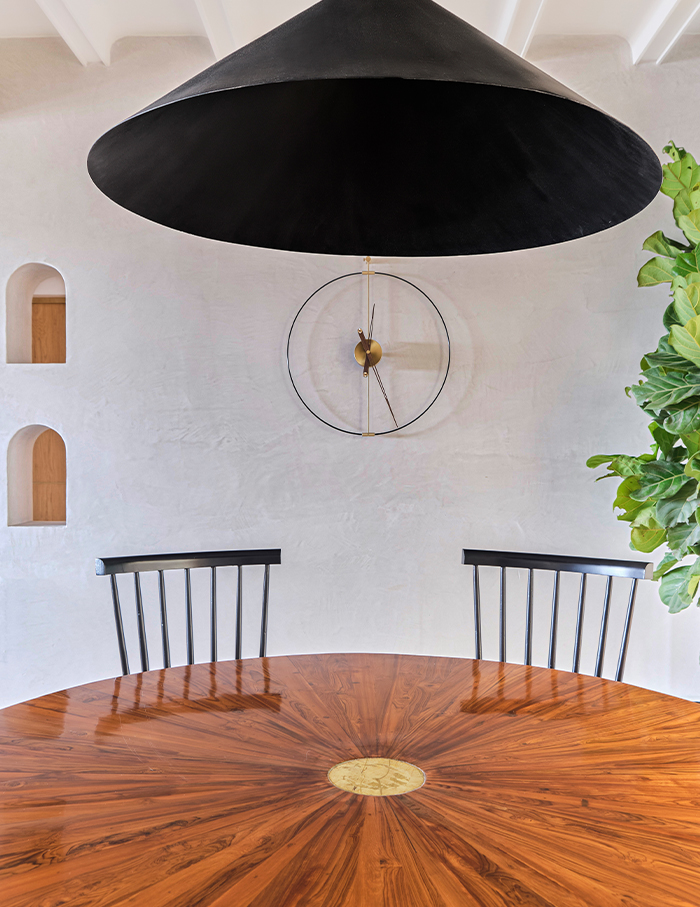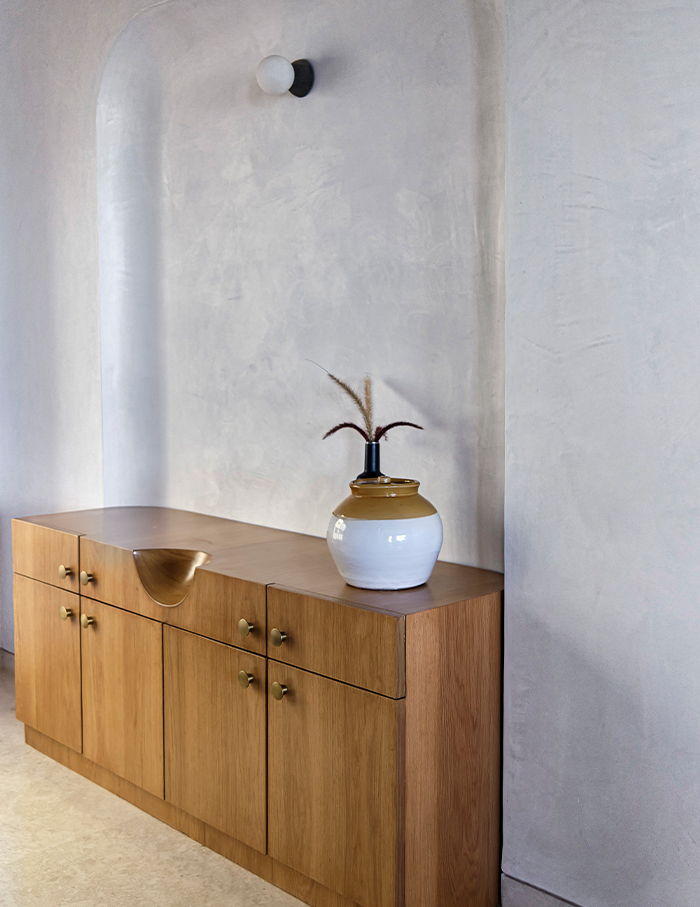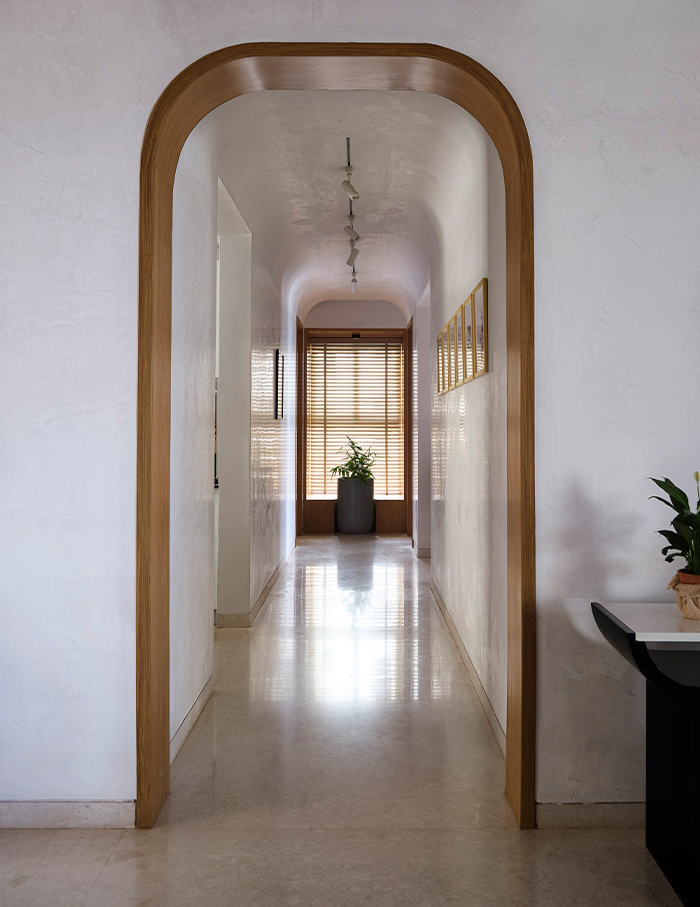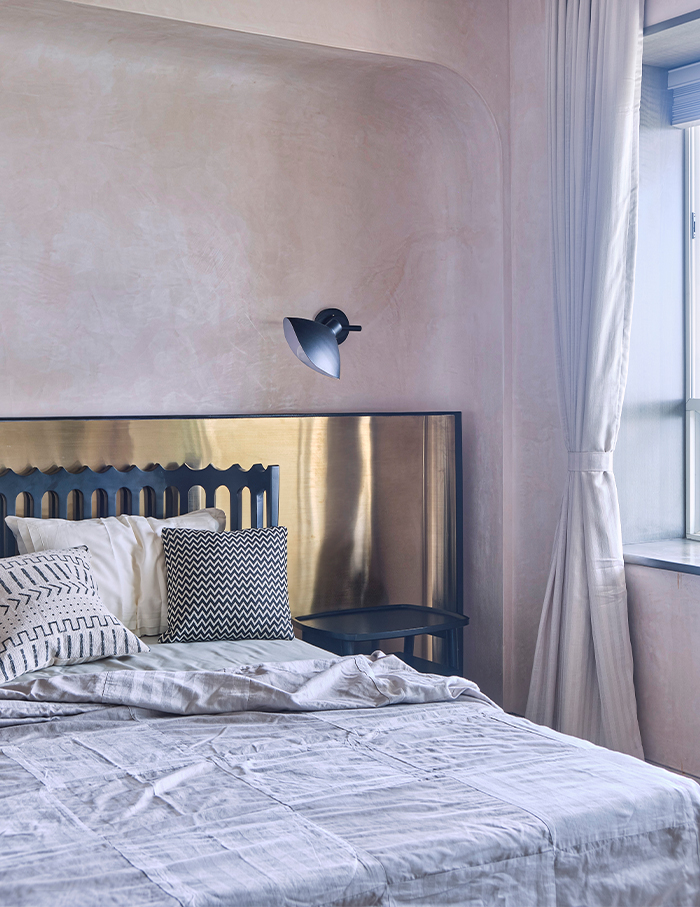 Further along the passage, lie three bedrooms. The first one belongs to the younger son and is complete with a workstation and a folding bed. Next, the elder son's bedroom shows off a more opulent side. A gold-toned metal sheet curved at the ends forms the headboard to a wooden framed bed polished in black, paired with matching end tables and wall lamps.
Inside the primary bedroom, a king-sized bed with a peacock blue upholstered bed back and a full-length storage unit with custom-designed solid wood shutters stand out against dark-stained wooden flooring. While the other two bedrooms had an alcove seating below the window, the primary bedroom has a complete balcony to enjoy views after a long day or to begin an arduous day.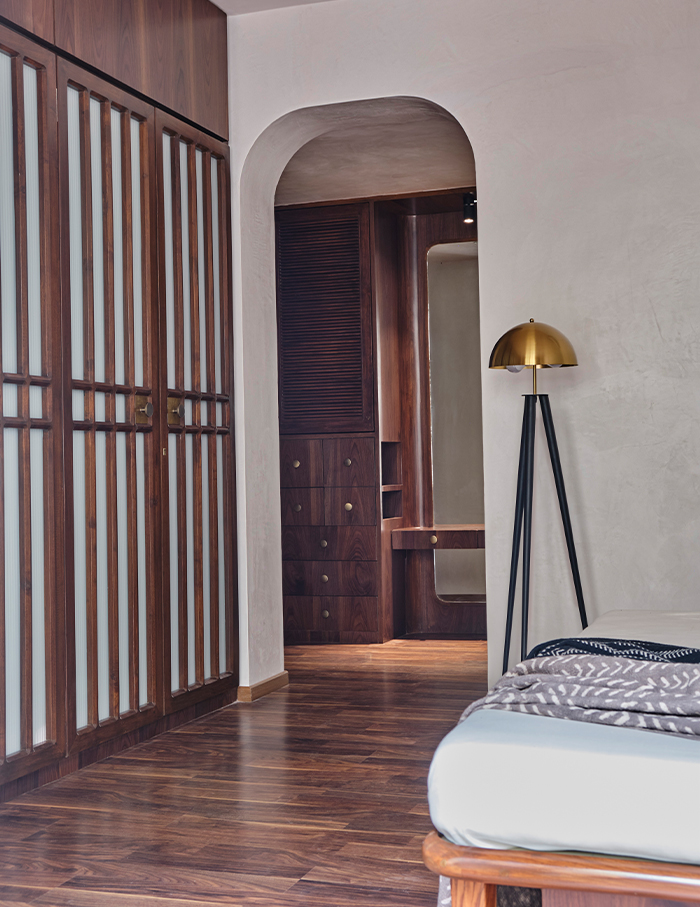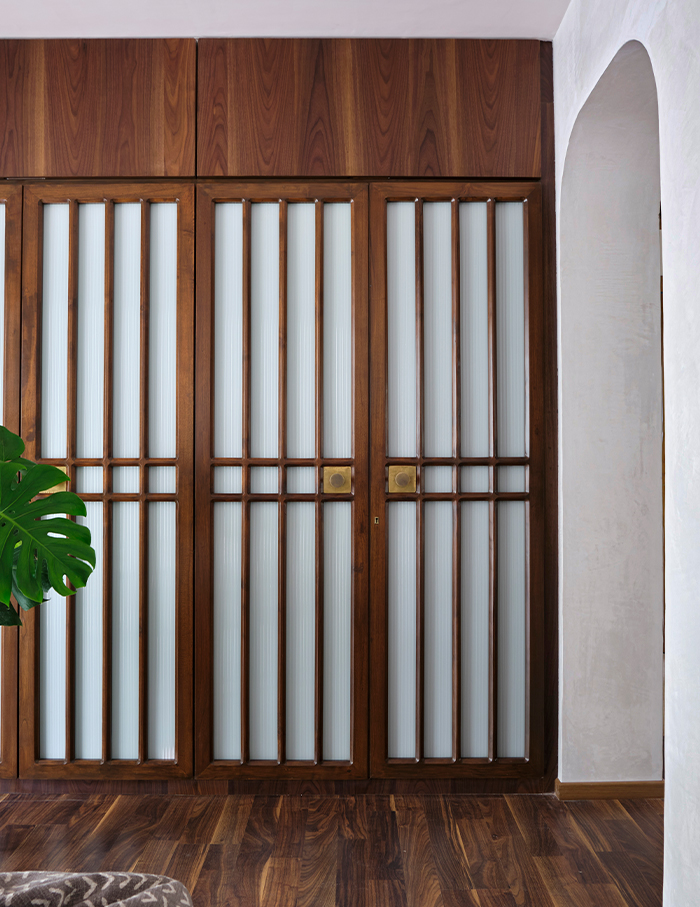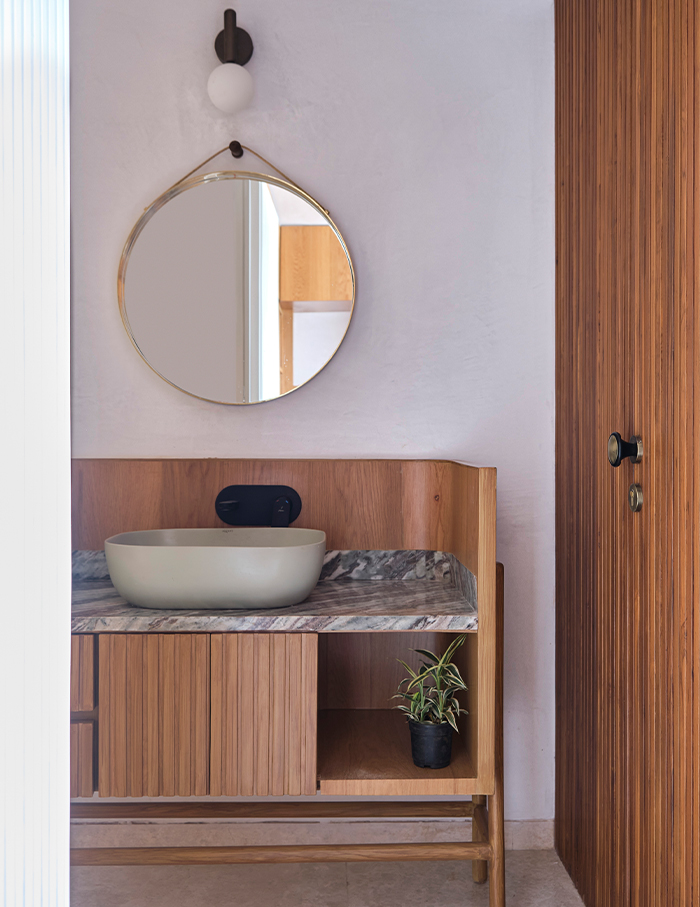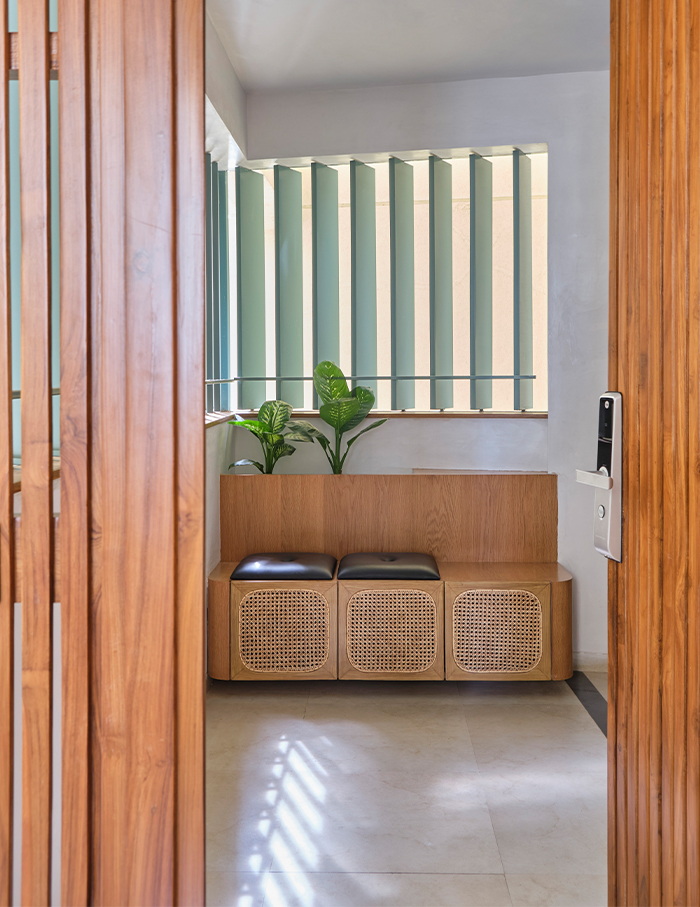 Wrapped in the coolness of lime plaster and elegance of timber, the Curves exemplify that homes need not be over-the-top to feel luxurious. Sensitive design interventions can also uplift the standard of living. Upon being asked about the most rewarding aspect to design, Chetan says, "Establishing visual connections between adjoining spaces with different characters was the interesting exercise throughout the home. Designing the sit-out space as a distinctive alcove with brick cladded-walls and floor was the result of its location and treating as a surprise element in the house."
You may also like: This New Delhi Mulberry Farm by Within is a creative endeavour of textures, materiality and colours