Homes
This New Delhi Mulberry Farm by Within is a creative endeavour of textures, materiality and colours
MAY 3, 2022
| By Shriya Goyal
'Come hither, come hither, under the mulberry tree so green, who loves to lie with me, here shall he see no enemy!' The symbol of health, positivity and love, a mulberry tree becomes the epicentre of this spacious home by Within in Sultanpur, New Delhi.
This 11500 sq ft Mulberry Farm embodies sophistication and luxury with a natural material palette. Design Head Sonal Tuli and Business Head Bobby Tuli of Within craft a warm canvas tied together with the family's preferred colour blue paired with a fusion of colours in personalised spaces.
Expressing their concept, the designers say, "We envisioned a sumptuous home full of stories that resonate with the homeowners. This home to a family of six, is designed as a multitude of interior layers with art and books dotting each space, large chandeliers and exotic rugs along with the impeccable furniture by Within. It is not just a creative endeavour, but a labour of love to make a house that feels like home!"
You may also like: Freshly spruced Apartment 1602 by The Architecture Company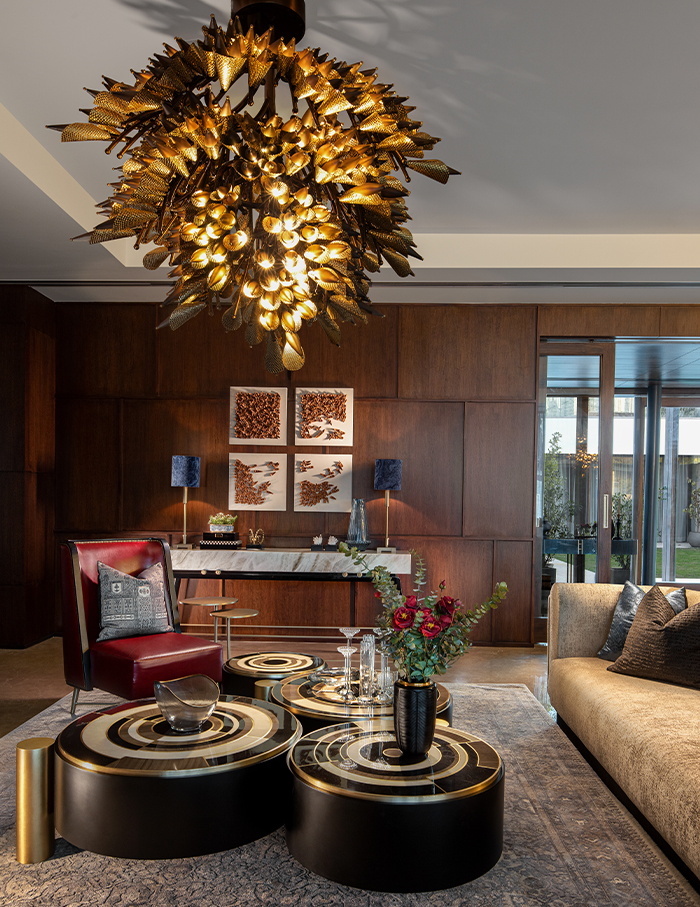 Sauntering through the vistas of lush green court and mulberry tree is the wide corridor that directs towards the formal living room and further branches into other formal spaces. Designed as a gallery of creatives, the walls, floor and ceiling boasts works of art, be it chandeliers as sculptures, intricate carpets with Persian patterns, antique finds and artsy coffee tables. Abstracting colours from a vibrant artwork 'River Rhapsody' by Vinita Karim, the space accents textures and materiality. 
A retreat from daily hustle, is the sunlit dining room inspired by colours of nature with a sea green chandelier and chairs. A large paper art in shades of sea radiates the essence of nature, bestowing calm and drama at the same time. Overlooking the pool, the 'Nightbirds' bar paints a picture of a night sky with a colour palette of blues.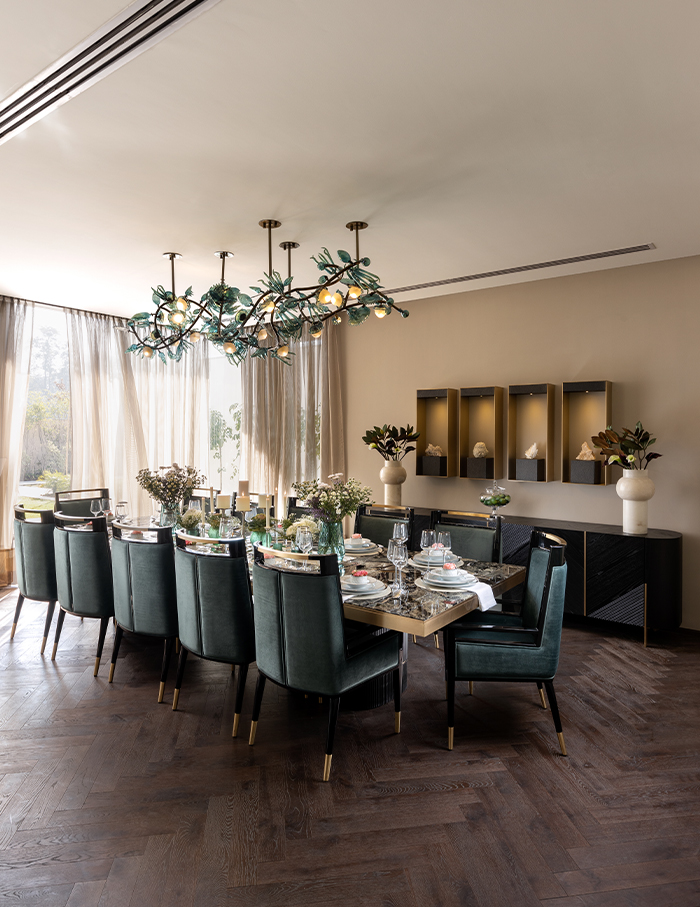 Facing lush gardens, the double height family lounge awakens with coffee and conversations. The colours of the sun, sea and foliage are brought together through art, fabrics and rugs. Perched on a gravel bed, the staircase to the first floor commands the room. A console at the foot, serves as a buffet table for everyday meals.
The home office and bedrooms are a personification of the family members. Grandfather's suite on the ground floor don a neutral colour palette with accents in blue and green. There is a shift to a more feminine canvas, as one walks in the grandmother's room. A pastel colour palette of dusty rose and grey with classic gold accents impart an old-world elegance and delicate vibe.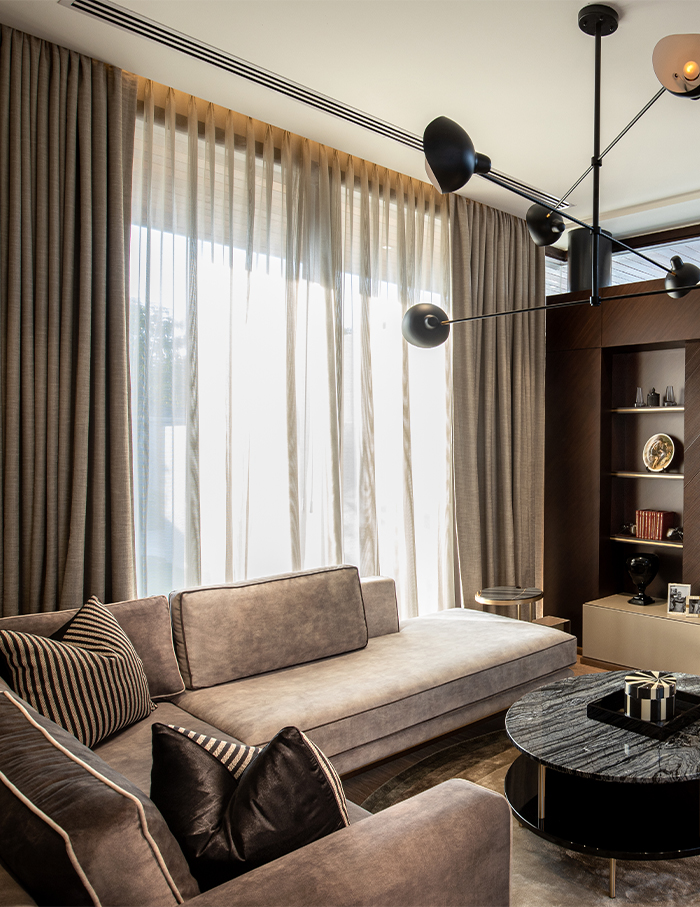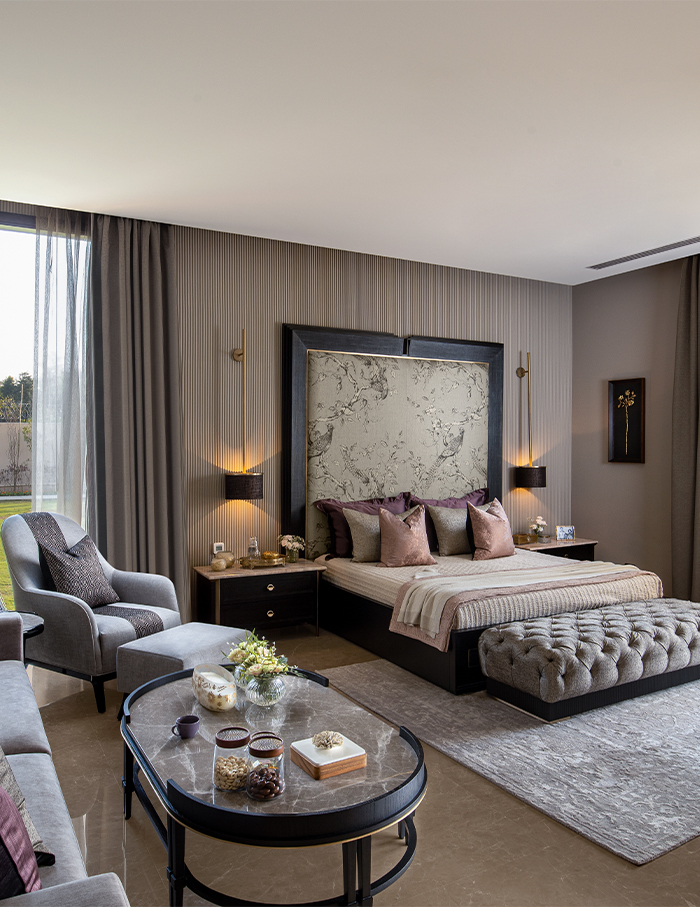 With the warmth of wood and a green art piece, the office on the first floor is intimate and comfortable. The main bedroom is a canvas of grey hues peppered on panelling, wallpaper, flooring and fabrics with a pop of teal.
Marked black, the elder son's room has a raw stone wall, dark bed and black lights balanced against an oakwood floor, olive green leather nightstands and a monochrome rug dolloped with animal prints and furry fabrics. 'Drums on my mind', crafting the room for the younger son, the layout was planned in accordance to the positioning of drums.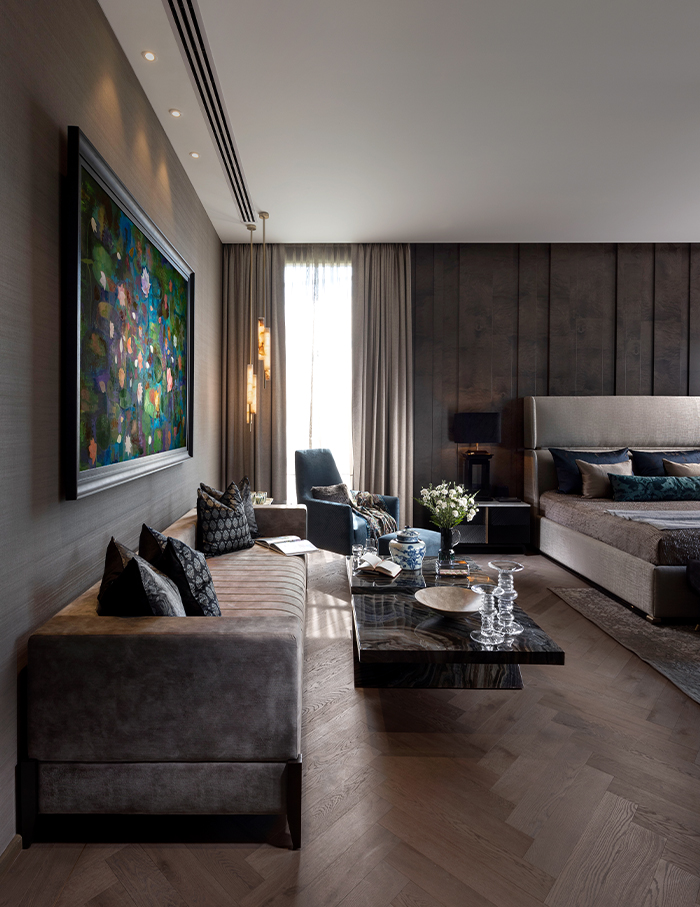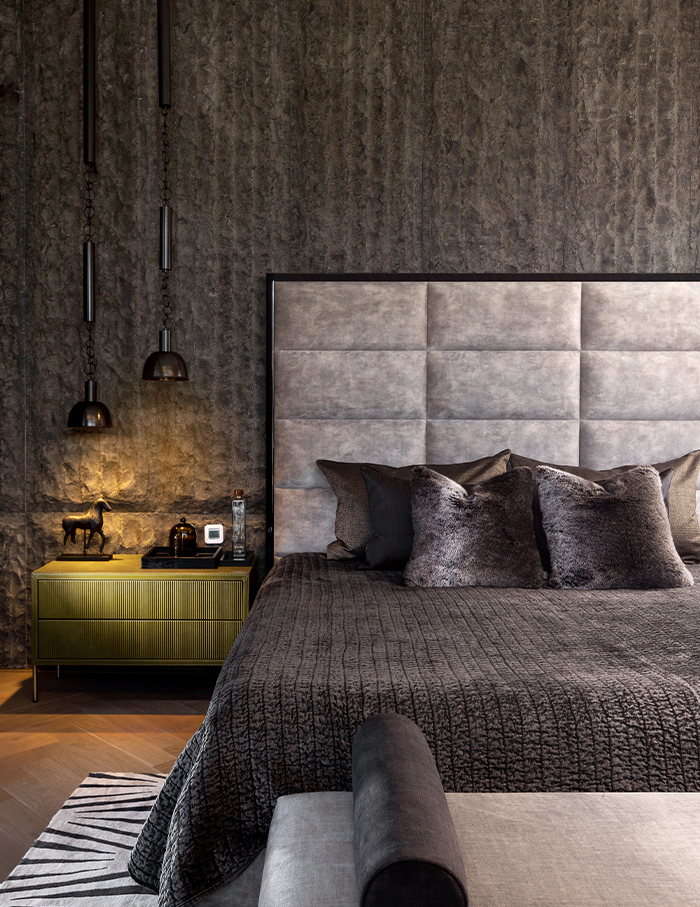 A playful and inviting space, the guest room is dazzled in maya blue walls and a red bed. The light and airy space houses a black and white carpet, coffee table, elfish chairs and architectural photography in vivid tints for additional spunk. An envelope in wood, the bed back is defined in a blue wallpaper. The lively scheme works perfectly with the energy of the drum champion!
With a penchant of transforming rooms into unique human experiences, Within has crafted this bespoke home creatively and thoughtfully. "Within believes in luxury with cheer. Along with rich materiality comes a play of quirk with colours and art accents, to create a home that is comforting, yet liberating," conclude the designers.
Scroll down to see more glimpses of Apartment 1602 by The Architecture Company: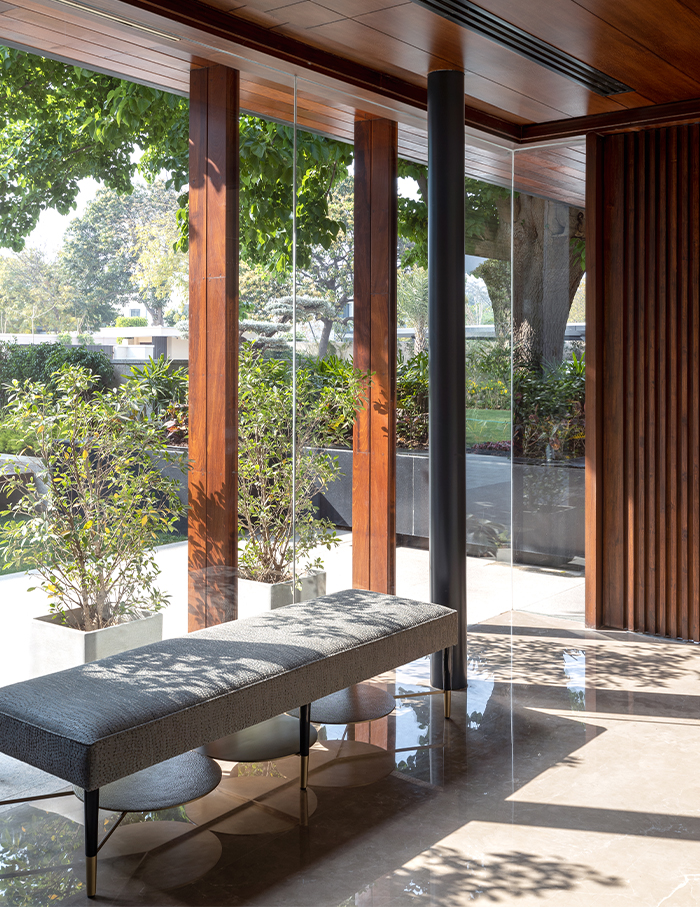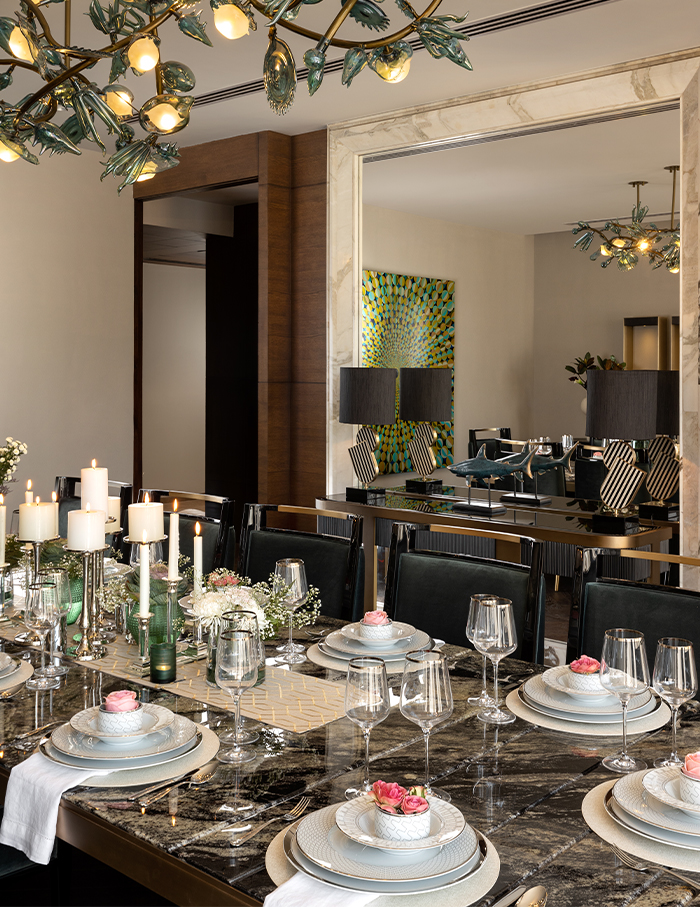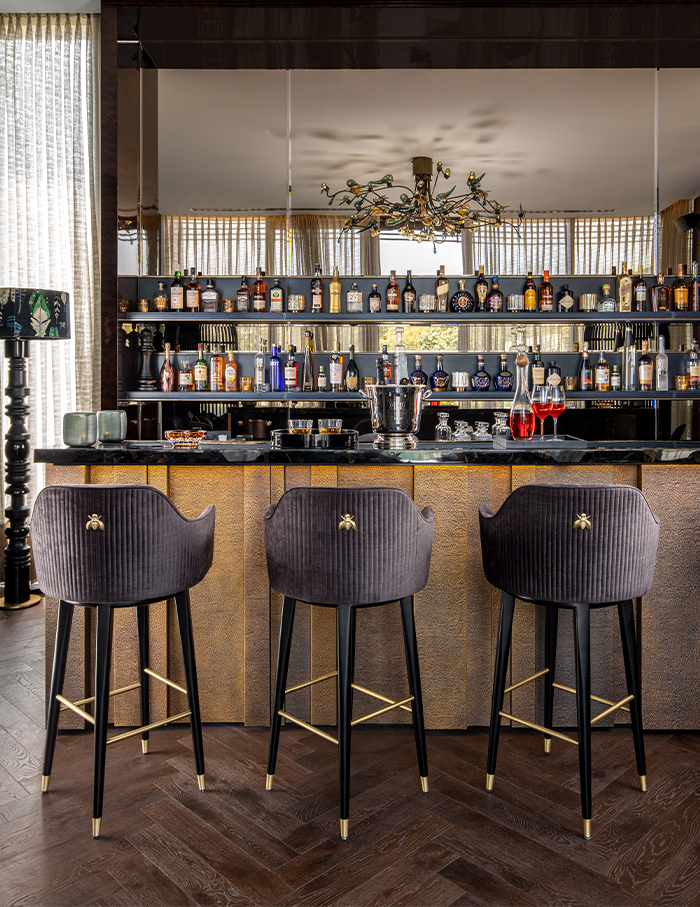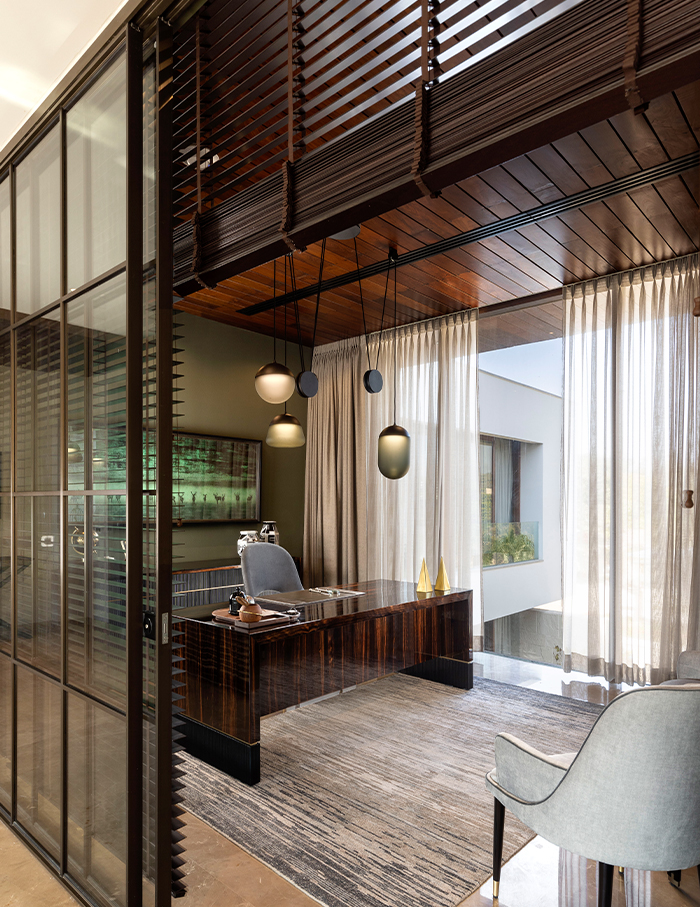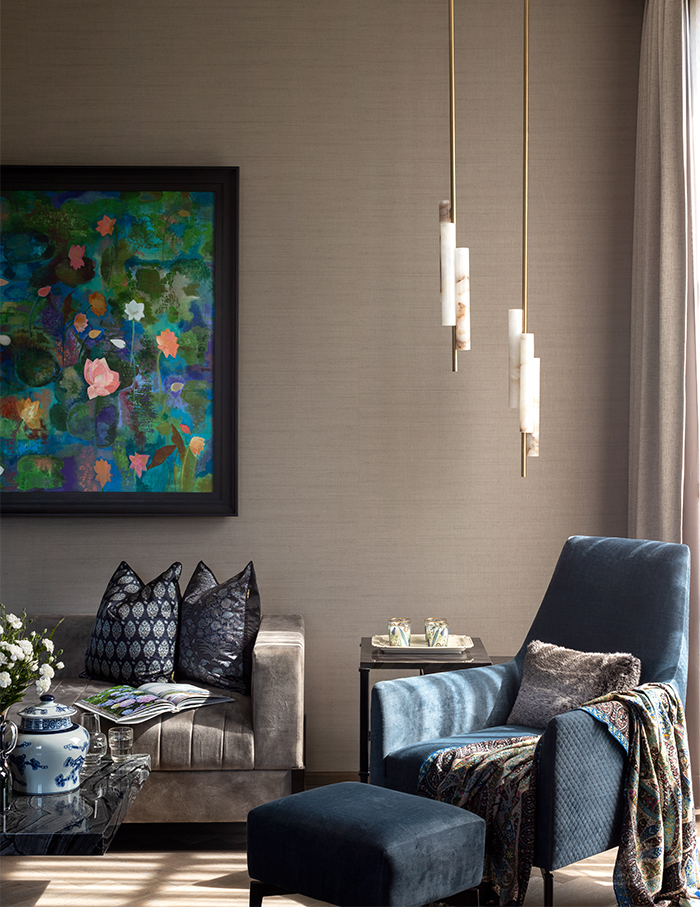 If Mulberry Farm by Within charmed you: Check out this Chennai home soaked in glamour by Farah Agarwal of Chestnut Storeys