Homes
Apartment 1602 by The Architecture Company in Mumbai manoeuvres a material palette that flows fluidly from one space to the next
APR 22, 2022
| By Shriya Goyal
White makes everything right! The fervour of a freshly spruced up space with clean lines and monochromatic simplicity is a solace for homes in cosmopolitan cities like Mumbai. Trailing this thought process The Architecture Company crafts Apartment 1602.
Designed for a young family of four, this 1,400 sq ft abode in Mumbai, styled by Krei Studios nurtures the homeowners' whims to render warmth through materials and lighting. Founders Manasvi Bachhav, Rohit Walimbe and Kulsum Tambawala of The Architecture Company (TAC) hone a dynamic relationship of filtered light on each surface with respect to its occupants.
Like a breath of fresh air, an all-white foyer greets upon entering from the dim lobby. Spilling into the living spaces, the foyer walls curve gently to soften the edges of the room. A pop of colour in a black and white setting—the dining table with its mint green chairs takes centre stage beset by a rustic clay wall cladding. 
You may also like: Boho aesthetics in this Wadala home crafted by Open Atelier Mumbai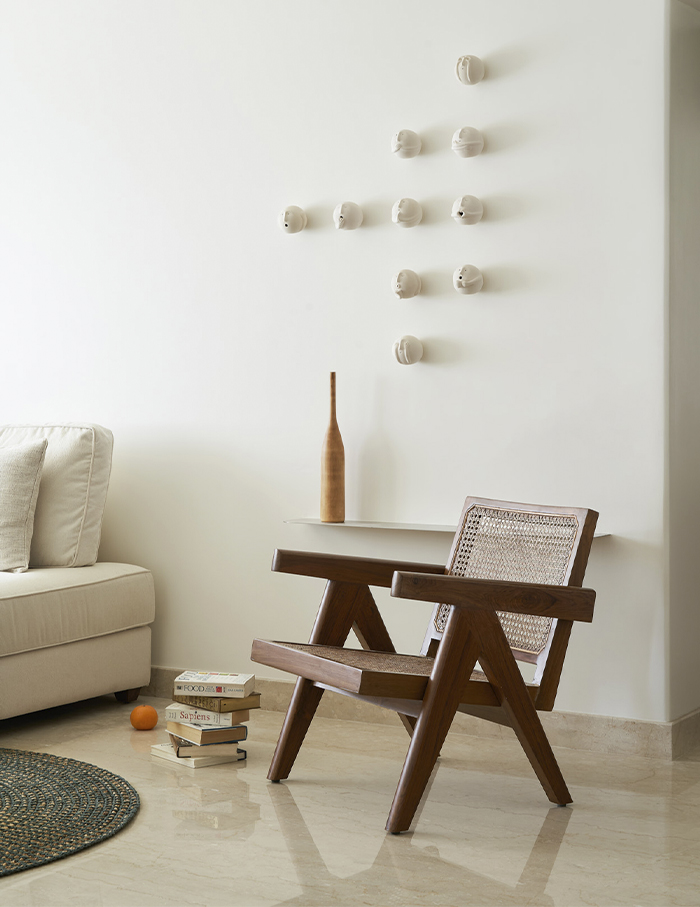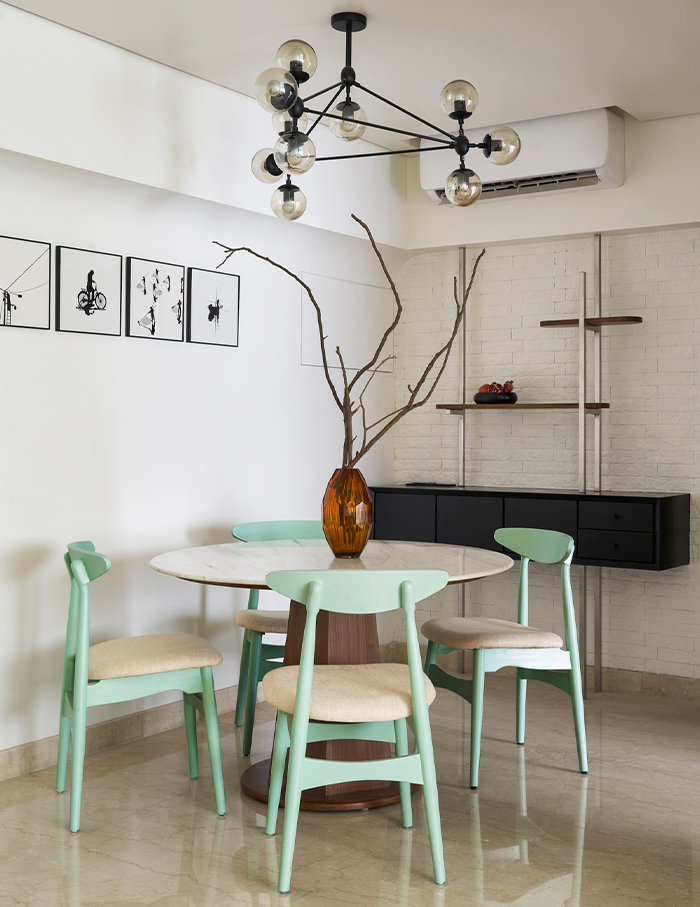 Harbouring three bedrooms, the home is planned to maintain privacy. The guest room near the entrance is designed to serve visitors with comfort. A rotating shelf functions as a room separator as well as a wall-stacked storage, owing to the requirement for the sofa-bed to fold out.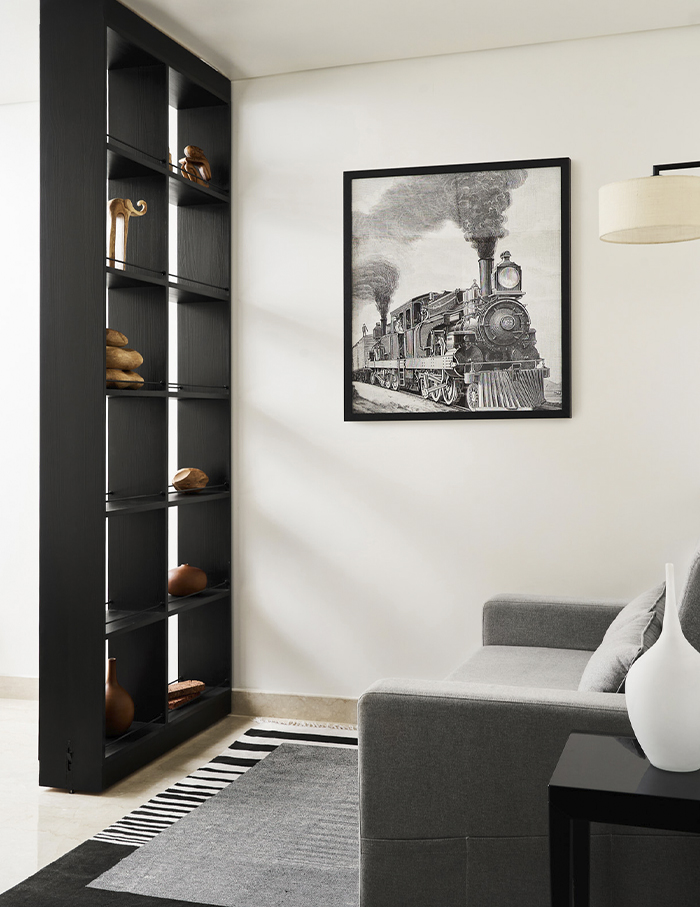 Veering away from the typical design of a kid's space while retaining the playful relativity for the children throughout their growing years, the design abides by the muted white theme of the home. With a dash of red in a chevron bed back, the room introduces quirky details like the handles, headboard and bold patterns.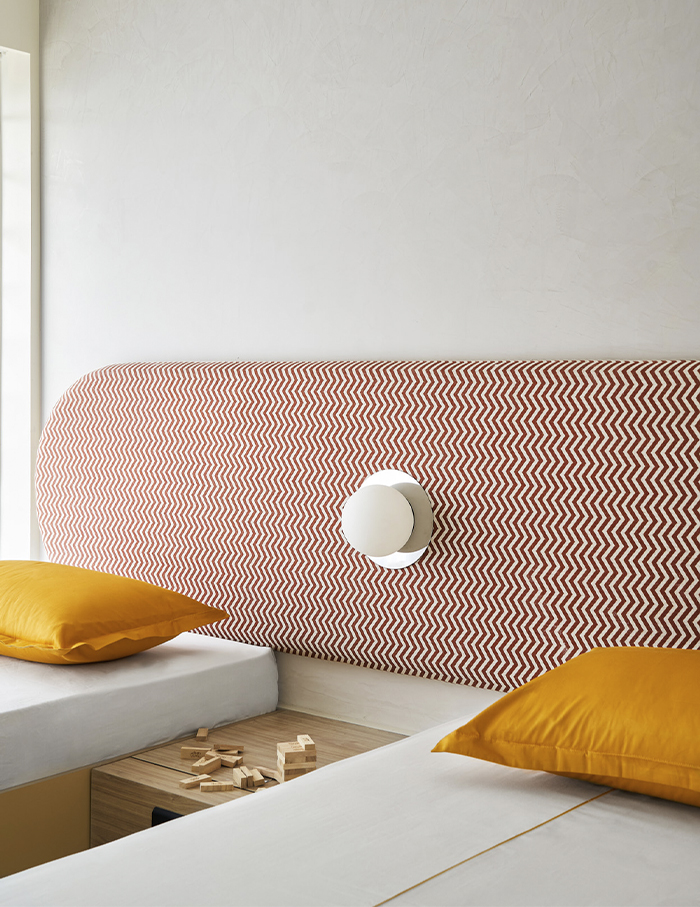 Swathed in a balmy palette of textures, the main bedroom overlooks vistas of the city. A semi-circular study lounge adjoining the room presents itself with panoramic views of the mangroves to the east and a meditative, calm environment swept by the rising sun. 
Influenced by the need to balance the light quality in each room, the designers manoeuvred the material palette with the choice of white and off-white fabrics in the living room and lustre finish on walls and ceilings paired with solid teak wood furniture, cane weaves and jute rugs to add warmth and familiarity.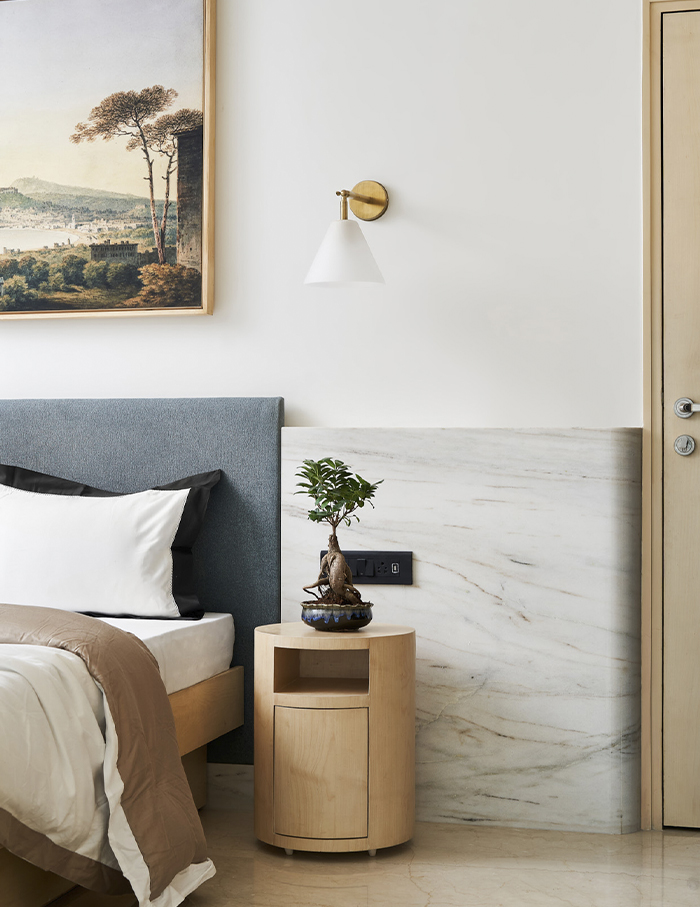 Taking cues from a number of design expressions, a juxtaposition of sleek stainless steel elements brings forth a harmonious contrast of an industrial-chic aesthetic, while adhering to a minimal design theme that responds to the aesthetics envisioned by homeowners.
Scroll down to see more glimpses of Apartment 1602 by The Architecture Company: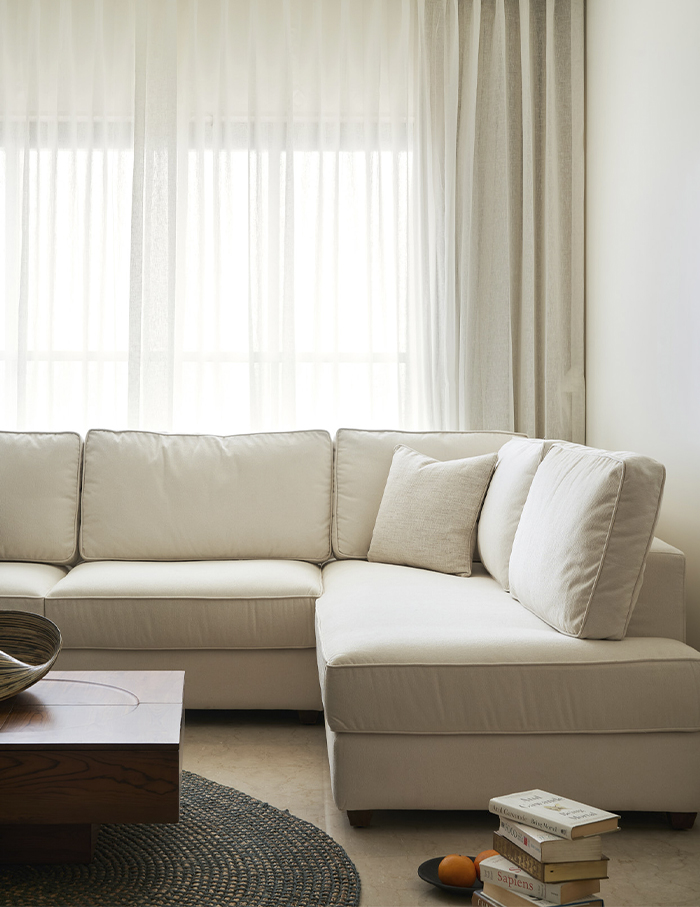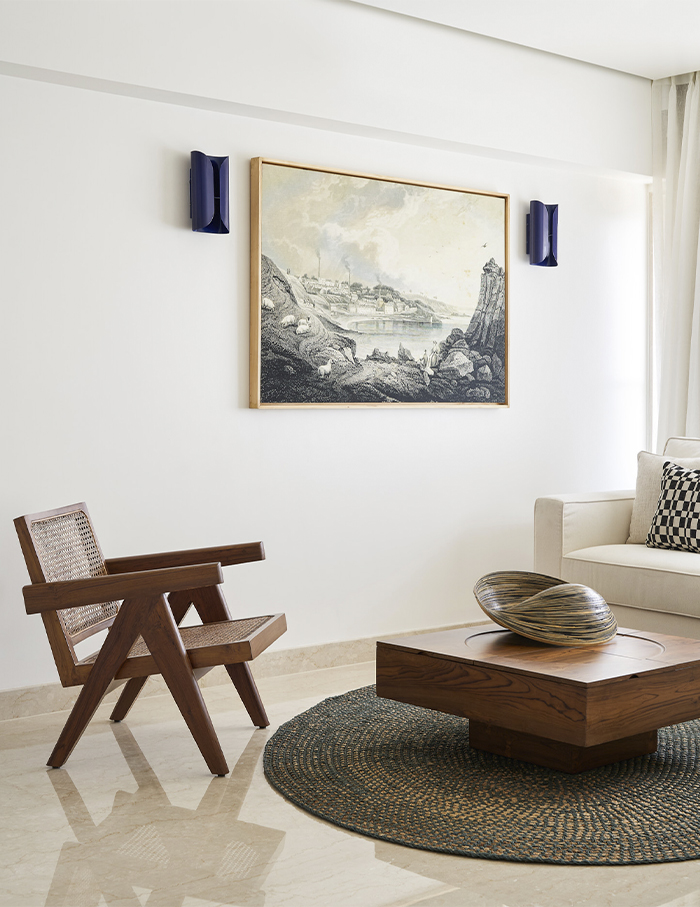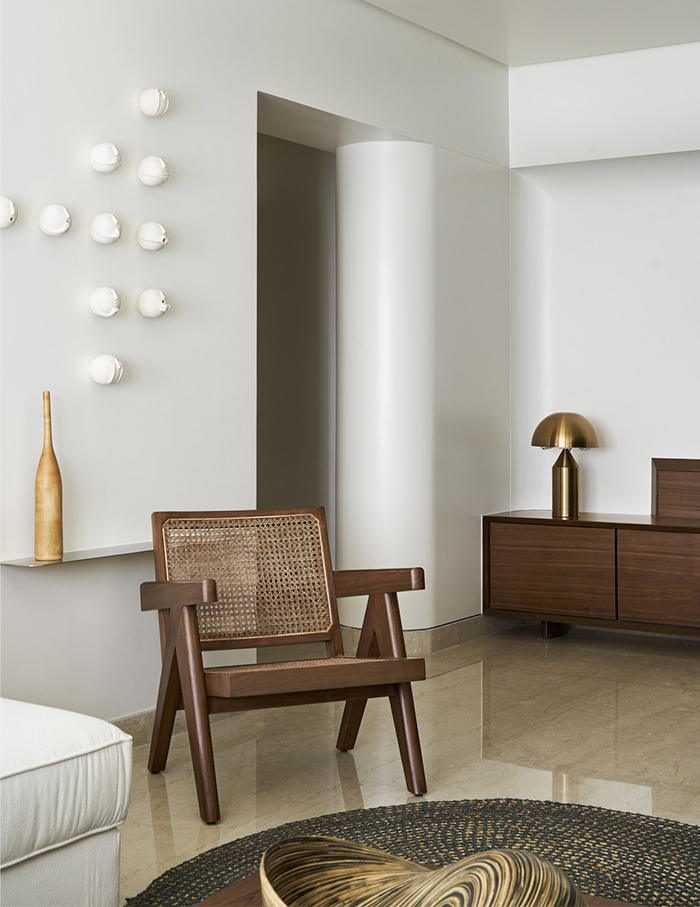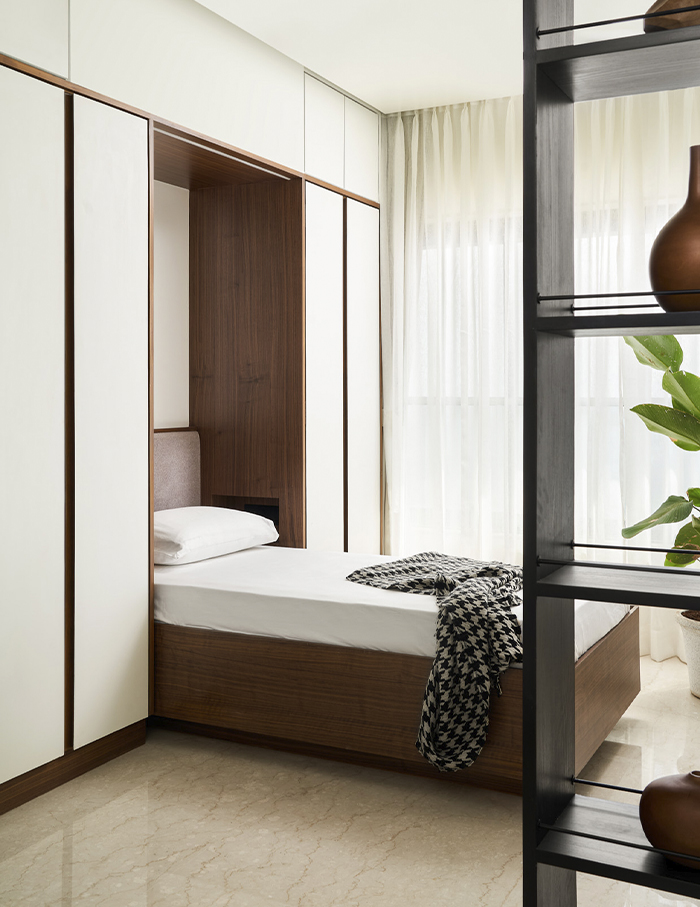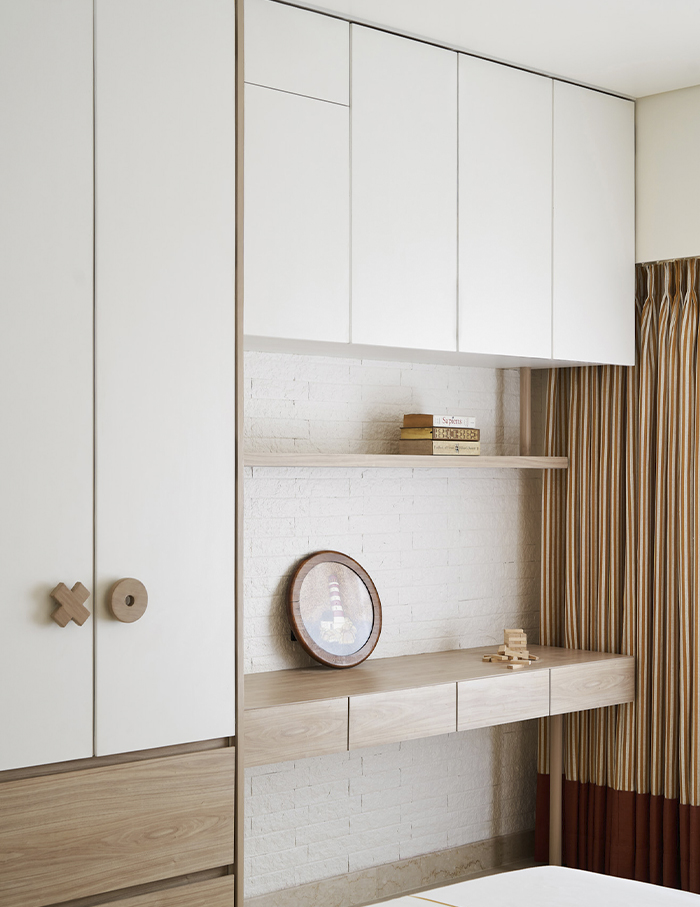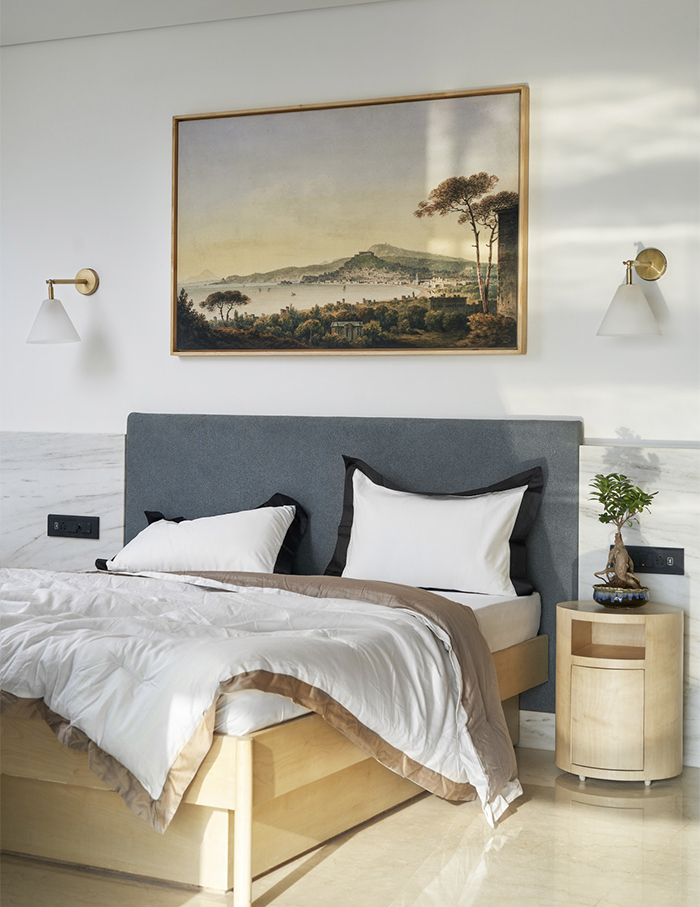 If Apartment 1602 by The Architecture Company offers you solace: Check out this concoction of textures in The Modern Scandinavian Home by U and I Designs