Homes
The Modern Scandinavian Home by U and I Designs concocts textures against a muted backdrop
FEB 8, 2022
| By Shriya Goyal
With a desire for comfortable and captivating spaces, Scandinavian styles exercise restraint while maintaining a cosy demeanour. Crafted on minimal lines, The Modern Scandinavian Home in Bengaluru is spread across 1170 sq ft. Designed by Aniketh Bafna, Sonal Mutha and Sulekha Jain of U and I Designs, the home is a blend of textures and subtle hues to imbibe warmth in minimal schemes. 
"We believe in designs that embody the client's needs and our design vision. While we are fond of making homes fluid in terms of design, we also enjoy exploring, pushing the boundaries and trying to incorporate an edginess. It's about bringing a newness that steers away from conventional ways. We do not sport a signature style per se, yet we are always shaping our designs into the needs of the home," express Mutha.
Relocated from Europe, the homeowners belief in the designers led to a muted colour palette with pops of colour and wooden accents. Respecting their brief for a stylish, warm and uncluttered space, the house boasts a modern-Scandinavian approach with a monotone appeal.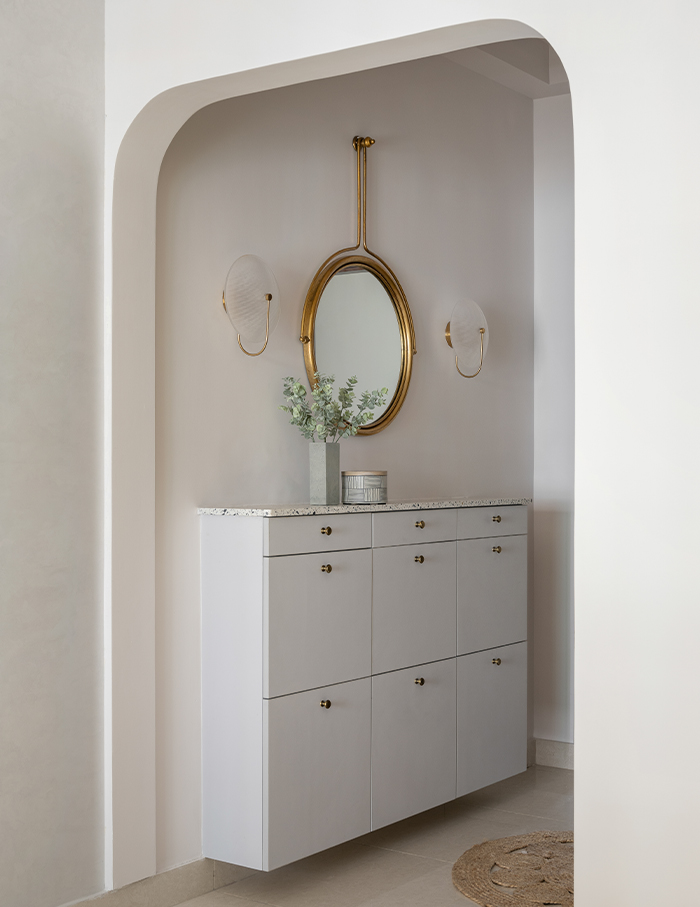 Entering into the foyer with a sleek pull-down cabinet offers additional storage in minimal space. Clean enough to be tidy and bright enough to be happy, the living room is dyed neutral with a dash of colours incorporated loosely throughout the space. The striped fabric of the upholstered arm chairs adds pattern and the circle of colours installed on the wall breaks the monotony.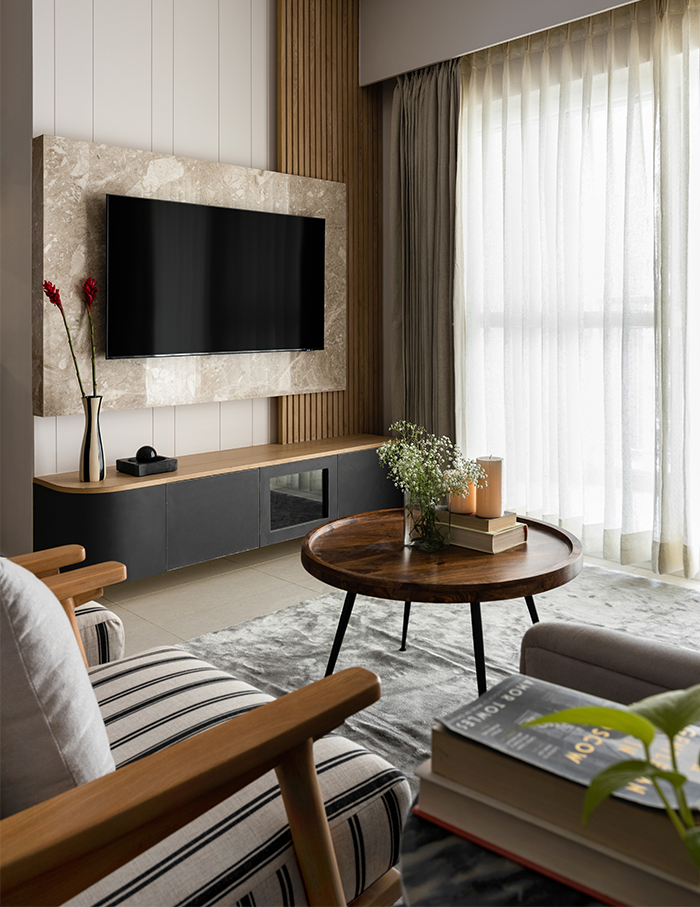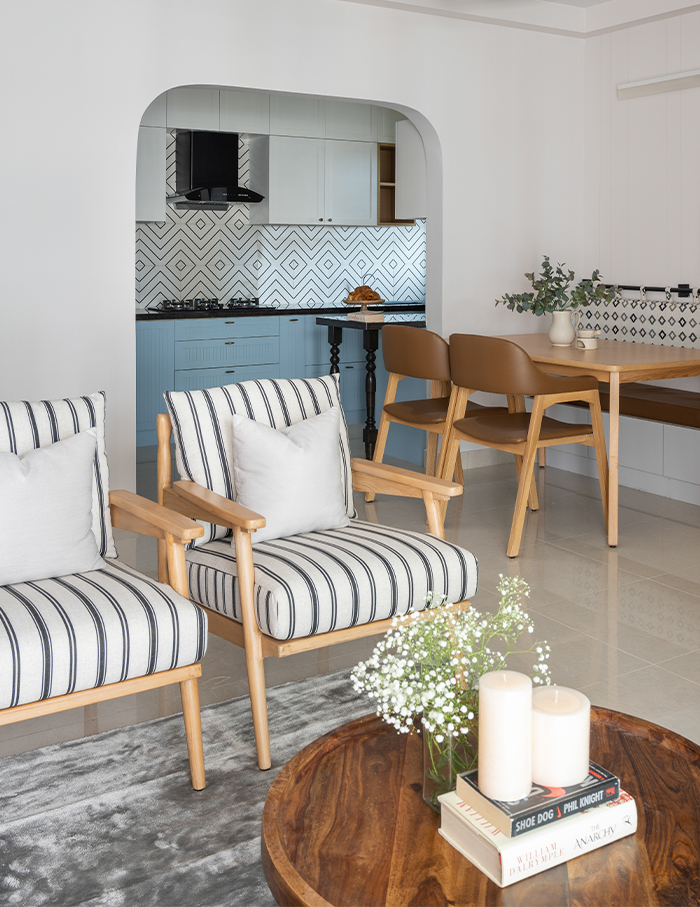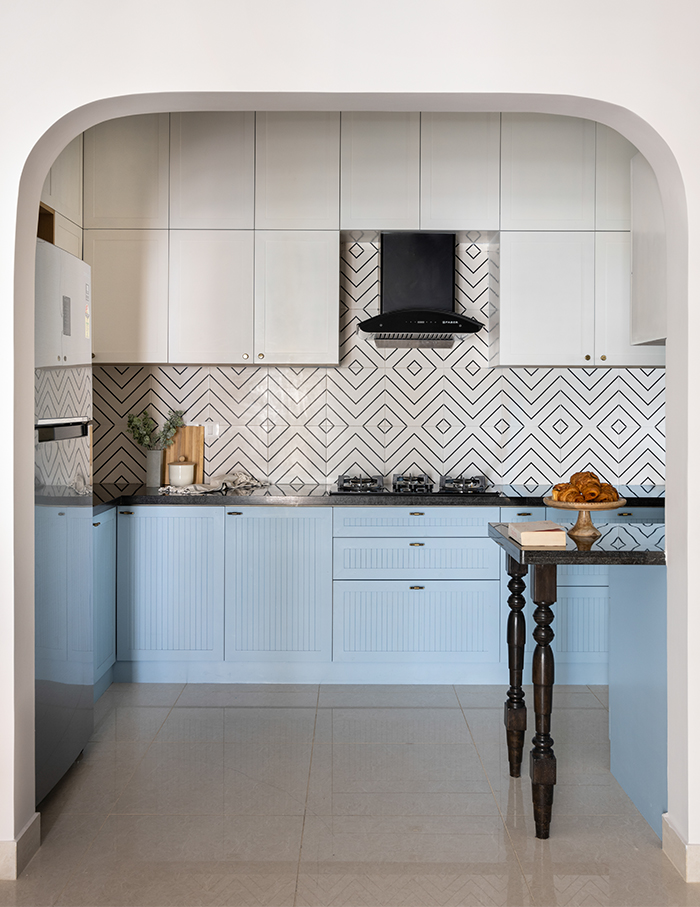 An intimate nook outside the kitchen harbours the flushed dining table in wood contrasted by a quirky fabric in off-white. It takes two flints to make a fire. With a balance of powder blue and vanilla whites, the kitchen is rendered chic and charming. Delicate cabinet details beset on a delineated backsplash renders a relaxed yet merry vibe.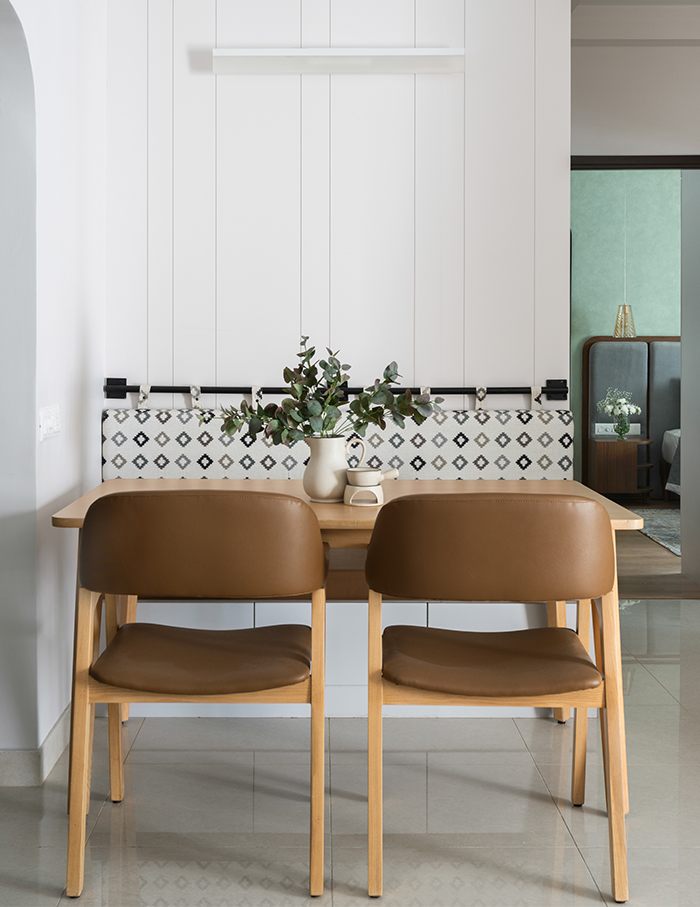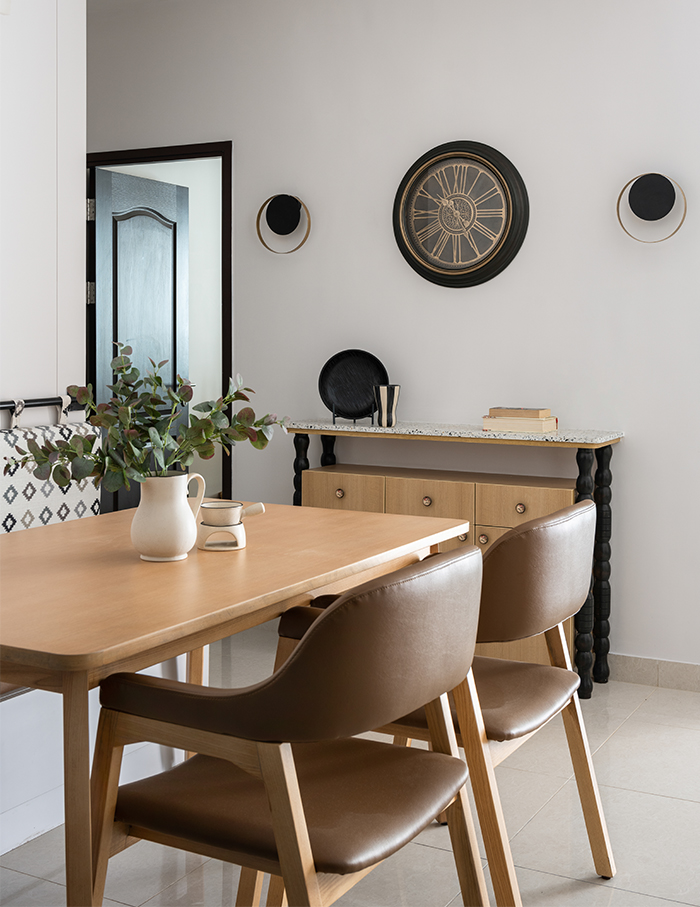 The alley to the bedrooms is pronounced by a sleek retro unit with vintage knobs and hand carved legs. The emotion of euphoria on entering the bedroom after a long day can be vitalising. Dressed in a tender green texture, the main bedroom is a peaceful sanctuary. Wooden flooring, grounding rug and dusky grey fabric sets a cosy mood with simple clean furnishings.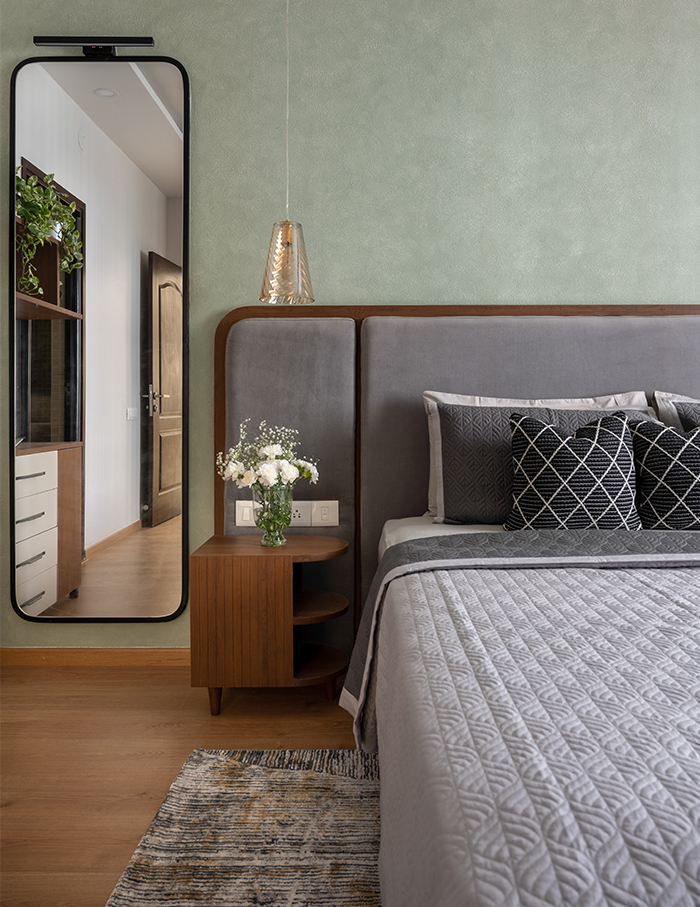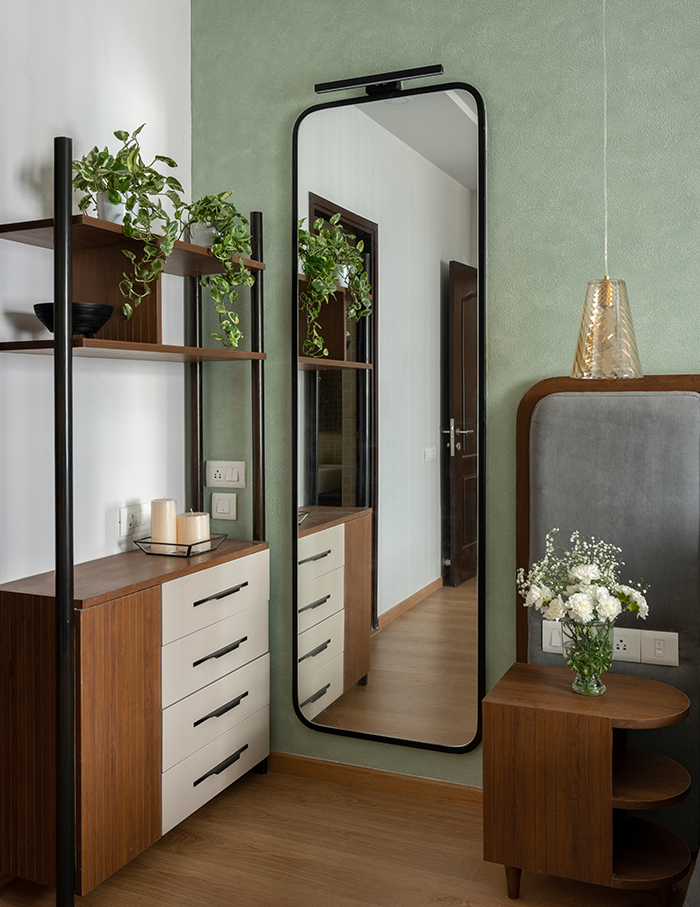 A multifunctional tender retreat, the second room is designed to spoon out as a study and guest bedroom. With a sofa cum bed and study desk in warm tones, the space is light on the eyes and fit for its outcomes. Arched wall and ceiling details along with wooden accents embraced throughout the house impart soft elegance.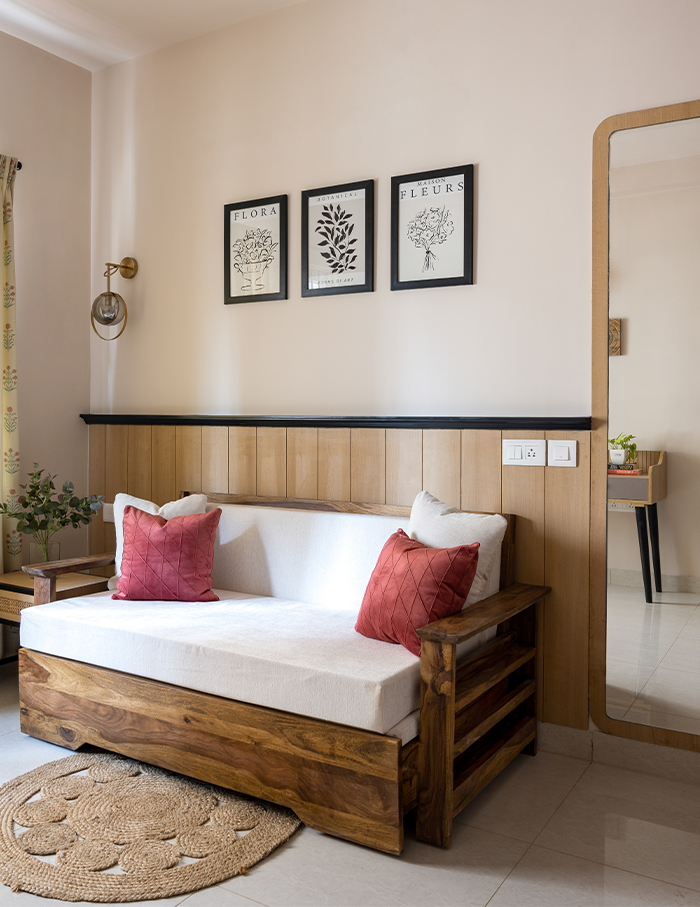 From conventional ply-laminates to exotic American ashwood and marble stones to contemporaries like fluted panels, terrazzo tops and metal fabricated details, the home is an array of textures set against a neutral context, rendering the space in a light, pleasant and warm environment. "Overall, the home is chic and inviting, definitely making it 'hygge' — a raging term in the world of interiors!" ends Mutha.
If this cosy and neutral home by U and I Designs make you feel warm, then check out this soothing Bengaluru residence by Yellow Door Architects