Homes
Soaking up in sunlit soft glamour is this Chennai home imagined by Farah Agarwal of Chestnut Storeys
APR 8, 2022
| By Pratishtha Rana
An unhurried cadence casts a spell at this home, making one take a double take in the ways it presents its design demeanour to the eyes.
Composed by Farah Agarwal, Founder and Principal Designer of her interior design studio Chestnut Storeys, the 3,500 sq ft residence concocts its own vocabulary of simple but evocative aesthetics, a balance seldom quite difficult to bring forth.
Centrally located in Chennai, this three-bedroom apartment is a home dweller's dream come true with a seamless design dotting the space at every turn. "The client's brief was for a smart, simple and classy home that flows uninterrupted from room to room with pops of colours spread across and still not looking loud or overwhelming."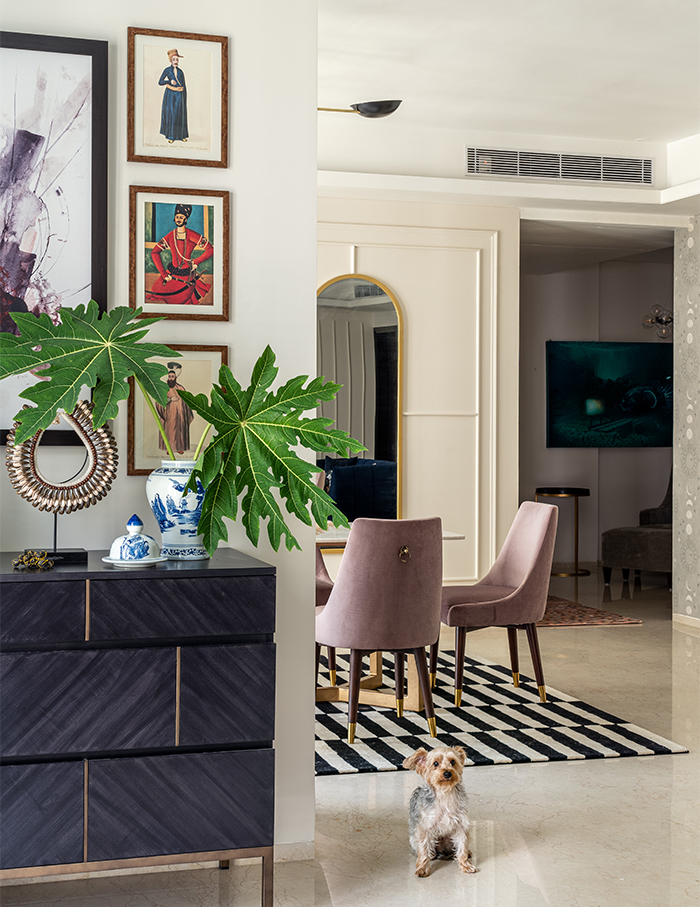 While minimalistic design intentions of the designer make a palpable appearance in this Chennai home, a uniform rhythm of sober glamour, plentiful daylight and classic furniture serenades corner to corner, turn to turn.
Entering the foyer, an arresting gallery wall treats the sight. A premier assortment of furniture and decor reveals credenza from Magari, antique Kalasam from HB the studio, tribal neckpiece from VA gallery, with intriguing prints from Ikka Dukka and the snug spread of rugs by Jaipur Rugs.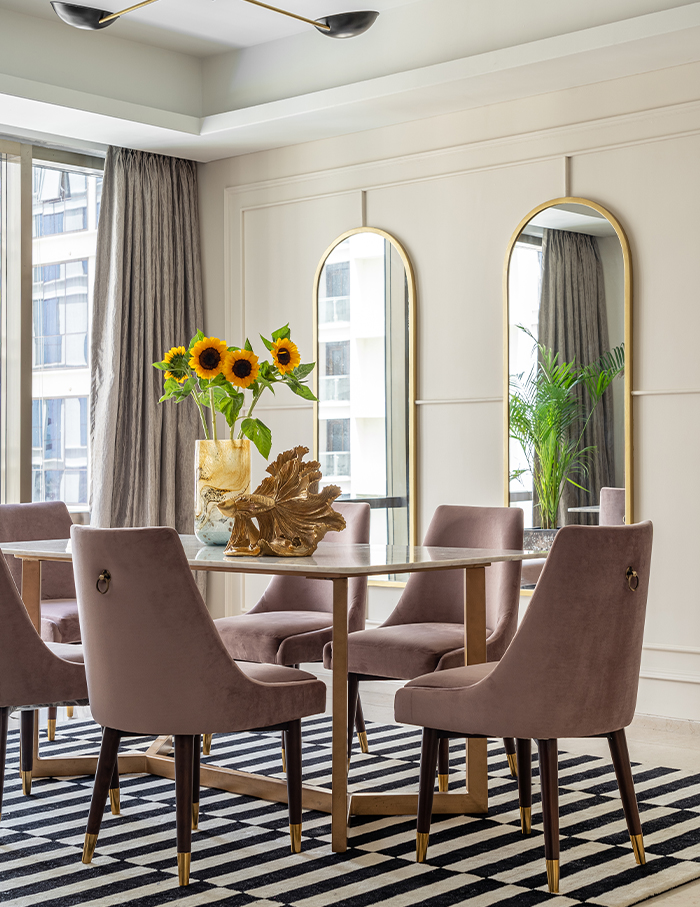 Exemplary of good balance in design through coordinated (and beautifully uncoordinated) elements, the living room on the right of the foyer celebrates diversity of soft hues and materials such as wood, metallics, suede and leather.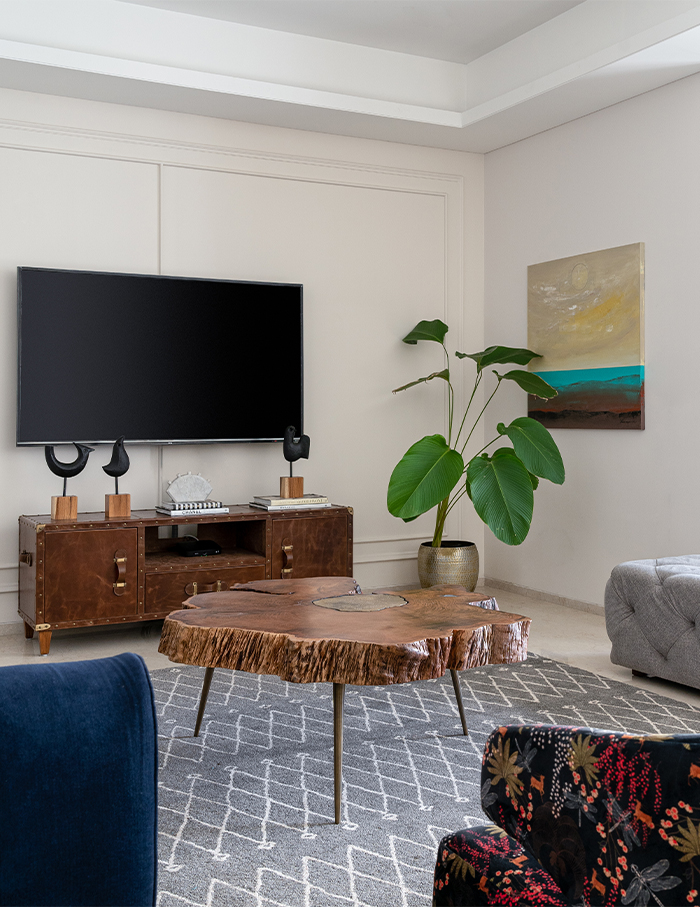 The living zone then nimbly flows into the dining setup where pastel pink suede chairs border a lean table standing elegantly on a black and white rug from Jaipur Rugs iterating a perfect pop of colour. Placed on one unmissable corner here is the leather bar unit by Studio Ochre with gold makaras from HB Studio and artwork by Amit Lodh from Gallery Veda.
Remarking that although it wasn't a glaring challenge as such, but "The living area had to be given much thought in its layout to cater it as a formal space, comfort for some tv watching while keeping mind the display of all the awards of our client," reveals Farah.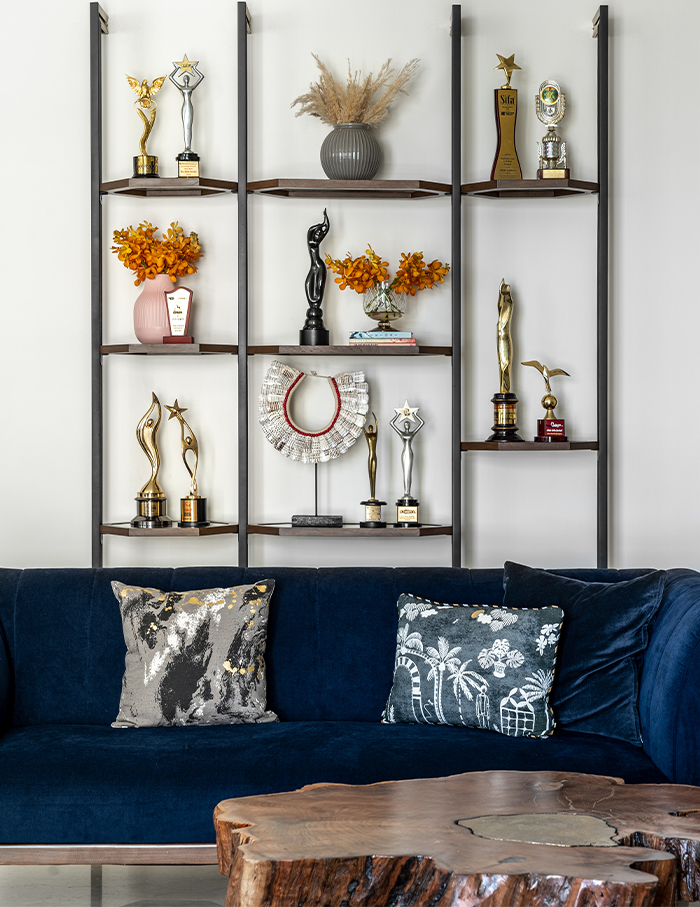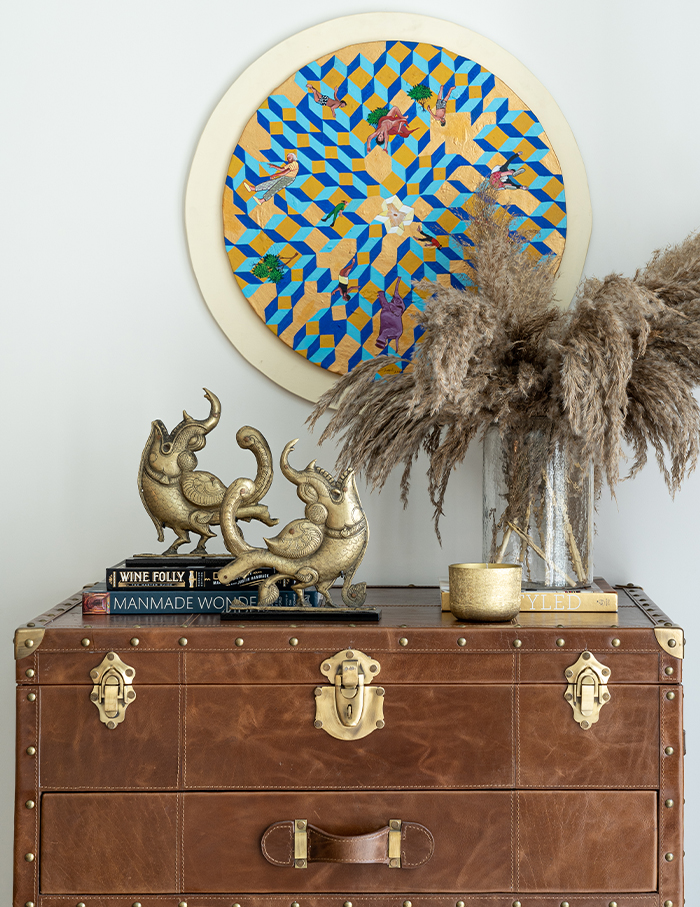 The leather bar unit is from Studio Ochre withMakaras atop from HB the studio and artwork by Amit Lodh from Gallery Veda. Twinning long mirrors installed right opposite the bar add a sense of roominess and amplified light while doubling up as a stylish interlude to this area. 
Beyond an astutely planned pooja space is a pathway navigating to the private quarters of the residence with a charming study cooped up on the right and a walk-in closet on the opposite side.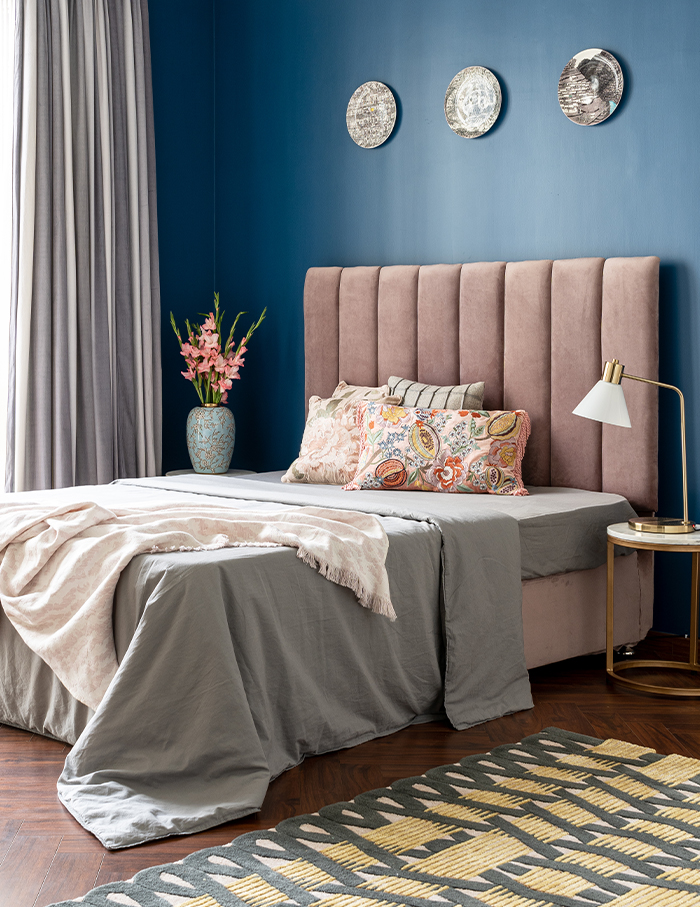 Sauntering in, a master bedroom and guest room complete the home draped with an inviting design mood. Sketching visuals of understated nobility, the master hosts a centrally placed plush bed, rug by Jaipur Rugs, a svelte ottoman by Magari along with a dual-toned artwork by Pulkit Prajapati from Gallery Veda swathing the wall as a statement piece above the headboard.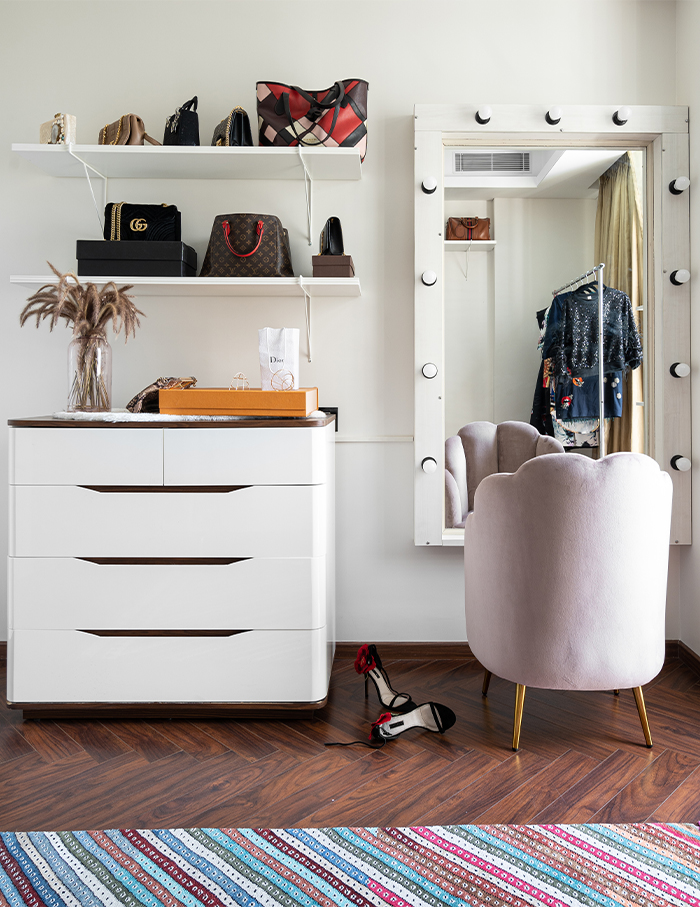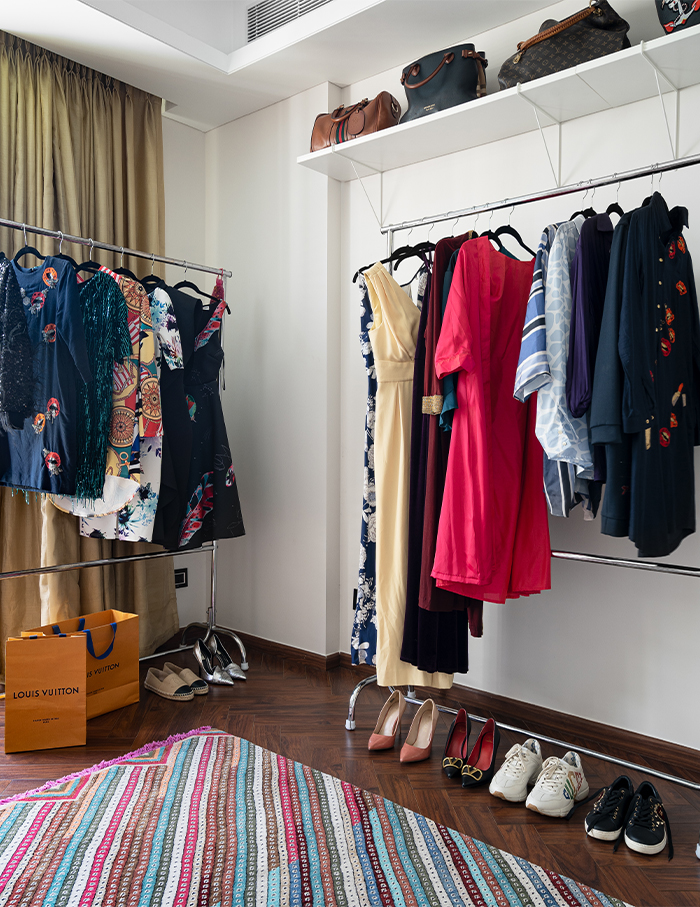 A poetic play of contrast resumes in guest room with a blue wall giving company to a pink bed headboard and a yellow-grey rug by Jaipur Rugs adding hints of art to the floor. 
This den is a fitting celebration and recall of Farah's personal design philosophy, which is to bring the best of duality through hints of avant-garde, eclecticism and intuition. She rightly sums up, "While minimalistic design has a dominant presence in this home, extraordinary art pieces and statement furniture give life to the space in bright little pockets."
You may also like this Mumbai home of wood, cane and colours by Minnie Bhatt