Homes
Conversations of comfort—Minnie Bhatt crafts this Mumbai home with a mellow rhythm of wood, cane and colours
DEC 30, 2021
| By Pratishtha Rana
A mellow whiff of comfort envelopes you almost instantly when you enter this space that is connected, capacious and cosy. 
Perched inside The Imperial Edge, a luxurious skyscraper overlooking one of the busiest roadways in South Mumbai, this 3,000 sq ft apartment is where the young couple and homeowners, Trishya and Suhail Chandhok, find a slice of solace everyday amidst the constant scurry of the city of Mumbai.
Uncomplicated but significant few pointers define the brief of this space—casual and easy but equally suffused with warmth. These interior details were all wrapped up and sewn together elegantly into this home authored by Minnie Bhatt, the founder and creative force behind her eponymous studio, Minnie Bhatt Design.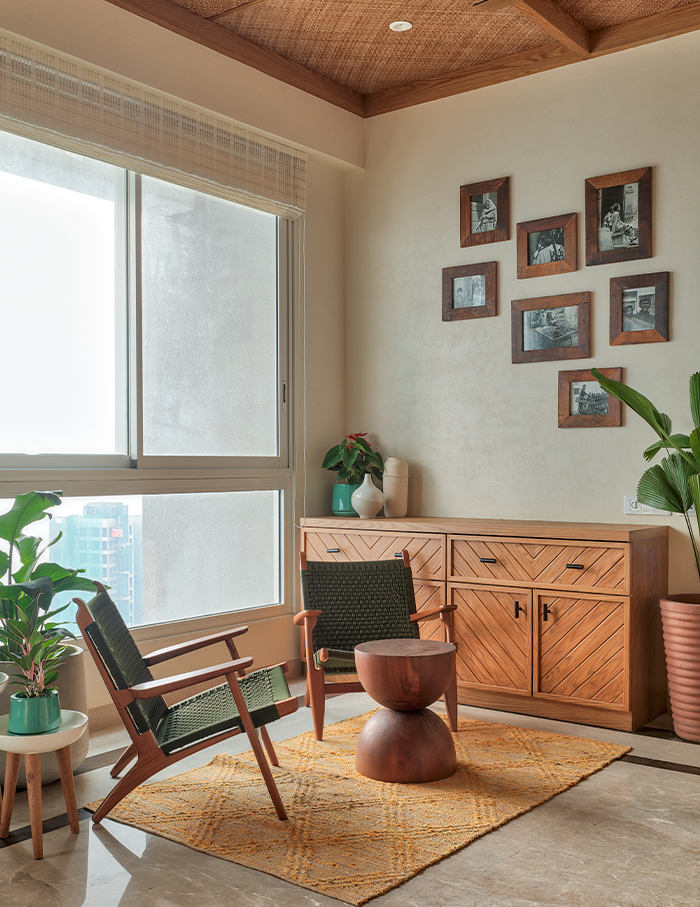 At one glance, the play of natural materials and textures stand out the most in this house. An evident departure from the glam and opulence of the high-rise they're surrounded with, the clients sought a space with a beachy ambience and natural finishes.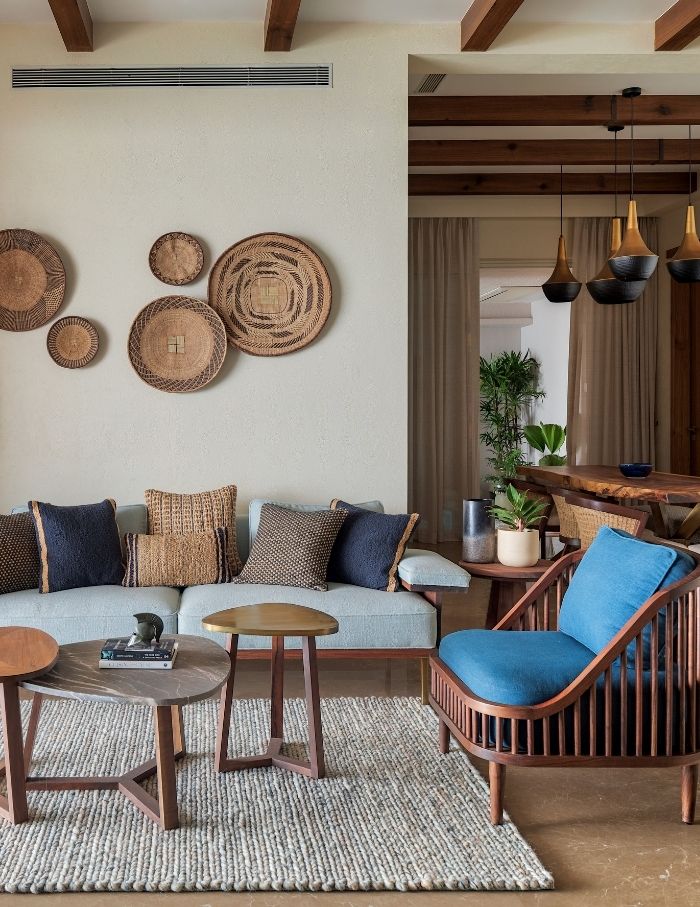 Bhatt muses, "This is a space where materials speak their own language without anything looking overtly designed." She adds, "We have used natural stone, wood, veneers, cane and woven banana fibre."
An extension of this warm ambience is how every turn and nook of this Mumbai home basks in natural light that trickles through the windows, glass shutter doors and balconies all through day and dusk.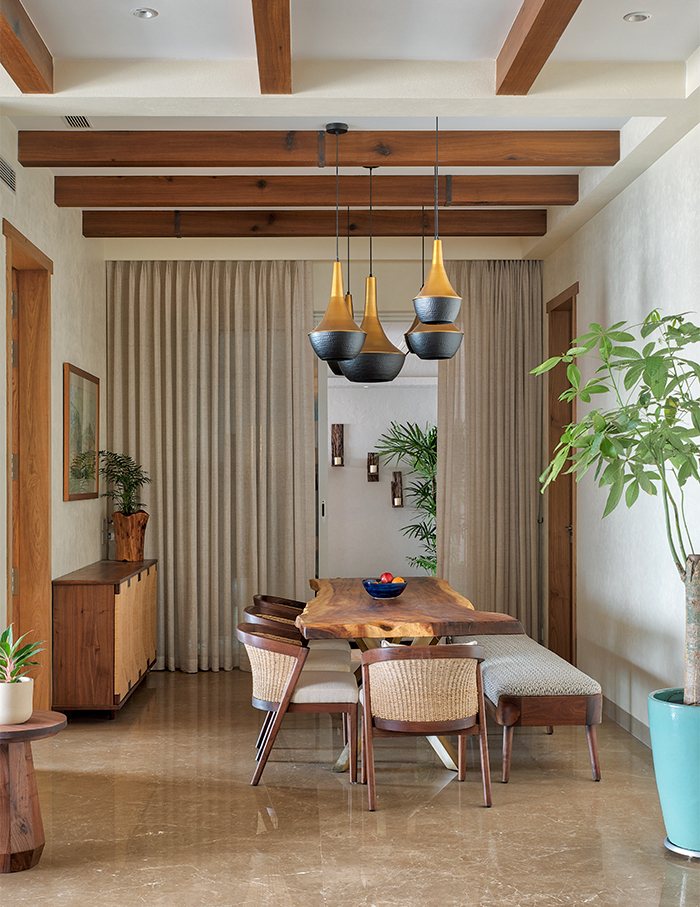 This Mumbai home opens up to a large private foyer area that accommodates a small aesthetic seating area to the right and a mini golf zone to its left, specially custom designed for Suhail who is an avid golfer.
As you saunter further in, an L-shaped living room deluged with daylight and torrent of woodwork on surfaces and furniture captures attention, alongside sober but attractive hues of indigo. blue, beige, brown and whites. Sprinkles of green through planters find moments of tropical tenor, too.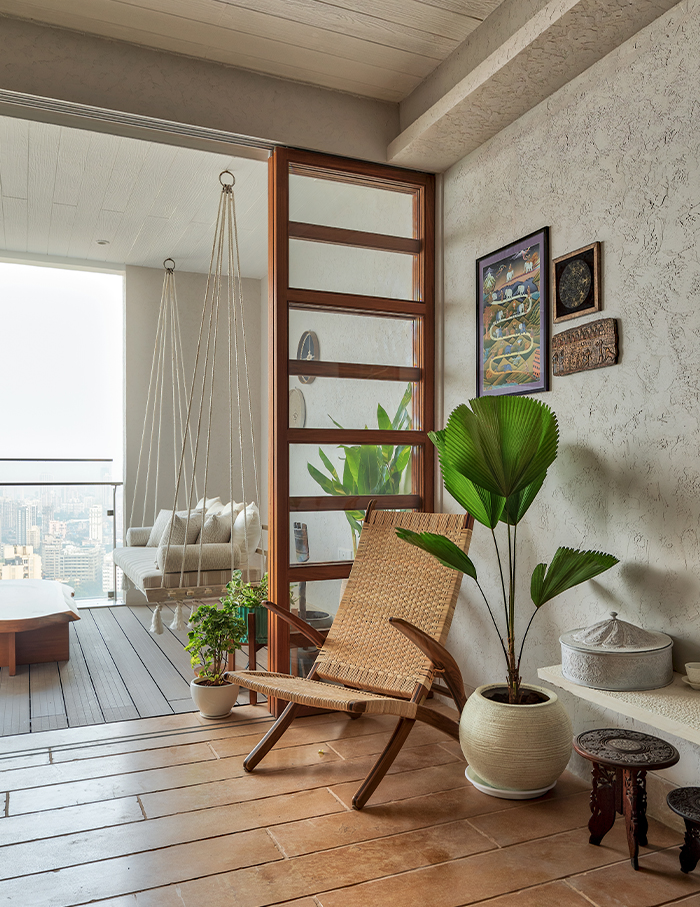 Dancing on tunes of coastal-modern mood, a huge hoop-shaped swing dangles from the ceiling flanked with thick wood strips. It faces half a section of the living area with a couch and wooden armchair sitting with poise, while the second half is the dining zone. It exhibits a table made of log wood top and brass base and chairs customised in walnut wood and banana fibre with metal black and brass lights hanging above.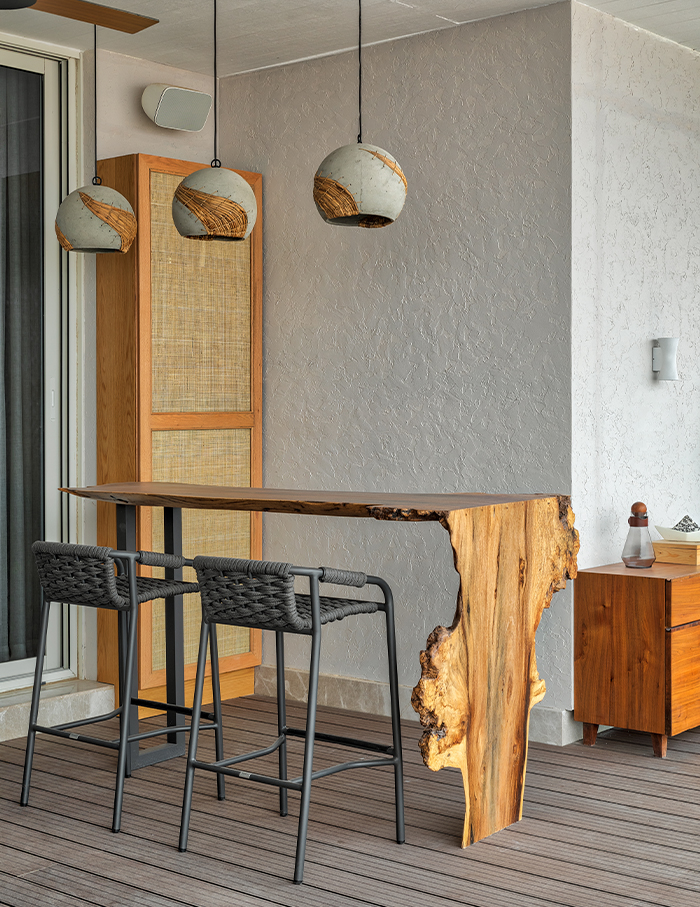 A wall was brought down and replaced with a wood fin and clear glass partition to coalesce the living and den into a shared space. 
A few steps from the living room is the deck that fashions an arresting arrangement of a natural, unique log wood bar table with a lean cabinet next to it. Functioning as the perfect sundowner corner for leisure and entertainment, on the opposite end of the bar lies a turquoise-orange upholstered daybed against a natural mint stone-clad wall dotted with lanterns.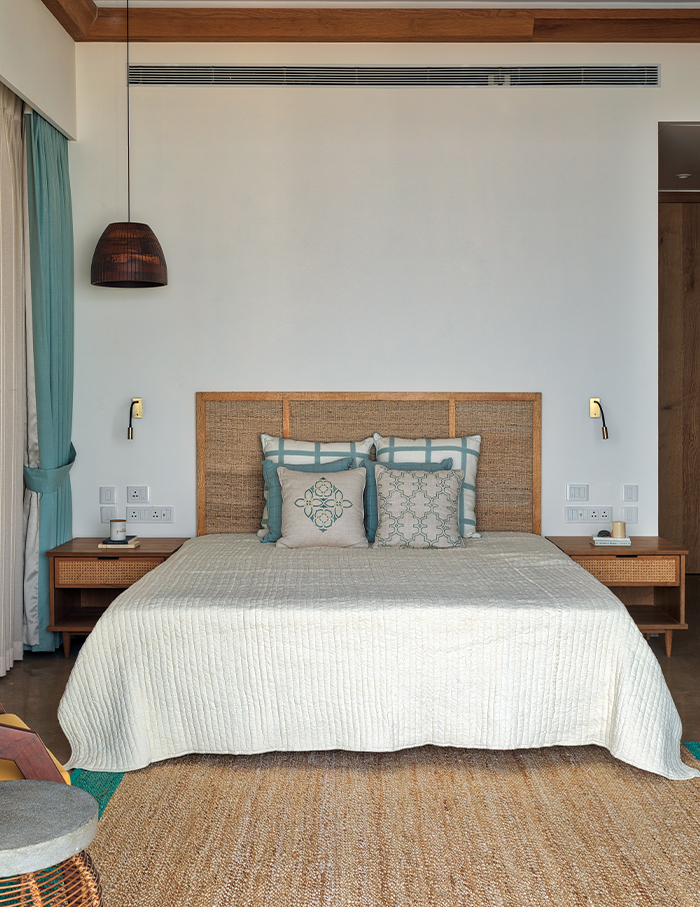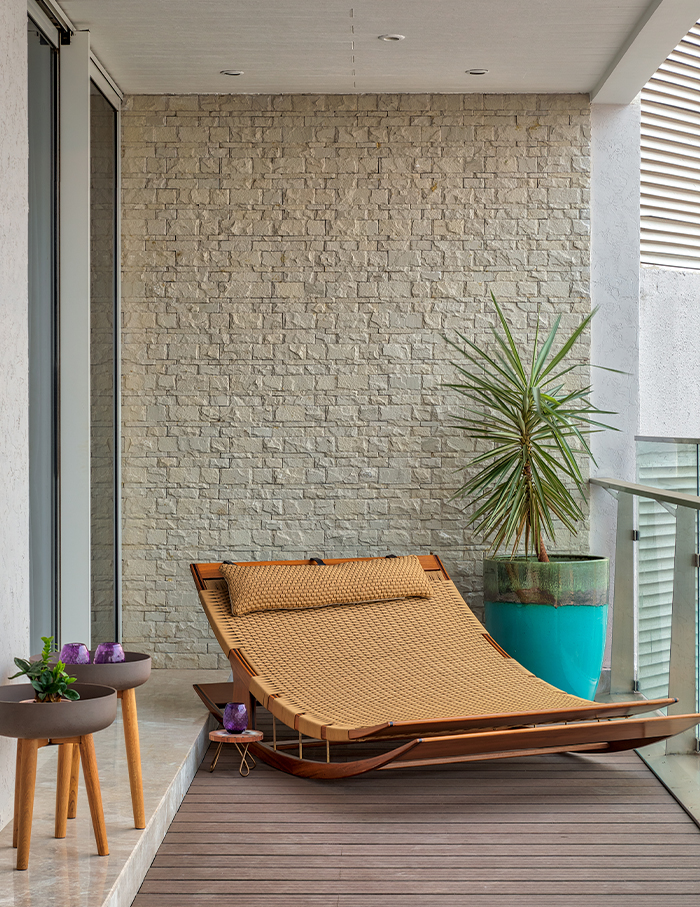 On the left of the main entrance door sits quietly but decoratively the master suite. Bhatt informs, "There were a few structural changes made to bring in a walk-in wardrobe area and enlarge the master bathroom."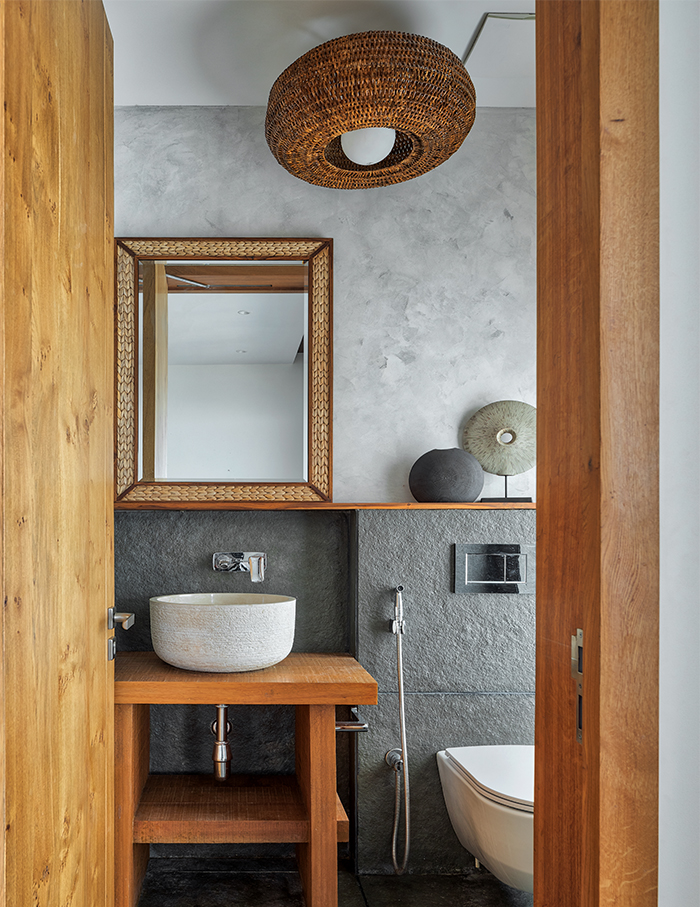 A rather rustic and picture-perfect frame sums up the bedroom imbued with a neutral colour palette that augments the beauty of timber used here. Two wood rafters poled to the roof face down to a customised rocking chair, headboard made with woven banana fibre and oak wood and the floating TV unit in vintage oak veneer and a stone top.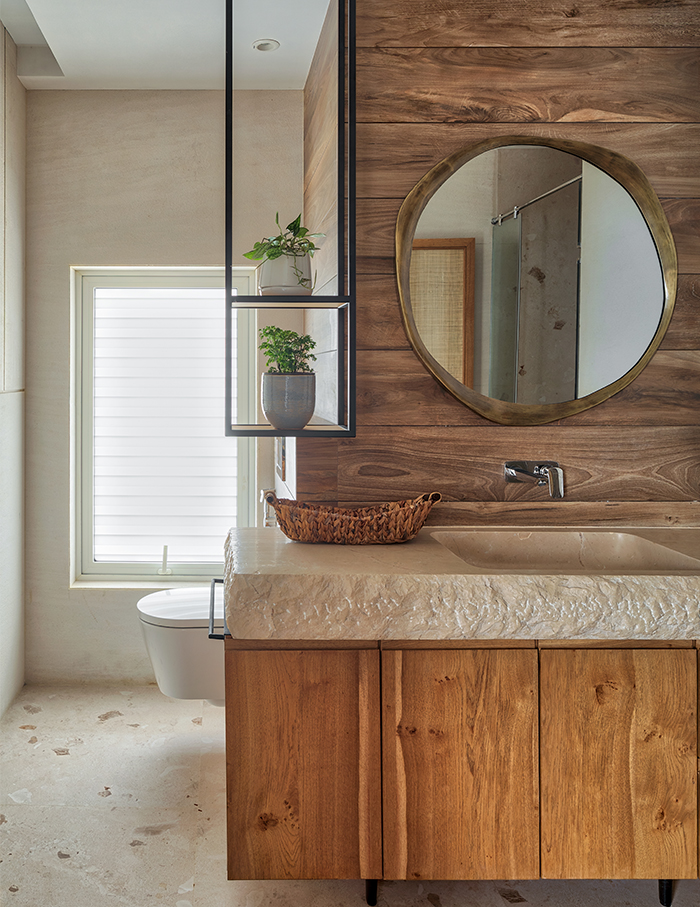 Bhatt carried a superior design mood into the bathroom as well, with the washbasin carved out of Italian marble.
With a design philosophy that deviates from the typical trends, Bhatt likes to romance with a moodboard of timelessness and eclecticism.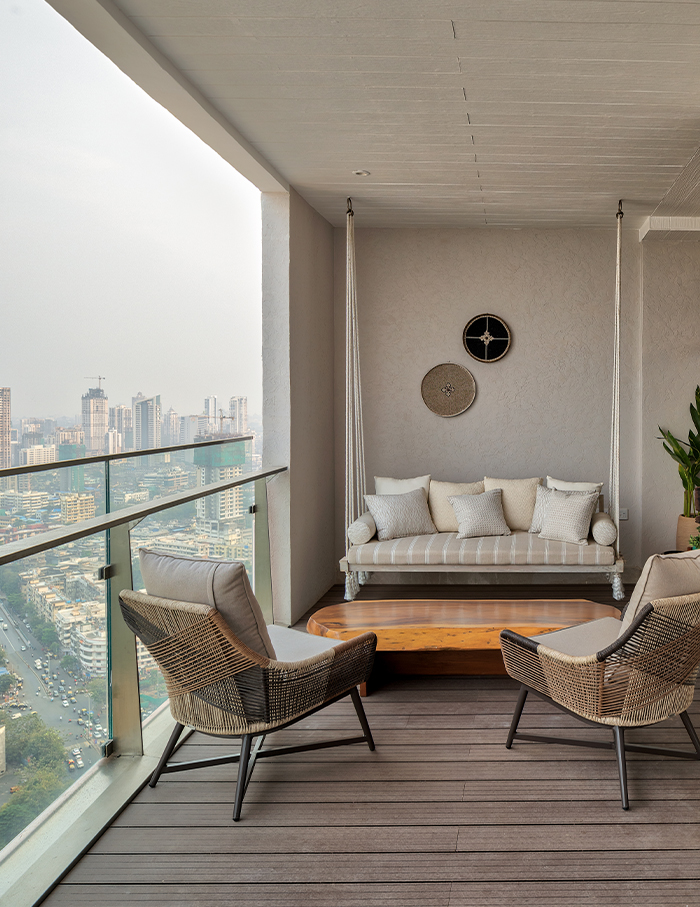 Ruminating on that one space she loved putting together at this Mumbai Home, Bhatt says, "The multipurpose yoga room was the one I enjoyed designing the most. The green area we created with wooden stubs, gravel and plants and a natural stone urn with bamboo water spout are elements I loved."
If you loved this home's cosy-modern design language, then check out this serene Mumbai home by Kumpal Vaid splashed with white and luxury