Homes
Colour me white—this Mumbai home by Kumpal Vaid reads like a melodious poem inundated with hints of calm, leisure and luxury
DEC 3, 2021
| By Pratishtha Rana
On a rather busy weekday, you are at your desk in the office or probably cooped up in your work-from-home corner, when your mind reroutes to thoughts of a getaway to some place, where only sounds of solitude surround you. This kind of a dreamy destination has been materialised into a cosy but visually chic home by Kumpal Vaid, founder and design principal of her design firm Purple Backyard, and her team of Snehal Punamiya, Kunal Pawar and Rutu Mehta.

Perched in the upscale area of Bandra, Mumbai, this 2300 sq ft space is christened House No. 7 and is a personal address of a couple who wished to give prominence to the finest elements in interior designing of their home. A dominating colour palette of white engulfs the home, witnessing Vaid's calibre in triumphing any spectrum of design brief given to her.
As Vaid describes, "The tone for this home is primarily white with depth created through the layering of material and textures."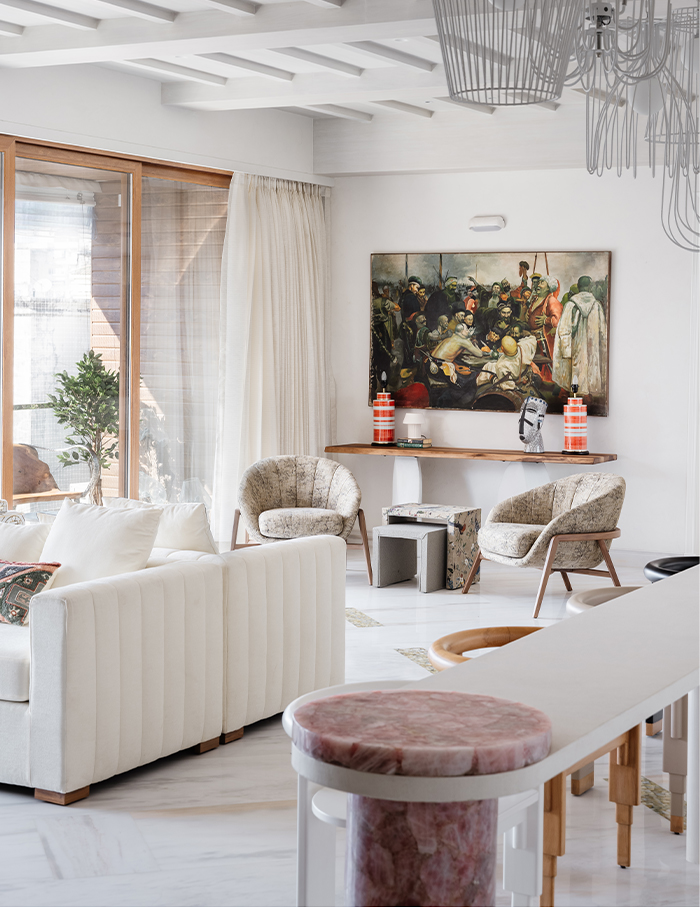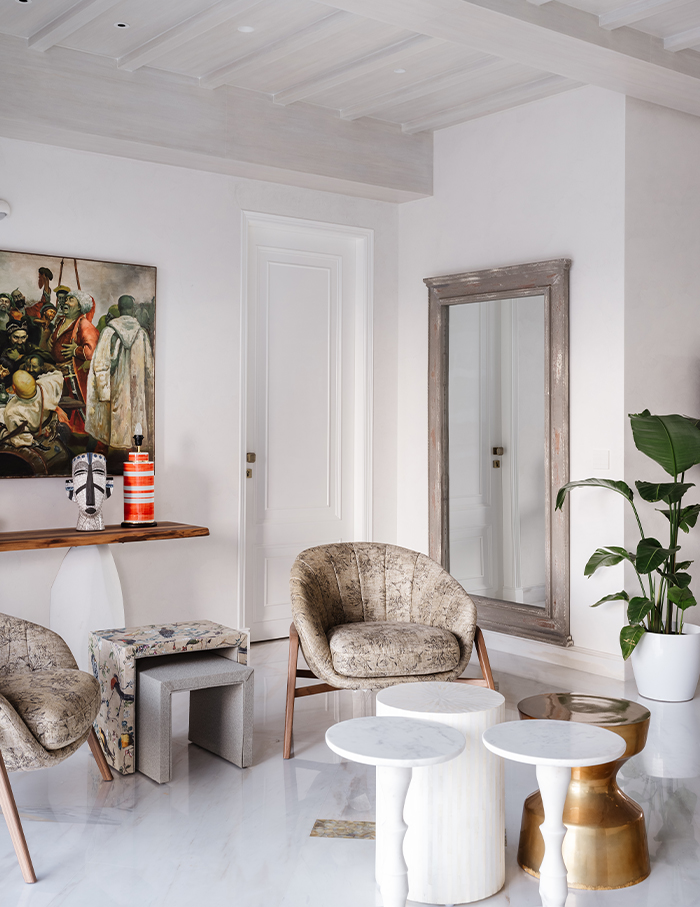 Every corner of this residence looks like a postcard from a tropical sanctuary made for escaping the ruffled city life, except for the fact that it exists, quite surprisingly, amidst the busiest neighbourhood of maximum city. Narrating its passionate love for a neat white tone, House No. 7 is replete with furniture, lighting, walls, floors, windows and curtains, all swathed in snowy white, cream white, beige and sober hues.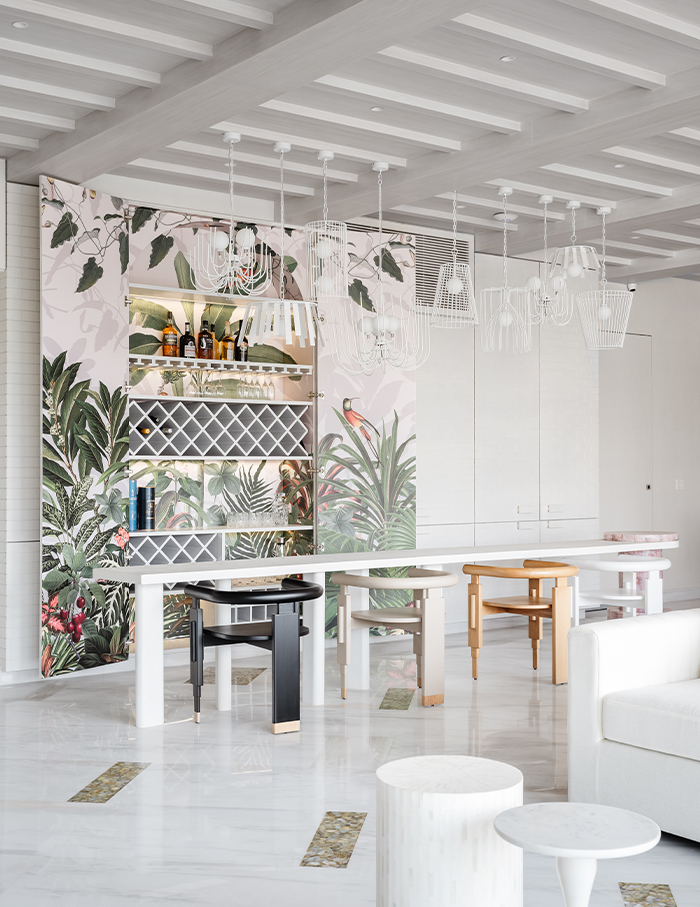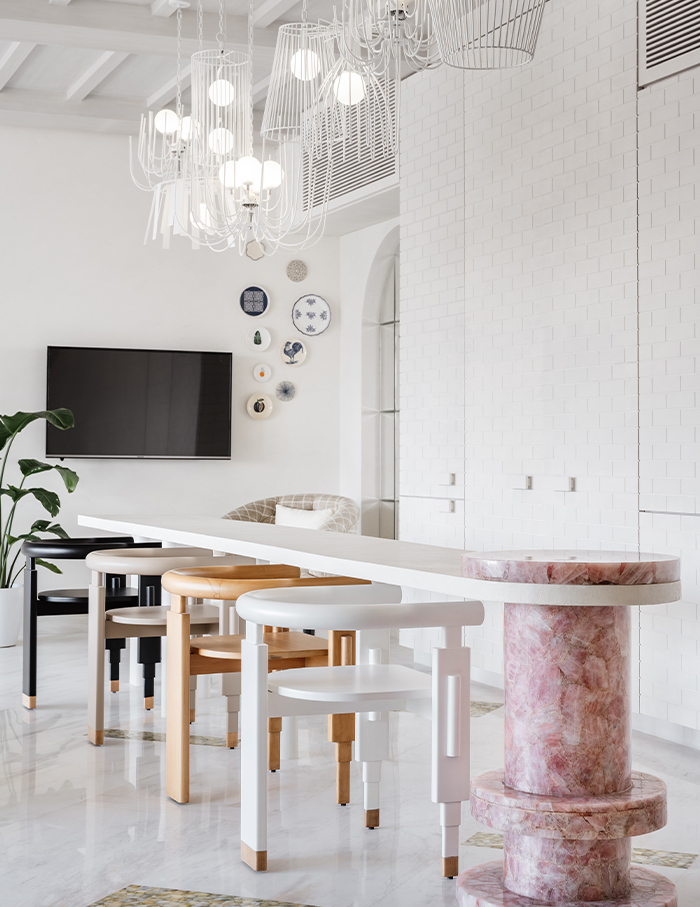 The living area reminds you of a refined, fancy Manhattan lounge that screams indulgence. On one end, stands a picture-perfect bar that in every glance manages to blend and become one with the wall. This illusion is deftly achieved by Vaid by rendering tone-on-tone panelling cladded in brick with grooves that with the pull of two levers instantly opens up or closes into the wall. When thrown wide open, the doors exhibit beautiful paradise wallpaper of lush foliage and pecan birds, calling you closer to admire the mise en scène the bar area (and the house is).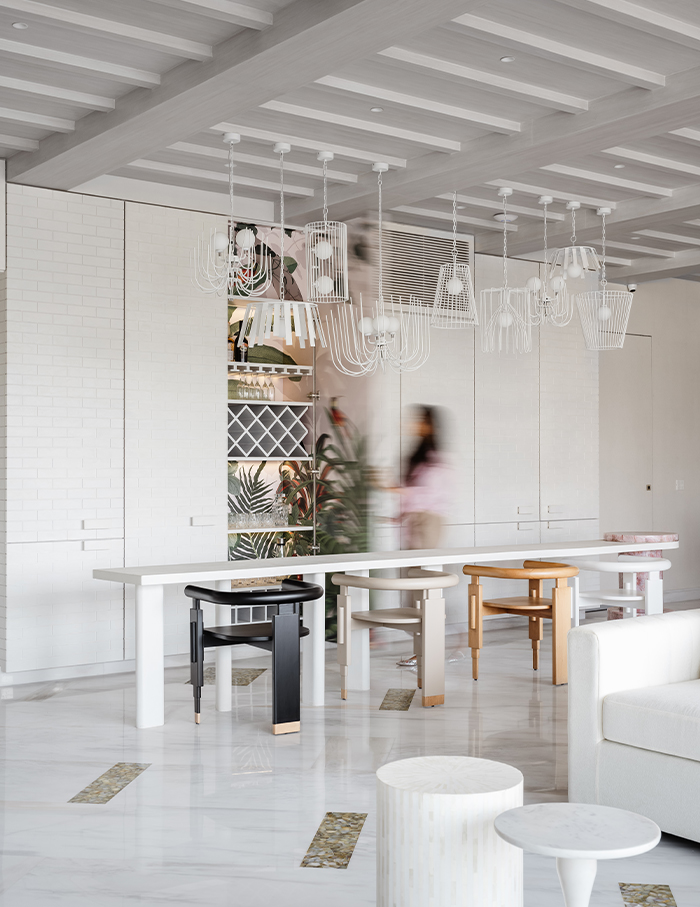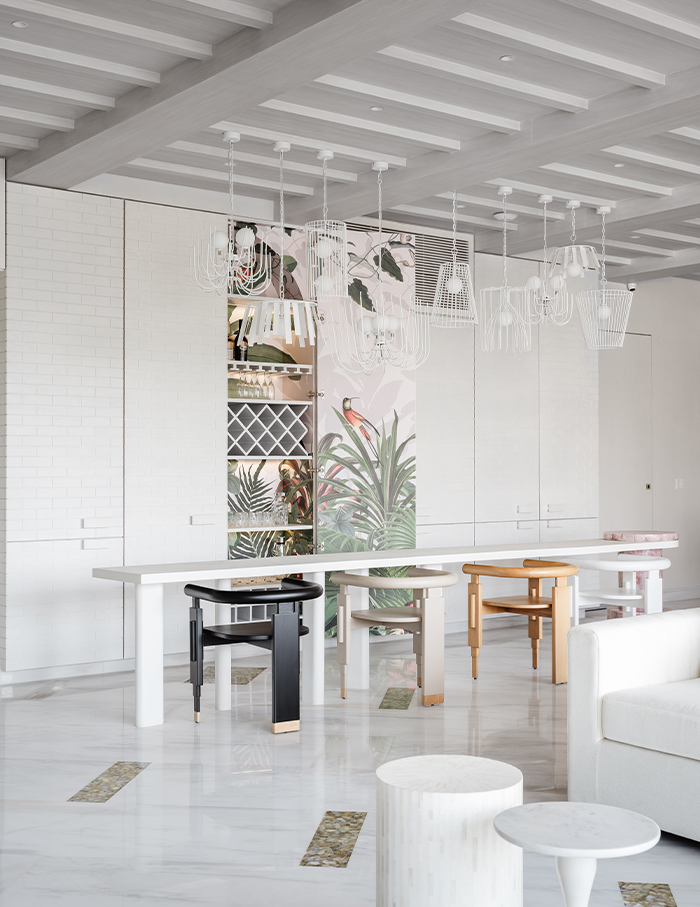 The living room also hosts a transitional mix of casual and formal seating, such as the sofa from Pinakin, cushions from Sarita Handa and custom chairs by Rockin Chair, all that lay the groundwork for other conversational pieces such as the art deco inspired community table stamped with exquisite pink rose quartz cornerstone, teamed up with curvy bar chairs in a variety of colours.
Another corner in  the living area that is perfect to snuggle up in and enjoy some wine along with your favourite music or book, models cushiony, cosy chairs and crafty decor pieces to give you company. Turning attention to the view above, the clean assembly of lights features pendants done in a bare shell manner by Purple Backyard X Harshita Jhamtani.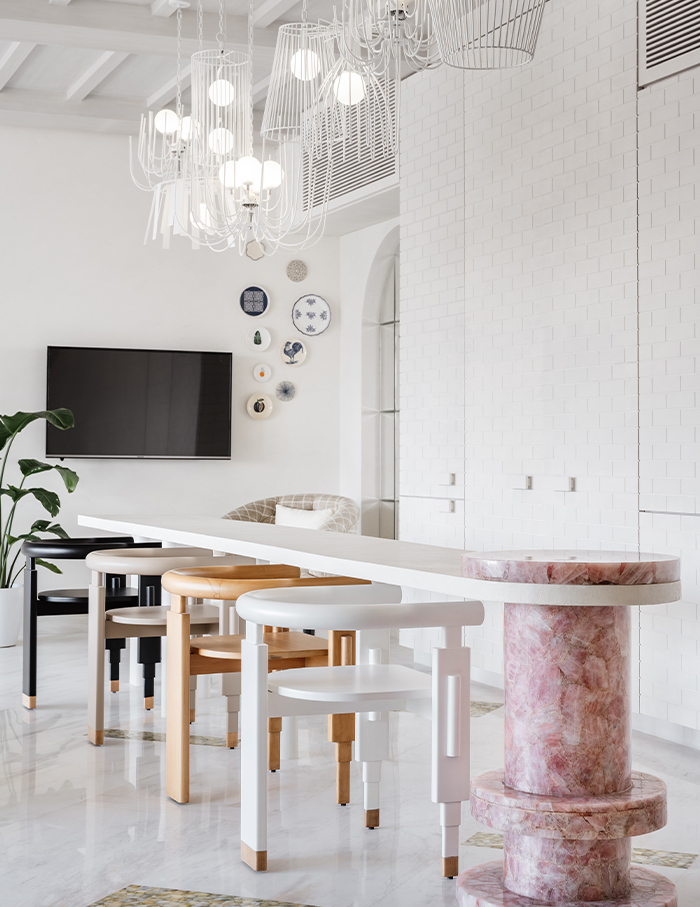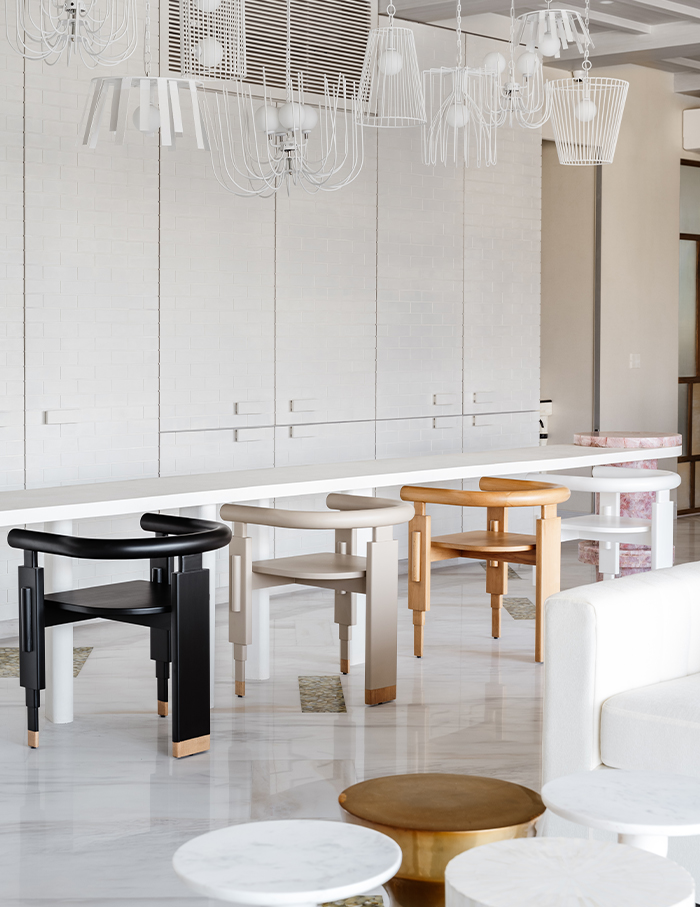 Sauntering further inside the home, every turn seamlessly flows from one to another, dripping with the tranquil rhythm of the innocent white tones and uncluttered decoration. Step inside the master bedroom, a grand wooden canopy crowns the bed with a two-seater sofa in front and two tables on either bedsides that host artsy clay with wood lamps.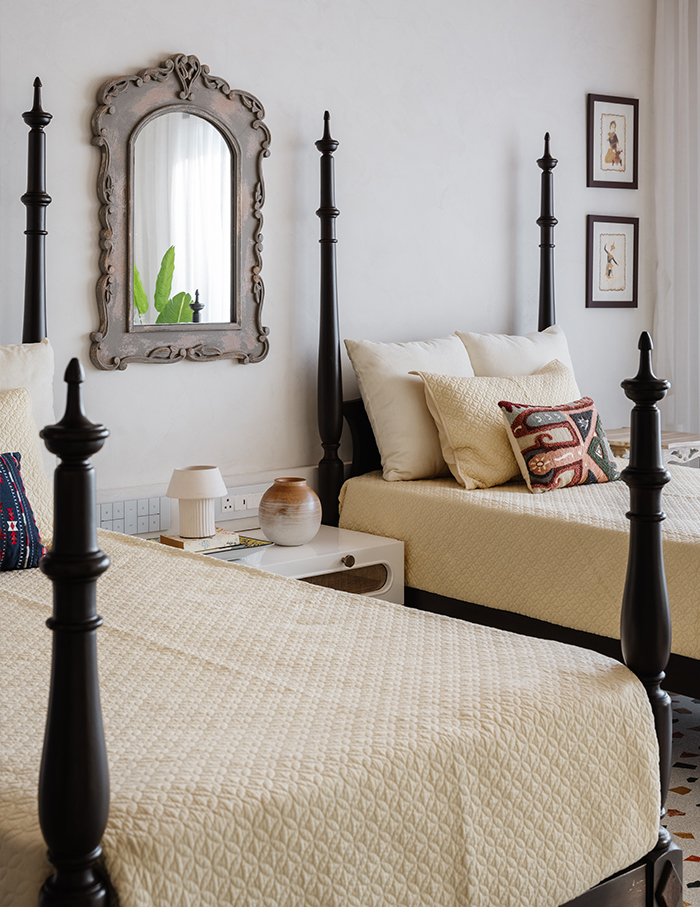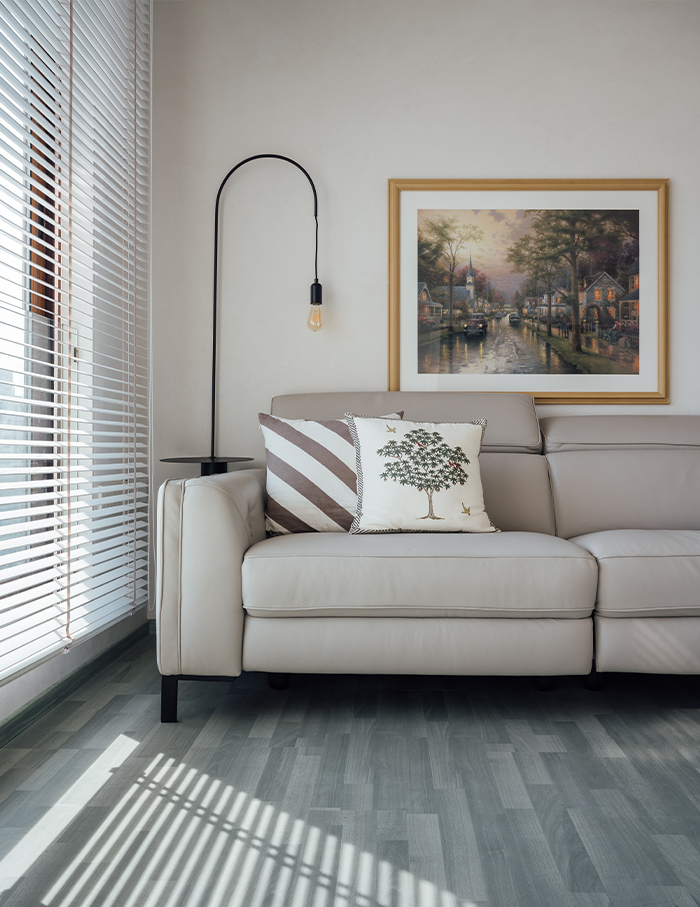 The guest bedroom is a wholesome moodboard of its own—the floors doused in candy terrazzo from Bharat Floorings, a statuesque mirror standing on one side and a melange of furniture and decor done in warm wood tones. Vaid explains, "The guest bedroom is tricky to put into a design box. It does come across as country at first but on further inspection, reveals nautical and contemporary elements that have been tied together seamlessly by Purple Backyard."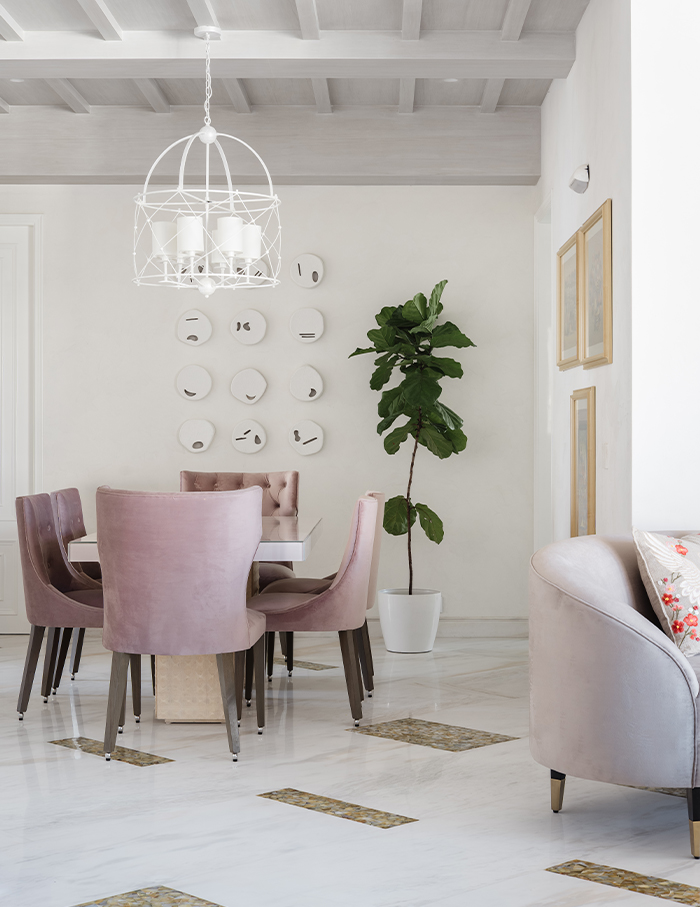 The section of the abode they call as den, is designed to function as a multi utility space defined as a study, TV room and a corner to unwind at.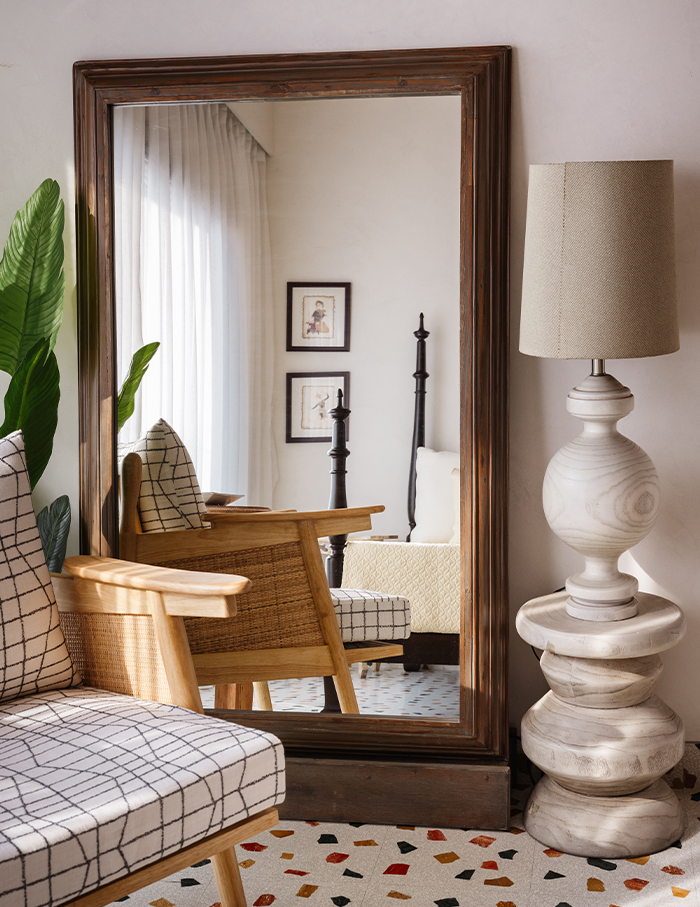 For the home owners to dig into delectable food platters, the dining area serves as a slightly more peppy community space with plush pink chairs and touches of green with the planter. The wall opposite to the dining table sees a tastefully curated clay wall art installation, again crafted by Purple Backyard and Harshita Jhamtani, which explores clay as a material for lights to create intrigue-sparking pieces.
Discover more glimpses of the home below…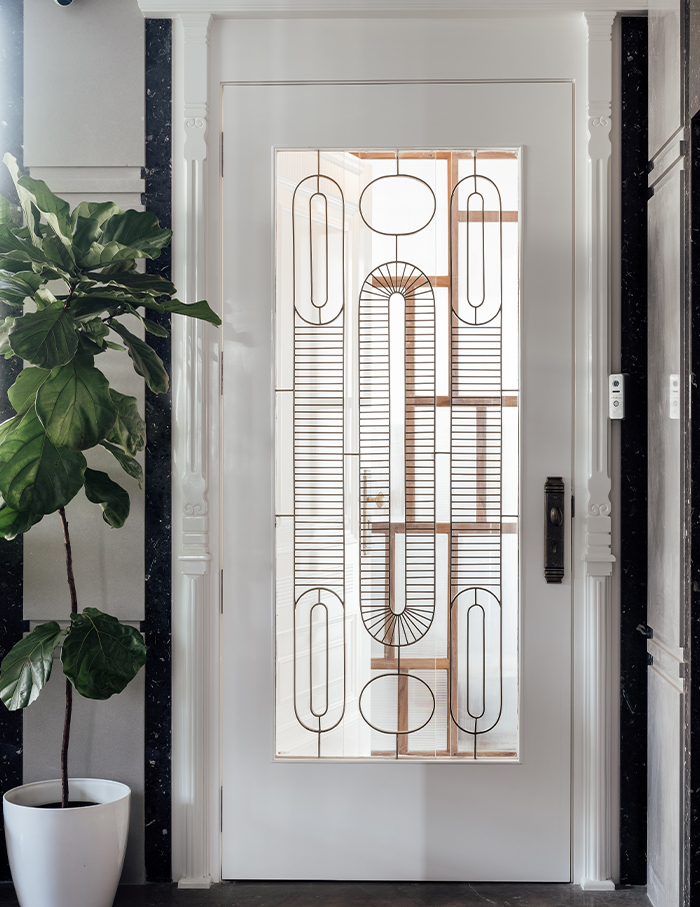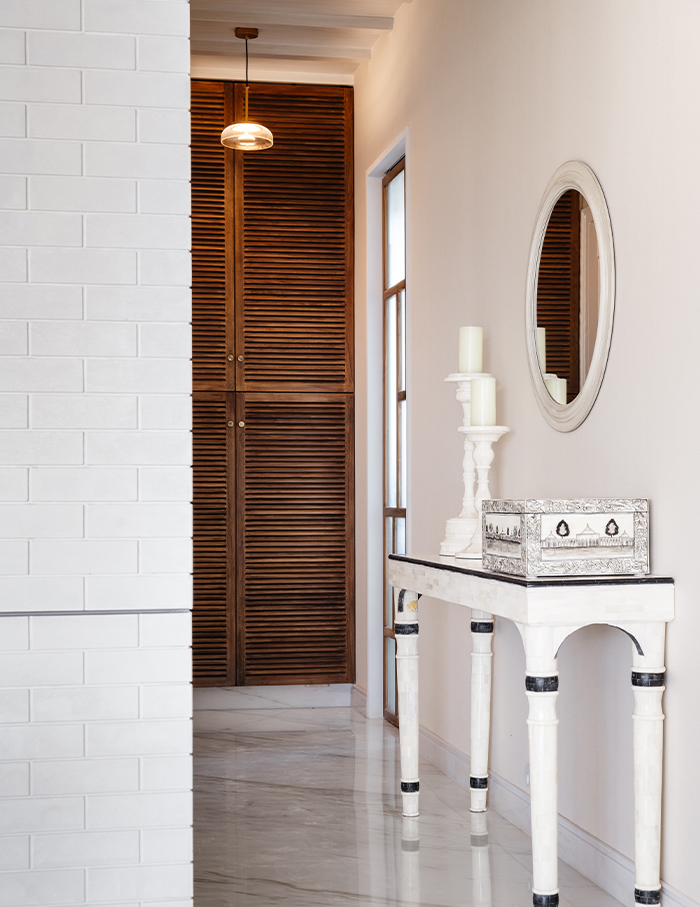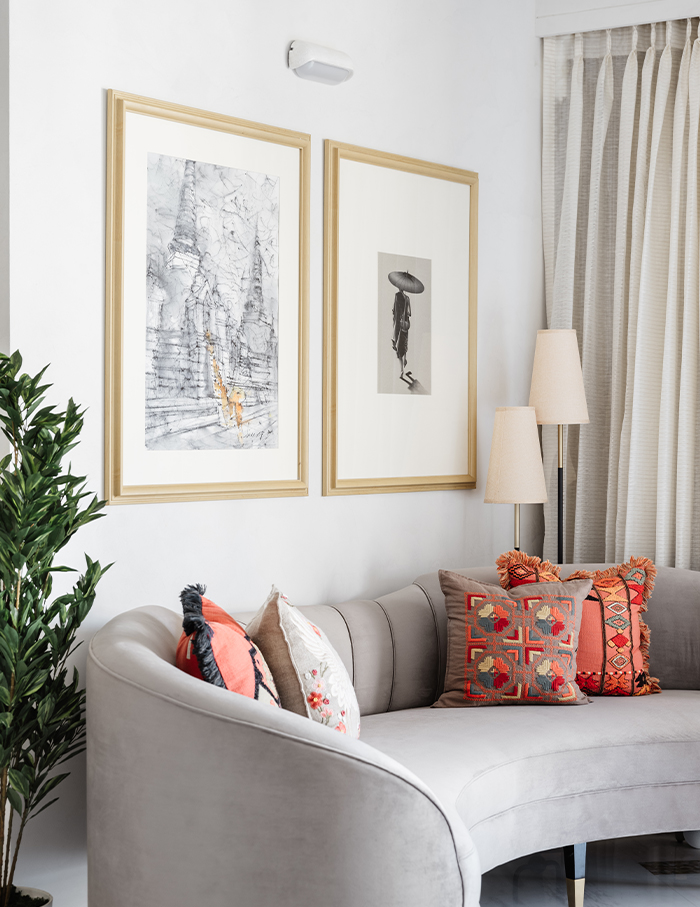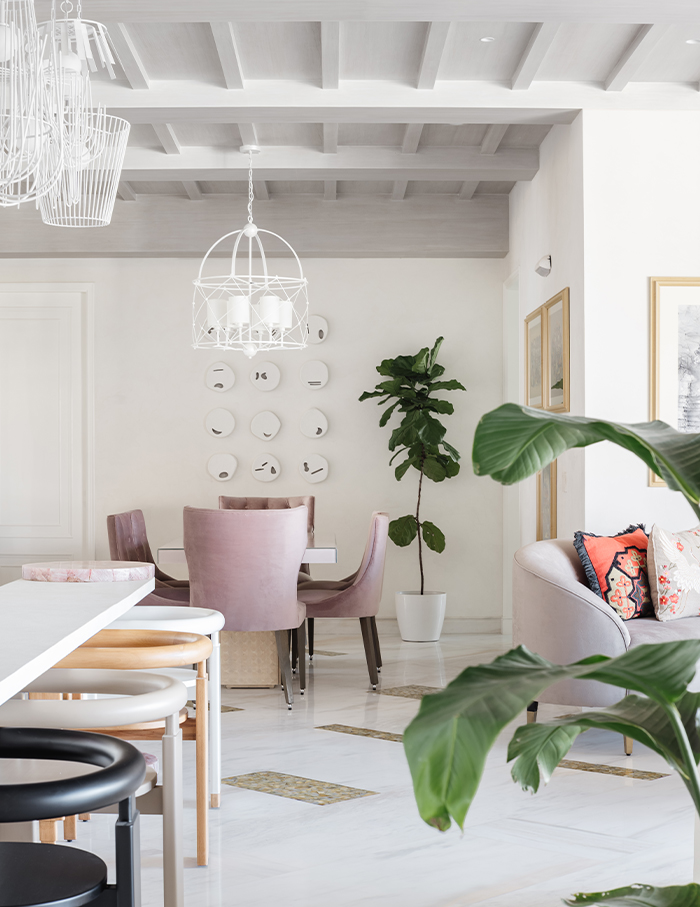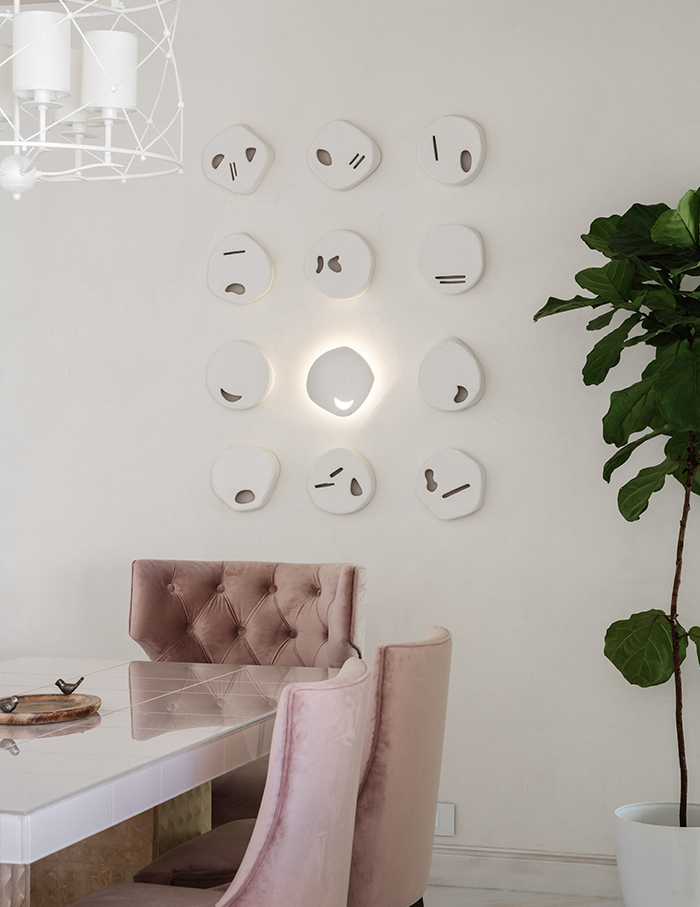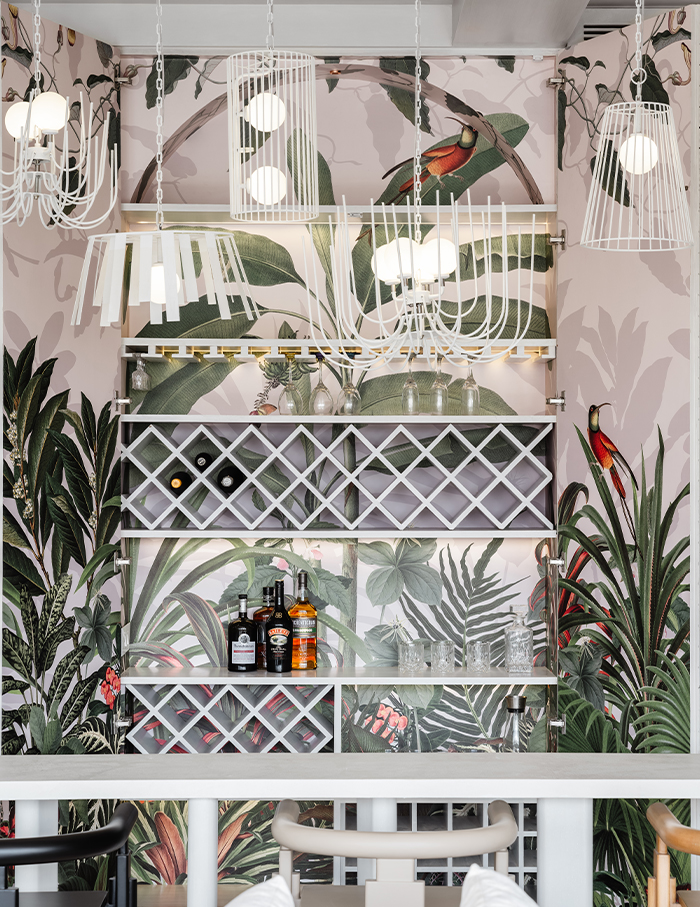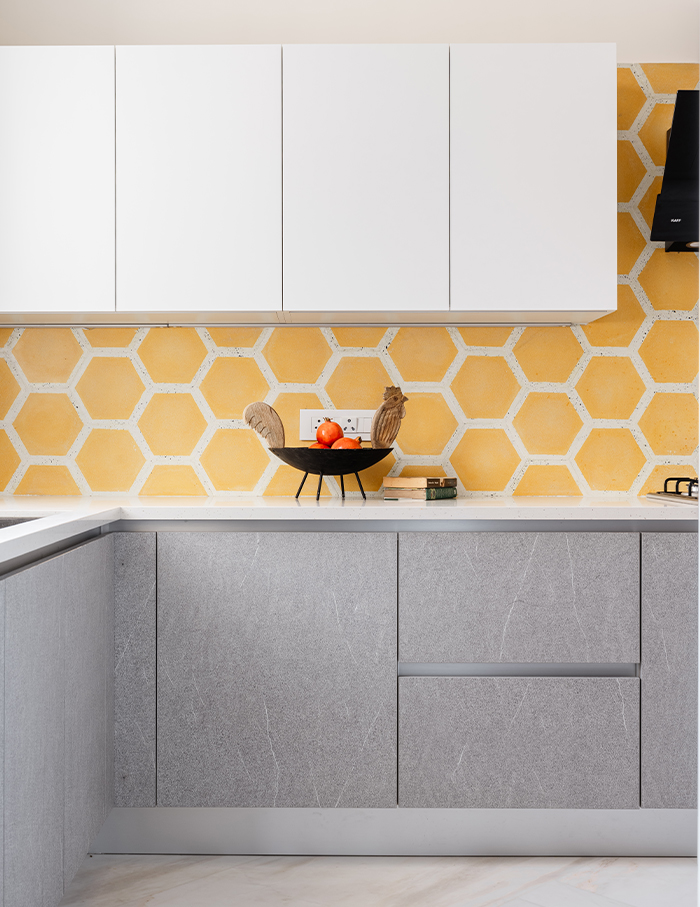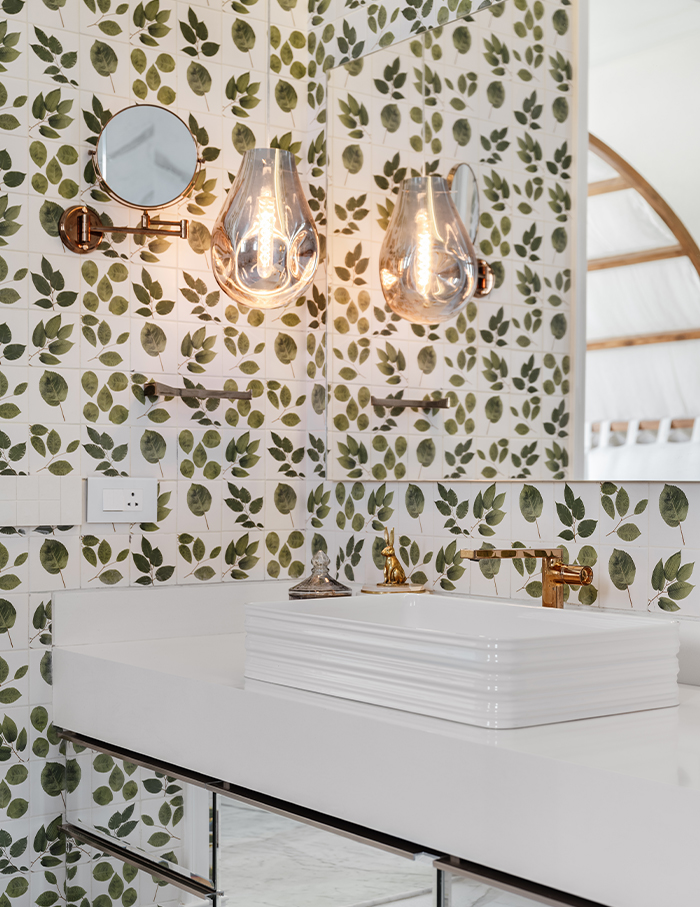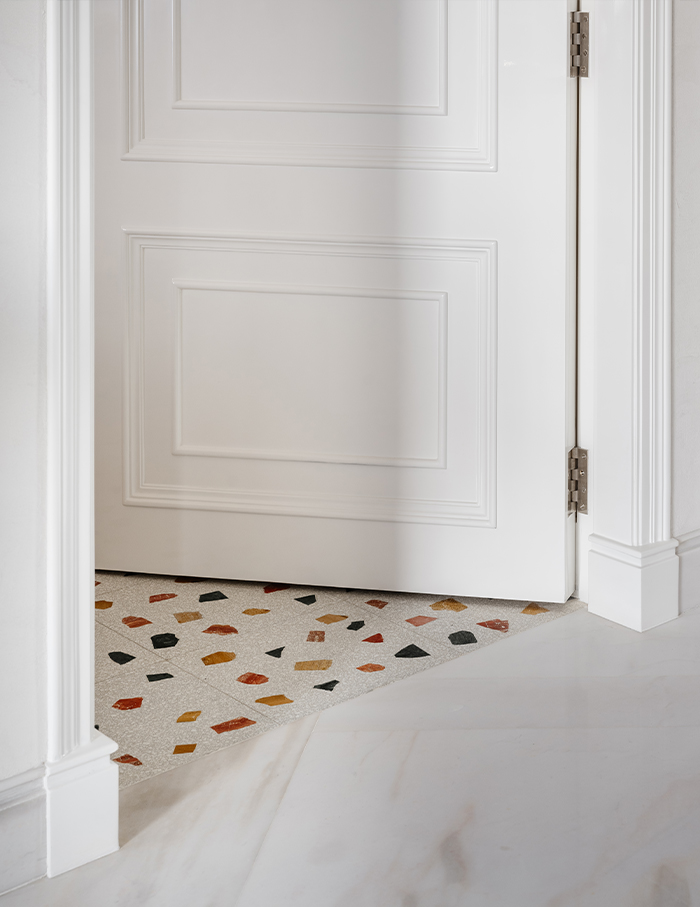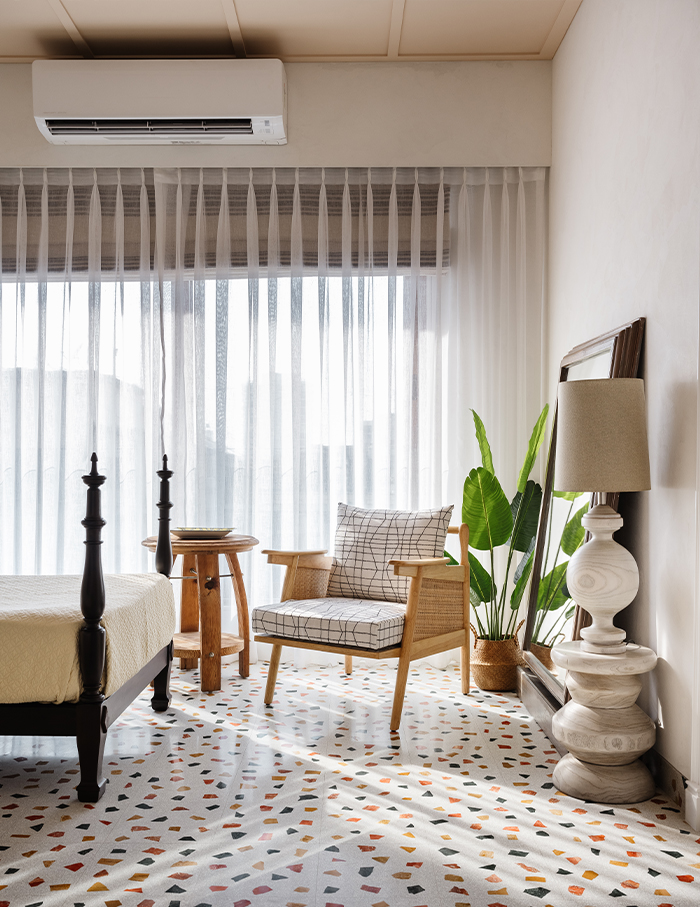 If this dreamy white-hued home made you gaze at it in awe, make sure to check out this English vintage home in Bengaluru by Houseof9Design