Homes
Houseof9Design imagines a home of nonchalant living amidst a buzzing city life
NOV 22, 2021
| By Pratishtha Rana
Drawing a conspicuous contrast to the fleet-footed urban city of Bengaluru, Houseof9Design has imagined a residential project that drips with a melodious mood of slow living, while showcasing a compatible marriage between the traits of a modern lifestyle and the old world charm of the colonial era homes.
Christened The Southern Plantation Home, the space belongs to Kanchan Appaiah and Rashin Subbaiah and their two daughters, aged four and eight. With a beautifully realised desire to dress up the home with vintage English elements and compose a space resembling plantation houses in the misty hill station of Coorg, the family engaged head designer of Houseof9Design, Nain Belliappa, to materialise their brief to perfection. 
Belliappa, a native of Coorg herself, instantly visualised the design intentions of the clients and concocted all the interior and decor ingredients of an idyllic plantation home into this 3,200 sq ft apartment, which sits on the first floor of a high rise building at a stone's throw away from the famous serpentine maze of Hebbal flyover in North Bengaluru.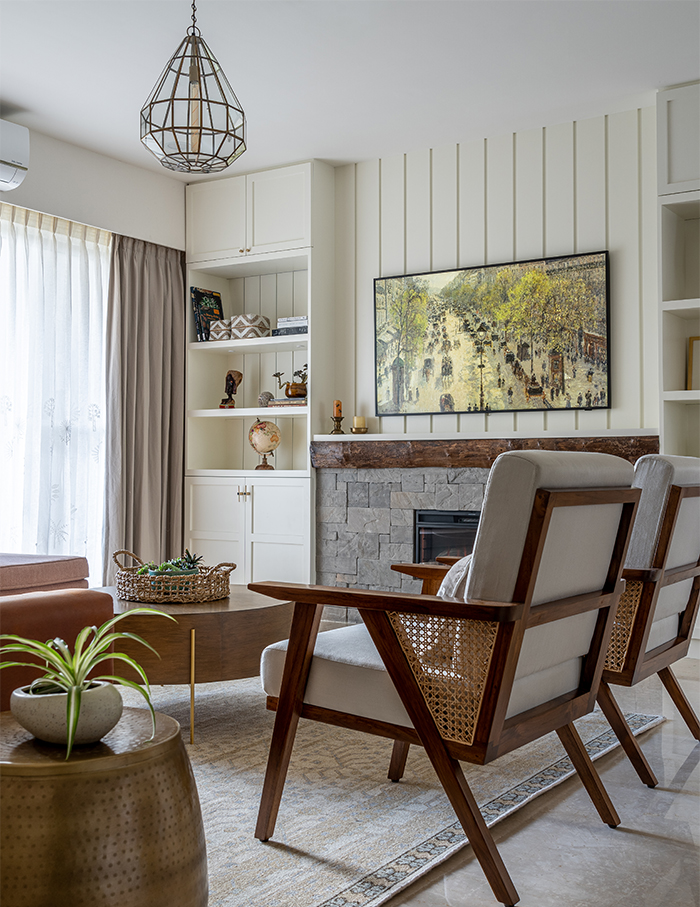 For the beholder, The Southern Plantation Home bares its soul almost as transparently as a clear glass window that heartily welcomes the first rays of morning sunlight to sneak in. As one steps in, the abode lays out an uncomplicated pathway to its various rooms and corners, that are bountifully soaked in natural light and sober colours with an artful integration of decor—and this is the first impression of the home that makes you want to know more, explore deeper.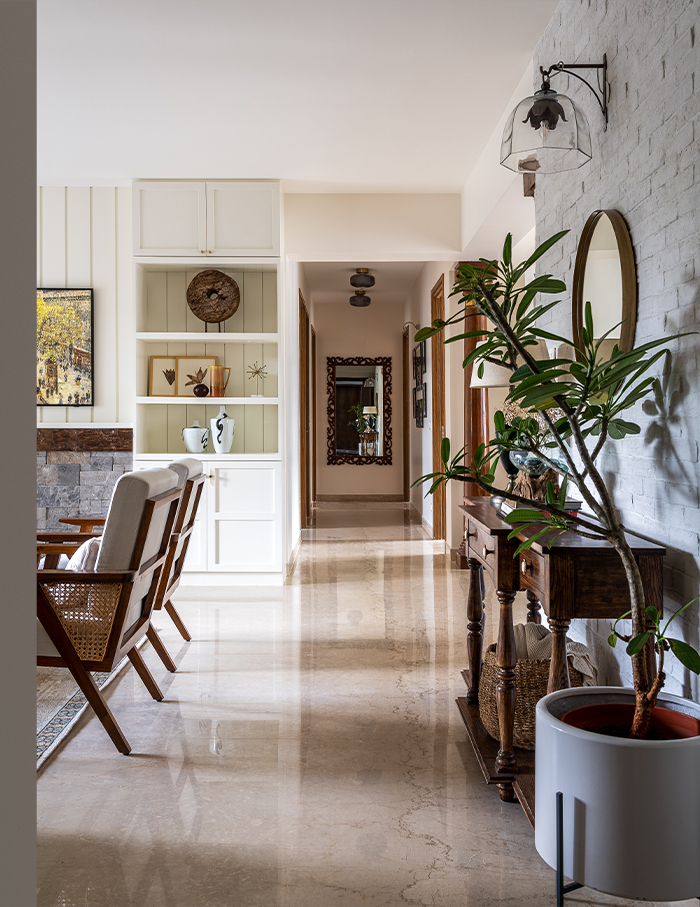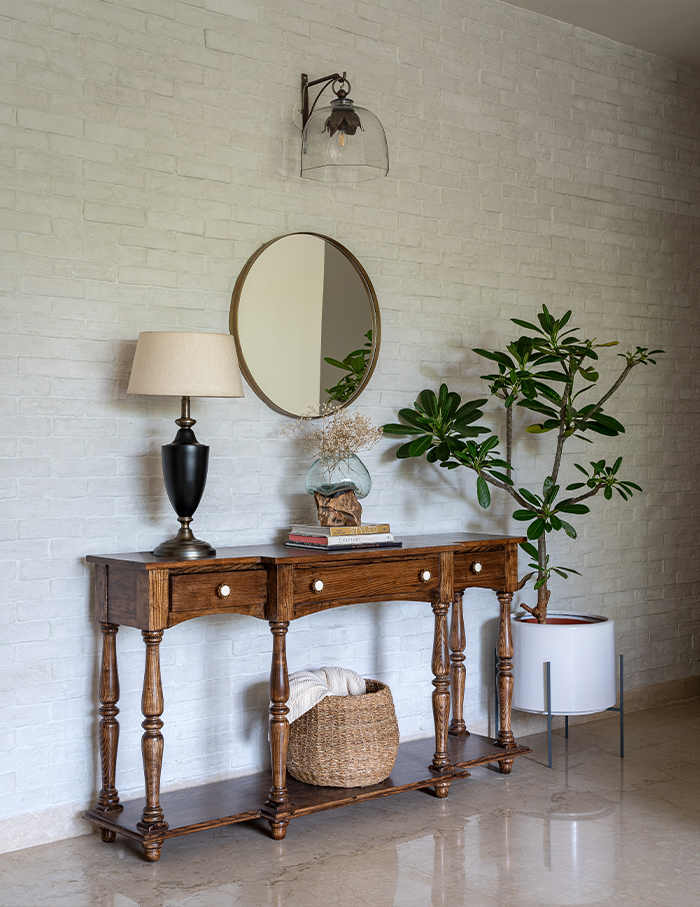 Earmarking the defining design vocabulary of the home from the outset, the entryway is swathed with white weathered brick tile-clad accent wall on one side, hosting the statement plantation-style custom ashwood console with detailed knobs, turned legs and a polished finish. Coexisting with it are other classic elements such as a poised table lamp by Gulmohar Lane and an oversized glass wall sconce by Purple Turtles. To reinforce the natural light in this zone, a round Matilda mirror with an antique brass finish by N Square Studio is added alongside a lean Plumeria plant standing in one corner to bring in a hint of joyous green.
A few steps in, the attention is soon captivated by the living room with its uncluttered and commodious layout. Although patently aesthetic, every furnishing element here is also highly functional, be it the open and close cabinetry in soft white PU finish for storage and display or Samsung's The Frame TV that transitions into a stunning art frame when offline to showcase photos and visuals. 
Another piece de resistance is the electric fireplace stamped with raw timber and natural stone that sits tastefully in the centre, whispering warm and vintage energy across the room.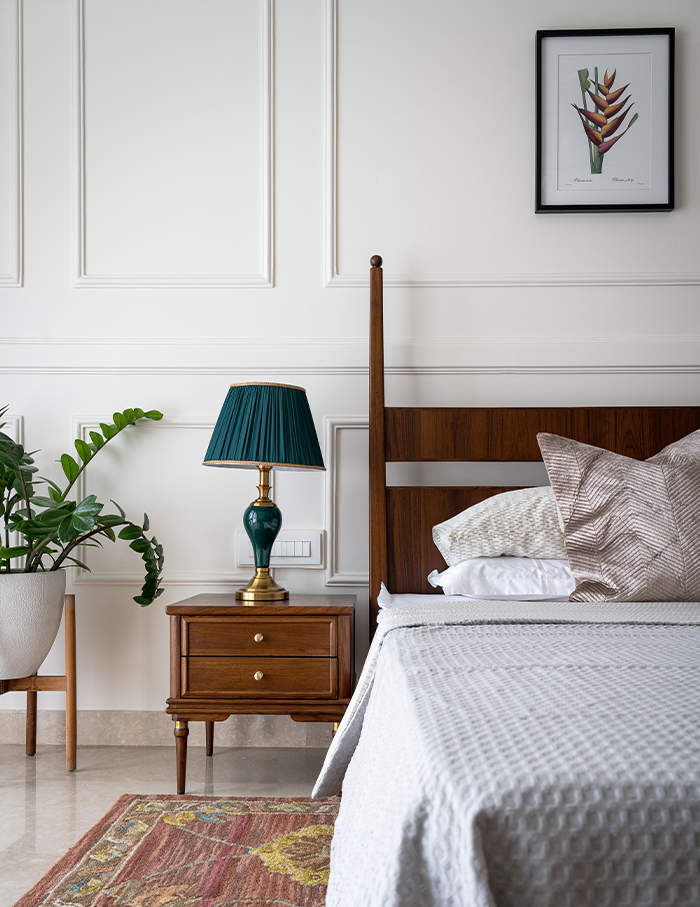 With the floor-to-ceiling windows commanding the space, the other end of the living area finds life in the earthy hand-knotted rug by Jaipur Rugs, delineated with teak wood and cane armchairs by Aanai Design Studio, a blush pink daybed, a leather sofa and a teak veneer coffee table with gracile, firm legs—each piece playing in harmony with the bare but sophisticated colour palette of the entire home.  
An astute design thought witnesses the ceiling adorned with a chandelier instead of a fan, thanks to the breezy Bengaluru weather and the ample cross-ventilation in this home. One also can't miss admiring the calming Budhha wall art, complemented with the exquisitely carved marble top side table and the stained glass lamp by Glasscrafters.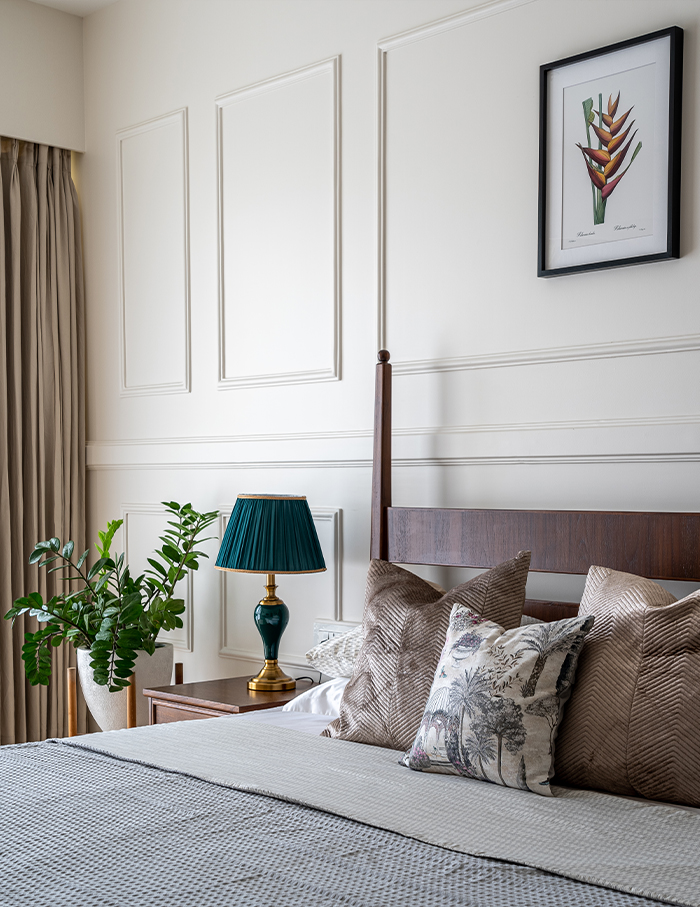 Maintaining a similar timeless aesthetic in the dining zone, two carved teak wood pillars with a band of brass on top stand guard on two ends. Having a moment of its own is the custom oak-toned veneer top dining table with its chiselled legs, paired with cane chairs in oak wood crafted meticulously by Cane Boutique. Lending it a frame-worthy spotlight is Glasscrafter's custom blue stained glass chandelier that reiterates the mood of a Victorian era home, giving the dwellers a spellbinding dinner sesh every night.
A well-placed crockery cabinet in the dining room smartly doubles up as a pooja unit concealed with an elegant lattice shutter. Moving on to the culinary zone, a half wall was grazed down to create an open kitchen bedecked with a trio of pendant lights by The White Teak Company levitating from above. 
Maximum storage with increased functionality as requested by the client was integrated in form of a broad teak veneer island, open shelves and lots of drawers and cabinets. Further, the refrigerator and a built-in unit were accommodated by closing one of the room's entryways. 
As you keep sauntering every length of the house, a background music of nonchalance and cosiness clouds your mind, taking you to the doorsteps of the master bedroom, where leisure meets a sense of elevated living, awash with neutral tones and tasteful teak furniture. The bed and nightstands sit in a calm lull laced with brass details, crafted by Aanai Design Studio. A whiff of tropics steers the attention to the wardrobe that displays lotus imprinted 'Kamalika' fabric from Sabyasachi's Nilaya collection sandwiched between glass screens. 
A brief trip inside the master bathroom reveals a setting seeped in minimalism. The beige marble patterned tiles are detailed with black grout, while the brass mirror from N Square Studio and an antique pendant light from Purple Turtle add a tinge of soft vintage temper to the space. The vanity finds elegance in its laminate finish and clean nail groove and handle details paired with a cabinet made in-house in a soft wood tone, capacious enough to store linens and essentials.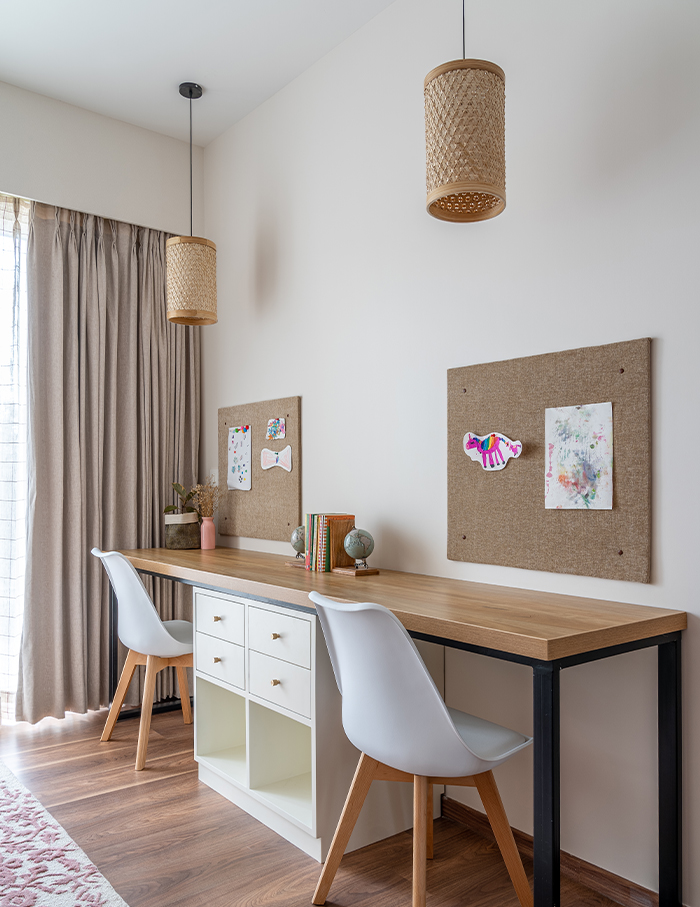 The English country home design intentions continue further in the guest room where wainscotting panelling and botanical-inspired wallpaper find spotlight. As Belliappa says, this room feels like a warm hug that guests wouldn't want to leave. 
Formerly a bedroom, the family room doubles up as a play area for the little girls, which fits in a sofa-cum-bed from Ashley Furniture and a custom white Victorian bookshelf by Bengaluru-based Be Vintage to house books and board games for the family to bond over.
A rather mellifluous departure from the neutral colour palette of the home, the girls' bedroom is a space that echoes joie de vivre. Splashed with a central theme of pink, the space has twin custom white single beds delineated with pink dotted rugs from Jaipur Rugs and a study area modelling a sleek wood and metal desk.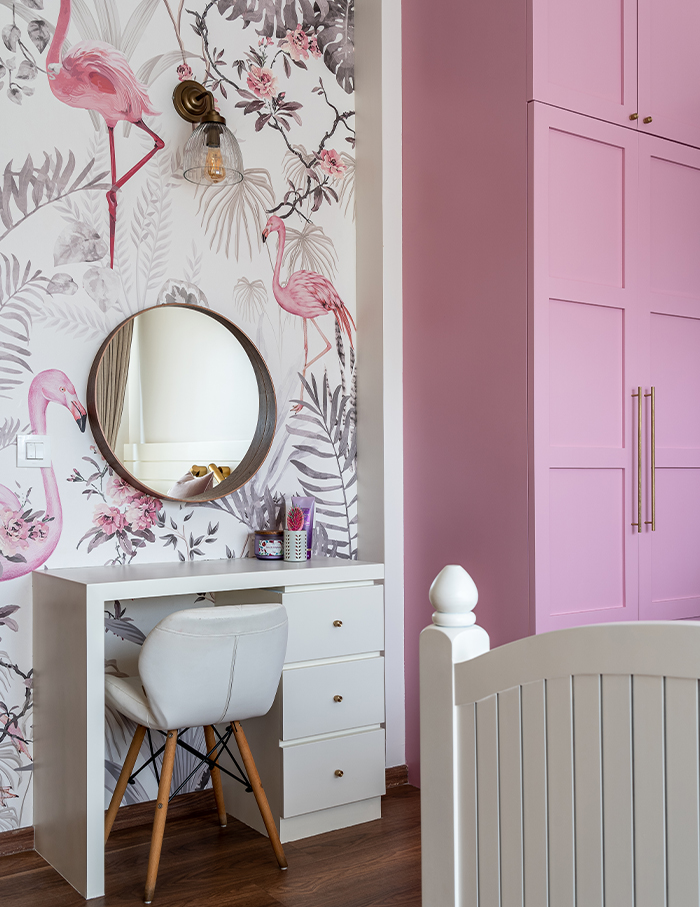 One side of the bed welcomes a bounty of sunlight with its large windows, while the other side models a fetching vanity section stamped with a flamingo wallpaper by Metamorph and candy pink-hued wardrobe. The bathroom has a similar pretty-in-pink mood illustrating glossy subway wall tiles and motif floor tiles from Trove's collection. Sitting atop another white Victorian-style console is a double-bowl vanity bedecked with dual mirrors and lights for the two girls.
To imagine this poetic abode in one frame, one could say that The Southern Plantation Home is an effortless recitation of a story that has its roots in the British era India—an entrancing cocktail of tropical and modern. Belliappa muses, "Having grown up on plantations myself, this home is special as it is very close to my personal style of plantation design." He adds, "The challenge was to incorporate the expanse and feel of a bungalow living in a modern day apartment. The  clients' trust in us led us to beautiful discoveries along the journey of bringing this home to its completion."
If this Plantation-style home moved you and your design dreams, you must check out this timeless modern Juhu home by Tejal Mathur