Homes
When classic meets modern— This Gurugram condo by The Chalkwhite Home is exemplary of a calm vacation away from the chaos
APR 26, 2022
| By Rhea Sinha

Painting a picture privy to sweeping sunsets, this gorgeous Gurgaon condo serves as a refreshing cocoon for its homeowners. Designed by Nikita Mahajan, Founder and Principal Designer, The Chalkwhite Home, the home sprawls over a substantial 2,300 sq ft area.
Decked in crisp white, the west-facing milieu manifests compelling trickles of natural light through its voluminous windows and openings.
Imbued with an inviting mood, the condo traces neutral tones and a textural palette with hints of a tasteful twist. Straight lines, minimal materials and clean layouts recite an understated effect of modernity into the home's visual story.
You may also like: Six designers from across the globe pool in their expertise to design The Camellias Club in Gurugram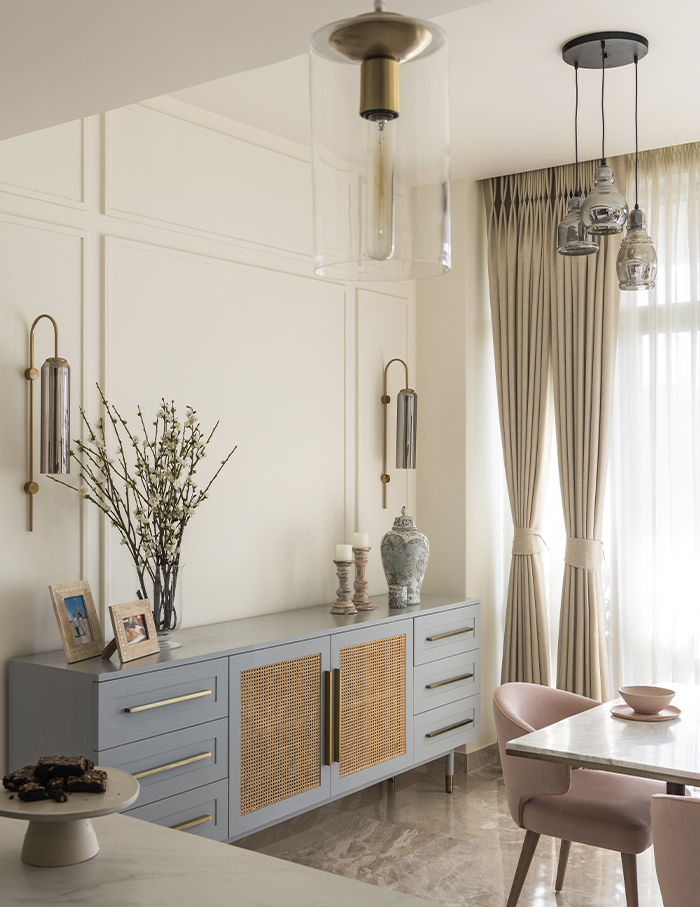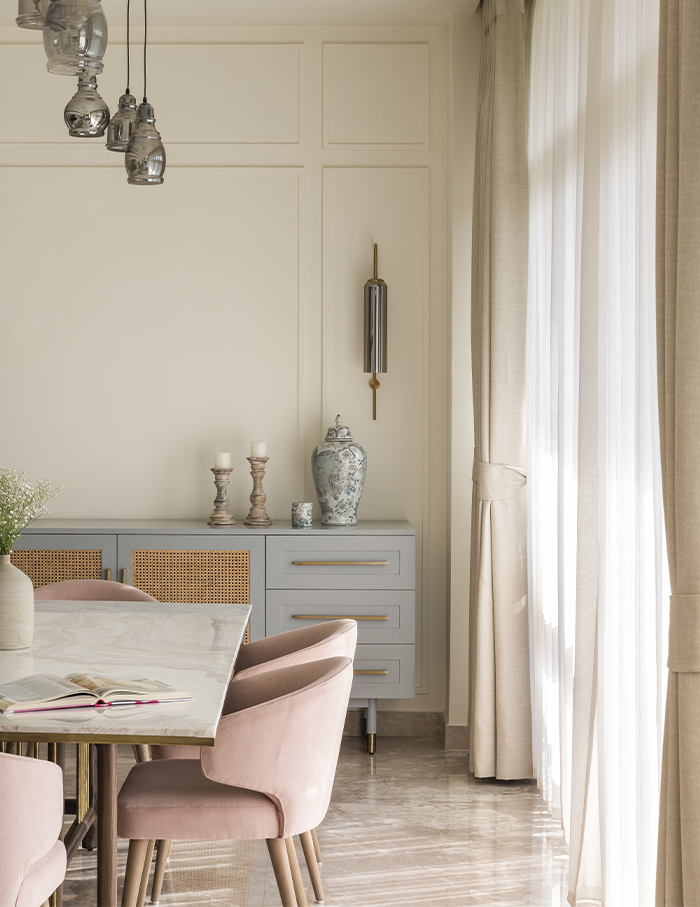 A short walk through a long and narrow entryway passage makes way into the open-plan of the apartment. The welcoming lounge space of the 'Sunroom House' accommodates an ample sectional sofa and a handmade media console.
The focal point of the facade, a state-of-the-art television framed in fine POP mouldings sketches an upscale sight. Alongside, sheer curtains complement the soft furnishings in the lounge with a dreamy balance.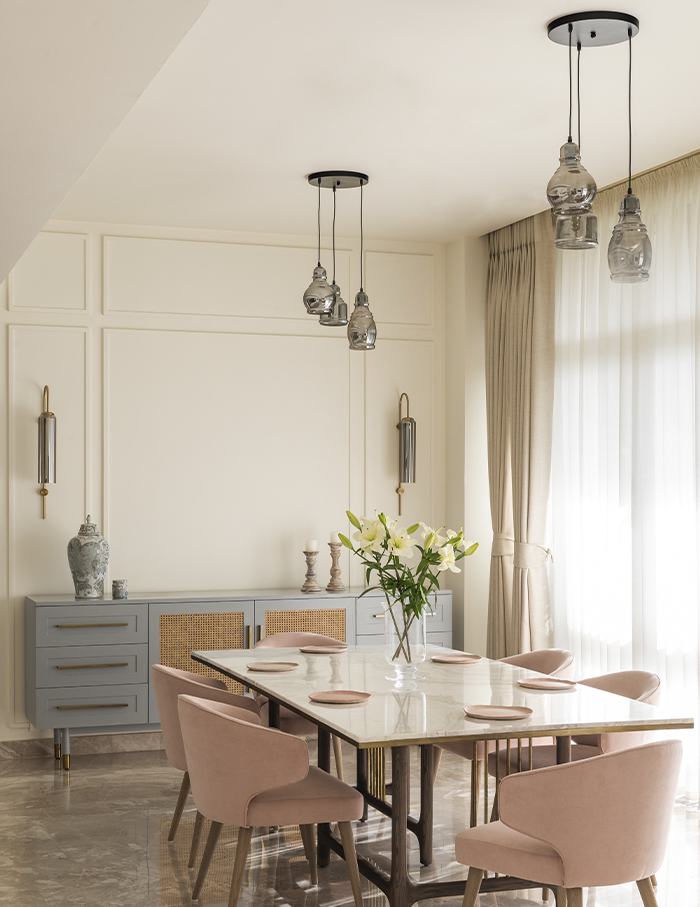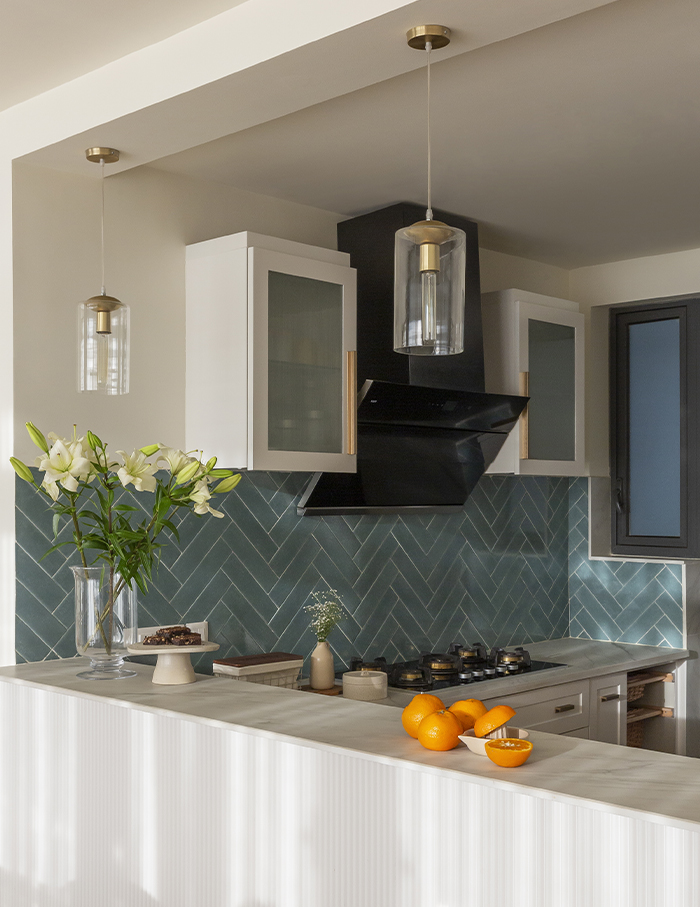 Framed mouldings maintain a consistent aesthetic language within the abode leading into the dining area, where a massive marble tabletop sits with blush pink chairs lending a splash of colour in this corner.

Contributing to the dinette's material mood board is a bespoke rattan buffet table. Flanked by the kitchen, balcony and living on its sides, the dining and bar form a fun and functional unit ideal for hosting social gatherings.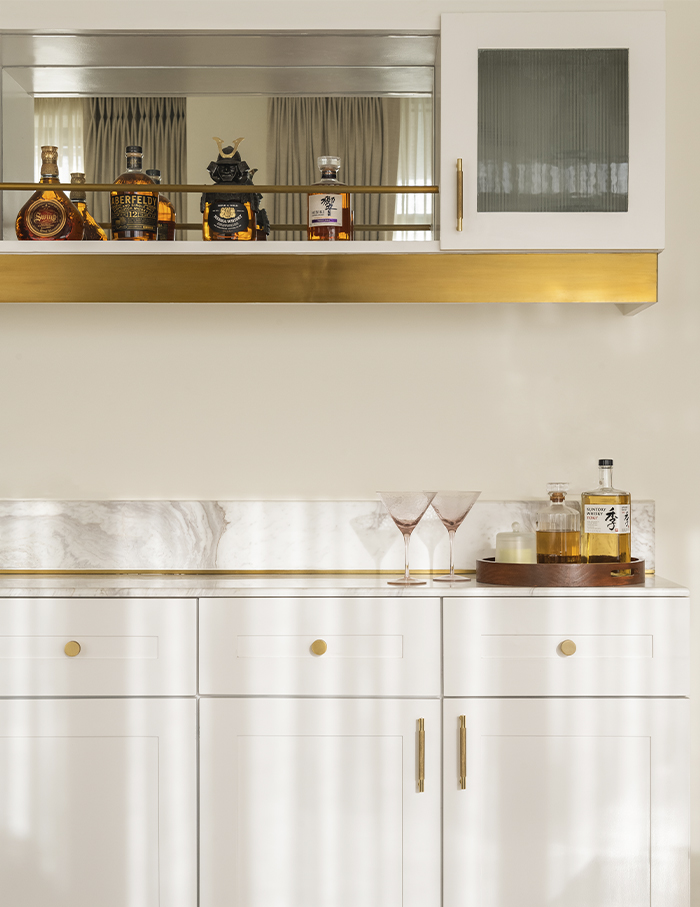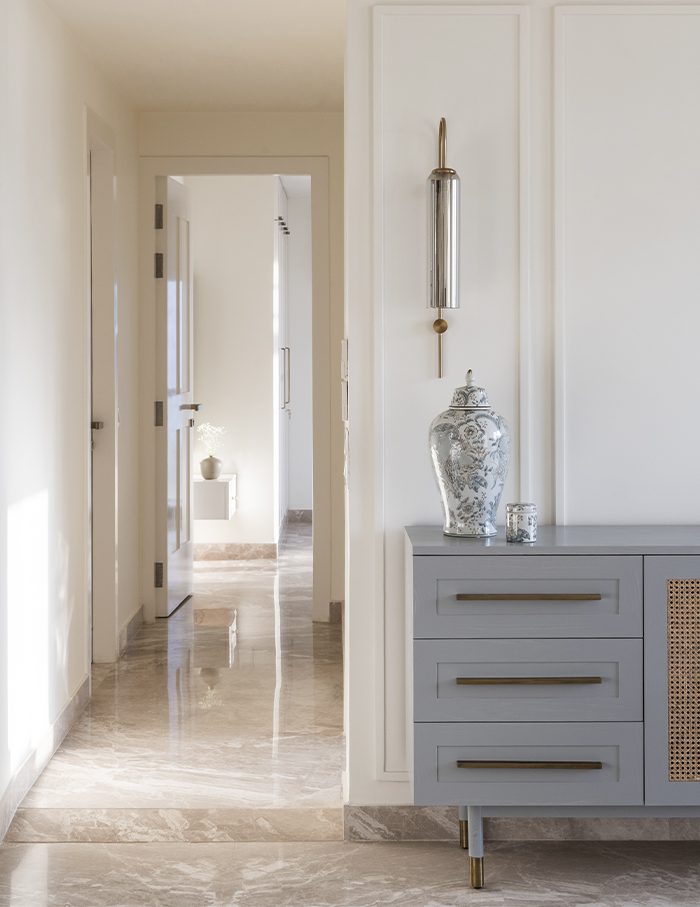 Flaunting a refreshing contrast, the pristine white-contemporary kitchen features handsome herringbone teal toned tiles in its backsplash. The one-of-a-kind counter made up of half-moon flutes exudes a whimsical effect when hit with sunlight.
Further ahead, the primary suite functions as a serene getaway for the contemporary couple. Illustrating a breathtaking site, the rattan bed sits against a backdrop of an understated fluted wall panel. Whitewashed walls mirror the effect of a capacious space with a magical myriad of light. Playful blue and white tiles and a double vanity furbish the master bathroom.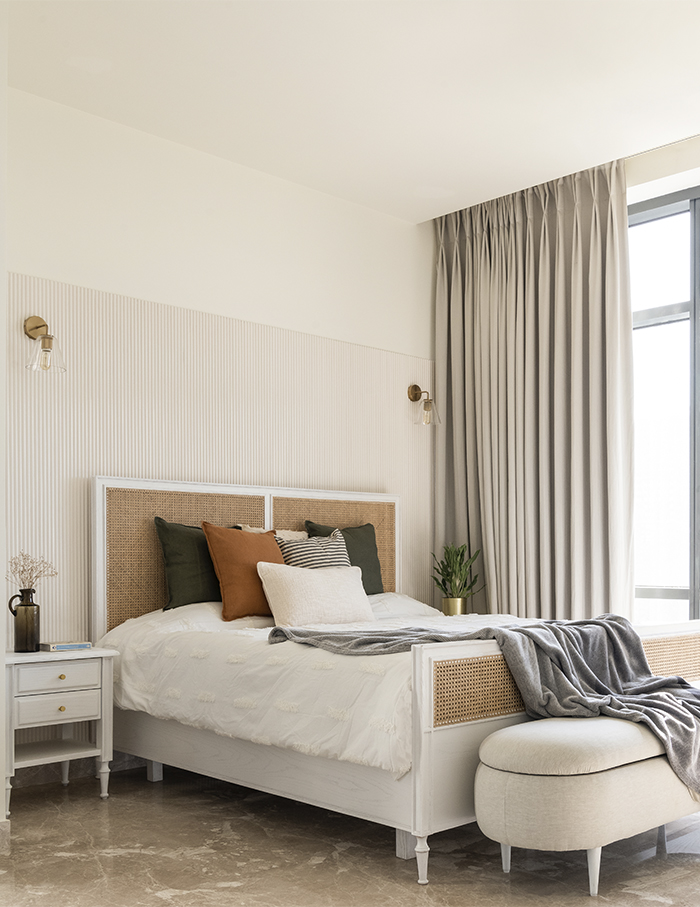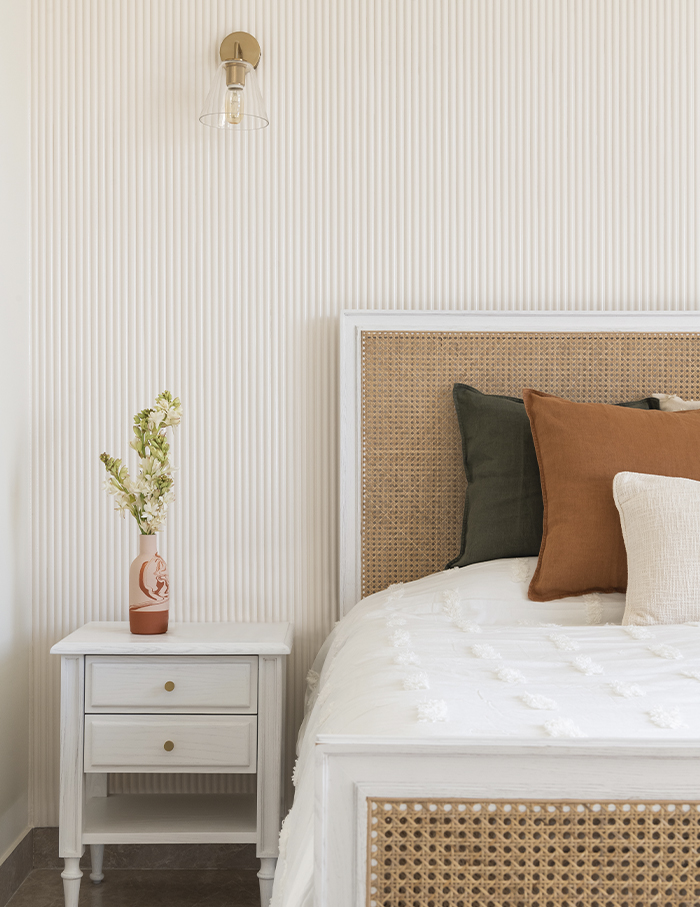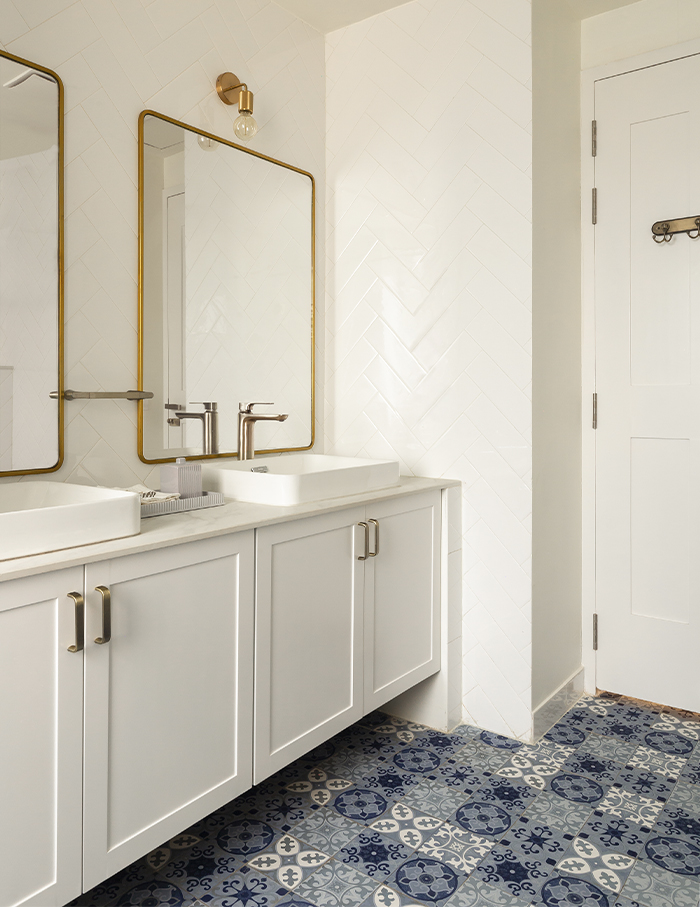 A masked man-cave for the client, the study subserves as an office-cum-guitar-and-book house, complete with a wall dedicated to the owner's collection of musical instruments and a bed in-between shelves for impossible afternoon naps. The study's en-suite bathroom models monochrome tones on its mood board.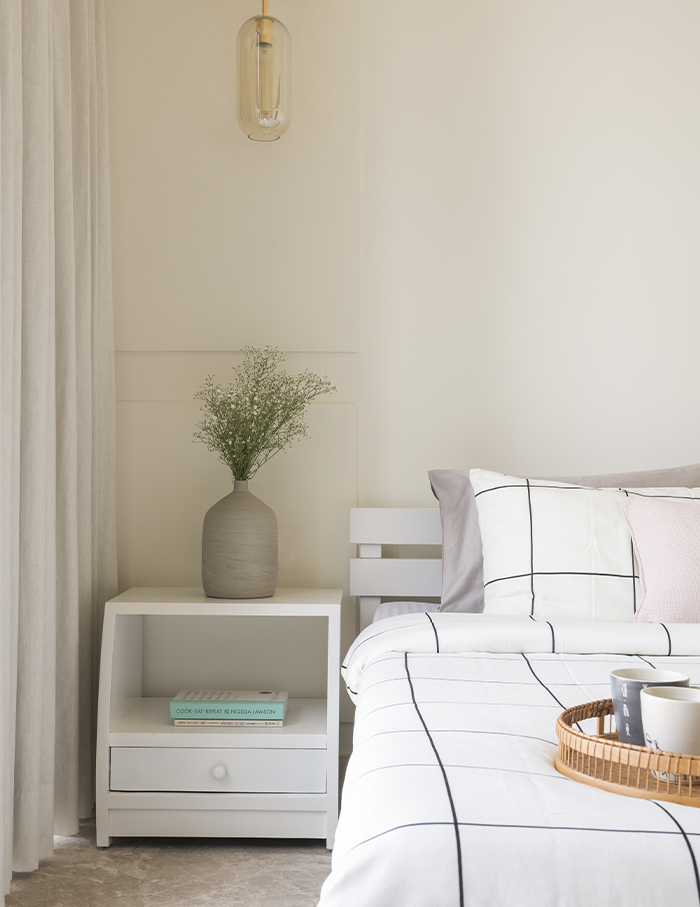 On the adjacent end of the home, the guest bedrooms towards the lounge area are designed to display a premier but simple and minimal blueprint.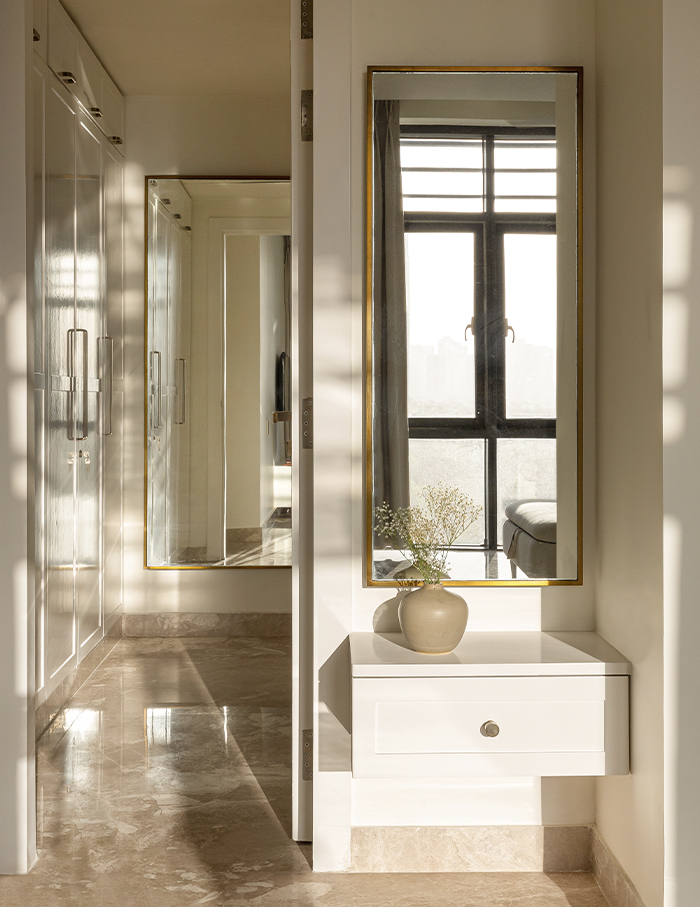 Still bestowing tinges of character into each bedroom, the designers make use of accent elements like the rattan wardrobe in the first guest bedroom or square-grid POP wall mouldings in the second. The latter also features a mini study area, imperative for its dweller's strict schedules even when working from home.
Loved this home by The Chalkwhite Home? Now check out this grand bungalow by Monica and Hardesh Chawla of Essentia Environments