Homes
Love bling? Peek into the shimmer of luxury drawn by Boketo Interior Concepts in this Bengaluru home
JUN 23, 2022
| By Shriya Goyal
All that glitters may not be gold, but a touch of glimmer can definitely brew glamour and elegance! When it comes to home decor, hints of metallic accents and its shimmer draws the eye and garnishes an appeal of grandeur. Accentuating a palette of patterns with the bling of metal, this Bengaluru home by Boketo Interior Concepts is all things swanky.
Designed for a luxury hospitality traveller on a span of 5,098 sq ft by Anchal Shamanur, Founder of Boketo Interior Concepts, the home portrays its owner in appeal. Taking cues from luxury hospitality spaces and overlooking a lush landscape, this home styled by Sam Wadekar renders a suburban reserved feel.
You may also like: A soothing medley of unparalleled luxury by Yellow Door Architects in Bengaluru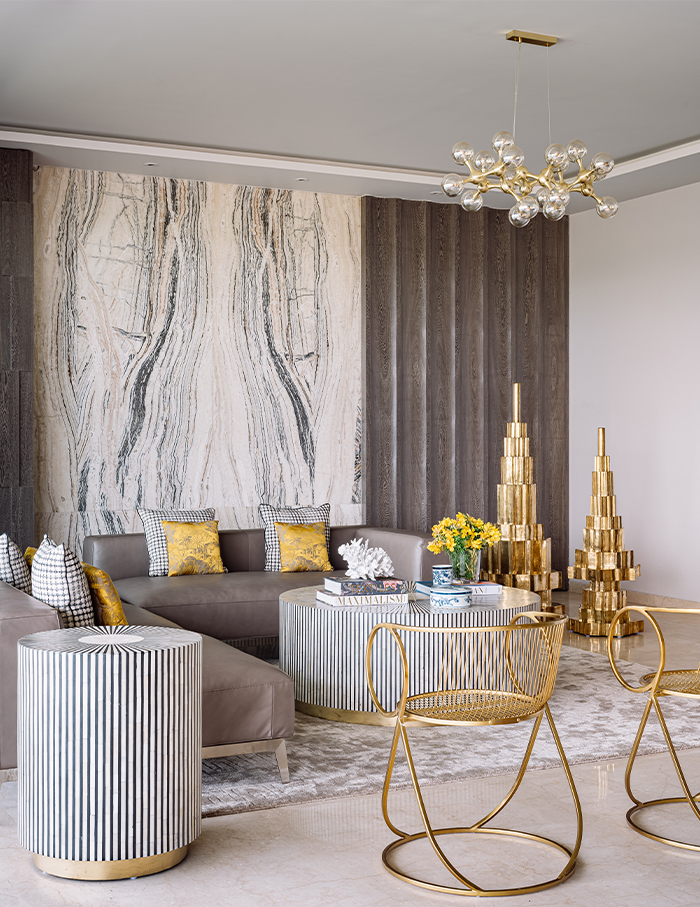 The curious brief
Narrating her design approach, Anchal says, "When it came to each piece of decor and furniture, we placed special emphasis on textures, patterns and shapes. To bring more life into the living room, we played around with wall panelling and finishes as well. Maintaining the pairing of marble and veneer throughout the space, we added that extra touch of our aesthetic here." Integrating minor structural improvisations, the blueprint of the home was crafted to pave the way for the owners' vision and the designers' approach.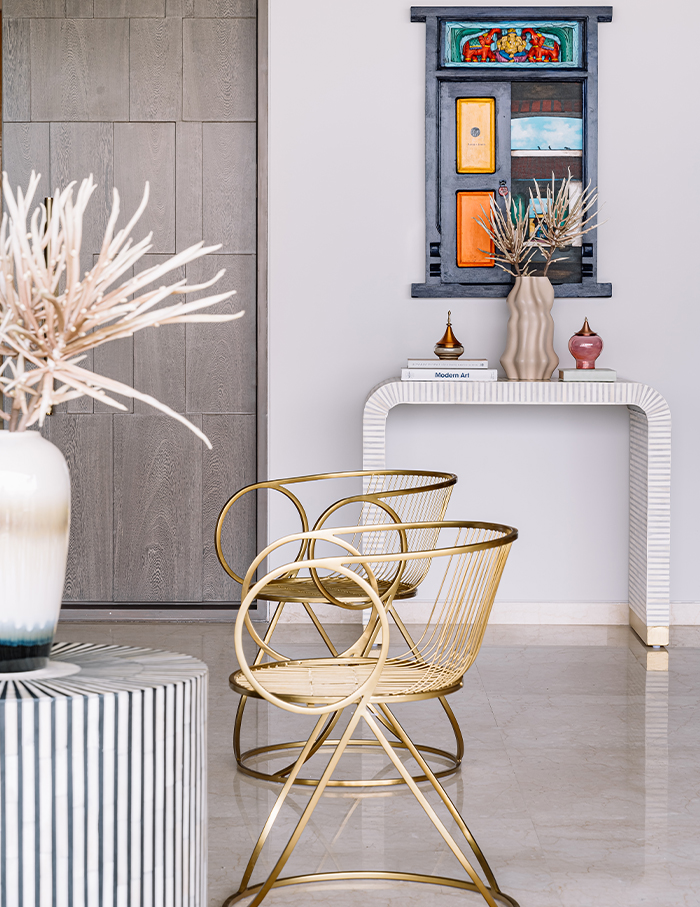 Tour every turn of the home
Entering through a marble and veneer-clad foyer, a colour palette of neutrals with pops of gold and mustard lines the chic living room. Following a similar theme throughout the dining and kitchen, the dash of colours balances the neutrals without being too harsh on the eyes. Rendering a subdued and sultry appeal with panelled walls and brass accents, the family lounge adheres to the design essence of the home.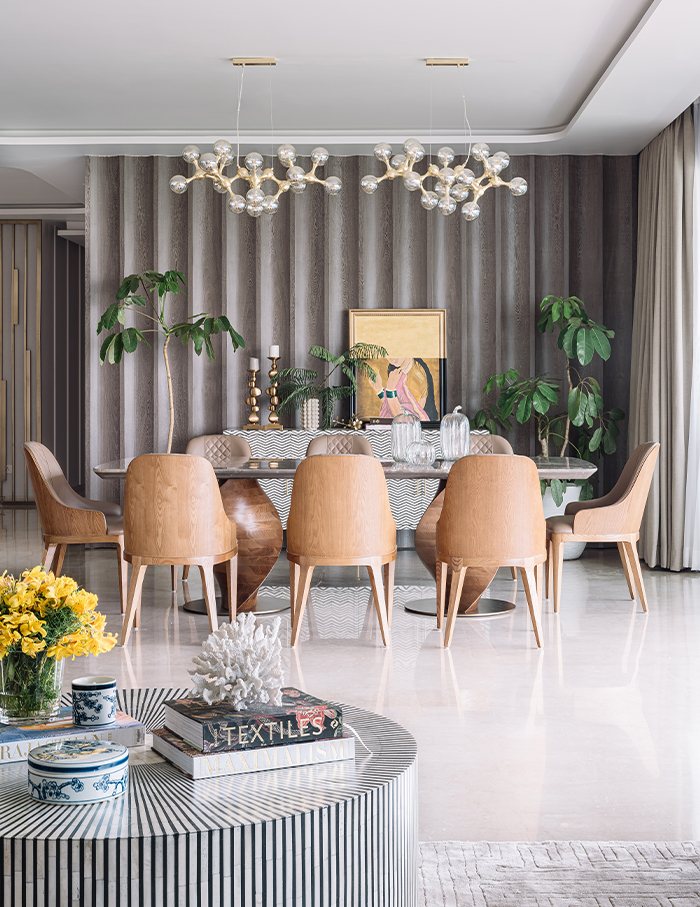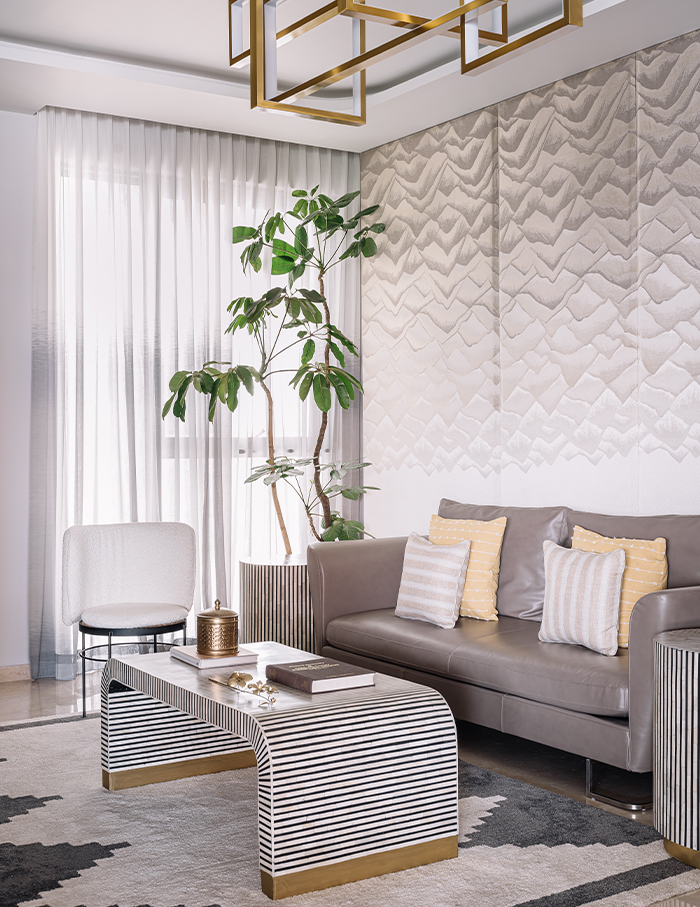 Embodying a contemporary design, an abundance of natural light and the experimentation with different colours and styles infuse a posh yet cosy character to the space. Painted in a soothing colour palette of cream, beige and browns, the main bedroom houses a walk-in closet adorned with molten metal frames and a vast balcony.
Corresponding to the essence of the main bedroom, the first daughter's room is decked similarly with light shades of grey and beige. Furnishing sophistication, quaint corners of the room are imbued with colours. The other daughter's room transcends the monochrome hues and swathes a picture in rose pink pastels. Subtle greys and indoor plants furnish a spick and span guest bedroom.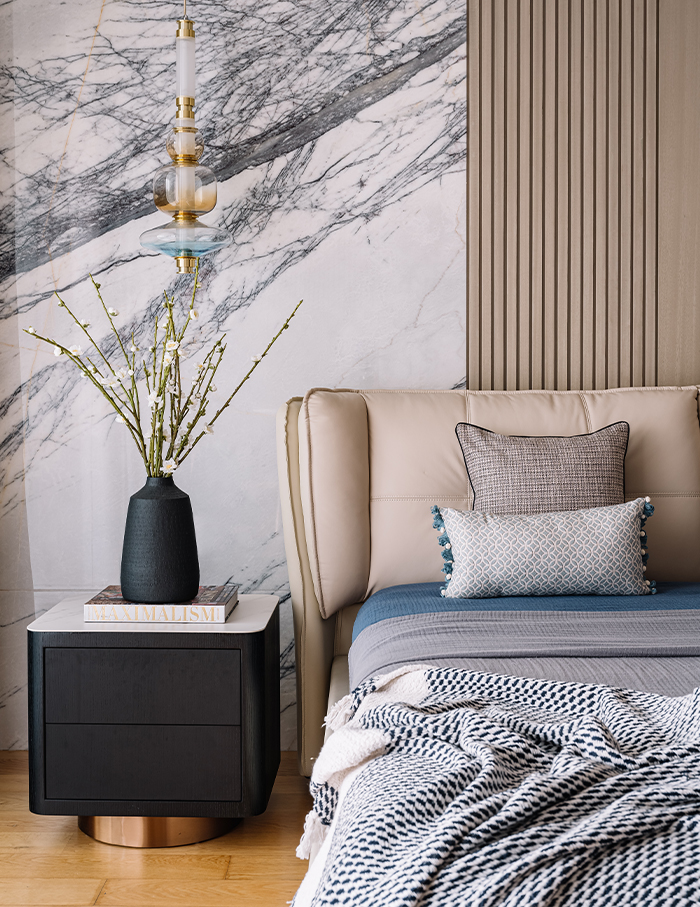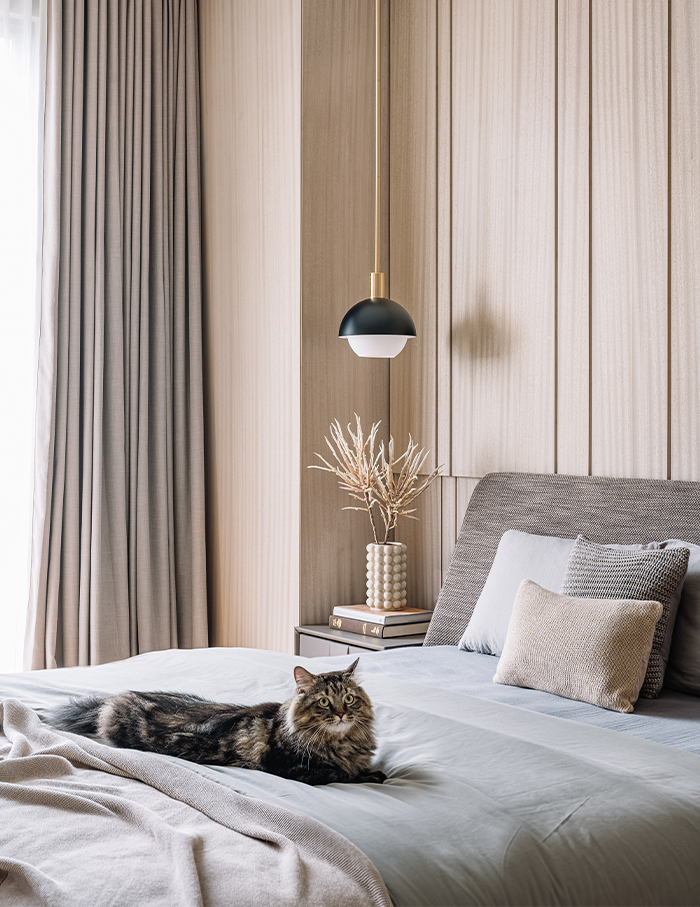 Ideas to bookmark—colours and materials
Adhering to the homeowner's choice to steer away from wallpapers, vertical lines, grooves, veneer and marble set off as constants of design. A selection of textures and materials with splashes of colours bestow a modern and minimal home.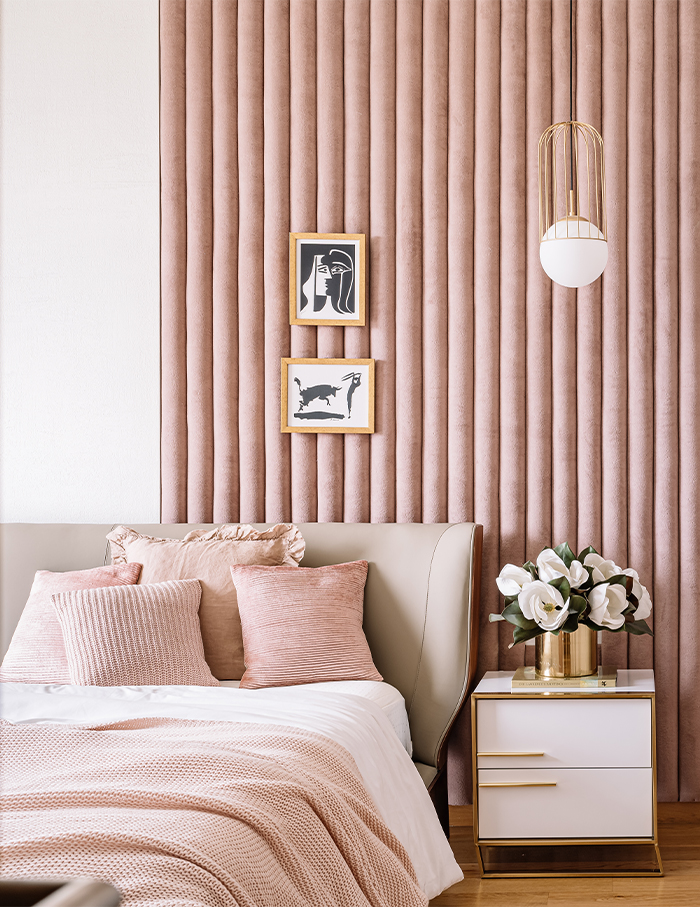 What the designer fell in love with…
Rounding off with her design philosophy, Anchal says, "We are truly entrenched in the idea of luxurious tranquillity. We believe that luxury lies in the simplicity of things. While there are many schools of thought that may contradict this, it all comes down to one thing—the level of luxury you can bring to make the owner happy. Our style is to find a place between simplicity and work towards making it the star of the show."
Scroll down to see more glimpses of this Bengaluru home by Boketo Interior Concepts: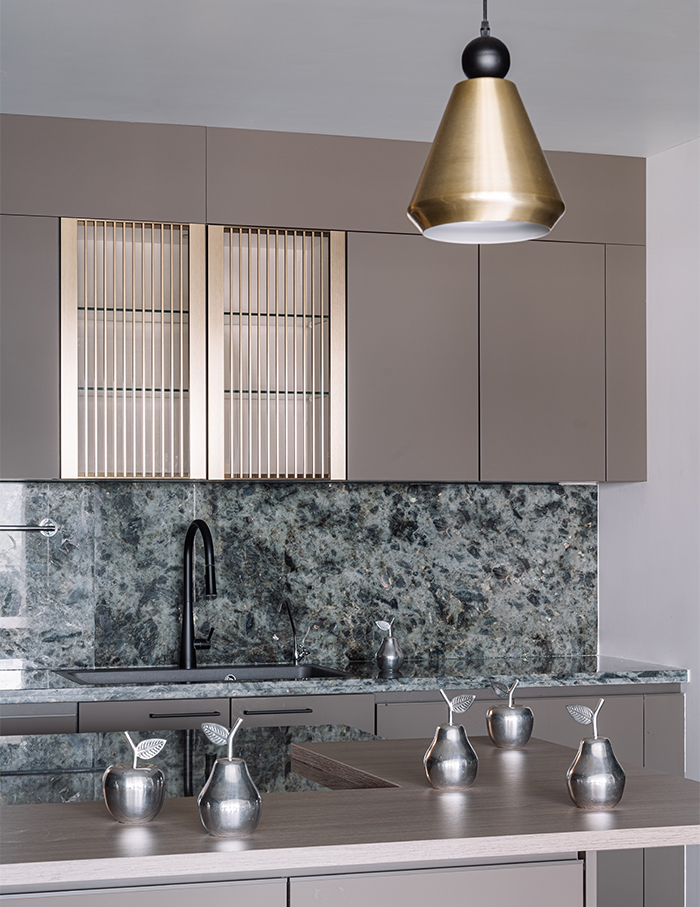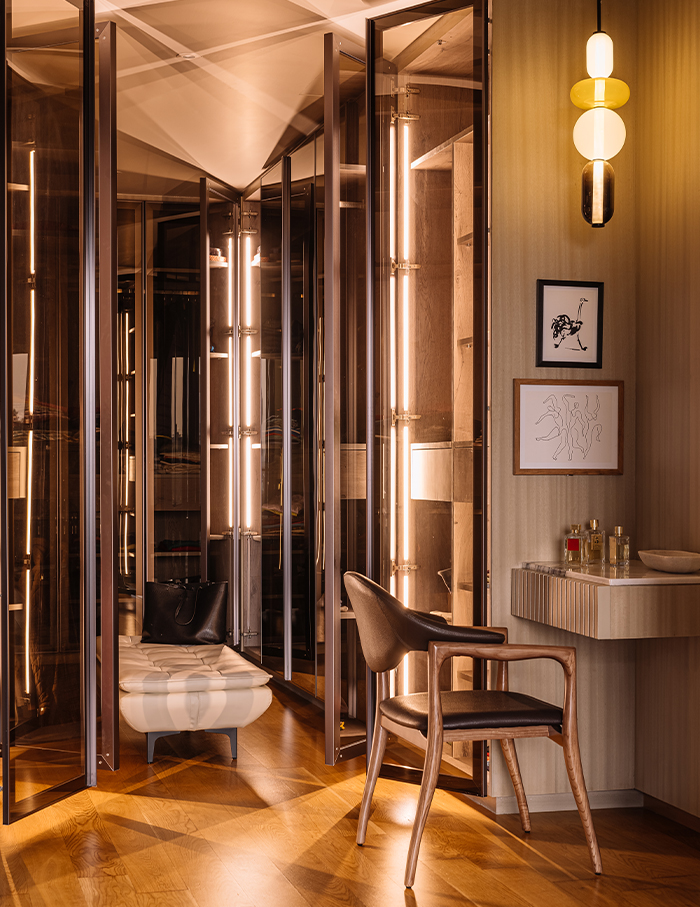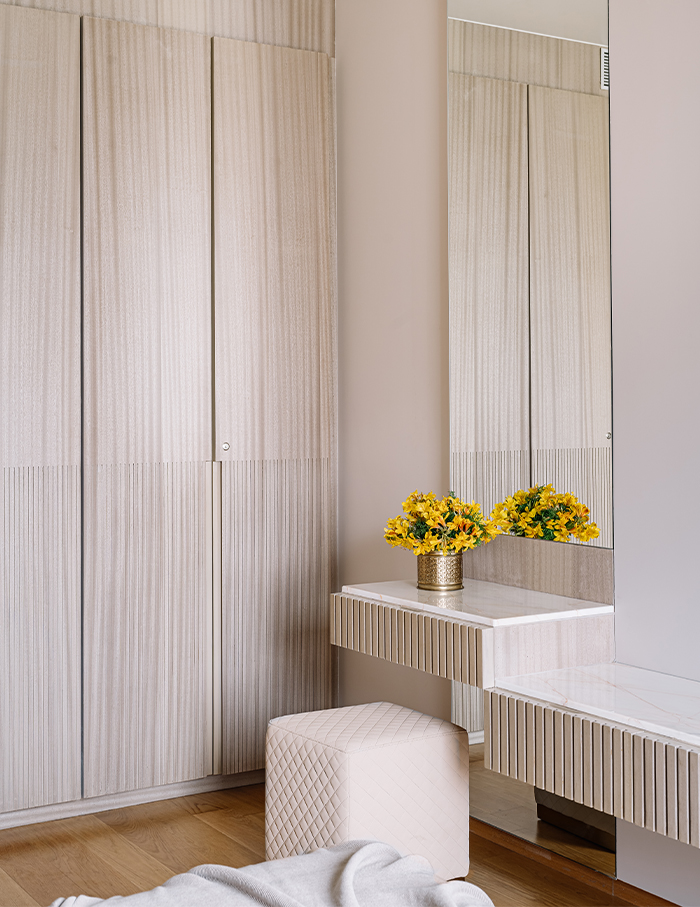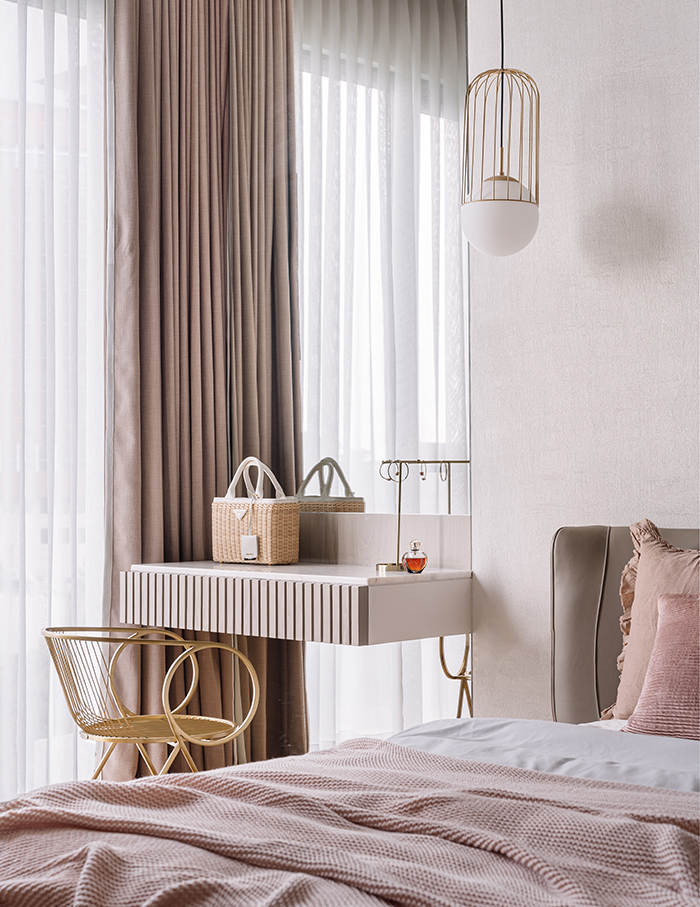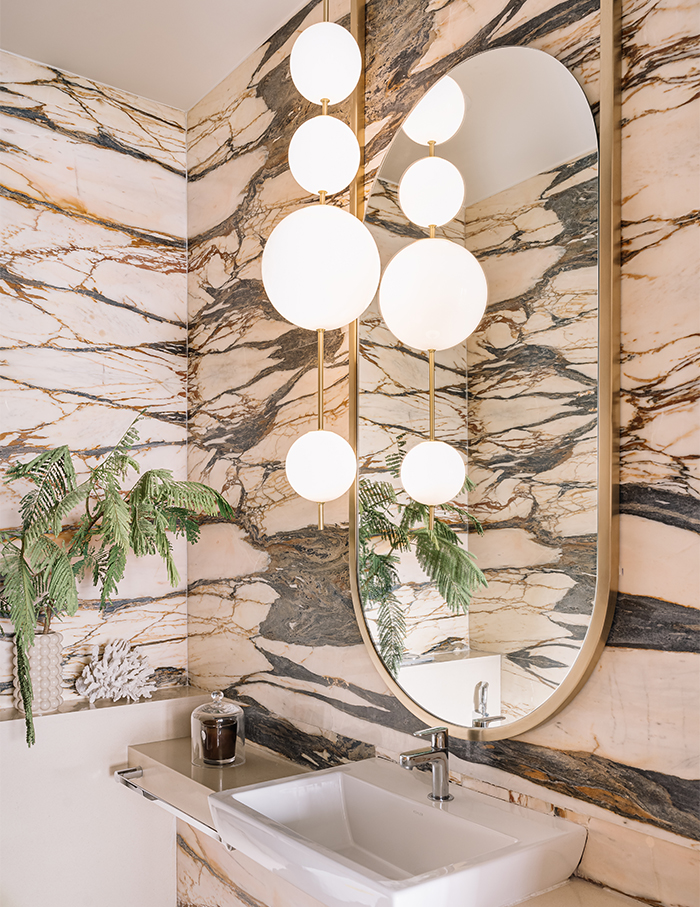 You may also like: A canvas of art and nostalgia by Treelight Design in Bengaluru