Homes
A canvas of art and nostalgia—This Bengaluru villa crafted by Treelight Design kindles curiosity and comfort
APR 18, 2022
| By Pratishtha Rana
There is a certain sense of belongingness that makes art as curious a subject as it is inviting. If it is an artwork or many that one owns as a personal collection, over the years, it becomes a piece of comfort, while for the onlookers a work that ignites conversations. A similar narrative breathes life at this Bengaluru home composed by Amitha Madan, Principal Architect, Treelight Design.
Dubbed the Sen Residence, it sprawls about 5,000 sq ft with a selection of art pieces peppered generously throughout the house.
Thriving on the theme of nostalgia, this villa in a gated community hosts its owner, an art connoisseur, who returned to the city after many years.
You may also like: Neelam Kothari and Behzad Kharas reveal design and glamour in this South Mumbai home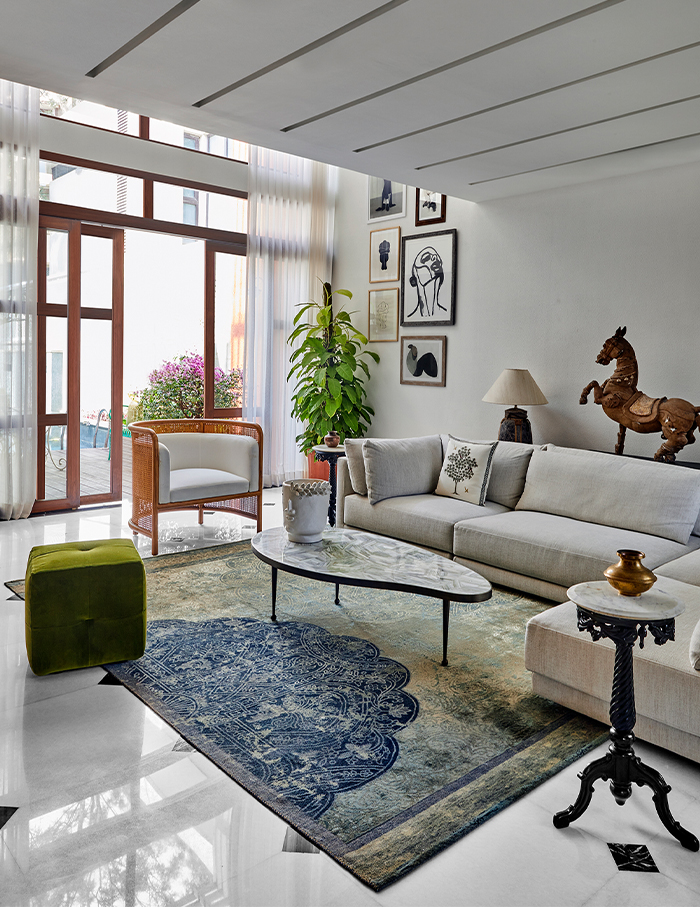 While the entryway directly leads to a deck with an open-sky pool, the living room enjoys a large, double-height window allowing daylight to pour in profusely. Melding with the dialogues of artworks is a fitting white-washed and neutral colour palette that drapes across the house.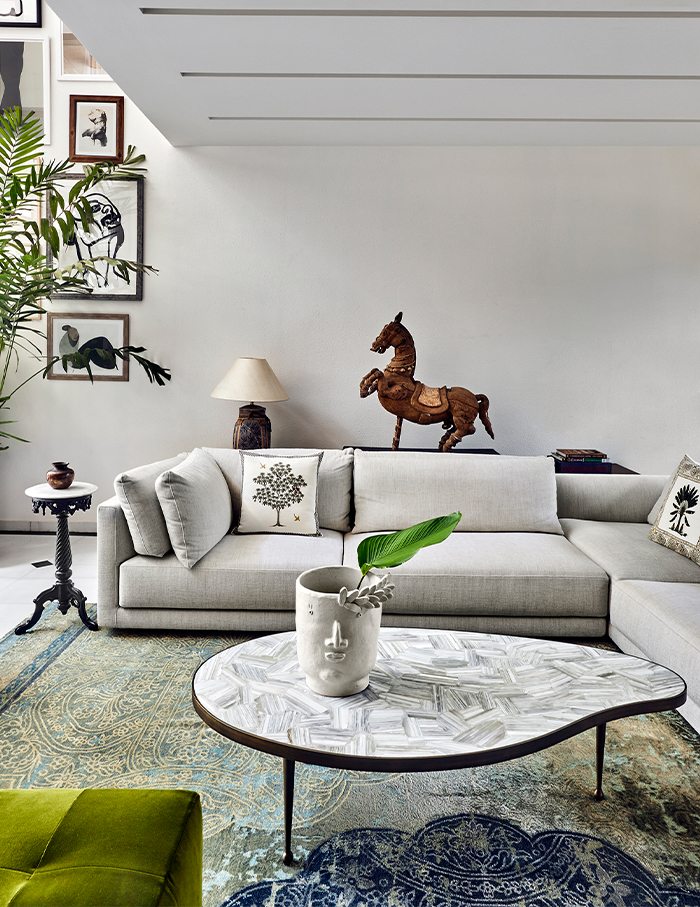 A sliding-folding door guides one to a spacious open kitchen that models a beautiful island made on-site with white marble and grey quartz top. Adding a pop of pattern here is the designer wallpaper by Sabyasachi for Nilaya by Asian Paints, while on a grey kota and red sandstone flooring stands a slender shelving unit by Magari.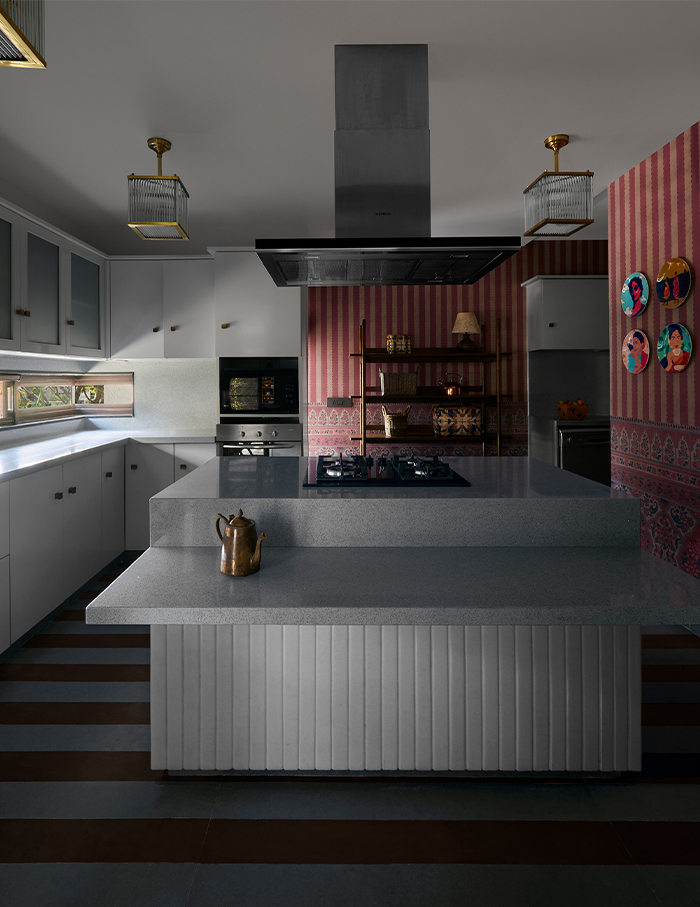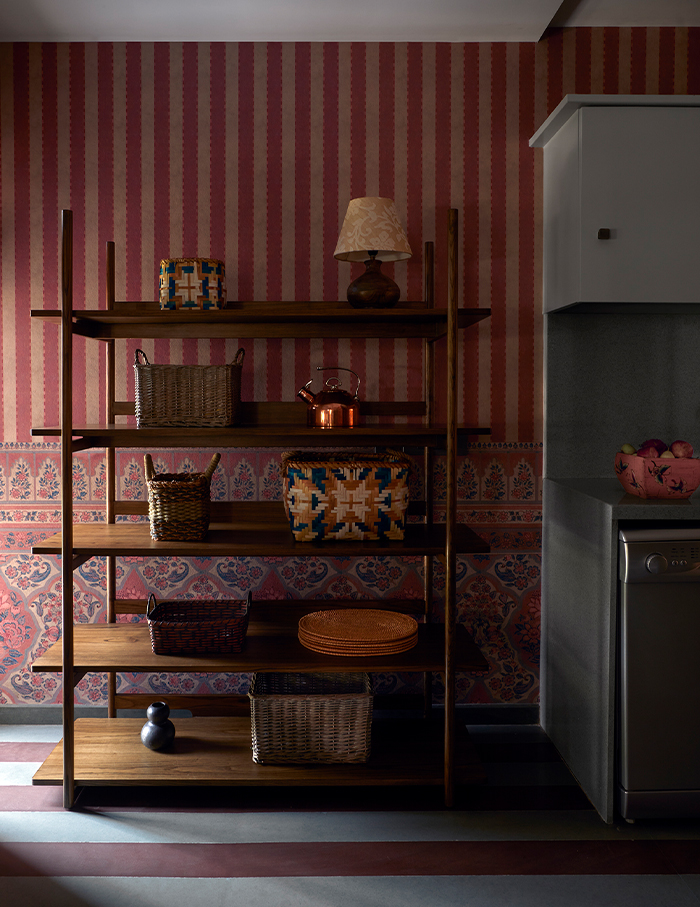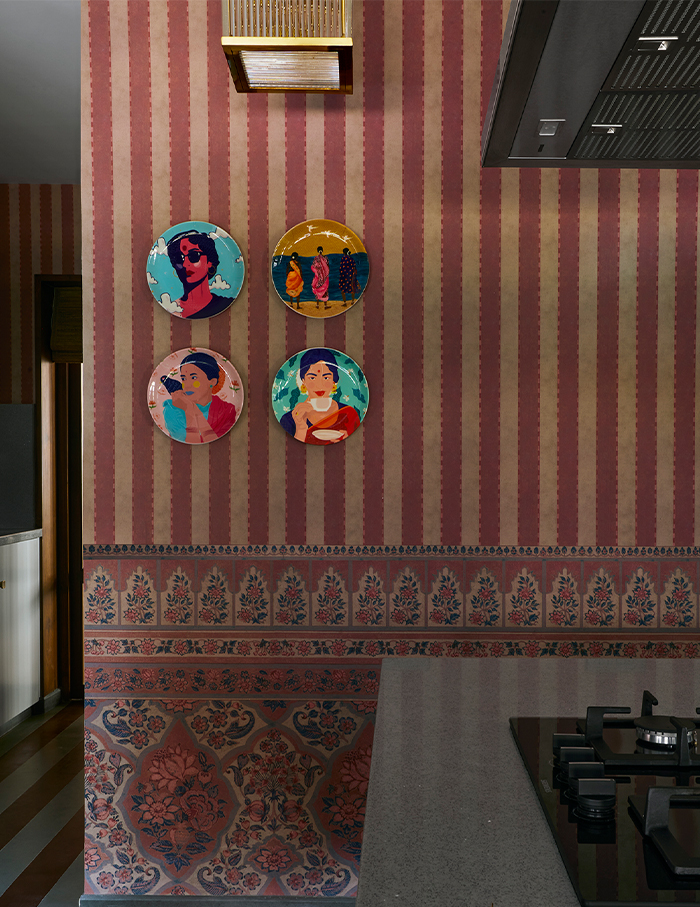 Next, eyes meet a white dining room arranged as the nexus of the home. A melody of monochromes takes over this corner with one focal artwork on the wall overlooking an exquisite, custom-made white table in concrete and brass inlay paired with a couple of chairs and a bench in a similar off-white tone by Magari.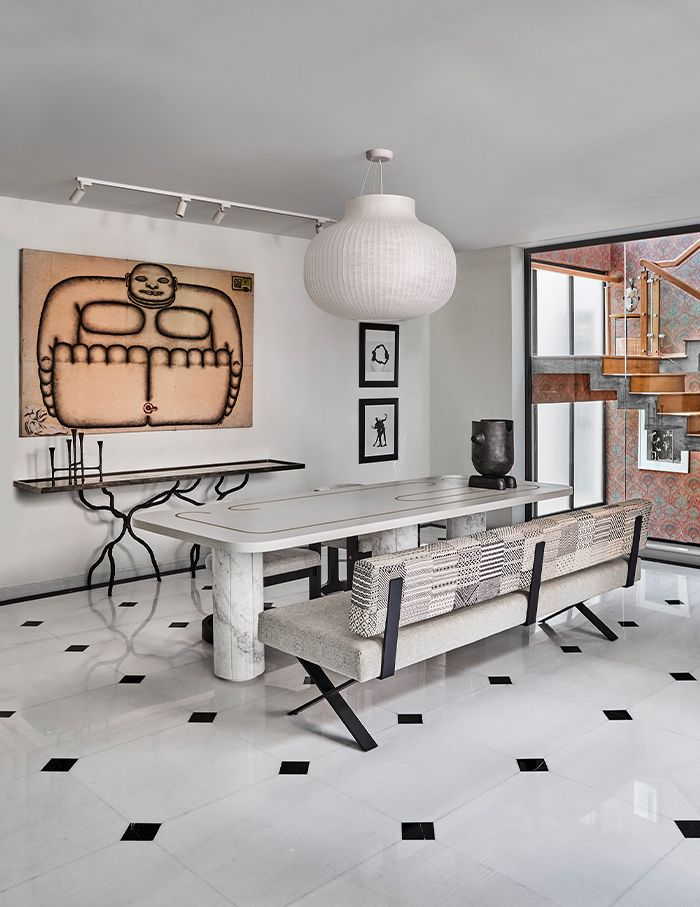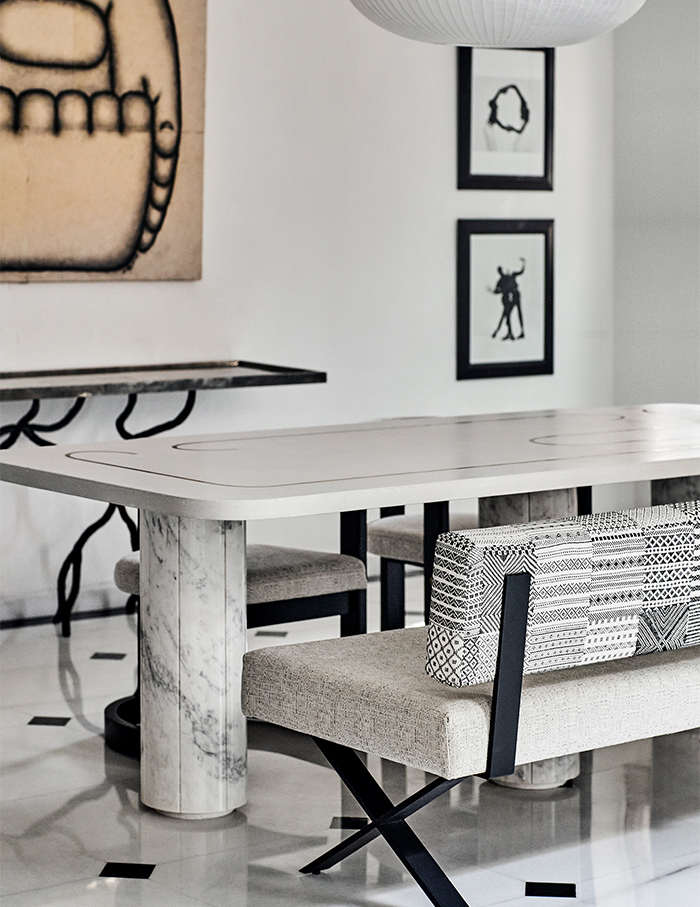 Strolling further, a bedroom on the ground level revels in the vistas of pool. An arcadian staircase adjacent to a vintage wallpaper-clad wall navigates to two bedrooms upstairs that also houses a library and a den.
The bedrooms carry forward an identical vocabulary of repose and a decluttered design theme yet embracing an eclectic exhibition of statement furniture, appearances of beautiful timber and objects of intrigue.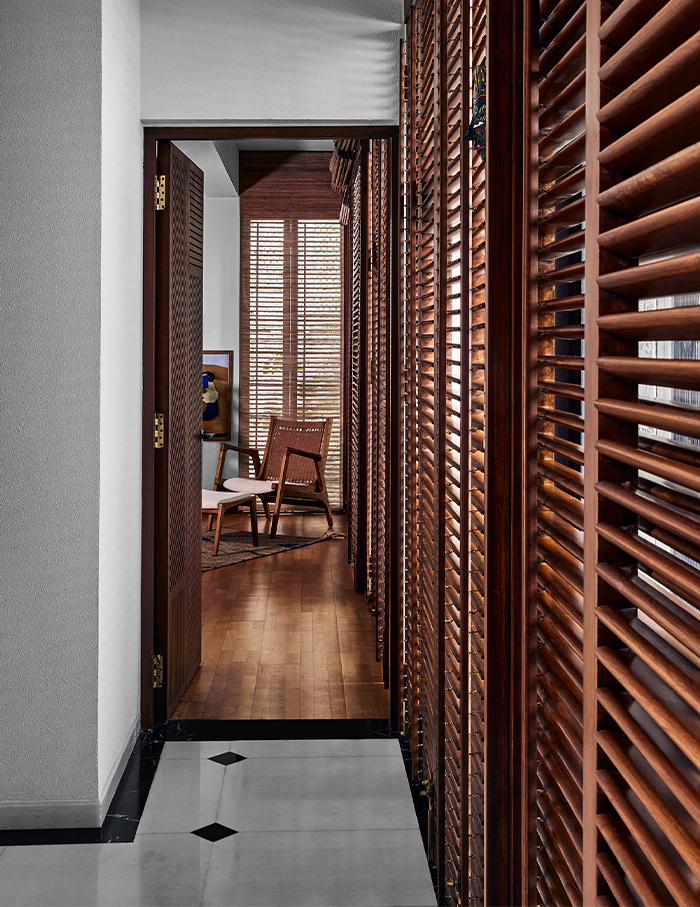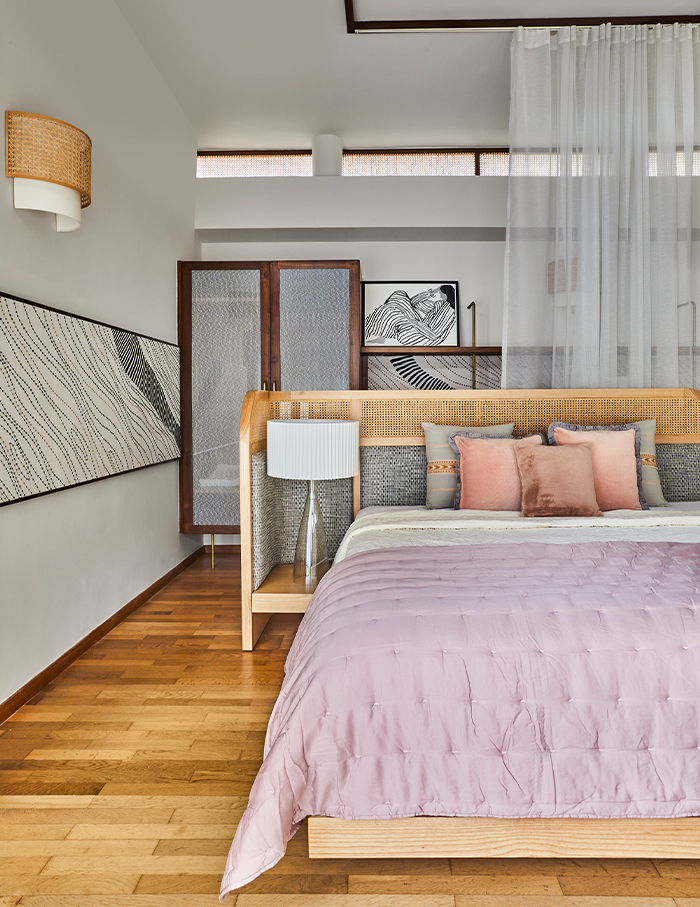 Result of a discerning design layout here is a seamless connect between the living area and the upper floor.
Amitha construes, "The library shares the double-height windows with the living room, adjacent to which hangs a series of eye-catching art pieces that guide your eyes upwards creating a sense of connection between the two spaces."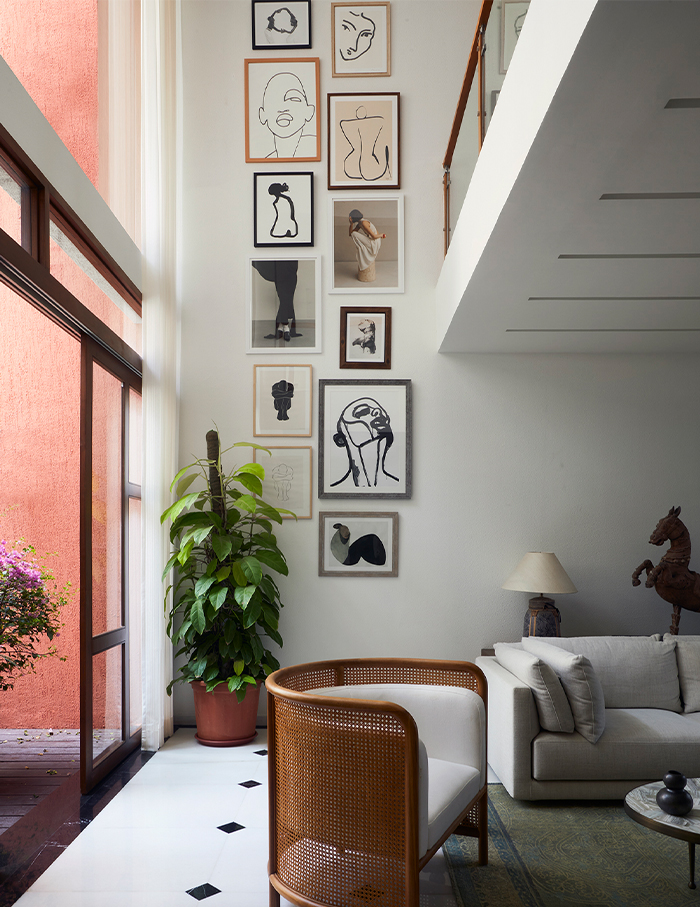 As an extension of the poetic display of the artworks and pieces, the home hosts a den area, created as a private, cosy but community-themed corner complete with a gorgeous blue platform bed, a bent plywood veneered vaulted ceiling and a regal carpet sourced by the dweller herself. 
As Amitha aptly observes, Sen Residence is a home that steers away from set trends and design rules. It is a joyous space in an urban city where thoughts brew freely in the company of unique artworks and an unhurried cadence of slow, calm living. 
Loved this villa by Treelight Design? Now check out this Bengaluru home by Studio Autumn that redefines minimalism