Homes
A cascade of minimalism mingles with soft colours and natural materials at this Bengaluru home by Studio Autumn
FEB 7, 2022
| By Pratishtha Rana
A consonant canvas of calm colours, no clutter and astutely planned spaces, this Bengaluru home treads on the precis of minimalism. Authored by Chintan P, Principal Designer and Founder, Studio Autumn, an interior design studio, and styled by Surabhi Dhole, a sense of solace grips you at the very entrance here.
Dubbed Sukoon, an Urdu word for peace, the residence is outlined on the clear design brief of being simple, clutter-free and modern. 
Being a 2.5 BHK space in the upscale area of Whitefield, stretching about a 1,500 sq ft area, this Bengaluru home originally was rather compact, impelling the designer to propose a layout that is majorly monochromatic with visible clues of blue.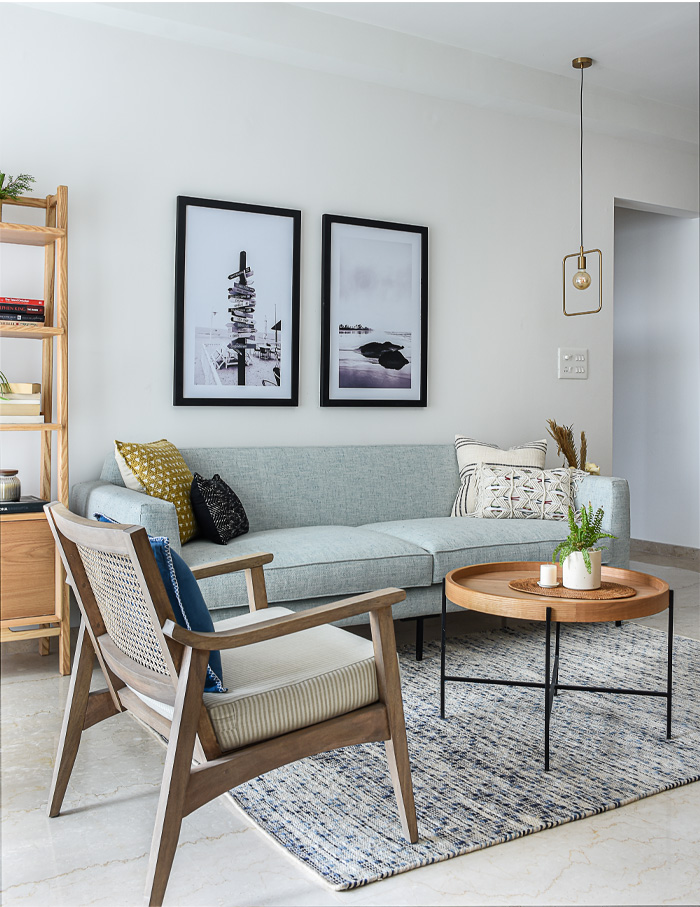 As a palpable sense of Scandinavian design lights an overarching theme here, Chintan says, "Our goal was longevity so the design is durable and we create timeless spaces and suppress the urge to change the whole design every couple of years." 
From the entrance, a compact foyer rolls out the carpet towards the prime scene of attraction—that is the open plan living and dining zone along with the kitchen, all seamlessly entwined together.
What surprisingly (or, unsurprisingly!) makes you fall in love with this space is how gently but profusely it is washed with natural light. The living room absorbs attention with its solemn mood elevated with a white brick wall. A custom wood and cane-shuttered TV console looks over to the blue linen sofa by Gulmohar Lane sitting on a rug by Carpet Kingdom.
Wood details make appearance in form of a svelte, circular coffee table, ladder-style shelf and a cane-back armchair by Fabindia. The wall frames behind are the couple's curios, photographed during their travels.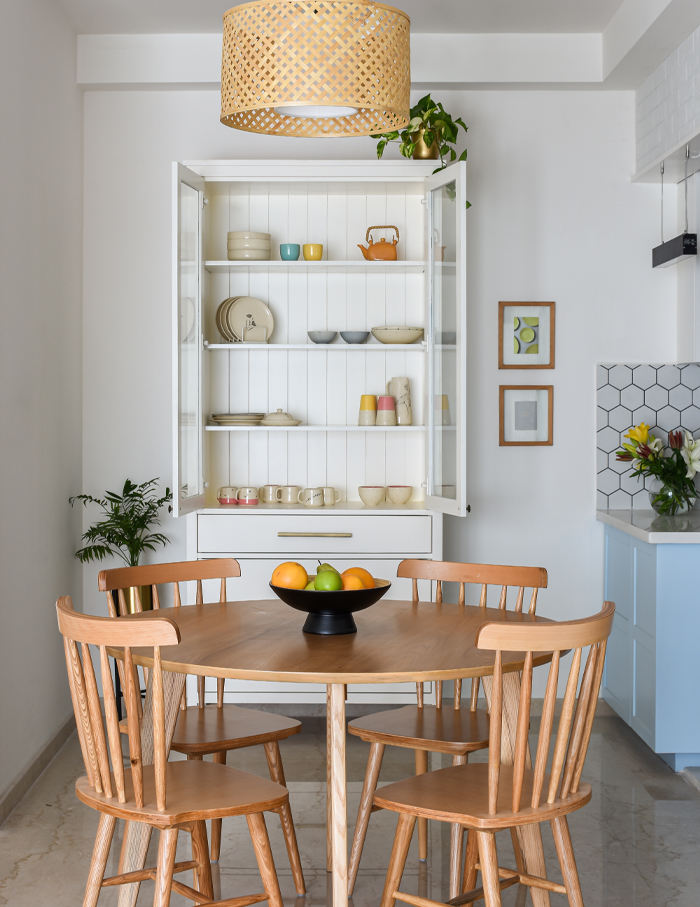 As you stroll to the other end of this area, the dining section is assembled with the kitchen demarcating it. A pure white hutch cabinet with glass infills stands as the perfect storage entity paired with a four-seater dining table and slender spindle-back chairs by Amardeep Design sit. A mesh-cane pendant by Mianzi danlges above that not only brings in light but adds to the material grammar of the setup. 
The kitchen carries forward the tranquil Scandivanian-influenced conversation bathed in colours of robin egg blue and white. Chintan informs, "As part of a structural change, we converted a closed kitchen into an open layout by breaking the kitchen wall." A fluted glass and wood partition softly sunders the kitchen from dining zone.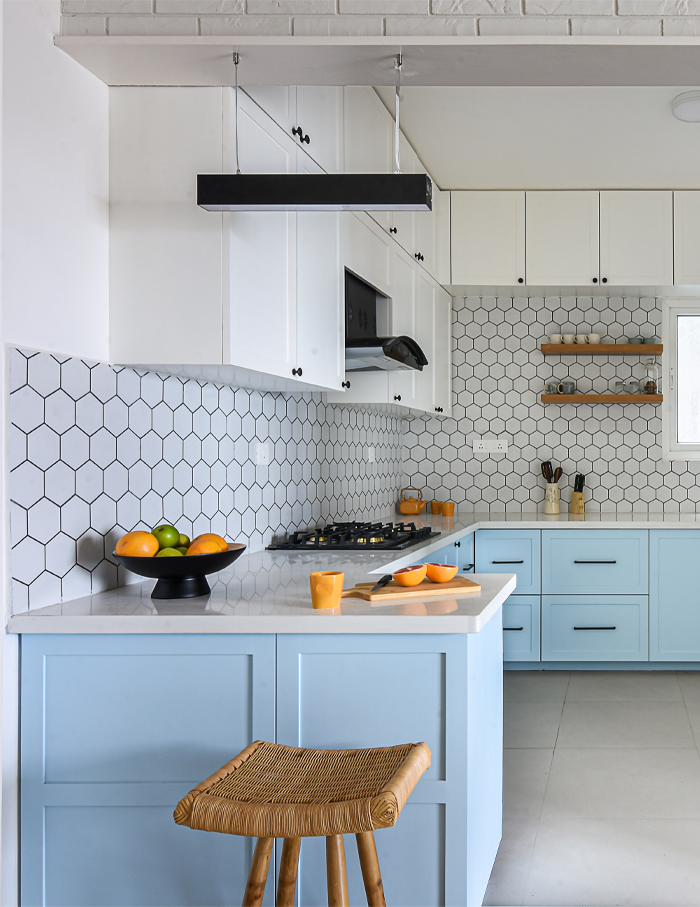 Navigating into the master bedroom, a prevailing sense of solitude captures you. There's purpose combined with design. A beautiful clean wall panelling doubles up here as a headboard. Wood, canes and patterned linen coalesce to stamp the room with an earthy mood.
With a space that enjoy generosity of day light and outdoor views, one end of the bedroom hosts expansive windows with a small seating flanking it and the ledge extending to the study nook. 
Another room takes shape of a study room nodding to the remote working routines of the couple. Built-in shelves with cabinets swathe the wall, accompanied with a navy arcmchair by Urban Ladder, accent table and a rug.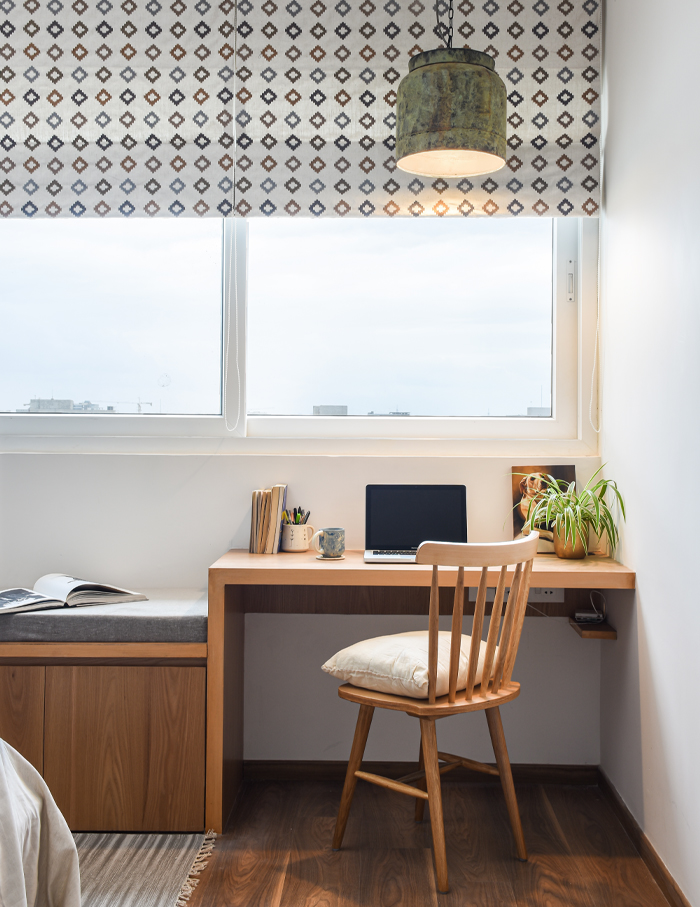 When talking of minimal, modern and luxury, one cannot miss the guest bedroom that plays with the white and floral motifs. The wardrobes assume an aesthetic presence with a textured fabric sandwiched between the shutter panels painted in sober blue-grey tones.
With an eye for details and assemblage of neutral shades, Sukoon settles as a Nordic design styled sanctuary. With a belief that design impacts our lives in ways subtle and overt, Chintan muses, "This home takes a page out of the book of hygge—swept up in a palette of whites, a spectrum of pastels, warm textures and a welcoming aura."
If this snug and stylish home by Studio Autumn won your heart, then check out this Mumbai home by Kumpal Vaid doused in luxurious whites and pinks